CUSTOMER LETTERS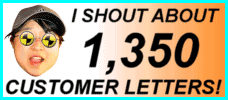 1522 LETTERS!
More customer letters than any other car sales site IN THE WHOLE WORLD! - Ling
You are viewing page 53 of 58 - go to page:
Search my letters page!

| | | |
| --- | --- | --- |
| From your area... | ...or from people... | ...or about a specific car! |
| | | |

Showing ALL my letters!



Customer Letter: 210 / 1522
Philip says...

Excellent car, excellent service! My Citroen C2 was delayed from dealer, but Ling chased up straight away.

Philip

Editor Note: Ah, you see Philip; I always say sometimes car can be delayed... I have investigated this delay and it was due to bloody French - they damn bloody foreigners smelling garlic. The communist dock workers at Calais created a bottleneck at Channel Tunnel that affected ALL Citroen and Peugeot cars this month. Only cars already in UK got delivered on time. Of course this is not dealer fault or my fault, but French European socialist leftie union freeloader fault. They should take lesson from China Communist experiment, and just pretend to be communist while really being raging capitalists. Mind you, French and Chinese governments equally corrupt. Sorry about delay, but glad you like car and rest of service Philip - Ling
---

Customer Letter: 209 / 1522
Michael says...

What can I say?

Web site: There's nothing like it anywhere else.

Email or phone call: Answered promptly.

Car Delivered: As promised and on time.

From beginning to end it was a painless exercise. And the car, a Mazda RX8, is fantastic. Thanks Ling, it was a pleasant surprise to receive such great service. The car was prepared and delivered first class. See you in 2 years for the next car. Have recommend you to my friends.

Michael

Editor Note: Michael, I am so pleased you like Mazda RX8, and I hope Mazda UK Managing Director reads this letter as he has been a complete asshole to me, trying to stop me selling Mazdas. I have many, many happy Mazda customers, so why this MD (trumped up employee of Japanese - BLOODY JAPANESE, WHAT AN INSULT TO ME - subsidiary) tries to crush me, I don't know. Radiation from cars built in Hiroshima must have affected his brain. Thanks for nice letter to me, glad I can rely on sweet customers like you to support me! - Ling
---

Customer Letter: 208 / 1522
Gary says...

Thank you Ling for making a tedious job dead easy. Excellent service and at a price so low, our local dealer thought we were winding him up. The Citroen C4 is ace, see you in 2 years. Highly recommended. Thanks.

Gary

Editor Note: Gary, you were very bad to wind up local dealer. these people too stupid to realise that the overhead of massive showroom, lots of staff and cost of stock means they have NO chance of beating my price. Most not set up to supply cheap cars, dealers all want £1000 profit per vehicle, and guess who pays that? CUSTOMER! I am pleased you are happy with nice Dancing Robot C4 Car - Ling
---

Customer Letter: 207 / 1522
Mike says...

Ling,

I am Managing Director of a car supermarket business with 5 sites (to date) and 500 cars in stock. Yet I STILL can't run my own cars for staff and courtesy cars for customers as cheaply as you can supply them to me. So I am forced into the embarassing position of having to order from you; 1 x Merc E Class, 1 x BMW X5, 6 x VW Golfs, 2 X VW Tourans, 10 X Honda Jazz, 1 X SAAB Convertible, 1 X BMW Z4 and finally 1 X VW Passat, so far, this year.

The main way that my business undercuts the car supermarket and franchised car sales competition is by lowering costs and cutting overheads. Your contract hire cars, which are the cheapest in the industry, enable me to do that. If your turnover continues to grow as fast as it currently is, your car sales total (in £'s) will equal ours (with 50 staff and 5 sites) by the end of 2006! You are amazing.

Mike

Editor Note: Mr Mike Porritt, I declare interest here. You are good friend, and my husband has shareholding in your business. But, remarkably, what you say is true. Thanks - Ling
---

Customer Letter: 206 / 1522
Chris says...

Ling, hi! I've been meaning to email for a while. Many thanks for getting me sorted with my new Mini One. I'm well chuffed with it, especially as I've never had a brand new car to drive before. All my mates are jealous. I will be recommending you, and I will see you again in 2 years time for the next one.

Chris

Editor Note: I've never sold car to Trappist Monk before! Chris, this is when I am most pleased, when my prices mean Holy customer can drive brand new car for first time. This is so much more cost-effective than buying and you can budget exactly... Also, please take care driving home to Holy Island. If tide is in, Mini may float over to Norway! - Ling
---

Customer Letter: 205 / 1522
Martyn says...

Overall I was very happy with the service provided by Ling and particularly pleased to feel like an individual customer, not just another number on a sales target. My only irritation was the slow progress of the finance company.

Martyn

Editor Note: Yes, the finance on Volvos seems very slow. This is why I don't advertise many Volvo deals. This business not perfect, but I try to explain everything not in my hands you see. Glad you like new Volvo XC90 though Martyn, it is nice big car. Apologies for finance delays. - Ling
---

Customer Letter: 204 / 1522
Dawn says...

I received my new Megane CC promptly. Ling was always on the end of the phone to update me and keep me informed regarding the process of things.

Dawn

Editor Note: Ho, you get CC just in time for winter, Dawn! Never mind, it always good to deal with movie industry company, you are very nice multiple repeating customer. How many cars now?? Lots. One day you can help me make LINGsCARS.com TV commercials! - Ling
---

Customer Letter: 203 / 1522
Simon says...

Dear Ling,

Thank you for the sweets!

Excellent service from Ling - our new Picasso is the fifth (WOW! - Ling) car we have had from LINGsCARS.com, and I am sure it won't be the last!!

How much for the Rocket Launcher?

Simon

Editor Note: Aha, aha, aha... because you are in North East in delightful beautiful place Hartlepool (with American Dioxin PCB Ships) you have seen my ex PLA Zil Nuclear Missile Launcher on A1(M) at Darlington. Yes, you can buy... I sell to you at special discount price £10,000. It has 500 km only, is 1970, is MOT exempt and has free road tax class, which ofsets 7mpg from 7.0 V8 petrol engine. You will be pleased that nuclear missile points west towards America, in retalliation for your Asbestos Ships in Harlepool marina. - Ling
---

Customer Letter: 202 / 1522
Peter says...

Great Service - Great Prices. What you see is what you get. If anyone finds cheaper/better, please tell me.

Peter

Editor Note: Ah, so you looking for cheaper and better, Peter? It will be very difficult to find. No one has such low overheads as me, and most contract hire companies ask for high commission per car. I do not. Why pay more just to feed company's large staff wage bill and pay for many admin girls all up duff and on maternity leave??? You are long term repeating customer, Peter, and I hope you enjoy new Robo-Citroen C4 - Ling
---

Customer Letter: 201 / 1522
Mark says...

A first class service at every stage of the rental process. Professional, friendly and extremely efficient and helpful in every respect. I was recommended to use LINGsCARS.com and now I will be recommending others to do the same.

Mark

Editor Note: Mark, you are very kind to me, but I simply do my best. Hope you enjoy new top spec C200 Mercedes. Glad you say dealer was top-notch too, they will be damn pleased - Ling
---

Customer Letter: 200 / 1522
David says...

THE BEST: Premier League Class. At Darlington FC we get car offers 24/7 from all over the country. But not one could beat Ling, with the price or the quality of service... and to be able to speak direct with the boss just made it better. The supplying BMW dealer was equally as good as LINGsCARS.com.

When we get promoted we will be back for Bentleys!

David

Editor Note: Wow! Now I must be into big time supplying football clubs. Darlington FC will be welcome to rent Bentleys (although I have never sold Bentley - yet!), and maybe David will put me in touch with other footballing David (Beckerham) and Poshy for more Bentley sales - Ling
---

Customer Letter: 199 / 1522
Nigel says...

Dear Ling,

Apologies for not writing sooner. I've been tied up, but that's enough about my sex life!

The new motor (Mercedes C200 - Ling) was delivered when you said it would by a very helpful driver who explained all the controls etc, very thoroughly.

Well, what can I say? Over the last 25 years I've had around 30 new cars of all descriptions, some I imported, some from dealers. I came to the conclusion all of those be-suited salesmen so eager when you buy and when you return "if only it wasn't that colour", or "well of course the new version has hit residuals" and the rest of the crap they talk, merely serve to make the car buying experience not very enjoyable. So I figured maybe a better way is to go the contract hire route (EUREKA! - Ling). You know the cost up front, no big deposit, car brought to you and taken away and no listening to the mountains of bullshit (and free road tax for whole term, and full warranty, and AA/RAC cover, and free noodles - I'll shut up now - Ling).

So, I start looking at lease companies only to find the hard sell and a variation on the same bullshit from dealers' salesmen. Then I stumbled on your site. Wow! Crazy Chinese woman with sense of humour who felt like she approaches business the same way I do. That is to really know what you're doing underneath but wrap it all up with a huge dollop of humour and fun and at the right price. You must work very hard Ling, and it shows. Hell's teeth, woman, you've even fired me up to go explore China! (You welcome to stay with my ex-Red Guard sister in Chengdu, Nigel. I arrange - Ling) And the sweets ain't bad either (Yes, I bribe customer with Chinese sweets - Ling)!

Well done. It's great to know there are people like you around. You deserve your success and I hope you have plenty. Don't get too big (Wah! I am only 50kg! - Ling) and never lose that humour you crazy mad Chinese person, you. Brilliant! See you in two years!"

Best wishes and many thanks.

Nigel

Editor Note: Wahhhhhhhhhh!!! Such beautiful letter! Thank you, thank you. Everyone reading this... please to contact Nigel to buy beautiful gifts, and you can see my official Master Jeweller certificate Nigel sent me - Ling
---

Customer Letter: 198 / 1522
Cheung says...

Great customer service and communication, excellent rate, very quick, got car within 2 weeks of placing order - delivered to my front door! Highly recommended

Cheung

Editor Note: TaDaaaaaaaaaaaaa! Another Chinese customer! My service is appealing to many different people, but I'm always pleased to get another Chinese-origin customer. One day I'll sell a car to a Chinese restaurant and get a free meal! Enjoy your Citroen C2 fast VTR, Cheung Ka Bo - Ling
---

Customer Letter: 197 / 1522
Peter says...

Ling:- we love her. She's a very witty Chinese lady, exceptionally efficient at her job. We have had lots of cars from her.

Peter

Editor Note: Whoa! Peter is one of my BEST customers. He is also in motor trade so I appreciate comments from someone who should be immune to sales bullshit. Enjoy new Picasso, Peter!! - Ling
---

Customer Letter: 196 / 1522
Lucy says...

I'm very pleased with your service. You are always friendly and helpful. I love my new VW Passat and your price for the car was the best. Delivery was on time, and the driver was very good. I will tell all my friends about you.

Lucy

Editor Note: New Passat is very nice car, Lucy. Thanks for letter, I will pass on nice remarks to VW dealer - Ling
---

Customer Letter: 195 / 1522
Perry says...

Effortless and true to your word. One of the easiest purchases/transactions I have ever done. If I could buy shares in Ling's company, I would, as she understands customer focus totally!! Well done for providing such a fantastic service. Also, your dealer was friendly & helpful, I liked the Geordie accents.

Perry

Editor Note: Thank you for ordering Shogun Sport, Perry! Who said you can't buy shares in my company. I have 1000 available for public subscription at £1000 each. You want all 1000? Send cheque. - Ling
---

Customer Letter: 194 / 1522
Muhammed says...

Very easy to deal with and fantastic service - all with a smile! Good website; we will come back for more cars soon! Great service from your BMW dealer. Excellent.

Muhammed

Editor Note: Muhammed, it is with pleasure I supply another ethnic professional. Your writing up to professional standard, I cannot read it, hope I typed it right. Your choice of BMW 118 is damn good car - Ling
---

Customer Letter: 193 / 1522
Ruth says...

Ling, I was blown away with your "beyond the call of duty" service. Everything was handled efficiently, quickly and competitively. You delivered my Honda CRV when you said you would. The Honda dealer was excellent. I would definitely recommend and use you again!

Ruth

Editor Note: Ruth, thanks for letter, and thanks for flowers! I will ask you to do some PR for me. I like to give business back to customers, and all my printing, office supplies, insurance and now PR is handled by customers of mine - Ling
---

Customer Letter: 192 / 1522
Bob says...

The service I received was excellent, Ling made everything really easy, we would recommend her to others. We received a good all round service and enjoyed talking to her. The dealer was very efficient and the BMW 118 is a good car.

Bob

Editor Note: Bob, you are fantastic repeat customer, and you are also local to me. It is shame I never need precisely engineered things, or I would give you business. Biggest thing I have that is engineered, is my Zil Nuclear Missile truck - Ling
---

Customer Letter: 191 / 1522
Mike says...

My new VW Passat is a great car, Ling. The dealer was excellent, all as promised. You were considerably cheaper than the next-best like for like deal I found. I have recommended you, and my wife's business partner called Tom Murphy has just ordered a SAAB from you. Thanks!

Mike

Editor Note: Mike, thanks. I know VW Passat's are nice, everyone likes them! Thanks for referral, so many people begin to recommend friends. It's a shame my margins are so low, or else I could pay commission. A big THANK YOU!! - Ling
---

Customer Letter: 190 / 1522
Edna says...

Communication - the best! Every request/question was answered quickly and well.

Customer Service - the best! friendly, very!

Good Prices - compared more than favourably with other companies and all prices up front - great!

Dealer - friendly, efficient service, very happy!

Love the quirky site! Five stars from me!

Edna

Editor Note: Ed! Wah, what a nice letter! Hope you enjoy flashing around Leeds in new MX5! Maybe weather kind to you and you can get top down - Ling
---

Customer Letter: 189 / 1522
Alan says...

Ling's website is the best there is... it's brilliant and after visiting it, there is no way we could have ordered our car from anywhere else!

For the record, she also gave us the BEST PRICE for our new VW Passat. We must have tried over 30 companies. Very, very happy!!! :-)

Alan

Editor Note: Hehehe, why try 30 other sites? Just read the letters on this page, that would have saved you so much time and trouble, Alan. Thanks for the sweet comments. Brand new VW Passat on way - Ling
---

Customer Letter: 188 / 1522
Mark says...

Well, everything was going well until I tried to digest the Chinese sweet (Red Tea boiled sweet, hehe - Ling) enclosed in your correspondence!! 'Interesting' is the only polite word I can use to describe it! (Red Tea sweet damn nice!!! You crunch! Typical English man always crunch! You should suck, not crunch! Enjoy, not choke!!! - Ling)

But seriously, the whole operation getting my Saab 9-3 from start to finish has been extremely simple and stress-free. And I should know as I own a motor retail outlet.

'So what's the catch?' I hear people cry. - Well to be honest there isn't one! Ling's approach is that of someone who really cares about her customers and their individual needs.

Over the years I have dealt with many contract companies with varied results. Therefore, I can 100% recommend Ling and LINGsCARS.com, in that respect. All I can say is keep up the good work...

PS. Do I get commission for the above???

Mark

Editor Note: He, he, he... your commission is in the form of cheap car, boiled sweet and painless service, Mark. If you not say nice things, I treat you like normal, terrible contract company you have experienced in past. I tell you lies about car, mislead you about price, misinform you about the delivery, make mistakes on documents, ignore your phone calls, rob you for more commission and send you NO CHINESE SWEETS! Also, I would give you Chinese Burn, hehe. So pleased that people in motor trade appreciate my hard work and say damn nice things!! Thanks - Ling
---

Customer Letter: 187 / 1522
Dawn says...

Ling provides good efficient service and is very competitive.

Dawn

Editor Note: Fantastic to be able to supply you Berlingo, Dawn! As Screen do very famous filming work, maybe you give me professional opinion of my Zil Missile Truck movie, eh? - Ling
---

Customer Letter: 186 / 1522
Chris says...
Ling, I found your site because you are a Googlewhack!!! If you enter the words "antidisestablishmentarianism multipla" you are the only site that is found!! I am, however, glad I found you because it is a mad site!!! I think you should get in touch with Dave Gorman to tell him you are a Googlewhack!

Chris

Editor Note: Whoa! So damn proud to be Googlewhack! For idiots, this means I am only result in Google when search inputted. Google searches 8,168,684,336 web pages when I checked. Over 8 BILLION! And I am only result!! Hey! And word antidisestablishmentarianism is longest word in UK. But it is summing me up, how damn appropriate. I have emailed to Dave Gorman (who is Dave Gorman?), but a big THANK YOU to Chris Eyre! I send you special gift of genuine used-by-red-guard 1960's Mao red book! - Ling

Update: Because I print this letter, this is no longer Googlewhack. Ironic, huh? - Ling
---
Search my letters page!

| | | |
| --- | --- | --- |
| From your area... | ...or from people... | ...or about a specific car! |
| | | |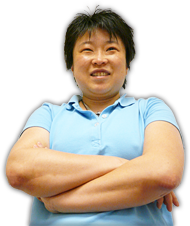 Online Service
Response Times
Quote > Proposal > Order > Delivery
82 CLIENTS IN 'PROPOSAL'
...LING REPLIES IN:
HRS : MINUTES sec
163 CLIENTS IN 'ORDER'
...LING REPLIES IN:
HRS : MINUTES sec
Customers use my secure LINGO management system.
Response times above based on last 4 hour period between
9am - 6pm, Mon to Fri -Ling

No Waiting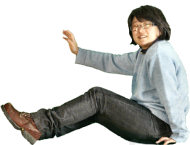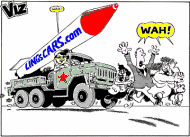 I am the Viz UK business ambassador!
Post me Ferrero-Rochers! Yum Yum!
Unlike most other internet car leasing sites, I publish all my contact information openly!
...so, you know who I am - Ling
THE UK's FAVOURITE
CAR LEASING WEBSITE!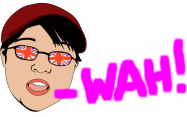 Boss: Ling Valentine MSc IoD
15 Riverside Studios
Newcastle Business Park
Newcastle upon Tyne, NE4 7YL
Tel 0191 460 9444
[email protected]
I prefer email to phone - Ling
VAT No: 866 0241 30
Co Reg No: 6178634
Consumer Credit Licence: 663330
Data Protection No: Z1098490
Best Before: 17/08/2007