CUSTOMER LETTERS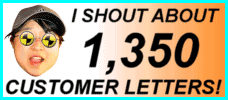 1522 LETTERS!
More customer letters than any other car sales site IN THE WHOLE WORLD! - Ling
You are viewing page 43 of 58 - go to page:
Search my letters page!

| | | |
| --- | --- | --- |
| From your area... | ...or from people... | ...or about a specific car! |
| | | |

Showing ALL my letters!



Customer Letter: 463 / 1522
Steve says...

"Hi Ling

The more I found out about you and your business the more I liked. Your good humour and banter shines through making the hiring process a pleasurable experience. Your email service was highly responsive and you obviously take note and show a considerate understanding of your client needs. You are very competitive on price and ultimately this will always be a major advantage if maintained.

I would recommend you without hesitation, I strongly urge straight-laced people (including myself here) and those serious corporate types not to be put off by your crazy web site! It is refreshing to see a new approach in this type of business that I suspect will grow and grow if the American experience is anything to go by.

I had no problem insuring my car but if you can fit it in on your web site (!), then some insurance advice would help further boost confidence for people considering this form of motoring.

I wish you well for the future."

Steve

Editor Note: Steve, you were not straight-laced! You were brilliant fun customer!!! Your car was delivered in 2 and half weeks, quite fast, eh? Luckily, my Citroen supplier is the world-best! Thanks for your sweet comments. Insurance; well, I now send info out with documents to every customer following your comments. However, putting it on the website is SO difficult, as I am not FSA regulated and I do not want to break the law - Ling
---

Customer Letter: 462 / 1522
Chris says...

"Just wanted to take the time to write to you in order to thank you for the exceptional customer service you have shown to our company. In the first instance your website answered everything I wanted to know about the various leasing options available to us with advice and guidance as to the best way to get a good deal. When it was time to make an initial enquiry, the website form was simple and clear to use. The biggest surprise is that you got back to me in literally 3 minutes! I was shocked; contrast this with another leasing company we went to, who didn't even get back to us within 7 days! This speed of customer service continued throughout the ordering process, at one point taken over briefly by your equally efficient husband (reassuring you have someone to cover for you when you are dealing with other clients). You even once responded to an email I sent at 11:30pm within 5 mins!

We were VERY demanding clients who caused a number of difficulties for you, but you carried on regardless with politeness, speed and efficiency. You also negotiated on our behalf with the finance company due to our special circumstances. The RAV4 we ordered arrived early and in perfect condition.

During our dealings a situation also arose which you could have taken advantage of to earn an extra £500, but instead you very honestly pointed out the mistake in the finance company documents and we made the saving instead.

We keep a list in our office of companies and rate them as to how good we think they are, you are currently number three out of around 150 companies we do business with. I can't imagine us leasing any cars from anyone else in the future keep up the good work."

PS Great to see you on Dragon's Den kicking those arrogant Dragons's over inflated egos.

Chris

Editor Note: My God, Chris! You are so kind to me. I hate to think how poor most companies are, if I make number 3 on your list! I simply try my best and I am more interested in future business than scamming a few quid this week - that money was yours, I would never dream to keep it! I enjoyed your "difficulties" you gave me, it is nice to have something to get my teeth into. Thanks for beautiful letter :) - Ling
---

Customer Letter: 461 / 1522
Neil says...

"Car was delivered last Thursday as arranged. Great fun! I can't believe how easy it all was. Thank you for your assistance. Will be back in touch when our other car needs replacing."

Neil

Editor Note: Ha! You live in Stockton which is a dodgy area to have an MX5, but you reckon it will survive, Neil. Maybe I'll see you whizzing around, I am often in that area playing ping pong with my club - Ling
---

Customer Letter: 460 / 1522
Stephen says...

"Hi, really enjoyed the personal approach and fun business ethic. Unfortunately the whole experience lost its edge when I collected a dirty car with 400 miles on it. I'm not sure that you can wash your hands of responsibility - I did not deal directly with the supplying dealer."

Stephen

Editor Note: Well, what can I say? Once again a stupid delivery driver who cannot be bothered to wash a car spoils a happy customer experience. Stephen, I must point out you live in Northern Ireland, and the dealer had got the car from London to Stranraer to meet you so you could take it back on the ferry. The 400 miles is inconsequential as this will be added to the contract mileage, the point was the dirty condition. Which the dealer did not help with - they even disputed it was dirty!!! Unfortunately the day was in March and was wet and miserable. All I can say is sorry, and give the dealer a kick! - Ling
---

Customer Letter: 459 / 1522
Caroline says...

"What an absolute breath of fresh air you are, Ling. You responded to every email within the hour and 99% of the time within minutes. Plus, you remained utterly professional throughout, despite me changing my mind almost daily about the colour and model.

There was no having to chase things up, no excuses, no lies - everything went exactly how you said it would - quickly, easily and with no stress. You are absolutely head and shoulders above other leasing companies on price, product knowledge and most important; customer service. They talk a great deal but never deliver a car, whereas you have got it spot on, well done! My MX-5 was delivered bang on time, by a very, very nice man.

I would, and do, recommend you wholeheartedly to friends, colleagues and anyone else considering leasing. I will certainly be coming straight back to you when my 2-year contract is up.

Just one negative comment; those Chinese sweets are awful!

You are a little startling, I thank you for your incredible patience and wish you much success, you really do deserve it. You know, every time I watch Dragons' Den, this image of Duncan Bannatyne's face appears in my head when you turned him down; it was just priceless."

Caroline

Editor Note: Wow! What a letter, Caroline. Your umming and ah-ing was caused by Mazda offering air-con but insisting that it is taken with leather seats, which makes it damn expensive. You have the cheapest MX-5 in the world, hope you enjoy. I know my sweets are vile, that's the fun in sending them. No customers have died (yet) :) - Ling
---

Customer Letter: 458 / 1522
Reverend says...

"Just to let you know, the Citroen Picasso arrived safely and early at 8.00am on Friday as promised. I am really pleased with both the service you offered and the promptness of the dealer. I am sure I will be back (again) in two year's time."

Reverend

Editor Note: Stuart, the bloody dealer (although brilliant) kept insisting to call you "Mr" not "Rev"! I told him off. I also sent you a small Chinese bible (Mao Red Book) to make up for it. This is the THIRD Picasso you have had from me, over the time of 5-years, since 2002! LONG TERM CUSTOMER!!! :) Thanks! - Ling
---

Customer Letter: 457 / 1522
George says...

"All together it was a very good service. Friendly man delivered the car on time and was very helpful. This MX-5 is my first lease car and I was kept up to date with the leasing progress by phone and email. I hope to do business with you again in the future."

George

Editor Note: George, you were so helpful when I needed stuff from you, and so quick on the email. If only all customers were so responsive as you :) Enjoy the bloody Mazda! - Ling
---

Customer Letter: 456 / 1522
Peter says...

"The whole process from car selection to delivery of my SAAB Spotwagon was handled in a professional manner with superb customer service, even though we had some issues with arranging finance (and I'm not a bad debt!). We were ultimately let down by Direct Line who seemed incapable of issuing an insurance cover note needing 5-hours of phone calls. Good delivery, chap got lost in my village but on time and good service."

Peter

Editor Note: Bloody Direct Line, eh? These big companies just can't get it together. SAAB finance IS a bit fussy and there was a bit of too-ing and fro-ing, Peter. Sorry about that. But you got your car and I had a nice chat with you about improving your car with some SAAB approved performace chip stuff - Ling
---

Customer Letter: 455 / 1522
Liz says...

"Hi Ling,

Thank you very much for organising my lovely wee car. The service you provided was impeccable, from beginning to end! Excellent delivery, exactly on time. Excellent communication and good honest personalised service - somewhat a rarity in the car world. See you again in two years."

Liz

Editor Note: From Welsh ethnic customer (below) to Scottish ethnic customer! Thanks for lovely letter, Liz. Hope you enjoy MX5 with top down in bloody cold Scottish weather. You were a very sweet customer - Ling
---

Customer Letter: 454 / 1522
Martin says...

"Many help for your help and service in the provision of my Skoda Octavia. The entire process was handled swiftly, efficiently and with the personal touch. Much appreciated. The car is excellent and the delivery was entirely satisfactory."

Martin

Editor Note: Hehehe, you are damn Welsh pub owner! Ethnic customer! I look forward to call in for Baileys when I am in Wales. Enjoy Skoda! - Ling
---

Customer Letter: 453 / 1522
David says...

"Friendly, knowledgeable and an efficient service and delivery. I would highly recommend Ling and her company to anyone."

David

Editor Note: Brilliant letter, brilliant car (Mazda MX5) and brilliant customer! - Ling
---

Customer Letter: 452 / 1522
Rachel says...

"Thanks Ling for leasing us a superb car! The process was made simple by constant communication and friendly approach. Extremely competitive prices and excellent customer care. Wish you all the best for the future."

Rachel

Editor Note: Zoom, zoom, zoom! Hope you are enjoying your new Mazda MX-5. What a lovely letter, thanks Rachel! - Ling
---

Customer Letter: 451 / 1522
Andrew says...

"LINGsCARS made the process of getting my new SAAB 9-3 simple and easy, as well as having a good deal on the car I wanted. Good delivery."

Andrew

Editor Note: Andrew, you were a model customer, and even though I have never met you, you live just 200 metres from my house!! Wow, so local - Ling
---

Customer Letter: 449 / 1522
Trevor says...

"Very good, friendly service. Good prices. Efficient service. My only suggestion would be to scale down the busy advertising and printing on envelopes and paper/website. There is too much going on (if you know what I mean). The Vauxhall Corsa was delivered on a very wet day, driven to my house and had 135 miles on the clock."

Trevor

Editor Note: Hehehe, sorry about the migraine from my colourful stuff. My envelopes serve a useful purpose! My local Royal Mail sorting office recognise and know exactly where to deliver them, there is no chance of them getting lost. Website is designed to make life much less boring than other car suppliers who would have you slashing your wrists with dreariness. Your son's car was delivered very fast, in the end. You wanted it quickly, you said he was moaning. So I arranged the fastest delivery, which involved driving it. The miles will be deducted (or added to) your contract. Trevor, I cannot be responsible for the rain :) Ooooops - Ling
---

Customer Letter: 448 / 1522
Marjorie says...

"If only all business dealings went as smoothly as this, life would be great. Very professional, trouble-free and gave me a few giggles along the way. Excellent delivery. As for you Ling, "YOU GO, GIRL!". Thanks a lot."

Marjorie

Editor Note: Marjorie, you did not mention that I failed to make clear that leather was not standard on this pick-up, unlike the old L200. Sorry about that. So nice to deal with such a fast-responding, perfect customer, thanks for your comments - Ling
---

Customer Letter: 446 / 1522
Allan says...

"From start to finish I was kept informed of when and where my delivery would be, the cost, the outlay and how to proceed. I will definitely advise my clients to go to LINGsCARS without hesitation! Car was delivered with the wrong number plates."

Allan

Editor Note: Yep, Allan. You had wrong number plates! Your personal plates say "54" on them and the dealer defaulted to "56", as that is current plate at time of delivery. Idiots. I immediately arranged for these to be changesd and fitted FOC to you in Sunderland the very next day. Shame the dealers don't take so much care, eh? You are a very good customer and also very good ping-pong player! - Ling
---

Customer Letter: 445 / 1522
Mike says...

"We are always very pleased with the service we get from LINGsCARS and the prices are also very keen. Good delivery. However, you make too much profit from poor people like us, we cannot even afford a bowl of rice a day! Wah!"

Mike

Editor Note: Whoa! You frighten people reading these letters, Mike! Really, you are bloody damn rich battery importer and distributor, and supply all types of batteries from Duracell things to bespoke camera batteries. You are replacing old shape 1.6 MX-5 with new shape 1.8 at same price! Hope you like it - Ling
---

Customer Letter: 444 / 1522
Kevin says...

"What's the difference between Ling and the other companies? - Well, she has the knack of dealing with you as an individual!

As a first timer to personal contract hire, I had a few stupid questions to ask. I was always offered prompt answers and advice. Thanks to Jon who helped me while Ling was in China - great service. My new BMW 5-Series was delivered promptly, in time for Christmas, with zero miles on the clock."

Kevin

Editor Note: Hey, Kevin, I did a lot of the work on your car from China! Don't give Jon any credit!!! Traditionally, BMW drivers are a bit agressive, but you were a very sweet customer Kevin. Are you sure you have ordered the right car? Hehehe I think you meant to click on "Nissan Micra" :) - Ling
---

Customer Letter: 443 / 1522
Tina says...

"Thanks for you excellent customer service and very competitive price on my new Mazda MX-5. Excellent delivery."

Tina

Editor Note: Tina, your order was one of the smoothest and simplest I had all year. Your parerwork was fantastic, perhaps you could teach some other customers how to write in English, not Swahili :))) Enjoy MX-5 - Ling
---

Customer Letter: 442 / 1522
James says...

"Ling, excellent service - the car spec and colour exactly as requested. First time personal contract hire has been really easy to arrange and I'll be looking to do this again in 2008. The Audi A6 was delivered on time with no fuss and a good handover."

James

Editor Note: James, I can always rely on my Audi supplier to do a good job. Of course the colour matched, you think I would deliver a pink one with yellow spots? You are too used to traditional motor dealers :) - Ling
---

Customer Letter: 441 / 1522
Bill says...

"This must be the first business website that keeps you entertained. I came across it on a Google search. Ling was very helpful and made the first-time process of leasing a car a doddle - no problems - and I will recommend and use Ling again. Excellent delivery. Keep up the good work."

Bill

Editor Note: Hey Bill, your car was turned around quickly. You chose Grand Punto which unfortunately had manufacturer recall for some parts missing under dash, but you got these fixed by the local dealer free of charge. Glad you were happy. - Ling
---

Customer Letter: 440 / 1522
Jude says...

"Ling made leasing a car easy - and even fun! Her response was really quick and she made sure it was delivered before Christmas. The delivery was excellent, and the sweets were nice, too!"

Jude

Editor Note: Jude, you manage one of the best local shopping centres, so I have to look after you! You chose a Citroen and my supplier is the best in the UK, so we managed to get your car in about 10 days. This is very fast! However, you are one of the first people to tell me the Chinese sweets were nice, so everyone else will now question your judgement on my service. - Ling
---

Customer Letter: 439 / 1522
Dan says...

"Great car, great price and great service. Plus, a fun company to deal with. Had a bit of a misuderstanding with Jon over Xmas deliver schedules but other than that it all went through seamlessly. Car turned up on time, no problems."

Dan

Editor Note: Dan, hmmm, it wasn't a misunderstanding, just that you did not jump fast enough. Only so much time before Xmas to deliver cars and opportunities to deliver disappear at a machine-gun rate. Sorry about that. Never mind, it meant you can enjoy the booze over Christmas. As an aerospace engineer, I hope you sobered up before you went back to screwing the Eurofighters back together! - Ling
---

Customer Letter: 438 / 1522
John says...

"Ling, we thought the service you provided was exceptional. Very good communications throughout the process. My wife loves her new Skoda Fabia, it's a terrific little car. Delivery was excellent, the car arrived on time as promised."

John

Editor Note: What can I say, John? You were very lovely customers. I was a pleasure to deal with you. Look forward to your next car. Note that Skoda Fabia is a VW Polo by another name, except you get much more stuff plus aircon! - Ling
---

Customer Letter: 437 / 1522
Martin says...

"I emailed at least 20 leasing companies. LINGsCARS was the first one to reply of the three that bothered. A very efficient service, always keeping me up to date and replying to any queries and questions within 24 hours. Competitive prices and a sense of humour. Seat Toledo delivered within 3-weeks. Would recommend to anyone. Only fly in the ointment was that my car's warranty and breakdown info was missing on delivery."

Martin

Editor Note: 24 Hours! Wow, 24 minutes more like :) ...yes Martin, this bloody dealer has now delivered two cars without the service books. These have followed in the post. But it is not good enough and I have terminated them. There are plenty more dealers in the UK begging for my business. Glad you like the 140bhp fast car, and fast service :) - Ling
---
Search my letters page!

| | | |
| --- | --- | --- |
| From your area... | ...or from people... | ...or about a specific car! |
| | | |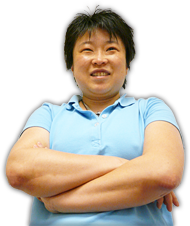 Online Service
Response Times
Quote > Proposal > Order > Delivery
75 CLIENTS IN 'PROPOSAL'
...LING REPLIES IN:
HRS : MINUTES sec
142 CLIENTS IN 'ORDER'
...LING REPLIES IN:
HRS : MINUTES sec
Customers use my secure LINGO management system.
Response times above based on last 4 hour period between
9am - 6pm, Mon to Fri -Ling

No Waiting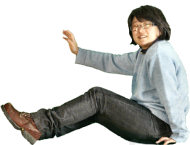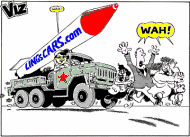 I am the Viz UK business ambassador!
Post me Ferrero-Rochers! Yum Yum!
Unlike most other internet car leasing sites, I publish all my contact information openly!
...so, you know who I am - Ling
THE UK's FAVOURITE
CAR LEASING WEBSITE!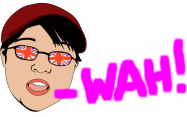 Boss: Ling Valentine MSc IoD
15 Riverside Studios
Newcastle Business Park
Newcastle upon Tyne, NE4 7YL
Tel 0191 460 9444
[email protected]
I prefer email to phone - Ling
VAT No: 866 0241 30
Co Reg No: 6178634
Consumer Credit Licence: 663330
Data Protection No: Z1098490
Best Before: 17/08/2007