I seem to be very popular as a public speaker these days. God knows why? Heh... seems the audience gets quite shocked when I open my mouth.
Here's me at the e-Consultancy Future of Digital Marketing Conference at Tower Bridge London, in June 2012
AUDIENCE REACTION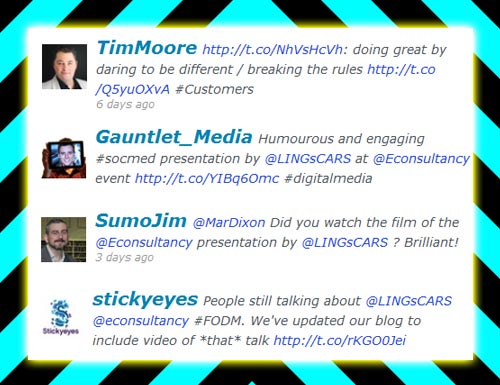 e-Consultancy deconstructed my talk and even showed a picture of my badge! Read the full description here.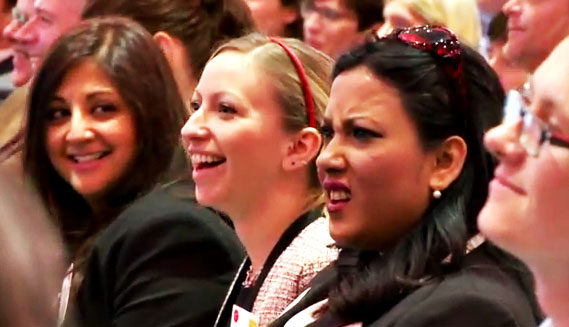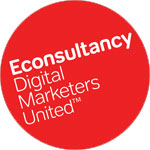 e-Consultancy Say:
"The star of last week's Future Of Digital Marketing (FODM) conference in London was undoubtedly Ling Valentine.
She had the audience in stitches several times during the presentation, but there were some valuable lessons from Ling's approach to e-commerce and especially customer experience."


Here's me at the e-Consultancy JUMP Conference in London, in October 2012
AUDIENCE REACTION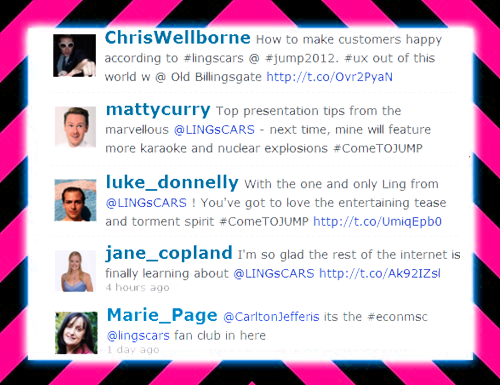 Have a look at my e-Consultancy JUMP profile.
Read it here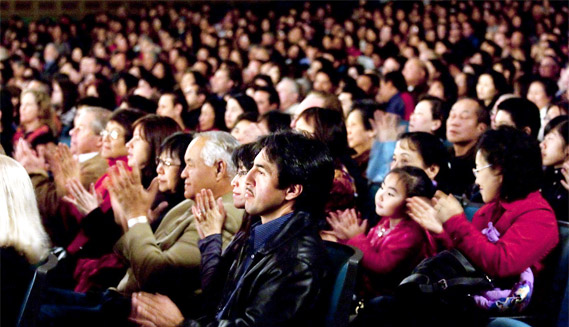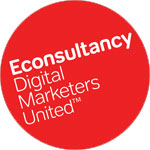 e-Consultancy Say:
"Ling once again stole the show at the 2012 JUMP Conference! How to make customers happy, according to LINGsCARS. UX out of this World!
Jump is about bringing together online and offline marketeers to share their experiences on what is working and what's not, to get inspiration, tips and ideas, meet old faces and make new contacts. "


I seem to be being booked to appear all around
the world, including Scarborough!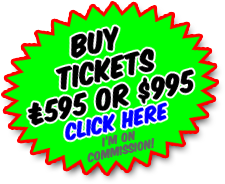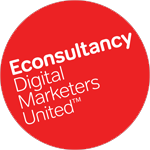 On January 30th 2013, e-Consultancy will run this year's JUMP conference at the Metropolitan Pavilion, New York. JUMP will focus on:
The skills you'll need for a successful career in the era of joined-up marketing
How you can work with your colleagues for increased campaign effectiveness
Effective practices and principals from examples of the best multi-discipline campaigns and strategies
The future trends and their implications for your industry
On the other hand, I will talk about selling stuff and making money.
Close (X)


Scarborough, the epicenter of east coast digital development, will host a key event for business and education: Digital Scarborough 2012. (Website is drab, but reflects the weather)
It's an event for the digital and creative development sector, designed to encourage students and businesses to embrace digital technologies and reaffirm Scarborough as a place for digital enterprise. On the other hand, you can go for a cold paddle. 16th January 2013.
I will be giving keynote address, but will not stay long as I can be back home in 2 hours.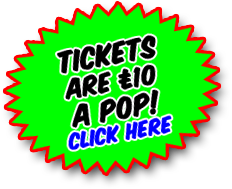 SAFFREY CHAMPNESS DIRECTOR'S BRIEFING
In July 2011, I gave a Director's Briefing all about my car business and my Chinese fashion business to invited directors of top Manchester firms organised by Safferey Champness.
I shared the stage with Ruth Shearn - MD of RMS PR & Marketing and Jennie Johnson - Chief Executive of Kids Allowed.

NEWCASTLE BUSINESS SCHOOL
In May 2011, I went to John Lewis in Newcastle to speak at the Newcastle Business School Alumni event.
The audience was full of CEO's, business leaders, degree holders and general riff-raff. The BBC were filming, too!
I talked about my virtually free marketing techniques, using my "WASP" and other techniques to grow my business.

SUPERMONDAYS
In January 2010, I gave a talk at SuperMondays, a big IT community in the north-east of England, about Internet Marketing - in Chinglish!
150 tickets were snapped up within 4 hours of release - the first time a "sell-out" had ever happened. Joining me on stage was Tom Fotheringham from DFDS Seaways, talking about Affiliate Marketing.
Jamie, my IT, joins me at the end of the presentation to answer some techniqcal questions.