CUSTOMER LETTERS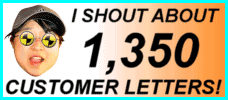 1522 LETTERS!
More customer letters than any other car sales site IN THE WHOLE WORLD! - Ling
You are viewing page 26 of 58 - go to page:
Search my letters page!

| | | |
| --- | --- | --- |
| From your area... | ...or from people... | ...or about a specific car! |
| | | |

Showing ALL my letters!



Customer Letter: 899 / 1522
Peter says...

I would recommend leasing a new car from Ling, to anyone! Great service, great cars! I look forward to every letter because they are sooooo funny. Cheers, Ling!

Peter

Editor Note: Another Captiva! Wow, I have supplied so many of these new cars. They are the best Chevrolet model, ever. Glad you are happy, Peter. Thanks for the kind comments about my letters, I do my best to make everything enjoyable for you. Go... DRIVE! - Ling
---

Customer Letter: 898 / 1522
Debra says...

Hi Ling! Thanks for your very prompt, efficient and very entertaining service.

I took delivery of my new Nissan Qashqai only a few weeks after first contacting you - I wish other companies were as quick to respond to customers' needs. Love the car! Prompt delivery, car valeted and ready to go!

Debra

Editor Note: Debra, I know Wakefield quite well, my husband comes from that city. So pleased you love the Qashqai, every customer who has one says the same. Glad it arrived quickly and I am smiling because you liked my service... - Ling
---

Customer Letter: 897 / 1522
Justin says...

Ling delivers on all of her many promises that she makes on her website. Always helpful and available and I wouldn't hesitate to recommend her to anyone. My Freelander arrived exactly on time as promised.

Justin

Editor Note: Just-in time for the Easter snow, Justin, hahahaha! Sorry, that was a very bad joke! As I type this, everything is white, and I am thinking of you driving your new 4x4. What a shame I didn't promise snow! - Ling
---

Customer Letter: 896 / 1522
Michael says...

What can I say? - Great service, every step of the way was easy, I will (and have) recommend you for the whole package! Good service and excellent delivery from the Toyota dealer, again would recommend.

Michael

Editor Note: Mike, thanks for that. I get sick of saying how good these Toyota Versos are, everyone who has one, loves it. I used to live near Poole, lovely place. Enjoy your Toyota in the sunny Dorset weather. - Ling
---

Customer Letter: 895 / 1522
Bruno says...

Excellent service, Ling. Very quick and efficient. My mats for my new Citroen C2 also came very quickly. A good friendly chap delivered the car. I can't fault you, really!

Bruno

Editor Note: Bruno and Sharon, well, I'm glad you like the fully loaded Citroen and I'm glad you liked my service. I give you a free hyperlink for yourbusiness! - Ling
---

Customer Letter: 894 / 1522
Janet says...

Ling - The Lexus is fantastic and so are you and your company. I was impressed from the first telephone call... and it's good to do business with someone who does what they say they will do. You are always at the helm and you are so very pleasant to communicate with. The dealer's service was excellent and I cannot fault the delivery.

Janet

Editor Note: Janet, well, I had to be specially nice to you as I will need to beg a spare room for a few days, next time the tennis is on. I have never been to Wimbledon. In the meantime, enjoy the Lexus, they are really great cars. As you are a regional manager for a property development company, I appreciate your comments about my service. thanks! - Ling
---

Customer Letter: 893 / 1522
Mark says...

I have just had my second car from Ling (an Audi A6 Avant), and again the service was excellent. She got me the colour I specified and was cheaper, yet again, than anyone else. I will use her again and recommend her to friends. Excellent delivery, the dealer was good and delivered the car on time, and to my front door.

Mark

Editor Note: Mark, you are my only Astronaut customer, and I am so proud to be associated with the British Space Programme. As you own the Stroud Space Centre (I guess you have a rocket launching pad), I will allow you to borrow my own nuclear rocket FOC whenever you want :). Hope you enjoy the Audi A6 Estate. - Ling
---

Customer Letter: 892 / 1522
Jim says...

Fantastic!! I couldn't have asked for a better service.

Ling was brilliant from start to finish. Every stage was handled with efficiency and fun thanks to Ling's helpful videos. All correspondence was answered within hours and the car arrived when stated. Ling even provided an "odd" snack along the way.

Getting a car with LINGsCARS was a great decision. My next car will be from Ling, without any doubt. thanks Ling. Excellent delivery!

Jim

Editor Note: Jim, your restorations are of the dental kind. My mum was a Professor of Stomatology in China!! My God, the same thing! Anyway, I'm so pleased you like your Picanto and will speak to you soon about a trip to China to visit tooth suppliers. Glad you liked the odd snacks, hehehe. I am REALLY pleased you liked the videos. - Ling
---

Customer Letter: 891 / 1522
Craig says...

Deciding to lease my new Vauxhall Astra via Ling is one of the best things I have ever done. The quick and personal response provided by Ling added to the experience and my new car arrived when she said it would.

Top notch!!

Excellent delivery, really good, friendly and helpful.

Craig

Editor Note: Craig, yep, what can I say? Your car order and delivery went without a hitch, but that was a lot to do with you being such a good customer and being accurate with your paperwork. I hope you get a good 2-years driving out of the cheap Astra. These are the most popular cars in the UK, and everyone seems to love them. - Ling
---

Customer Letter: 890 / 1522
Stephen says...

Great service from Ling from start to finish, would definitely recommend to anyone.

My Vauxhall Corsa SRI is a superb car for the money I paid, it feels great to drive a really nice car and also to know you got a superb deal on it as well. Ling answered all of my initial queries very quickly and kept me informed every step of the way from placing the order to taking delivery of the car. Delivery was on time and the delivery driver took the time to show me around all of the features in the car and made sure I was happy with everything before he left.

Very glad to have found Ling's website when I was looking for a new car, I've received an excellent deal and will definitely be back in 2 years time when my current deal runs out. Thanks again Ling, you're a star.

Stephen

Editor Note: Yeah, you did get a great deal. This fast car was barely more than a 1.2 Club Corsa. Also, you are an accountant, so I know you will have worked out the costs pretty accurately. You live in one of those places I cannot say, though! Enjoy the Corsa, Stephen, thanks for the note! - Ling
---

Customer Letter: 889 / 1522
Martha says...

We love Ling!

She made the whole process easy and friendly. We love our Nissan Qashqai and will definitely be asking Ling to get us our next car. Excellent delivery, the car arrived as promised and we love it!

Martha

Editor Note: Martha, at Twelve Events, you enjoy booking everything from a pianist for a wedding to a function band for a Company Christmas party. You have been responsible for booking some of the best known recording artistes of our time and have placed resident musicians in most of London's major 5 star hotels. Nothing is too big or too small for you or your company. Thanks for the lovely letter and I hope you give Elton John a lift in your new Qashqai, and that he loves it, too.. - Ling
---

Customer Letter: 888 / 1522
Mark says...

Intelligent, creative and no fluff (gimmicks excepted). Outstanding in a rather unimpressive part of the economy. Good delivery - although more to suit the dealer, than to suit me.

Mark

Editor Note: Mark, well, we were dealing with a BMW dealer and you know the World has to revolve around BMW, not the other way around. Thanks for the lovely comments, especially about my gimmicks :) - Ling
---

Customer Letter: 886 / 1522
Jason says...

Our Chevrolet Matiz 1.0L goes like a rocket! Maybe small cars from ling have added "voo voo voom"!

Thanks for all your help, Ling, and for saving us lots of cash.

Jason

Editor Note: Jason, I give you a hyperlink for your print company. At IMS your objectives are simple, to enable clients to communicate with their target audience better and in the most cost effective way through your printed products and print management solutions. Hopefully you will jump up Google, now. Enjoy your Chevvy Rocket 1.0 :) - Ling
---

Customer Letter: 885 / 1522
Eva says...

Ling's site is easy to navigate around to find the car of choice. She is very responsive and gives as much detail, without having to ask - I will use her again for my next car.

Eva

Editor Note: Eva, even though I can't say your name, it was lovely to be able to supply your new Volvo V50 Sportwagon. Thanks for the kind comments about my website, I put a lot of effort into it. See you in a couple of years :) - Ling
---

Customer Letter: 884 / 1522
Clive says...

Ten emails, four letters, all answered in record time.

No problems.

I now have a brand-new Renault Clio. It was delivered on time, on the day I chose... "Lease a car from Ling, let her do her thing!". Excellent.

Clive

Editor Note: Clive, well, you are a star for pointing that stuff out, thanks. I am getting better and better systems to handle things more efficiently. You can be sure I am sitting here, glued to my PC, watching all those emails though - and making sure things are great for you. See you in 2-years! - Ling
---

Customer Letter: 883 / 1522
Linda says...

A very easy and friendly transaction. Ling was very helpful even when there was a delay from the dealer. I would definitely use Ling again. Thanks... (how do you say "thanks" in Chinese?)

Linda

Editor Note: Linda, you say "xie xie" but it is pronounced "shay shay". That is thank you to most Chinese in the official Chinese language mandarin - (China, Taiwan, Malaysia, Singapore). In Hong Kong and the south of China (and probably your local Chinese takeaway), they speak Cantonese... so you would say it like this "mmm-goy". You should try it!! :) Anyway, all that rubbish aside, I'm glad you are happy with your Grande Punto oooop in Barnsley! Hahaha. I know you say thank you in Yorkshire by just making a grunting noise - my husband is from Wakefield. - Ling
---

Customer Letter: 882 / 1522
Claire says...

Thank you so much, Ling. The Citroen Relay is very good. Excellent service. Excellent delivery.

Claire

Editor Note: Wow, Claire, such a short letter, but straight to the point. This is your third van from me. That's brill. Talk again soon - for your fourth! :) - Ling
---

Customer Letter: 881 / 1522
Steve says...

I love getting cars from Ling. Always a good price and she always goes the extra mile - a very customer focused lady. Good delivery on my new Corolla Verso, car arrived when promised, so... great!

Steve

Editor Note: Steve, you are a certified Aborist. I think. Which makes you special, I don't meet many of those! You have had quite a few cars from me including TWO Versos, a Scenic and a Megane, and we began with a Peugeot 307 (back in 2002!!!). My God! So long a go. Thanks for being a lovely long-term customer. Go chop some trees :) - Ling
---

Customer Letter: 880 / 1522
Tony says...

Top service.
Ling does what she says 100% of the time.
No hidden extras, what you see is what you pay.
Fast efficient and friendly.
If it's in the post - it's in the post.
If you ring - speak to Ling!!
When the car was delivered it was dirty.

Tony

Editor Note: Tony, great - apart from that last line. Hmmm, how come a car dealer can mess up on such a simple thing? All they need is a £1 car wash and the job would be perfect, eh? It must have been a bad day. Thanks for pointing that "dirty" out, I will kick them... and thanks for the letter. Having said that, it is a small thing and you have a V6 2.7 fully-loaded, big, fast, leather-seat car for just £184/month. No complaints about the price, then??? :))) Thanks for the letter! And you might consider getting an address I can pronounce - my God! That address is worse than bloody Chinese! hahaha - Ling
---

Customer Letter: 879 / 1522
Les says...

Dear Ling, just to let you know that the E Class Mercedes 220 was delivered spot on time as usual. Both you and I had a bit of a tussle in obtaining this particular car but I'm pleased to say your perseverance paid off.

By way of comparison, I did in fact try to procure this car through several other leasing companies advertising on the web but all fell well short of your personal standards of professionalism and straight forward dealing. I think 'personal' is the key word here. I just wish I could get as much personal commitment from my Bank Manager, as that which you obviously commit to your clients.

This is the second Mercedes that I've leased via your Company and I'm pretty certain it won't be the last.

Les

Editor Note: Les, you are excellent repeating customer, you come back for more and more punishment :) Yes, it can be hard sometimes to obtain specific cars, you wanted this one and I managed to find you one in the end. It took a while though which obviously gave you the opportunity to shop around :) Mercedes did not make it easy! I do put in lots of effort, thanks for saying that. See you soon when you have worn this Merc out! - Ling
---

Customer Letter: 878 / 1522
Dan says...

Dear Ling, Thank you for arranging such a good deal on my Land Rover Freelander - and all in just 3 weeks from the first enquiry through to delivery. None of the main dealers or other leasing companies could get close to your deal or efficiency. I'll definitely be back for more! Excellent delivery - very pleasant and thorough delivery man.

Dan

Editor Note: Dan the man, how cool was that? I found you a car in stock, very unusual with Freelanders. As you are a Technical Author, you processed your paperwork efficiently which enabled me to crank up the speed. Don't drink cider and drive. I have heard the cider is very good where you live! - Ling
---

Customer Letter: 877 / 1522
Lynne says...

This is my first experience of using private leasing. Ling was the 4th company I contacted and I wish I had contacted her first. She made everything so simple resulting in minimal effort from me. Any questions and queries I had were answered and dealt with promptly and put my mind at ease.

I absolutely love my Vauxhall Astra Sporthatch and the monthly payment is extremely competitive compared with other companies. The dealer delivered the car on time and in immaculate condition, even the driver was friendly. It has been an absolute pleasure doing business with you, Ling, if only everything in life was so easy.

I have no qualms in recommending Lings Cars to anyone and I look forward to doing business with you again in the near future. Thank you Ling for all you help.

Lynne

Editor Note: Well, Lynne... not much risk in getting THIS car, eh? :) - Thanks for the very kind letter and it's good that you share this info, so many new customers find it useful. It doesn't matter to me if I am the first, the 4th or the last company you spoke to, I am determined to win business based on price and service. I'm glad you are happy. Speak soon! - Ling
---

Customer Letter: 876 / 1522
Darren says...

The Audi A6 Saloon arrived on time, very quickly and in pristine condition. I am very happy with the service and will definitely use Ling again. Excellent delivery.

Darren

Editor Note: Wow, short and sweet letter from another Audi customer. Thanks for the comments from Immingham, Darren. Talk in a couple of years, eh? - Ling
---

Customer Letter: 875 / 1522
Danny says...

The seaweed was rank, the service was great. I was kept informed the whole time. Good delivery of our new VW Golf.

Danny

Editor Note: Danny, short letter, short car, short reply: Thanks. I give you hyperlink for your web hosting and technology business. Experia provide advanced web solutions and communications for the corporate and private sector. I will just add that I sent you some delicious Chinese seaweed :) It is bloody healthy!!! Healthy things are always awful taste. Enjoy! - Ling
---

Customer Letter: 874 / 1522
Andy says...

Thank you for your prompt service, your excellent customer communication and your attention to detail - a pleasure doing business with you! The Kia Picanto was a "Valentine's Day Success"! Excellent, efficient delivery, on time.

Andy

Editor Note: Andy, you are such a good customer, you have had many cars. I think you will get good use out of this Picanto, I got you one with free air-con! I have given you a free bloody hyperlink for your company. Talk soon :) - Ling
---
Search my letters page!

| | | |
| --- | --- | --- |
| From your area... | ...or from people... | ...or about a specific car! |
| | | |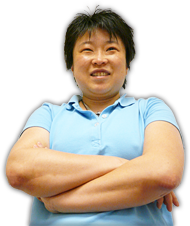 Online Service
Response Times
Quote > Proposal > Order > Delivery
75 CLIENTS IN 'PROPOSAL'
...LING REPLIES IN:
HRS : MINUTES sec
142 CLIENTS IN 'ORDER'
...LING REPLIES IN:
HRS : MINUTES sec
Customers use my secure LINGO management system.
Response times above based on last 4 hour period between
9am - 6pm, Mon to Fri -Ling

No Waiting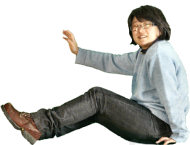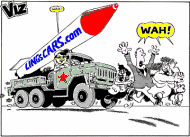 I am the Viz UK business ambassador!
Post me Ferrero-Rochers! Yum Yum!
Unlike most other internet car leasing sites, I publish all my contact information openly!
...so, you know who I am - Ling
THE UK's FAVOURITE
CAR LEASING WEBSITE!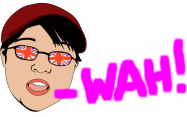 Boss: Ling Valentine MSc IoD
15 Riverside Studios
Newcastle Business Park
Newcastle upon Tyne, NE4 7YL
Tel 0191 460 9444
[email protected]
I prefer email to phone - Ling
VAT No: 866 0241 30
Co Reg No: 6178634
Consumer Credit Licence: 663330
Data Protection No: Z1098490
Best Before: 17/08/2007