CUSTOMER LETTERS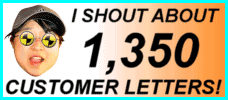 1522 LETTERS!
More customer letters than any other car sales site IN THE WHOLE WORLD! - Ling
You are viewing page 32 of 58 - go to page:
Search my letters page!

| | | |
| --- | --- | --- |
| From your area... | ...or from people... | ...or about a specific car! |
| | | |

Showing ALL my letters!



Customer Letter: 746 / 1522
Jeff says...

Ling. Thanks for the second car (Land Rover Freelander 2) from you in two months, I must have been happy! Excellent delivery. Will be back in two years, for two more cars.

Jeff

Editor Note: Jeff, this is just the thing for a Mortgage Broker, with some tough times for house prices ahead. All your motoring costs are now fixed. This new Freelander is a fantastic car with a great engine. Enjoy it, I hope it snows in Surrey, this year! - Ling
---

Customer Letter: 745 / 1522
David says...

Excellent service, great price, really happy with the new 150bhp Vauxhall Astra, I will use Ling again! Excellent delivery.

David

Editor Note: David, and I will accept you are a customer, again, hehehe. You are very local to me, wow. Maybe I will see you around! So pleased you are very happy with everything. As you are a senior manager in a professional business (Quantity Surveying) I really appreciate your comments. - Ling
---

Customer Letter: 744 / 1522
Chris says...

We are absolutely delighted with our brand new Vauxhall Zafira and with the superb service you provided. You made the whole process, from selecting our new car to receiving the keys, straightforward, quick and even fun!

Good delivery. Well done Ling, keep up the good work - see you again in 2-years time.

Chris

Editor Note: Chris, as you are an IT manager, I take great pride that you like my web service. I really do my best to make the whole service fun, even though we are dealing with big, expensive things like cars. Although in reality it is a very cheap rental for such a brilliant new 7-seat car. Talk soon! - Ling
---

Customer Letter: 743 / 1522
John says...

Exceptional patience and helpfulness.

This is my second rental, Ling was that good I never bothered to look elsewhere. Good delivery.

"Entrepreneur of the Century" is closer than the award of "Entrepreneur of the Year".

John

Editor Note: Wow, and we are only 8 years into the century! I'll do my best to keep up the great service to you, John. You had a brand new Fiat Grande Punto and these cars were just very, very cheap at the time, I have placed dozens and dozens in 2007. Enjoy the car, see you back in a couple of years :) - Ling
---

Customer Letter: 742 / 1522
Julian says...

LING - YOUR SERVICE REALLY BLOWS!...

...the opposition away. I am more than a little impressed with the level of service you offered and will be back for my next car. Excellent delivery.

Julian

Editor Note: Well, you two, you were perfect customers, always fast with your emails and lovely to deal with. Hope the VW Transporter van does a great job for you. These are real bargains! - Ling
---

Customer Letter: 741 / 1522
Chris says...

Very efficient, a bit wacky! But quick replies to emails - better to contact on email than phone (hey! I run a website business, I prefer things about cars in writing! - Ling) - but absolutely delighted with the service and efficiency of LINGsCARS and Ling.

When I didn't speak to Ling, the chap I did speak to was just as good as her! Excellent delivery, the chap spent time explaining how everything worked on the car. So well done - we will use you again and recommend you!!

Chris

Editor Note: Chris, well, you have a brilliant brand new Mini Cooper! Of course, I give more priority to email than the phone, as the phone is a bit inefficient and when I'm dealing with cars I need everything clearly in writing as it is easy to make expensive mistakes with £10-£40k cars. Chap you spoke to was Jon, my husband. I hope you have a great 2-years with your new cool car. - Ling
---

Customer Letter: 740 / 1522
Andrea says...

Dear Ling,

Brilliant website, excellent dialogue, inventive service and FANTASTIC CAR!!!!!!! Thanks!

Andrea

Editor Note: Hey, Andrea, great car (Toyota Verso) and brilliant company (SnappyTitle). Thanks for the lovely letter, I am so pleased you are happy with my service. Lokk forward to more in the future. I give you a hyperlink! - Ling
---

Customer Letter: 739 / 1522
Andy says...
Ling, you may be bonkers, but I can't fault the service! Excellent. Thank you.

Andy

Editor Note: Andy, yet another car (Audi A3) for your cleaning company, thanks for the super letter. Bonkers, indeed! - Ling
---

Customer Letter: 738 / 1522
Pearl says...

Fantastic friendly service, great deals and exactly as advertised - a pleasure doing business with Ling - highly recommended. Smooth delivery, nice clean car. Excellent.

Pearl

Editor Note: Pearl, thanks for the short note. They build those Qashqais quite close to me, and everyone up here is very pleased with the Nissan factory, there are more windmills there than in bloody Holland! The Qashqais are so popular, I have a 2-3 month waiting list. Enjoy!! - Ling
---

Customer Letter: 737 / 1522
Glyn says...

Ling provides an excellent service with good communication. Dealings are open and honest. Will definitely consider another rental when this one expires. Keep up the good work!

Glyn

Editor Note: Glyn, well, there was a mix-up on your delivery date, sorry about that, I shouted at the dealer. However, you liked the service and you are pleased with your car! Great! - Ling
---

Customer Letter: 736 / 1522
Dean says...

The Mini Cooper had an oil leak after a month and will be in the garage for 5 days so a bit of an inconvenience - but they gave me a courtesy car.

But it was an enjoyable order process and a breath of fresh air from Ling!

Dean

Editor Note: Dean, glad to hear you enjoyed the process, but a shame to hear about the oil leak. However, they fixed it under warranty - just goes to show that these BMW Minis are not perfect - and at least they gave you a courtesy car to keep you mobile. Hope you have a great 2-years with your Mini. - Ling
---

Customer Letter: 735 / 1522
Ann says...


Need a new car,
No need to look far,
Drop her an email,
Give her a ring,
You can't do better than Ling.

She is really unreal,
Will get the best deal,
She won't hang around,
Is quick off the ground,
Go for the best, GO LING!

... only complaint was delivery at 6.30am!

Ann

Editor Note: Ann, that is a lovely poem, so thoughtful. Well, the Volvo was a very good alarm clock, eh? :))) It's nice to have a lovely surprise like this in a morning! What a thing to wake up to, a new car :). - Ling
---

Customer Letter: 734 / 1522
Paul says...

Hi Ling, had the car a few weeks now and I am really enjoying it. I'd just like to say thanks for making the process so straight forward with your quickness at replying to queries and being always on the other end of the phone to help. Good delivery, my Astra was delivered bang on time, driver was helpful. I would certainly recommend you to anyone, see you in two years, thanks.

Paul

Editor Note: Paul, you are ANOTHER Astra customer who is really pleased. I am sure this car deserves the No.1 slot as everyone who has one always says how good they are. Yours was the 140bhp version, these are quite fast cars. Enjoy it, thanks for the letter! - Ling
---

Customer Letter: 733 / 1522
Paul says...

Hi Ling, great car and smooth transaction. Everything went as scheduled. Good delivery. We are very pleased! We will certainly use your services again. thanks.

Paul

Editor Note: Fiestas are really popular small cars, this latest model is really good. People tend to ignore them, but they have plenty of equipment and drive really well. Glad you were pleased with the deal, the car and the way it was dealt with. See you in 3-years! - Ling
---

Customer Letter: 732 / 1522
Paul says...

Hi Ling,

You made the task of arranging a contract hire vehicle very easy and painless. The car was delivered when you said it would be and I am happily driving around in my new car. My friends are envious about the car I drive as you have really helped me maximize my budget. I have no doubt we will work together again when the time comes to change vehicles and I am already looking forward to what options I will have when this time comes.

Thanks again

Paul

Editor Note: Paul, thanks for the letter, these SAAB Sportswagons are brilliant value. Glad you thought the process was easy. I always try to give the best deal for your budget :) Go and drive, enjoy. - Ling
---

Customer Letter: 731 / 1522
Dean says...

Ling, I hope you are enjoying my Australian sweets as much as I'm enjoying my Volvo C30!

As easy as getting a Big Mac - pick the car, fill out the forms and HEY PRESTO... new car! As they say in Scotland, it's been "bra" (and not what you use to hold your best assets). Excellent delivery, good service all the way.

p.s. Hope you didn't choke on those cherries!

Dean

Editor Note: Dean, REALLLLLY liked the raspberry truffle bar from Australia! Sounds like you are having a great time in the Volvo, hope it causes less wind than a Big Mac!


You were a brilliant customer, despite being an ethnic Scottish :) I still can't figure your "bra" comment, sounds a bit rude, but maybe not. - Ling
---

Customer Letter: 730 / 1522
Helen says...

This lady is fantastic!

The Rav 4 is fantastic and the Chinese sweets - well NOT so fantastic, but who cares? The service Ling provides is faultless and many of our friends are very interested in lease hire through Ling, as we can't stop telling everyone!

Ling, we love you!

Helen

Editor Note: Well, hmmm, not sure about the lady-love, but I am damn pleased you like the Rav and the service. Hope you have a lovely time, in a very lovely part of the UK... I can just imagine you in the snow playing with the Rav 4. Sorry about the poison sweets, just my little fun. - Ling
---

Customer Letter: 729 / 1522
Graham says...
I had a very quick, clear response to all my queries. The SAAB 9-5 Estate is great and I like the two-year deal and the good value monthly cost. The (insurance) lead to A-Line helped me a lot as I was a company car driver and they found me an insurer who gave me a good no claims bonus, even though I have had no insurance in my name for 22 months. Excellent delivery, even provided a free courtesy car as the SAAB was late due to a problem with the speedo.

Graham

Editor Note: Graham, a few different results here. First, the SAAB is fantastic value, a massive car at a very low cost. Second, so pleased the insurance went well for you, I have had loads of good reports about this company. last, even though there was a PDI problem with the SAAB, the supplier kept you mobile. All in all, very very good, eh? - Ling
---

Customer Letter: 728 / 1522
Lee says...

I love my new Grande Punto! It's great. I wash it every Sunday and I love the new car smell!

Ling was really helpful and she responded really quickly to my emails. I am pleased I chose LINGsCARS and I was very impressed with the service. The delivery driver got a speeding ticket. Bad delivery driver!

Lee

Editor Note: Ooooops, well, he paid it and had the points, not you, Lee :) Glad you love your car, everyone thinks those new Grande Puntos are terrific. Don't wash it too much, you know what they say about Fiats and water, and it has to last 3-years. Enjoy!! - Ling
---

Customer Letter: 727 / 1522
Gregory says...

After spending several weeks searching for the best personal Contract Hire deal - I found Ling!

Best price, very efficient and I have a brand-new car for the first time in my life! I have already recommended Ling to all my friends and colleagues and will definitely use LINGsCARS again for my next PCH contract. Thanks soooooo much. Good delivery. Dealer would have scored "excellent" but the driver didn't quite make the AM delivery.

Gregory

Editor Note: Gregory, wow, a first new-car. I don't often get new-car virgins on my customer books :) That Astra is one of the best value cars this year, I have done dozens of them and every single customer is really pleased. Thanks for being a superstar customer! - Ling
---

Customer Letter: 726 / 1522
Patrick says...

My new Mercedes CLS arrived on time and just as you have suggested. I think you should use the slogan "does exactly what it says on the tin" as everything that you said would happen, did happen on time.

It is refreshing to deal with a company that does not over or under promise, and just delivers. The main Merc dealer in Belfast was not too pleased that they could not match either your price or delivery time. They also kept trying to sell me extras that I did not need.

I have recommended your service to a lot of our employees in Lincoln, and I will use your service to change your wife's car in the new year. Good delivery of my CLS and on time.

Patrick

Editor Note: Patrick, no I do not think the Merc dealer in Belfast is too happy. Only this week, I received an email from another good customer that said that dealer was threatening to make warranty work hard for another of my customers, even though that is totally illegal under Block Exemption Rules. I will have to have a word with them I am waiting for MBUK to write back to me. The dealer should be more competitive. As you are a Sales Director I am sure you can more than hold your own with them. Enjoy the low-rider CLS! - Ling
---

Customer Letter: 725 / 1522
Darren says...

Another transaction, again very smooth...

I asked Ling to offer her best price for a VW Passat Estate. The price was excellent compared to other dealers, the service was once again - excellent. No problems, very easy, much appreciated. The delivery was excellent, no questions!

Darren

Editor Note: Darren, well this car follows a Citroen Relay van and I say THANKS for the business. I always offer my best price up front, I don't play the stupid chipping games others play. Hope you are just as pleased with this car as you were with the van, talk soon! - Ling
---

Customer Letter: 724 / 1522
Clair says...

Love the car, Ling!

Great service from you, bright red makes it look like a Royal Mail car, I just need to get a uniform now. Thank you, see you in 2-year's time.

Clair

Editor Note: Pat, oooops, I mean Clair, I have included a picture of you, your cat and your new BMW 1-series, below. You will have lots of time to enjoy it, while you are on strike :) Thanks for the letter which arrived chewed, open, and 4 weeks late.

- Ling
---

Customer Letter: 723 / 1522
David says...

I was very happy with the service I received from LINGsCARS, despite a couple of hiccups (outside Ling's control), including the car arriving with incorrect number plates. LINGsCARS dealt with everything quickly and efficiently.

I was attracted to LINGsCARS because of the two-year lease deal - just what I wanted! Delivery was very good, including Ling arranging a foreign use certificate at very short notice just 2 days after the lease began. I will, and have, recommend LINGsCARS to my friends, well done!

David

Editor Note: David, well, even though you don't like the lack of storage cubby-holes in your new Punto, and that the idiots put the wrong plates on, I'm glad you are so happy. It makes me quite proud, that even though we struggled to get everything right for you (I have kicked the supplier) you were pleased. - Ling
---

Customer Letter: 722 / 1522
Joanne says...

I was very pleased with your services from start to finish. I have never leased a vehicle before and Ling made it so easy for me.

The best thing about Ling's service is that you are able to speak to Ling herself. Excellent delivery of my new Golf. I will definitely be using you again!

Joanne

Editor Note: You had a vey good value VW Golf 2.0 Tdi 170bhp Gt Sport 5dr, Joanne. NIC Services group delivers a complete range of facilities management services that offer value for money. It's with pleasure that I supply you a new car! - Ling
---
Search my letters page!

| | | |
| --- | --- | --- |
| From your area... | ...or from people... | ...or about a specific car! |
| | | |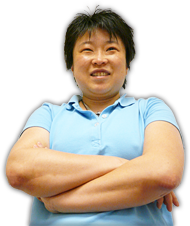 Online Service
Response Times
Quote > Proposal > Order > Delivery
75 CLIENTS IN 'PROPOSAL'
...LING REPLIES IN:
HRS : MINUTES sec
142 CLIENTS IN 'ORDER'
...LING REPLIES IN:
HRS : MINUTES sec
Customers use my secure LINGO management system.
Response times above based on last 4 hour period between
9am - 6pm, Mon to Fri -Ling

No Waiting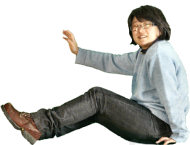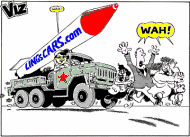 I am the Viz UK business ambassador!
Post me Ferrero-Rochers! Yum Yum!
Unlike most other internet car leasing sites, I publish all my contact information openly!
...so, you know who I am - Ling
THE UK's FAVOURITE
CAR LEASING WEBSITE!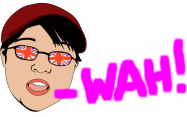 Boss: Ling Valentine MSc IoD
15 Riverside Studios
Newcastle Business Park
Newcastle upon Tyne, NE4 7YL
Tel 0191 460 9444
[email protected]
I prefer email to phone - Ling
VAT No: 866 0241 30
Co Reg No: 6178634
Consumer Credit Licence: 663330
Data Protection No: Z1098490
Best Before: 17/08/2007