CUSTOMER LETTERS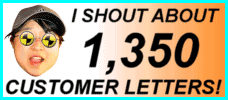 1522 LETTERS!
More customer letters than any other car sales site IN THE WHOLE WORLD! - Ling
You are viewing page 57 of 58 - go to page:
Search my letters page!

| | | |
| --- | --- | --- |
| From your area... | ...or from people... | ...or about a specific car! |
| | | |

Showing ALL my letters!



Customer Letter: 108 / 1522
Paul says...

Hi Ling, the Shogun eventually arrived fine. If only the dealer were as efficient as you!

Thanks for getting me such a good deal, I don't know how you do it compared to the big boys, but keep it up for when I come back for another vehicle.

Paul

Editor Note: Hmmmph, some dealers always give me problems and I always struggle to find good Mitsubishi dealer. Maybe franchise requirement means they not very good? Good = treat my customers like superstars, instead of just provide normal dealer service. Maybe I terminate this dealer, Paul. But so pleased you happy with Shogun! - Ling
---

Customer Letter: 107 / 1522
says...
I love the website and intend to be a customer later this year. I am surprised that you have not tied yourself up with an insurance company.

A

Editor Note: Hmmm, I keep thinking about recommending insurance company, but then I think "Customers are adults, they can choose own." Simple Google.co.uk search on "car+insurance" gives 10,200,000 results. Why you want to use one that pays commission to me? - Ling
---

Customer Letter: 106 / 1522
Marc says...
It was nice to have someone trying to help for a change, not seeing what they themselves can get out of it. I would not hesitate to recommend LINGsCARS.com to anyone.

Marc

Editor Note: Marc, it is very strange. I seem to sell many cars to Cornwall. Maybe I should visit beautiful place? Maybe no good car suppliers in your end of wood? I do not run business just for love, but I love to run my business. This is why you feel difference - Ling
---

Customer Letter: 105 / 1522
Derek says...
Ling,

You have excellent straight forward service, and you are very helpful. I will definitely use you again.

Derek

Editor Note: Thank you for letter, Derek. Enjoy BMW. When I need new bathroom tiles I will ring you - Ling
---

Customer Letter: 104 / 1522
Johan says...


We have dealt with Ling of LINGsCARS.com over the past few years, and we have always had excellent service. We would recommend LINGsCARS.com to anybody.

Johan

Editor Note: If only everybody would read this page, maybe everybody would order car from me, Johan - Ling
---

Customer Letter: 103 / 1522
Sarah says...


I've dealt with Ling for a few years now. She's reliable, and she's never let us down. She's always cheerful (which is rare in this trade). She offers a brilliant service.

Sarah

Editor Note: Thanks, Sarah. I try to be better than others - Ling
---

Customer Letter: 102 / 1522
Roger says...

I have found Ling and LINGsCARS.com very good and efficient to deal with. She is very user friendly, especially her website.

Roger

Editor Note: In turn, I have found papillon means butterfly. This is delicious insect if you deep fry (very fast) with chilli garlic sauce. Like Milky Way this is very light snack you can eat between meals without ruining appetite. Butterfly less sugar so more healthy. I should be damn celebrity chef, too - Ling
---
"FAO Ling,

After 20 years in a service business, your level of attention is the best I've come across in the field of contract hire or car sales. Our next car will be from LINGsCARS.com."

Alistair Clime
CY Office Electronics
27 South Mount Street
Rosemont
Aberdeen
AB25 2TN

Editor Note: As Chinese ethnic person, I am glad to get support from Scottish ethnic person! - Ling
---
"To Ling the Chinese idiot,

Just to let you know that we (you will never find out until it is too late) are sick of your stupid website, adverts on contracthireandleasing website, because you are steeling (sic) our customers by selling at stupid prices. If you continue to critisize us - and you know who you are aiming at - with your "do not pay £999 deposit" rubbish, we will take down your website and kick you off contracthireandleasing. Belt up or be shut up!"

Unsigned fax with no CSID and Caller ID block.

Editor Note: Oh, this is second attack on me in 3 days! Last one was ended by company owner phoning me and apologising, it was an employee who was being stupid, so I don't think they guilty. Other companies are mad because I say you should not pay more than 3 payments up front. Some charge £999!... Who this is I don't know, but I say to you, weak coward who does not sign name (and I am damn mad now); "You will NOT take down website, you will NOT threaten me, and I WILL attack overpriced selling methods in my adverts. And www.contracthireandleasing.com boss Dave Timmis is able to make up his own mind who he takes advice from. I put your fax through shredder. If I find out who you are, I will put your dick through shredder (you no doubt male)." These people should fight me by selling cars better, not by threat and insult - Ling
---
"I like your style, Ling. You say it how it is and I guess you don't suffer fools gladly. Full marks for an interesting website!"

Kevin Richman
17 Leet Close
Sheerness
ME12 4EE

Editor Note: I am glad you are not fool, Kevin, otherwise you would see other style! - Ling
---
"Fantastic web-site! I will be sending you my proposal form immediately!"

Paul Richmond
7 St Margarets Avenue
London
N15 3DH

Editor Note: You have fantastic taste, Paul! I will look forward to delivering you a car immediately! And enjoy your noodles!- Ling
---
"This site is supreme in every way. If your service is as good as the website, it will be superb"

Jason Weber
37 Tom Lane
Huddersfield
HD4 5PP

Editor Note: Jason, I spend so much time trying to make website the best to use in the industry. Other companies seem to have "still life" websites and treat the web as 2nd class business. To me it is No.1, because it's live, real, immediate, and exciting! Thanks - Ling
---
"I would just like to say that so far your style of service has been great and is a refreshing change from the stuffy service you would normally get, and I like the online chat especially"

James
6a East Street
Coggeshall
Colchester
CL6 1SH

Editor Note: Thank you James, I do try my best. Enjoy your Almera! - Ling
---
Note: Following the offence caused to my by stupid CarMyke Leasing employee (which was posted here 12/05/2005), the boss has been very nice to me and has assured me it won't happen again. Thanks - Ling
---
"This website is brilliant. I'm looking for a contract hire car at the moment, but even if I wasn't, I'd still log in just to read the mad stuff you write. You trury one clazy rady."

John Mills
13 Geneva Terrace
Darlington
DL1 5EN

Editor Note: You wanna watch it! I do da jokes here, and anyway your accent Japanese! ...which says it all really - Ling
---
If you like to read these letters, you probably like:
---
"Try searching for cheap car leasing and you will get hundreds of leasing companies, but the easiest (and by far the cheapest) site to visit is www.LINGsCARS.com. You will find a superb range of cars to choose from at prices to knock the socks off the competitors.

The application form is easy to print and complete, Ling Valentine is very helpful and my car was delivered early because of Ling's persistence with the dealer, knowing I needed it urgently. What a star! Thanks, Ling"

John Wallace
JD Cleaning Solutions
Unit 3C, Badger Way
North Cheshire Trading Estate
Prenton
Wirral
CH43 3HQ


Editor Note: Hey, thanks John! Enjoy Saab 9-5 Estate! I always add, though, I cannot do miracles with delivery (I can only do my best). I am Chinese not Catholic. If you want miracles click here! - Ling
---
"Ling,

Excellent web site, very entertaining, plus good prices. I have a small business myself and will probably buy off you when the time comes. How much are new BMW 320d's?"

John Morshead
99 Emmbrook Rd
Wokingham
RG41 1JN


Editor Note: I take so much time trying to make website the best in the industry. I think most others are boring, static and remain un-updated for weeks at a time. Other companies treat web-visitors as 2nd hand citizens, they want you to phone. I let you do what you want, treat you like adult, not idiot - Ling
---
"Ling,

We were extremely pleased with the service we received. You were very refreshing to deal with compared to the other companies we contacted, and we will definitely recommend your services.

Thanks for your prompt, efficient attitude."

Andrew Ward
Managing Director
Workwear Express
The Image Centre, Wesley Place
Coxhoe
County Durham
DH6 4LG

Editor Note: Andrew, I did miracle and delivered your car in 10 days! Enjoy SAAB! You supply the best work clothing in UK! Also, I may order special tee-shirts from you as Ling competition prize - Ling
---
"Your straight talking is an advantage. The writing is a little small under the cars, apart from that a very good site!"

Ken Ball
18 Beckfield lane
York
YO26 5RL

Editor Note: Ken, thanks for comment. I know writing small, it is a difficult balance I make between size of type and size of page. This is why I always put picture too, so you don't HAVE to read text to see which car. All prices on download price list very simple type and clear as hell, though. - Ling
---
"To Ling Valentine,

This email is just to let you know that your ZIL 131 6 wheel ex Shanghai, China, is currently arrived clearing customs at Portbury berth 23, and will be available for collection in approximately 7 days. I will forward you the VAT forms."

David Wren
by email
Freight Forwarders Ltd
Royal Portbury Dock Rd
Bristol

Editor Note: Ah, this will be my new promotional toy. I buy ex-Peoples Liberation Army Zil 131 nuclear missile truck actually made by damn Russians. It is brand new, in the mothballs, only 9 km on clock. I order. I paint website on missile (deactive). Only regular battlefield missile, not ICBM, you think I am crazy, you think I buy Minuteman Hong Feng (Red Wind) supersize? I think legal (actually road tax and MOT exempt, heh). For customers who pose in 4x4 Range Rovers and X5s, my Zil is over 9 feet tall and is 6x6 weighing 7000kg. Beats 4x4 hehe. Beats Hummer, hehe. I wave down to you, Hummer driver. It has over 7 litre V8 petrol. Also may glow in dark. Anybody with baby 4x4 want to come and play? - Ling
---
"Ling has always provided a fast, efficient service when we require vehicles. She regularly keeps us updated and is very helpful and friendly. We would happily recommend her services."

John Gillard
Speedway Car and Van Hire Ltd
654-658 Fishponds Rd
Fishponds
Bristol
BS11 3HJ

Editor Note: Speedway is damn good customer. I have supplied 54 cars and vans over 5 years to Speedway. You rent car in Bristol, you drive Ling car! Only problem is John Gillard is always on golf course in Spain when I ring him. You know, volume business from customers like Speedway helps me create bulk deals which mean everyone with single car orders gets massive fleet discount price. With low overheads, this is one of main reasons I can offer best prices on market to everybody, including customers who want just one car. You understand now? - Ling
---
"You want a new car on contract hire? Give Ling a "Ling". Top service from a top individual!"

Mike Cowley
Prestige Motor Company
Penistone Rd
Hillsborough
Sheffield
S6 2FU

Editor Note: Mike, is this play on words, or do you need some assistance with English skills? I am always available for helping with more than your Contract Hire cars! My rate £250/hour. I am proud to have British MSc (after Chinese BSc), so English no problem for me. Thanks for being such good customer, I supply you 16 cars in total now! - Ling
---
"Dear Ling,

I thank you for your time and help. Thanks for the effort and life you put into your website!"

Marie Newman
by email
[email protected]
(email altered to avoid damn spam)


Editor Note: Thanks for email, Marie. Pleasure to do your quotes on Renault Scenic - Ling
---
"I love this site ... very funny!"

Mike Jones
Harlow
CM18 7RR


Editor Note: Thanks Mike, I send you lunch! - Ling
---
"SPEEDY RESPONSE! - I got the information I required and my queries answered with minimum delay.

EXCEPTIONAL SERVICE! - The car was ordered, and delivered on time. Would I recommend to a friend? CERTAINLY!"

Peter Jeffery
Hymax Products (UK) Ltd
Business Centre
Earlsway
Team Valley Ind Est
Gateshead
NE11 0QH

Editor Note: Ohhhh, Peter, another local customer not 2 miles away! You must be member of North East Chamber of Commerce. And you've got a fast new car; enjoy your RenaultSport Clio 182 - Ling
---
"After applying to a few companies on the internet, Ling was the only one who followed up my interest. I dealt with her from start to finish, and I found her pleasant and hard-working. My Mitsubishi Shogun Sport was delivered right on the button, I would thouroughly recommend Ling and www.LINGsCARS.com!"

Douglas Hill
Clackmannan Post Office
61 Main St
Clackmannan
Clackmannanshire
FK10 4JA

Editor Note: Douglas, you another ethnic minority (Scots) from smallest county in Scotland, so it's a pleasure to deal with you. Another warning for visitors reading this, though: cars not always delivered "on button", but I try my best. There are some things I cannot solve by shouting at dealers, they have excuses like "sorry, boat with car sunk in Bay of Biscay" - Ling
---
"Ling - Website is great!"

Mr Joff
6 Tenter Rd
Northampton
NN3 6PZ


Editor Note: Mr Joff - Letter is great! - Ling
---
"Initially Ling's website attracted me due to its up to date prices, so I knew that I wouldn't be told "That's an old offer!".

Her price couldn't be beaten and the whole process has been very simple. The car was delivered within 3 days of returning the documents (WOW! - Ling). I will definitely be looking to get a car from Ling again!"

Philip Evans
23 Chanoos Rd
Harrow
HA1 4AX

Editor Note: Thanks Philip, pleasure to help you with your new Saab 9-5 estate. However, I will say again I am unable to deliver cars this quickly every time! I not perfect, I just try my best! Life not always so simple - Ling
---
"Good afternoon Ling,

I would like to introduce myself. I have recently joined the Corporate Department at Mercedes-Benz XXX.

We have 7 Mercedes-Benz sites, also Chrysler Jeep and Smart. We are Mercedes-Benz Retailer of the Year, and the largest independent Corporate dealer in the UK.

We appreciate that the service we would provide to your customers is of paramount importance, and that you expect the highest standard of service associated with the Mercedes-Benz product. (oh, God... DEALER-TALK! Words fine, but I never heard of you, yet you heard of me! I need a Mercedes supplier that works as hard as my very good BMW supplier. But most Mercedes garages are up own arse. Maybe you different?)

I will keep in contact with you with updates etc... (Oh Mao, why you do this to me. No! No updates!! I not interested in updates!!! Send me damn good car offer you can supply. Maybe convertible for summer. I sell many. You deliver no problems. This is how to do it! You happy, me happy, customers happy, easy! - Ling) ... Rest of letter cut because I bored

p.s. Very impressed with your website! Cheered me up for the afternoon! (OK, I forgive! - Ling)"

XXX XXXX
Key Account Manager
Mercedes-Benz of XXX (sorry, but letter IS real - Ling)

Editor Note: I say everything in comments in letter, maybe I too cruel to nice lady, not personal, but dealers should talk less, deliver more. Does everyone agree? Yes, of course! Ling is always correct in ideological thinking. I was taught this at school. But car dealers never learn self-criticism. Chinese proverb: "Look at self from outside, if you want damn big shock". Franchised dealers/suppliers wanting to supply cars, please find letter template . Whatever you do, please don't use "dealer talk" in letter - Ling
---
"A first class car and a first class service from Ling. She's very helpful, informative and perfectly managed. Excellent service and follow up. I wouldn't hesitate to hire another car from Ling!"

Ian Godsall
51 Employed Sales Consultant
7 Burdon Drive
Bantesta
Hereford
HR1 4DL

Editor Note: That's a very nice letter Ian, thanks. Enjoy your new VW! - Ling
---
"I recommend you ring Ling for some crazy deals on new cars. Excellent service and easy to deal with."

Andrew Duce
MCA Floorwise Ltd
Unit 17, Whitefield Place
Morecambe
LA3 3EA

Editor Note: Thanks, Andrew. That is short and sweet, like me! Enjoy Mazda 6, nice car, much better than Mondeo I think.- Ling
---
"Dear Ms Ling,

Your company car drivers need to know about Freedom Test Drives.

We're delighted to anounce more opportunities for your company car drivers to experience Volvo's Freedom Test Drives.

Perhaps you haven't heard of Freedom Test Drives before. They were created by Volvo to give people the time and space to really get to know our range. We believe our cars are so meticulously designed and built, that the longer people spend in them, the more they'll understand what makes them different.

Volvo Freedom Test Drives allow your drivers to explore the whole Volvo range at exclusive venues all around the country. With up to 45 minutes to spend in each car ...HOLD IT! Letter stopped due to complete bullshit.- Ling "

Volvo Cars
Globe Park
Marlow
Buckinghamshire
SL7 1YQ

Editor Note: What the hell is this bullshit? "With up to 45 minutes to spend in each car" ...and this is FREEDOM Test Drive??? Sitting in traffic queue for 45 minutes? How long is "Normal Test Drive"? 5 minutes in traffic queue?? My God, you get longer than this if you call in local dealer which is bad enough, but to be trapped "in exclusive venue" (I translate Swedish;- means Golf Club with small triangle sandwich) for whole day driving one damn Swedish/Belgian car made by Ford after another listening to such bullshit must be so dull I would commit Hari Kari. Now I know how Japanese feel when they lost war. All energy gone..., listless..., draining... STOP SENDING ME STUPID PRESS RUBBISH BECAUSE I PUBLISH IT AND TELL TRUTH TO WORLD!- Ling
---
"LINGsCARS.com provided a great level of service including immediate responses to any issues or concerns we raised. The car was delivered in a shorter time than anticipated, and the car has exceeded our expectations. I would not hesitate in recommending LINGsCARS.com (and Ling) for anyone wishing to contract hire a new car!"

Richard Callwood
3 Claremont Drive
West Timperley
Altrincham
WA14 5ND

Editor Note: What Richard didn't mention is that he has the pleasure of driving a fantastic new SAAB Convertible this summer! Lucky him. I'm glad I can help - Ling
---
"Dear Ling,

I am writing to introduce ourselves with a view to supplying any future client needs. We are (name kept secret to stop competitors finding this nice man - Ling) conveniently based in the Midlands, and holding franchises for Lotus, TVR and Noble. (Wah! - Ling)

Having 30 years in the sports car market, we fully understand customer needs and are pleased to help you in any way we can. Our competitive terms make quoting far easier for you to conclude a deal with your customers."

XXX XXX
Lotus, TVR, Noble Dealer
Midlands


Editor Note: hehehe, I have many customers who already contract hire sporting cars like Boxter, RX8, Nissan Z350 etc, so I am looking forward to offering your fantastic brands. Description in pot: TVR now owned by Crazy Ivan but quality goes up, Lotus owned by Sensible Malaysian but still honour Mr Chapman. Noble (for customers don't know) is UK maker of damn fast cars with tuned Ford V6, and Lee Noble expert on F1 quality chassis. Retail, oh, around £55k. I think my customers will like all these cars. Let's get some bargain rentals on these, eh, boys? Many people prepared to RENT a TVR, Lotus, Noble, but NOT PREPARED to buy one and risk money, see? Buy a (slow) house, but rent a (fast) car; that is Dr Ling's advice. Franchised dealers/suppliers wanting to supply cars, please find letter template . Whatever you do, please don't use "dealer talk" in letter.- Ling
---
"I find Ling's website and the information on it incredibly helpful, to the point where we have leased vehicles from Ling for the past 2 years. I renew cars regualrly and I aim to do my future vehicle leasing with Ling because of the excellent prices and service we have received."

David Hallam
Managing Director
Wise Software (UK) Ltd
Stock Control and Order Processing Software
Mill Lane
Saxilby
Lincoln
LN1 2HN

Editor Note: It is fantastic to have a customer who may be able to help me with my computer software when I get stuck with my SQL and PHP programming! Enjoy your new VW - Ling
---
"We were highly recommended to LINGsCARS.com from someone who had used them in the past and I was advised to speak to Ling Valentine.

From the initial contact with Ling, the flow of information and attention to detail was of the highest calibre. The range of cars offered and the prices discussed were very competitive in the market place.

Upon placing our order, the documentation, advice on delivery time and contact from LINGsCARS.com was faultless. Our car was delivered on time to the door well within the timescale specified and the delivery driver was very helpful and courteous.

We have no hesitation other than to highly recommend LINGsCARS.com as a very worthy supplier."

Colin Cope
AJ Cope and Son Ltd
Laboratory Equipment, Scientific Equipment & Chemicals
11-12 The Oval
London
E2 9DU

Editor Note: Wow, such a nice letter! Thanks Colin. To read this you think I am perfect, but I am not. Some things not in my control; delivery time if factory order (I cannot drive to factory to build car for you - even though your car only built 5 miles away from me at Nissan, Washington), delivery driver (I cannot choose which driver dealer uses), and acts of God (as Chinese God not on my side; as everyone knows God on George Bush's side!) - Ling
---
"Tip top site!"

James Allenby
9 Chepstow Ave
Wallasey
CH44 0BA

Editor Note: Thanks for email, James - Ling
---
"No problems with this lovely lady, excellent service and attitude, and she beats the faceless big guys."

Michael Cuthbertson
Heathcol Welding Supplies Ltd
Unit 257a Dukesway
Team Valley Trading Estate
Gateshead
Tyne and Wear
NE11 0PZ

Editor Note: Wah! Local customer!!! I live only 1 mile away and he says "lovely lady". Husband should be worried, eh? Hehehe. Maybe I call in next time I go to Retail Park on Team Valley. Thanks for renting SAAB! And "faceless big guys" is true. I always check my prices are lower than competition, and when I visit other CH websites I don't know the people behind them and I can never find out if they are big company or someone in back bedroom. If you want laugh, try this company, must be most terrible website in world. Some deals they have not too bad but they should pay me to help with website!- Ling
---
"Dear Ling,

Just a quick "Hello" message to introduce myself. I have started with XXXX (dealership name witheld - Ling) ... and hopefully be allowed to provide new Land Rovers to your customers. Please return my email if I can be of any use to you now or in the future. "

XXXX XXXX
Corprate Business Consultant
XXX Land Rover (dealership name witheld - Ling)
West Yorkshire

Editor Note: More and more suppliers are chasing me to do business. For any that read this, I insist on: 1. Immediate Response, 2. Accurate Information (no lies), 3. Cheapest Deals (if not cheapest, then don't bother bye bye), 4. Sense of Humour (if can't take joke, don't apply!). Franchised dealers/suppliers wanting to supply cars, please find letter template . Whatever you do, please don't use "dealer talk" in letter. - Ling
---
"Being from Cornwall I needed a website that was easy to find and use, and a deal that was cheap with no bullshit. Excellent service."

Steve Annear
St Blazey Motorcycles
Tywardreath Highway
Par
Cornwall
PL24 2RN

Editor Note: Steve, you are customer I love because you sell damn sexy product. I advertise your website www.stblazeymotorcycles.co.uk - BUY MOTORCYCLE HERE!! because we already have old 1985 BMW R80RT yawn, and I want my husband Jon to buy a sexy bike instead! Look forward to discount! - Ling
---
"www.LINGsCARS.com worked great! We found what we wanted and when the car arrived we couldn't believe how easy it was. KEEP GOING!"

Rowan Gardner
Biolauncher Ltd
Anstey Hall, Maris Lane
Trumington
Cambridge
CB2 2LG

Editor Note: Glad you are happy Rowan. And I'm glad you're happy with your Audi A4 Avant. I'm proud to be associated with such a successful company as Biolauncher, because you do Nanotechnology which sounds brilliant! - Ling
---
"Great site (and we mean it!). Love the fag price, we're cutting down so we can get the cars. Keep up the good work! We are employment agency and we need 3 cars (something smart to go with image)."

Rahul Odedra
Bounce Employment
13 Newton Avenue
Gloucester
GL4 4NR

Editor Note: Why not have 3 x SAAB 9-3 150bhp Vector, very special price at moment - Ling
---
"To everyone,

Terrific service from Ling from start to finish. The cheapest deal on the internet and Ling is by far the friendliest! My car was delivered quickly with no fuss.

Shop around and you'll go back to Ling. It feels like you are dealing with family. I'm looking forward to dealing with Ling again soon."

Ricky Graves
19 Sorrel Close
Weymouth
DT4 7UF

Editor Note: My God, and all I try to do is do my job well and treat customer like adult, not idiot. I mean; what you want? You want new car, cheap price, damn fast*, no fuss. Not rocket science as Chinese People's Space Agency mechanic say. I am amazed how terrible some contract hire companies must be, if I am really as good as this! - Ling
(*I can't always do "damn fast". Some cars factory order. For miracles; please ring new Pope)


---
"Hi Ling,

Visited your website several times and please accept my compliments!

I work for a dealership group that supplies the following marques: Ford, Mazda, Seat and Peugeot. Please find attached copy of our latest stock list and if there is anything I can do for you, don't hesitate to get in touch."

Claire XXXXX
XXX Ford
North Midlands

Editor Note: Brilliant that so many dealers visit website and notice I sell lots of cars. It takes time to build dealer trust, but often dealers stupid, promise impossible, lie, lazy, that sort of thing. If you are special dealer, keep contacting me. For instance, my BMW dealer, I help him do 1-year sales target in just 4 months. So he treats my customers as No.1. This is how it should be. Now up to you, dealer! Franchised dealers/suppliers wanting to supply cars, please find letter template . Whatever you do, please don't use "dealer talk" in letter - Ling
---
"To Ling Valentine,

Thank you for all your help with our new car. My own company is four years old and I will be contacting you for future rentals.

Excellent service and prices!"

Darren Bradley
10 Fleet Avenue
Upminster
Essex
RM14 1PY

Editor Note: Great! Thanks for letter Darren, if you have problems with City Rover warranty please contact me, I can get you a replacement warranty for trade price (around £150 for 2 years). Also, if any ex-Rover dealer is unhelpful tell me which one, I will sort them out then blacklist them - Ling
---
"We have always been provided with an excellent and prompt service by Ling Valentine; courteous, efficient and very quick. Just what every customer requires to be very satisfied."

Ron Greig
Ron Greig Ltd Estate Agents
21 South Rd
Hartlepool
TS26 9HD

Editor Note: Thanks, Ron. Nice to be able to make a small profit FROM an estate agent for a change! Hope your Micra goes well - Ling
---
"Kewl website. Much more interesting than the norm..."

Chris Douglas
HQ 11 Signal Brigade
Telford
TF2 8LG

Editor Note: Wow! Nice to have email from soldier in British Army. Glad to help brave boys even if not in Iraq! I am please to send you noodle lunch. Much better than Army rations - Ling
---
"Dear Ling,

As the saga of MG Rover dying unfolds, I wonder if you could shed any light on the Chinese side of this collapsing deal. Do you know Shanghai Automotive? What is the Chinese attitude to MG Rover? Why would the Chinese not want to buy them?"

Paul Richards
Great Wines
Solihull
West Midlands
B36 5AQ

Editor Note: As Chinese, of course I know Shanghai Automotive. Company makes VW Santana and Passats and Jettas (old models). Very popular cars in China, strong, good for use in countryside. Chinese clever, not stupid. They never want to buy Rover! They just get all designs, intellectual rights, engines cheap. Rest (factory etc) not wanted, throw in bin. John Towers knows this all along, just sells designs, sells factory land, pockets money himself. Chinese get good deal, Towers gets good deal. UK and Rover workers, frankly, ...fucked. For Tony Blair to pretend to try to "save" deal? Well a) What deal? b) He talk bollocks! - Everyone else; stupid not to see all this coming. John Towers shag Rover, not Chinese. Chinese simply do business deal with Towers. Why Chinese want to buy Longbridge, there are hundreds bad factory in China already! Is everyone mad? Shame for people, and MG.

Look, on my last trip to see mum and dad at Christmas, I count cars. On journey from house to Chengdu airport, that is 15km OK, I count 29 latest model Audi A6. TWENTY NINE! Never see that many in UK in 1 month! THIS is why Chinese not want Rover. They have bloody Audi A6 factories for Mao's sake! Why want Rover 75??? Do you see? - Ling

15 April 2005 update to answer: You see now?. Especially my comment "For Tony Blair to pretend to try to "save" deal? Well a) What deal? b) He talk bollocks" Tony Blair was lying when he pretend deal with Chinese still on last week! Because election. Sometimes I don't understand this govenment trying to give idea Chinese messed up deal. UK Government is happy to throw £6.5m at Rover wages last week, £150m "aid" package to close Longbridge, Brown has already written off Rover £40m tax bill, but yet last Christmas UK government was struggling to pledge £200m to help so many really fucked people who were left homeless/dying/peniless by tsunami wave. Longbridge hardly like tsunami, but gets more money. Maybe Midland person worth more than dying Indonesian or Malaysian? (Anyone say "yes" to this question, then piss off, I don't want your business). Or maybe I just idiot? - Ling

And before anyone accuse me of political rant (true), I ask YOU the reader (not nice man who write letter) who is forming "Ling Monster Mouth" idea in mind, how many Rover/MG cars YOU sell to help them? I sold 12. So more than YOU. So I allowed opinion. I also support customers in MG order process by giving FREE a 2-year warranty to them. Or they cancel, or have MX5. Up to them. Just pity John Towers get profit, not Rover workers, and that Tony Blair so weak he can't say this truth. - Ling


---
"Dear Ling,

Many thanks for your help, advice, and prompt efficient service in organising my leasing requirements. I look forward to dealing with you again in the future."

Dean Thompson
Armley Launderette
Unit 4b
Bessingby Ind Estate
Bridlington
YO16 4SJ

Editor Note: As Chinese, I am pleased to note English guy can also run laundry. You know this is Chinese speciality, along with delicious take-away and now car contract hire. Cue music! - Ling
---
"Ling,

Send me noodle NOW!!!"

John Milnes
Priory Motor Group
Park Rd
Gateshead
NE8 3HP

Editor Note: This is well trained dealer who ask nicely behind scenes to supply cars to me. Other dealers should take note! Dealer has good taste in noodles, too - Ling
---
"I have leased 3 cars from Ling over the past 5 years. I have found her service to be efficient, courteous and very competitive.

I have no hesitation in recommending her service to any potential customers. Very best regards to you, Ling."

Miles Robinson
Miles Robinson and Co
Meeching
Burwash
Etchingham
TN19 7JP

Editor Note: Why you only lease 3, Miles? If you took 1-year deals, you could lease 5 cars in 5 years. Much better! Thanks for letter, hope you enjoyed holiday - Ling
---
"Love your site, it cheers us up in the office. Keep up the good wok! (sorry, work!)"

Mark Rhodes
3 Wycliffe Street
Eccles
M30 0UR

Editor Note: Ho, ho, ho. Funny man, I hit you on head with wok if you not careful! - Ling
---
"We are very pleased with the personal, prompt attention that we have received from Ling Valentine. Her rates are very competitive and we are looking into further cars within the next few months."

Gordon Cox
Mardon Enterprises Ltd
Four Oaks Estate
Sutton Coldfield
Birmingham
B74 2QX

Editor Note: Why wait? If you run over by bus, Gordon, I get very disappointed. Please take care - Ling
---
"Excellent service! Good price! Spot on delivery! Thanks Ling. We'll be back!"

Mick Currell
MD
Bay Plastics Ltd
Unit 1
High Flatworth
North Shields
NE29 7UZ

Editor Note: Why you use so many "!!!" ??? I teach you proper English! - Ling
---
"During my two years of trading with LINGsCARS.com, I have found help and assistance as well as utter professionalism. Prices are keen and deals are current, and I'm always treated like royalty when calling Ling.

Ling is very friendly and welcoming. Well done LINGsCARS.com! I will be back."

Mr Malik
166c Dunstall Rd
Wolverhampton
WV6 0NU

Editor Note: Mr Malik, you should know I cannot condone Imperialist royalty, being a good Chinese comrade. However, perhaps you will accept I treat you like diligent party cadre - Ling
---
"Ling at LINGsCARS.com has serviced our car hire fleet requirements for the past 3 years and she has been a pleasure to deal with."

Nikki Overend
Sales Manager
Harrogate Horseless Carriages
TVR Main Dealer
284-286 Skipton Rd
Harrogate
HG1 3HE

Editor Note: Maybe you get me deal on supplying TVR. Customers like damn fast cars - Ling
---
"Dear Ling,

I would like to say that I currently have a vehicle on Contract Hire from you. After the initial contact, I received a speedy response, and I was kept informed at all times about the status of the agreement etc. The car was (almost) on time - due to a slight hiccup on the dealer's part. I would use you again."

Stuart Lee
National Windscreens
Sandall Carr Rd
Doncaster
DN3 1QL

Editor Note: Dealer was rounded up and shot, in Chinese tradition. Now I use different one. So easy to solve dealer problems. Also, I used to live in Doncaster. Try Dragon City takeaway. Very good. - Ling
---
"Hi Ling,

You are my favourite car leasing company. You give the best service, always have the cheapest cars, and you are certainly the most pleasant to deal with.

I also like to deal with someone who looks after their customers, and you do! Don't let the big companies squeeze you out!"

Brian Slingsby
Four Plus 4 Ltd
Sheepscar Street North
Leeds
West Yorkshire
LS7 2BX

Editor Note: Brian, thanks for letter. I fight big companies. Customers like you very welcome to have on my side. I never give in! Cue music!- Ling
---
"Dear LINGsCARS.com

Under clause 1.4.65 of the recent Freedom of Information Act (amended 2005) I write to ask you for the following information.

With regard to cars you sell that originate in the far-east (Japan, Malaysia, Korea), which may include Nissans, Toyotas, Mazdas, Mitsubishis, Kias, Protons, Hyundais, etc, I need the following information;

What tests are carried out on the above vehicles to insure that they do not carry the virus that causes Asian Bird Flu? - I have been reliably informed (MSN News) that the Bird Flu virus can live for upto 8 months inside vehicles. It can be carried into vehicles by poultry, birds, or infected humans.

So, please send me a complete list of steps you take to protect your customers from this deadly parasite."

Graham Cook
Morpeth
Northumberland
NE61 6GF

Editor Note: This is difficult question for me. I do not check cars. Perhaps you write to Nissan etc and ask them what they do for you. My cars do not contain Chickens (I worry about Indian City Rover factory - may have Chickens, but now Rover bust why you worry about chickens?). I also speak to Chinese Embassy, they deny Bird Flu exists at all. Like SARS. So no worry, then. Hope reply official enough - Ling
---
"I have been using Ling Valentine for the past 4 years to lease my cars. We are currently considering our 6th car! Ling is efficient, friendly and helpful. The cars are priced very competitively and they have always been delivered on time. I have advised other companies to use Ling, and I will be using her again!"

Annette Wilson
BPS Printing
7 Uyner St
Ripon
North Yorkshire
HG4 1QJ

Editor Note: Thank you Annette - Ling
---
"Dear Ling,

It's been a pleasure, as always, to speak to you again with reference to leasing another vehicle from you. Your service really is first class and second to none. I know I won't be disappointed when dealing with LINGsCARS.com. The personal and professional service is much appreciated."

Cressida Sadler
Cressida's Secretarial Services
Silver St
Besthorpe
Attleborough
NR17 2NY

Editor Note: A shame you are so far away; I could use help with my office Cressida - Ling
---
"Dear Ling,

Thanks for all your help with the delivery of our new Nissan. My new manager is "made-up" to have received the car so quickly. Now what about my new Merc?"

Andy Ripley
Minster Cleaning Services
Albion Mills, Albion Rd
Bradford
West Yorkshire
BD10 9TQ

Editor Note: What about Merc? What about your writing? At first I thought letter was in Chinese... - Ling
---
"LINGsCARS.com did us a great deal on our contract hire courtesy cars. Fast service and everything went smoothly. I would definitely use Ling again."

Mike
Denbury Diesels
Totnes Rd
Newton Abbot
Devon
TQ12 5NE

Editor Note: In turn, I recommend Denbury Diesels to anyone with broken diesel engine in Devon. Mend it here! - Ling
---
"Some of what I'm about to say regarding Ms. Ling Valentine's treatises is so childishly simple, I fear it may be patronizing to explain; I apologize in advance. I begin with critical semantic clarifications. First, Ling spouts the same bile in everything she writes, making only slight modifications to suit the issue at hand. The issue she's excited about this week is antidisestablishmentarianism, which says to me that she dreams of a time when she'll be free to make her canards a key dynamic in modern favoritism by viscerally defining "methylenedioxymethamphetamine" through the experience of bestial, shallow Pyrrhonism. That's the way she's planned it, and that's the way it'll happen -- not may happen, but will happen -- if we don't interfere, if we don't begin the debate about her beliefs (as I would certainly not call them logically reasoned arguments).

Her cult followers feel that "Ling is the ultimate authority on what's right and what's wrong." First off, that's a lousy sentence. If they had written that contentious, parasitic sociopaths suffer from a collective self-image that prefers victimization to success and imposes a suffocating group conformity that ostracizes nonconformists, then that quote would have had more validity. As it stands, Ling's nostrums are communism reincarnate -- and Ling knows it. She is guilty of at least one criminal offense. In addition, Ling frequently exhibits less formal criminal behaviour, such as deliberate and even gleeful cruelty, explosive behaviour, and a burning desire to keep a close eye on those who look like they might think an unapproved thought.

Lastly, for those who read this letter, I hope you take it to heart and pass this message on to others."

Paul S Gerile
Abstract Ideas Magazine
Earls Court
London

Editor Note: If you were in China, I would ask you are arrested and shot. We are in UK, so I will tolerate this free speech rubbish. Stop ringing me. - Ling
---
"To Ling Valentine,

Hello! I see that you are having problems with the big leasing companies - normal!

Well I can be honest and say that we have had very good service and have had no problems at all with the cars, which we have leased from you.

I hope to do more business in the near future."

Bob Staines
S+S Precision Engineering
23 Rainhill Rd
District 12
Washington
Tyne and Wear
NE37 3HN

Editor Note: Big leasing companies hate me, they too big, too lazy, too overstaffed, too slow, and too expensive. I only have small foot, but I kick their ass - Ling
---
"LINGsCARS.com provide spot on service at superb prices. Ling will get my future orders for sure!"

Graham
Floorwise (North East) Ltd
Drum Ind Est
Birtley
County Durham
DH2 1AG

Editor Note: Very nice customer! - Ling
---
"Dear Ling

Thank you for your help and excellent service. I have now hired 2 cars through LINGsCARS.com, and I have been really happy with the advice and support.

As a contented customer, I will be back at the end of my present lease, for more help in finding my next vehicle. Keep up the good work."

Stuart Blount
Christian Life Centre
2 Frederick Rd
Selly Oak
Birmingham
B29 6PB

Editor Note: I am so pleased to help Christian Life Centre. Even though I am not Christian, I now think "If you make such good choice with car supplier, maybe you make good choice with God?" - Ling
---
"I deal with LINGsCARS.com and Ling Valentine in particular because there is a personal contact, the service is great and the cars are very, very cheap! So easy to deal with.

As a small company ourselves, we believe in supporting those who offer this personal service which makes the deal so much more pleasant and less painful. Nobody does it better (or cheaper)."

Derek Jones
The Castle Garage Ltd
Broad St
Llandovery
SA20 0AA

Editor Note: Ah, Mr Jones the Garage, us foreigners should stick together. We have bond. Welsh and Chinese very similar. Both impossible for English to understand. - Ling
---
If you like to read these letters, you probably like:
---
"LINGsCARS.com thinks that the worst types of irritating, lecherous savages there are are inherently good, sensitive, creative, and inoffensive. Unfortunately for it, it's wrong. Before I launch into my main topic, I want to make a few matters crystal clear: 1) arrogant New Age gits represent one of the most oleaginous wings of wretched militarism you can possibly find, and 2) as a result of that, there's more to this letter than inflammatory rhetoric. Now that you know where I stand on those issues, I can safely say that there may be absolutely nothing we can do to prevent it from making good on its word to reward mediocrity. When we compare this disturbing conclusion to the comforting picture purveyed by its cronies, we experience psychological stress or "cognitive dissonance". Our only recourse is to reveal the nature and activity of LINGsCARS.com's thralls and expose their inner contexts as well as their ultimate final aims.

As sure as a bear does you-know-what in the woods, LINGsCARS.com will remake the world to suit its own useless needs before you know it, which makes it obvious to me that it's easy for us to shake our heads at its foolishness and cowardice. It's easy for us to exclaim that we should derail its self-pitying little schemes. It's easy for us to say, "LINGsCARS.com seems to be expressing an irrational preference for remaining in some previous century while the rest of the world hurtles forward." The point is that it's easy for us to say these things because the picture I am presenting need not be confined to LINGsCARS.com's epigrams. It applies to everything it says and does.

Frankly, LINGsCARS.com and its pals are, by nature, pretentious radicals. Not only can that nature not be changed by window-dressing or persiflage, but in public, LINGsCARS.com vehemently inveighs against corruption and sin. But when nobody's looking, LINGsCARS.com never fails to shatter and ultimately destroy our most precious possessions. Even if unbridled dissemblers join LINGsCARS.com's band with the best of intentions, they will still invade every private corner and force every thought into a virulent mold one of these days. Not all, I hasten to add, do join with the best of intentions. I must add my voice to the chorus of those who tell it like it is. Never forget that and never let LINGsCARS.com popularize a genre of music (Cue music for this damn idiot! - Ling) whose graphic lyrics explicitly urge neurotic evil-doers to provide financial support to backwards banana republics and their dishonest dictators."

Paul S Gerile
Abstract Ideas Magazine
Earls Court
London

Editor Note: Unless you order car, I refuse to post any more of your letters. I do not understand your meaning. Perhaps meaning good, but I refuse to join stupid argument - Ling
---
"We are pleased to recommend LINGsCARS.com. In all our business dealings with them, we have found them to be efficient and Ling's prices are very competitive. We are pleased to continue our long standing relationship."

Mike Johnson
Director
Micol Batteries Ltd
Lingfield Way Ind Est
Darlington
DL1 4JW

Editor Note: Hope batteries made in China. Cue music! - Ling
---
"Have been getting my cars from Ling for years, it's great to have a human to speak to who knows my needs. Keep up the great service."

Steve Atherton
Arbour Associates Ltd
Windy Arbour
Kenilworth
Warwickshires
CV8 2AT

Editor Note: Of course I am human. Some people think I am robot, maybe because I have "Made in China" tatooed on (small) ass, heh. Cue music! - Ling
---
"Dear LINGsCARS.com,

Your sales operator Ling, is rude and inconsiderate. She refused to provide me with a full colour chart a new VW Golf I was enquiring about, and when I asked her for a list of items covered by the VW warranty, she told me she was "tired" of my questions.

It's not often that I come across someone who is so unhelpful. I wish to complain in the strongest possible terms about her. I would like to know what the management of LINGsCARS.com will do about this."

Ann Peters
Coventry
West Midlands
CV5 4RT

Editor Note: I remember you, you were very stupid customer. I tell you colours on VW website. I tell you whole car covered by warranty. You want list of wheels, seats, ashtray, etc??? I tell you, you should go to VW dealer to ask stupid questions. They will charge you stupid price in return. For your last point, I am da management. Is dis letter 'cos I is yellow? Stupid customers unwelcome. Dem's da rules! - Lingi G, DA MANAGEMENT.
---
"Ling is a fantastic, funny person who always delivers the goods at the right price. We love her!"

Peter Boyles
The Garage
Kilham
Driffield
YO25 4RP

Editor Note: My husband also from Yorkshire. I know Yorkshire. Yorkshire radioactive sheep damn delicious. - Ling
---
"Dear Ling
Dealing with LINGsCARS.com is a breath of fresh air in a non-caring business. We tried the big faceless companies to no avail. We need more like Ling in the industry. Good sense of humour and excellent service"

Vic
Elams of Mirfield Ltd
Bridge Garage
Huddersfield Rd
Mirfield
WF14 9HS

Editor Note: Thank you Vic, you so kind to me - Ling
---
"Dear Ling,

I'm really disappointed. When I look at a car leasing website, I expect the following: Broken links, thrown-together design, long web forms, bad car images and cobbled together graphics and snazzy spinning flash presentations. I like to see various promises including "the most advanced quote sysyem", "the UK's premier web portal", "hot special offers", and the ability to find £1000 rental quotes on Renault Vel Satises.

Instead, you insist on displaying only 70 deals but include no uncompetitive rentals. You tell me the truth about the number of visitors to your website (I should be given the impression you have more traffic than Google) . And you allow me to talk directly to you from the webpage. This is most upsetting. Please try and achieve the same level of professionalism as your competitors. Even if they are small companies, at least they give me the impression of being big and industry-leading.

I'm only writing this email because I am so frustrated that I can't spend hours filling in forms on your website, therefore I have plenty of time on my hands. You have a lot to learn. I suggest you have a look at the websites you are competing against and change things. Pronto."

Peter Complainante
National Vehicle Contract Systems Ltd
Bright Idea St
Leeds
LS5 5RT

Editor Note: Thank you for helpful advice. I too busy chatting on web, but I take time to make broken link. (Click here for broken link) Please not to call me Pronto. That very rude in Chinese and Spanish - Ling
---
"Nothing is too much trouble for Ling at LINGsCARS.com. She always has a boat load of cracking good deals.

In the past 2 years, my company has acquired three cars from Ling; 2 x SAABs and a Nissan Almera. This is only the start of many more. Please let me have details of the VW Golf 2.0 SDI 3dr."

John
Digiset Ltd
William St, Felling
Gateshead
Tyne and Wear
NE10 0JP

Editor Note: Thank you. But you seem to like Japanese and German cars. 60 Years ago, people would suggest you supporter of Axis of Evil (T.M. G Bush) - Ling
---
"I have always received a first class service from Ling. We've had 2 x Merivas, 6 x Scenics, 2 x Porsche Boxters, 2 x Picassos, 2 x Espace, 2 x Merc C200s and lots of other cars from her. We would recommend her all the time."

Tracey Morrison
Gauge Removals
30 Cornfield Rd
Eastbourne
East Sussex
BN21 4QH

Editor Note: You long term customer Tracy. Thanks - Ling
---
"Dear Ling

Thank you for supplying us with a new SAAB. Although the supplier and finance company were in dispute with each other, you made sure we still received the car before Christmas.

I will be looking to renew my car later this year, and rest assured you will be my first port of call."

Mark Travers
Simpson Fleming
286 Ewell Rd
Surbiton
Surrey
KT6 7AA

Editor Note: When work for very small profit, finance and garage get bad tempered. I threaten them. They deliver. np. - Ling
---
"Dear Ling,

I shopped around for my original car, and you were by far the cheapest. The car arrived on time, as specified.

Two years later, I didn't bother shopping around. I just picked a car off your list. I'll be back again next year."

Guy Smith
At Home Veterinary Service
14 Buckingham Rd
Tamworth
Staffs
B79 7UB

Editor Note: Guy, maybe you like Herriot? I saw old BBC TV programme. I give you Ford Model T. Look original to drive around when mending cows and sheep. - Ling
---
"Dear Ling

I thought I'd write to you after I saw you on an old episode of Ally McBeal. At least I guessed it must be you as the attitude is so similar. Anyway, I was so glad I could shout to my wife "I know her, we bought a car from her!" when you walked on and punched Fish straight in the face.

The only thing was, on the TV show you had an American accent, yet in real life you speak, well... Chinglish.

Still, nice to see you on TV."

Paul Edwards
Greens Off Licence
Slough Rd
Bolton

Editor Note: I think maybe you drink too much of own strong alcohol. I was never on TV especially in Ally McBeal. Who it is you saw, I don't know, but not me - Ling
---
"Dear All,

Paul and Geoff at Number One Car and Van Rental have used the mad Chinese woman on several occasions.

She gets deals others could only hope for;- a great gal to do business with!"

Paul and Geoff
Number 1 Car and Van Hire Ltd
CardCity House
Hackbridge Station, Wallington
Surrey
SM6 7BJ

Editor Note: Maybe you call me mad, makes me more mad? I only mad because you two make me confused. Maybe "Paul and Geoff" sugar boys?? In China "Paul and Geoff" not allowed - Ling
---
"Dear Ling,

I've had my new SAAB for 3 weeks and I am delighted. Your quote came through on the same day as I asked for it, and it couldn't be beaten by any of the competitors who quoted against you.

We made a considerable saving using your service."

Bill Ball
Director
Design Solutions Ltd
4-4A Moat Way, Barwell
Leicester
LE9 9EY

Editor Note: At school they said diplomacy came out of barrel of gun. Your words so sweet, maybe Mr Mao wrong - Ling
---
"Ling, why don't you learn to speak English?"


[email protected]
by email

Editor Note: You obviously very stupid. If you can read this, you realise I speak good English. How many English dumb dumbs can speak Chinese? - Ling
---
"How nice to find a company that is efficient, knowledgeable, helpful and friendly.

Our experience with LINGsCARS.com and with Ling and her husband Jon was all of these. They couldn't have been more helpful. We had never had a contract hire car before, but they went out of their way to explain all the options and help us choose the right car and package for what we needed. They were endlessly patient with all our questions and didn't make us feel we should have known the answers.

At last a company with a human face, and the knowledge that you will always speak with the same person who knows your requirements, and not yet another voice in a call centre somewhere. We would definitely use them again."

Robert McIntyre
Armatool Distributors Ltd
Homethorpe Ave
Redhill
Surrey
RH1 2NL

Editor Note: How you know I'm not in call centre in China??? I am like dragon in cloud. I am everywhere and nowhere. Maybe also on drugs - Ling
---
"Dear Ling,

I don't know how you do it for the price! The rental is loads less than I would lose in depreciation if I had bought the car. I will certainly be recommending you to my clients."

Alex Haywood
30 Station Street
Swinton
Mexborough
S64 8PP

Editor Note: I do it for price because I have low overhead. Thanks for letter - Ling
---
"Dear Ling,

I'm sitting here looking at our new gleaming Nissan Tinos that have just arrived as promised. This is just a short note to complement you on the extremely efficient manner that you dealt with our order.

It is so refreshing to find someone, in this day and age, who will do what they say and with a pleasant disposition. We will be in contact in the New Year with a view to replace a couple of vehicles.

Thanking you again."

Mike Warner
DMW Copier Services
Whetstone
London

Editor Note: This is nice customer. If only all customers were like this. Ling
---


"Ling,

As ever, you have provided us with the best vehicles at the best price. Even though I am in the car business, I can't do it as cheaply as you do; so all our courtesy cars will continue to come from LINGsCARS.com.

So far, we've had 10 x Nissan Almeras, 4 x BMW 5's, 8 x Renault Meganes, 4 x Fiestas, 1 x C-Max, 10 x SAAB 9-3's, 6 x Scenics, 2 x VW Tourans, 8 x Peugeot 206's and 4 VW Polos from you. Oh, I nearly forgot the BMW Mini Convertible, the BMW 320D , the Corsa and the Merc C200D, a 49, a 36, chicken chow mein and fried rice! Editor Note: This is very stupid humour, Mike Porritt. As you buy many cars I pretend it is funny. Ling.

I wonder if other businesses realise just how competitive you are? I'll eat my hat, the day anyone undercuts your prices.

Mike Porritt
MD, CarShock Ltd
Newcastle, Darlington, Gateshead and Leeds

Editor Note: Is hat British food? - Ling
---
"Ling does exactly what it says on her tin!! Excellent service, price and delivery time."

Stephen
NFL Cover Ltd
Crown Rd
Sutton
Surrey
SM1 1RS

Editor Note: On my tin, it says "Made in China". Cue music! - Ling
---
"After being recommended to Ling from a business associate, I found her to be very helpful and quick (if not a bit crazy) with her service. Within a very short space of time we had the vehicle we had ordered.

Thank you Ling, we will use LINGsCARS.com again."

Nick
Pure Cleaning
Unit F, 5 Watts Lane
Eastbourne
East Sussex
BN21 1NP

Editor Note: Damn glad you agree I am NOT bit crazy - Ling
---
"Dear Ling,

It has been a pleasure to order my new car from you. Although the dealer was in the south of England, everything went very smoothly and the car was delivered to my door. I will definitely pass on details of your service to my colleagues and family.

I was surprised how much I could save on a new Fiat"

Dominick Moss
Streetgate
Newcastle

Editor Note: Due to the nature of Fiat, you can be assured of very cheap Fiat rentals, Dominick. Ling
---
"Dear Ling,

The only good thing about your site is the funny insults people write to you. I only come to your site to read them and purposely skip the home page with the pathetic "cars" on it. How sad you are..."

Un-named Critic
By email
USA

Editor Note: Hmph. Type of person who love insults so much probably also choose violent boyfriend or husband who beat you constantly. I truly feel sorry for such person. As audience member often tell Jerry Springer, "If you can't love yourself you can't love no one else. Know what I'm sayin?" Please learn to love self, and then you eventually learn to appreciate cars. Ling
---
"I have known Ling for a few years, as she has been supplying my cars.

She's slightly mad, with a brill sense of humour - unusual in business but great fun to work with! She has worked extremely hard on my behalf to make sure I am happy with the service. She has never failed to help out and chase up and problems that may have arisen.

She deserves every success, and I wish there were more people in the business world like her. Perhaps we should all take a leaf out of her book!"

Hazel Ayres
HP Services
Locks Heath
Southampton
SO31 6UY
Editor Note: Why everyone think I am mad? You all crazy! But thanks for nice note - Ling
---
"Ling Valentine and LINGsCARS.com have supplied us with vehicles over many years. We have always found her efficient, enthusiastic and she delivers what she promises."

Martin clarke
MD
Carstins Ltd
324 Station Rd
Balsall Common
Coventry
CV7 7EF
Editor Note: Chinese Proverb: Promise less, deliver more (worked for Mr Mao) - Ling
---
"Ling, this is just a short note regards the Nissan Tino. I was more than happy with the service given by your company, from finance being approved I was in receipt of my car within fourteen days. The car is also fitted with interior mats, which I did not expect.

May I wish you well for the New Year and look forward to doing business with your company in the near future."

Barry Taylor
Kellfield Jewellery
Tyne and Wear
Editor Note: Maybe you swap next cheap car for lots of expensive jewellery? Ling
---
"Dear Comrade Ling,

This is a note of appreciation to you from the Ambassador, His Excellency Mr. Zha Peixin. With the rapid development of science and technology and economic globalization, countries of the world are becoming increasingly interdependent. It is more important today for peoples from different countries to learn about each other and to enhance mutual understanding and friendship.

China is a country with vast territory and more than 5000 years of uninterrupted civilization. Since the founding of the People's Republic of China in 1949, fundamental changes have taken place in China. Especially in the last twenty years or so, China has made tremendous progress in its economy and all aspects of social life.

It was with disappointment that we noted our loss when you gained British Citizenship, and lost your Chinese Nationality. However, to us you will always be welcome back to the Motherland, if you ever get tired of the sham democracy run in the name Blair, the running dog of Bush, the Great Satan.

Also, the Chinese Embassy has a requirement for Audi A6 cars. Black. With small optional flagholders and Audi gold embossed antimaccassars and extra-large ashtrays. Please send quote by return. Thank you, comrade Ling."

Ping Li Dao
Assistance to Ambassador
Embassy of the People's Republic of China
Portland Place
London

Editor Note: Thank you. If Ambassador order many cars, I might consider changing nationality back. As Tony Blair says; "money speak louder than principle". Cue music! - Ling
---
"Ling,

You're a genius. Perhaps your site provides more than cars, but inspiration to all. We should take from your site that one should pursue what makes them happy, and quite possibly it will provide more for them. Best of luck, and if I weren't a poor college student, I'd buy one of your cars. Maybe in the future.

God be with you."

Bill P
Hastings-on-Sea
Sussex

Editor Note: Non-customer has good taste. God not with Chinese. God with George Bush, so he says. If Chinese had God, he would obey Party like good comrade. Ling
---
"Our cars were delivered on time on the specified date. Great service from Ling. I would recommend her to others."

Lee
Smart Car Valeting Services Ltd
Smart Buildings, Dalz St
Bilston
West Midlands
WV14 7JY

Editor Note: Next time I am in People's Republic of West Midlands, you clean my car and I give you extra discount - Ling
---
"Dear LINGsCARS.com,

We would like to take this opportunity to thank you for supplying us with the new Daewoo Matiz. We were extremely pleased with your service, which we found extremely professional.

We were amazed at the turnaround time, fast delivery and exceptional good deal. We look forward to using your services again in the near future."

Raksha Shah
Modus D.C. Ltd
Dunstable
Bedfordshire

Editor Note: Matiz dead now. Daewoo dead too. Now renamed stupid American brand Chevrolet. So sorry. Ling
---
If you like to read these letters, you probably like:
---
"Dear Ling,

Thank you for the car, it is great. Now for my question. As you seem to be doing well in the UK, you may be aware that many UK jobs are being outsourced to India and other countries. Especially in the IT field, and telephone service, which you provide (even if you sell cars).

Are you concerned your job could also be outsourced or that your market could be taken over by a company who outsources the work to India? You will note that Rover have already outsourced the CityRover to India. Your thoughts, please?"

Chris Topher
BrightSpark Ltd
Leeds
West Yorkshire

Editor Note: Are you crazy? Indians don't like Chinese! Pakistanis much more nice to us. I think this is something to do with nuclear weapon supply terms. Chinese do very good deal per megatonne; "What you want? Plutonium or Uranium. Chips or rice?" Anyway, no chance I move. India smelly. And now Rover bust, CitiRover does not seem like good idea - Ling
---
"Dear Ling,

I am very pleased to confirm that LINGsCARS.com have looked after my vehicle requirements over the past couple of years in a most professional way.

Prompt delivery of vehicles at the price quoted is of utmost importance to the successful operation of my rental business.

Colin Evans
Rentamech
Buckingham

Editor Note: Thank you (in Chinese: xie xie ni). Ling
---
"Dearest LINGsCARS.com,

I am Alhaji Mohammed Abacha, Son of the late Nigeria Head of State, General Sanni Abacha a kind and benevolent man who died on the 8th of June, 1998 while still on active duty. l am contacting you in view of the fact that we will be of great assistance to each other likeness developing a cordial relationship. I currently have within my reach the sum of FIFTY TWO MILLION US Dollars (US$52,000,000.00) cash which l intend to use for investment, like Real Estate development or import/export business specifically in your country.

Bearing in mind that your assistance is needed to transfer this fund, l proposed a percentage of 20% of the total sum to you for the expected service and assistance, 10% for offsetting minor expenses incurred in the course of this transaction. Your urgent response is highly needed as to stop further contacts. All correspondence must be by the email address above. l must use this opportunity to implore you to exercise the utmost indulgence to keep this matter extraordinarily confidential whatever your decision while await your prompt response.

MY PRIVATE NUMBER IS: 234-80-28363255
MOBILE 234-80-33976374
Best Regards. DR. (ALHAJI MOHAMMED ABACHA)

Editor Note: Your English bad for doctor. You must be NHS. I send you price list. Ling
---
"LINGsCARS.com provided us with an excellent level of service. We found that the ordering was very prompt and the turnaround almost immediate.

Ling also provided a fast delivery service. Overall, we are very satisfied with Ling and her company."

Steve Marshall and Steve Clark
Stark Accident Management
Erith
Kent

Editor Note: Who are you? I not know you. I think you make up letter - Ling
---
"Dear Ling,

I have nothing better to do with my time than send critical emails to websites I have surfed to. This is my art. Every email is a conceptual masterpiece though you probably won't understand it. It is beyond most people to comprehend. Like you I am a geniune struggling business owner battling for the recognition my contribution to society deserves. Also like you I am the best in my field. Unlike you I offer try before buy, as no-one will buy my products.

This email is yours to try FREE for 30 days. At the end of this trial period you must either return the email or purchase in full (£25)."

Massimo Toso
Managing Director
Fiat Auto UK
Slough

Editor Note: A critic with purpose is indeed a true businessman. I notice your cars sell very slowly in 2005. Maybe you need my advice. Keep email. I send back for refund. Ling
---
"Ling has brokered two deals for us, and both were at better prices than other larger companies could provide. Both vehicles turned up on time as ordered, no hassle!"

Miss A Mitchell
Cleveland Technologies Ltd
Longbeck Rd, Marske
Redcar
TS11 6HQ

Editor Note: Thank you. Nice to have such pleasant local customer - Ling
---
Fax to LINGsCARS.com:

"Fok you too, slanty (sic)."

Ian Sturgeon

Knights of Newcastle
Kia Proton franchisee
Newcastle upon Tyne

Editor Note: This is racist comment faxed to me from another motor dealer's garage. I have this in writing, so I publish it. Try to sue me, big Scottish man. These people very nasty to me. It shows that other dealers don't like my competition. Do Malaysian Proton/Kia franchise operator know how this Scottish man's garage treats orientals? Terrible. Ling
---
"To LINGsCARS.com,

For the third time, please delete our company from your fax list!!"

Green Soilicitors
Wentworth Rd
Godalming

Editor Note: Satisfied repeat non-customer letter. Ling
---
If you like to read these letters, you probably like:
---


Editor Note: If you read this far either you very bored or very interested. Now order car, huh? Ling


---
Search my letters page!

| | | |
| --- | --- | --- |
| From your area... | ...or from people... | ...or about a specific car! |
| | | |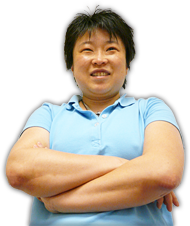 Online Service
Response Times
Quote > Proposal > Order > Delivery
75 CLIENTS IN 'PROPOSAL'
...LING REPLIES IN:
HRS : MINUTES sec
142 CLIENTS IN 'ORDER'
...LING REPLIES IN:
HRS : MINUTES sec
Customers use my secure LINGO management system.
Response times above based on last 4 hour period between
9am - 6pm, Mon to Fri -Ling

No Waiting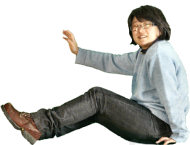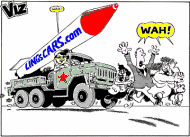 I am the Viz UK business ambassador!
Post me Ferrero-Rochers! Yum Yum!
Unlike most other internet car leasing sites, I publish all my contact information openly!
...so, you know who I am - Ling
THE UK's FAVOURITE
CAR LEASING WEBSITE!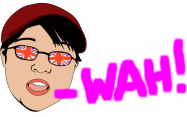 Boss: Ling Valentine MSc IoD
15 Riverside Studios
Newcastle Business Park
Newcastle upon Tyne, NE4 7YL
Tel 0191 460 9444
[email protected]
I prefer email to phone - Ling
VAT No: 866 0241 30
Co Reg No: 6178634
Consumer Credit Licence: 663330
Data Protection No: Z1098490
Best Before: 17/08/2007