CUSTOMER LETTERS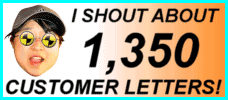 1522 LETTERS!
More customer letters than any other car sales site IN THE WHOLE WORLD! - Ling
You are viewing page 12 of 58 - go to page:
Search my letters page!

| | | |
| --- | --- | --- |
| From your area... | ...or from people... | ...or about a specific car! |
| | | |

Showing ALL my letters!



Customer Letter: 1257 / 1522
Frank says...

A bit zany, at times unusual, free gifts galore, but always excellent communication and 100% professional service. Will most definitely use you again and recommend to all my friends and work colleagues.

Frank

Editor Note: Frank... you are a management consultant (now with a new MK6 Golf) so I appreciate your kind words. You are also Scottish and I always enjoy dealing with ethnic minorities :) Go drive your car, and thanks for the biz. Zany is good, I guess, hahaha! - Ling
---

Customer Letter: 1256 / 1522
Paul says...

Hi Ling

Thank you for your efficient and prompt service. The Fiesta was delivered on time with no problems at all, totally hassle free. Excellent delivery.

I will definitely use your company again at the end of this current lease; thank you for all your help and regular updates. I would definitely recommend LINGsCARS.

Paul

Editor Note: Tosh, you are a director of a pub investment company called PINT! Hahahaha, that's brilliant! Make sure you have a pint for me. The Fiestas have been brilliant sellers, and are brilliant cars. Great letter, CHEERS! - Ling
---

Customer Letter: 1255 / 1522
Susan says...

Hi Ling, the car is superb and your service was fantastic!!! This Astra Sport Hatch is the first car we have had on contract hire and also the first brand-new car we have had. We will be back for our next car when the contract is over! Keep up the good work. Excellent delivery.

Susan

Editor Note: Sue, thanks. It's always a pleasure to help someone into a brand new car for the first time. I'm pleased you found my service to be good, I do try my best. Thanks so much for kind letter. - Ling
---

Customer Letter: 1254 / 1522
Andrew says...

LINGsCARS: The process was methodical and straight forward. I have no hesitation in recommending Ling to anyone. Thanks!

Good delivery, Peugeot 307CC was fine, but dirty. Only one key delivered with the car.

Andrew

Editor Note: Yes... Andy, I withhold your address as you are police officer, for your security. Only one key is a problem with these cars - but as it is just a year contract and they are top of range leather etc, I thought it was a price worth paying. Finance company prefer to retain the second key. They will release it, if demanded. Car was dirty due to mid-winter delivery, sometimes this cannot be avoided, but... the dealers could do better on this. Glad you are happy to recommend me :) - Ling
---

Customer Letter: 1253 / 1522
Kathryn says...

I have to admit to being very nervous about making such a big commitment with an internet company. However, the local Honda dealer wanted an extra £3,500 (WOW! No wonder the dealers are struggling! - Ling), so Ling got my business.

From start to finish it was completely painless, with questions answered almost immediately and in a friendly and caring way, to me. I've already recommended Ling to anyone who mentions wanting a new car.

The irony of it all is that I get to take my new Honda Civic for a service at the dealer who wanted the extra £3,500 (WOW! Again... - Ling)! And, guess who the finance company is? Yes - the one the dealer couldn't get a better deal from!!!!

Good delivery, but apparently the credit crunch means they don't clean the cars before delivery. Doesn't make checking them very easy.

Kathryn

Editor Note: Kathy, well - if the price you pay is that the car was delivered a bit grubby (it was middle of winter) but you save £3,500, I know which I would choose. But yes, a wash would be good. Apart from that, your happiness is obvious. I am so pleased you have a lovely new car with enough left over for 2 x top class holidays or a diamond ring the size of Brunei. Happy days, eh? - Ling
---

Customer Letter: 1252 / 1522
Andrew says...

It was one of the worst snow blizzards ever, but the new black Honda Civic Type-R was delivered to my door as promised. Great service from your team, Ling, and great service from the delivery company. Not so keen on the Chicken Noodles, though. But, the Honda is superb to drive. Thanks again.

Andrew

Editor Note: Hehehe, all my customers get the chance to order a free lunch... you should see how many Captains of Industry order my FUKU noodles :) You are head of technical services for a leisure group, Andy, so I appreciate your comments. Always nice to have super-happy customers. Never mind the snow, you are such a wuss, hahahaha, - go drive it!!!! - Ling
---

Customer Letter: 1251 / 1522
Susan says...
Fab friendly efficient fast service - I am loving the LINGO area where you can keep up to date with progress. Loving the sweets, too!!!

Ling is one of the best, both myself and my partner have cars from Ling and we are both very very happy. XXX. Excellent delivery of my new Chevvy Aveo, no problems, delivered on time.

Susan

Editor Note: Sue, you are a superstar to write me such a lovely letter. I really do my best to make you a happy customer, but we end up being good friends after all the chat. Let me know how you get on in the Aveo - a car which is really nice and also cheap, but goes a bit unnoticed. It deserves to sell more. - Ling
---

Customer Letter: 1250 / 1522
Jason says...

Excellent service from Ling, very sweet response to communications. This is the second time I have used Ling and while the website may be mad, the prices and service are great. I would (and have) recommended you to others. Good delivery of my new Verso.

Jason

Editor Note: Jason, lovely to have you back for a second car :) I just love repeating customers, it proves you are so happy. Hope you have a great couple of years in the Verso which is a super 7-seat MPV. Thanks for letter! - Ling
---

Customer Letter: 1249 / 1522
Andrew says...

Dear Ling,

Thanks for the personal touch! Can't fault your price, professionalism and organisation. Great to do business with, when this lease is up I'll definitely be back! Great communications too.

Andrew

Editor Note: Andrew, well, you are now bombing around in a new Touareg, a cut price Porsche Cayenne (but better looking). What a deal, eh? If you had bought this big 4x4 for cash, you would lose a fortune in this damn credit crunch. Glad you are a happy chappy. As a Snap-On franchise, you know what good service is, you lot are the best at that. - Ling
---

Customer Letter: 1248 / 1522
Daniel says...

5 Star service, Ling!

A lovely brand new Peugeot 307CC delivered to my door, all via a few clicks of my mouse! You forgot to mention that the 307CC is a top of the range 130bhp 2.0 with leather, cruise, bluetooth and more toys!. Thanks again, excellent delivery.

Daniel

Editor Note: Hahahahahaha! Dan; you got more than you bargained for. I thought I would surprise you as I got the chance to grab some higher-spec cars and said YES, so how nice to get loads of stuff you didn't pay for - you only paid £206.99 a month for this car. So cheap! Get you top off, and get cruising :) - Ling
---

Customer Letter: 1247 / 1522
Andrew says...

There are so many leasing companies on the web; use Ling - she is absolutely excellent. Always on the LINGO system when needed. Do not go anywhere else, best by far, prices very competitive. What more can I say?

Beautiful car, the Honda Civic. No marks, but an average valet before delivery (had to clean myself).

Andrew

Editor Note: Andy, thanks so much for the comments, everyone loves the LINGO system :) Great to deal with you. You seem very happy with your fast Type-R. Shame the dealer didn't clean the car so well... I just can't believe they mess this up. Dealers are often the weakest link. Apologies, I have kicked them. - Ling
---

Customer Letter: 1246 / 1522
Andrew says...

Go Ling! Placed order for a C Crosser on 26th of Feb, having been let down by Flexxilease (took my car early and had no good deals!). Had been a loyal Flexxilease customer since 2005 but no longer! The lease car siren Ling has seduced me away with her great deals, excellent online ordering and message system and lovely Chinese sweets and smile.

Being a nerd I particularly like the LINGO online system where you can scan and upload all the ID, docs etc. needed to get the lease in place. Only the final lease doc comes via snail mail for your signature. The built in message system is also a dream with a record of all your chats and REALLY quick replies from Ling.

Anyway after being left with only my Austin Allegro to get two kids around in I was pleased with the speed and smoothness of dealing with Ling, The car arrived when arranged on the 19th and I've been stretching out in it ever since. Only bump in the road was down to the Royal mail and their inability to delivery stuff [tax disc] and then remember where they put it, seems to be a problem in my village! Ling was super quick in giving me the ref. to track the package and retrieve from the Royal Mail. Orcs!



(ORCS - Ling)

I cannot stress enough how good the whole system Ling has in place that takes you from quote to delivery. Have recommended Ling to friends and family aplenty. Thanks from the Smith family!

BTW I am a Mac using designer type and I LOVE your website design!

Andrew

Editor Note: Right, well, where do I start with this nutter customer, hahahahaha?!! :) Andrew, you wanted me to call you "Master" all the time, which is just weird! Then you make the Orc noise. And you have a Mac and an Allegro. You are a complete nutter! I agree Flexxilease are not, errr... how to say, ... the most responsive company. I have no idea what "siren" means, except that I sound like a Fire Engine. I do understand that point of view.

I send the final lease doc by snail mail because the security of using a hand delivery and verifying your address; if I email the docs, you could be some Russian scammer. Enjoy the bloody C Crosser! :) - Ling
---

Customer Letter: 1245 / 1522
Caroline says...

Brilliant service, great online LINGO system. Thanks for all your help with my new Honda Civic.

Caroline

Editor Note: Cal, just a short note, but a happy customer :) Thanks so much for sending that, really hope you love you nice new car. - Ling
---

Customer Letter: 1244 / 1522
Stephen says...

Hi Ling, sorry it's been a while. We've been enjoying the Volvo C70.

This is out first lease and we are so glad we found your website. You have kept the process nice and simple, adding the personal approach and a little (welcome) humour. We particularly liked your LINGO system which lept us well informed, and the ability to upload secure documents is brill.

Thanks to all concerned, especially for the speedy turnaround which saved us £175 per month over the current C70 deals. Both the dealership and driver were very helpful with the excellent delivery.

Stephen

Editor Note: Steve, how good was this? We grabbed you a car which was so much cheaper than other deals, it saved you £6,650 on other rentals over the 3-year period. You should note that other companies would have increased the price and earned a massive commission, but I do not do that. Maybe I am stupid, but I prefer happy long term customers. This is not about money, it is about people like you :) I am glad you seem so happy, and pleased you liked the LINGO system - that is a successful job done. Great dealer, this one. Wait until summer and you can put the roof down :))) - Ling
---

Customer Letter: 1243 / 1522
Vanessa says...

Fantastic!!! I was kept informed at every step of the process. Ling is 100% efficient and very friendly - I loved her letters, sweets and jokes. It made leasing a car a pleasure. I would recommend Ling to anyone thinking of leasing a car. I love my new shape Fiesta, it currently wears a comic relief red nose!!! Excellent delivery.

Vanessa

Editor Note: Vanessa, great. 100% efficient is 100% happy. Glad you laughed at the jokes, sometimes they lose something in the translation... and the sweets, well they are unusual to say the least. Will love to deal with you again in 3 years :) - Ling
---

Customer Letter: 1242 / 1522
Lon says...

This Renault Koleos is my second Ling Lease and the service was just as good as the first one. It really is important to us small businesses to have this quality of service with every email answered in rapid fashion and always being kept informed on timescales. We thoroughly recommend Ling's services to others looking to lease a vehicle.

In complete contrast, the Renault dealer was poor with aborted delivery, second key missing (subsequently arrived) no apology from them.

Lon

Editor Note: Yes, this dealer was 100% shit. In terms of shit - this was dog shit, not cow shit. How on earth they survive in the recession I don't know? I had to spit blood to get that stuff sorted for you Lon. All I can say is sorry, and I'm glad you recognise the ocean of difference between me and the dealership. Some dealers are my constant weak link. Like pushing watery string uphill. Still, you are happy now, and I will see you in a couple of years! Ciao! - Ling
---

Customer Letter: 1241 / 1522
Michael says...

I ordered my new Cit C5 over the Chrstmas holiday and I thought this may have caused a delay... but Ling was polite (POLITE???? me? Wow! - Ling) and efficient making sure I received the new car as quickly as possible. I would highly recommend LINGsCARS.com to my friends. Good delivery.

Michael

Editor Note: Hey Micky! Your car's so fine it blows my mind, Hey Mickey! Hahahaha. You will not believe this Micky, but I did most of the work on your Citroen from China! I was in China at Christmas and using the power of the internet, not many people noticed, hahaha! So, you can say, you got a new car from China! Glad you are happy bunny, I am damn surprised you think I am polite. Maybe I shouldn't mention this, but you work for FORD! Gotta laugh. I will also mention, Citroen UK (idiots) made a delivery mistake on your car, sending it to the wrong depot, that cost me a few days on delivery. - Ling
---

Customer Letter: 1240 / 1522
Matthew says...

What a great service! Ling puts the big companies to shame. Any questions I had were answered within the hour. A totally painless and thorough service. There's only one Ling Valentine!!! Good delivery, but I didn't get a spare key, thought this was weird.

Matthew

Editor Note: Hahahaha, only one of me? You should be grateful! Matt, the spare key on these Peugeot CCs is retained because the contract period is short. I can get it issued if you really want it, but they have such a high charge for lost keys on this car that they try to keep it safe. A bit nannying I agree. Really pleased you had a wonderful time grabbing your new 307. Top down! - Ling
---

Customer Letter: 1239 / 1522
Janet says...

A smooth transaction from start to finish! I will definitely use you next time and I have already recommended you to a friend. Excellent delivery of my Citroen C5. No problems so far but I've only had my new car for a week.

Janet

Editor Note: Ah, well, having a Citroen for just one week without any problems is very good news, Janet. This is only more significant when the car in question is a FIAT. However, these C5s are very popular and are quite different from the 2CVs of the past :)

- Ling
---

Customer Letter: 1238 / 1522
Huw says...

Ling brings a refreshing alternative fun approach to buying a car. Her off the wall approach is accompanied by value for money and an excellent service. My daughters loved the sweets! Good delivery, my Vauxhall Zafira arrived early. The delivery driver was polite and helpful.

Huw

Editor Note: Aaaaaaaaaaaaagggggh! You should not feed the poison Chinese sweets to children, Huw. While kids are at a sensitive growth stage, the chemicals can have weird effects. Still, you can lock them in the Zafira and let them take out their hypo-activity on the car. Thanks for sweet (hehehe) letter! Enjoy the Zafira! As you are Royal Navy Commander (like James Bond), I withhold your address so the Iranians cannot take you hostage. - Ling
---

Customer Letter: 1237 / 1522
Paul says...
LINGsCARS made the process of arranging my new company car fun and the LINGO system kept me up to date with the status of my BMW application at all times. Good delivery, prompt as promised.

Paul

Editor Note: Wow, I haven't done many BMWs this year, but I found you a great deal on your new 3-series, Paul. Go and have some fun in it, I hope you have a great 3-years at the wheel. Nice cars, I had a BMW 3-series, 2-years ago and enjoyed it immensely. Great to help you out. - Ling
---

Customer Letter: 1236 / 1522
Darren says...

This is the first time I have gone trough the process of renting a car. Ling made this whole experience less confusing. She is a joy to do business with and I would gladly go throgh the whole process again. Excellent delivery, well handled, very good.

Darren

Editor Note: Darren, you have a cheap Seat Leon for the next 2-years. Hope you enjoy it. It was great to deal with you, you were a very responsive customer. Take care! I want you back soon... - Ling
---

Customer Letter: 1235 / 1522
Steve says...
Excellent service - efficient and fast. This Toyota Avensis is the second car we have taken from you, Ling, and others will follow for sure. Excellent delivery. Many thanks Ling.

Steve

Editor Note: Steve, your Blackpool company illuminates my day at work, hahahaha! Great to see you back and I'll get another car ready for you soon. Lemon squeezy. - Ling
---

Customer Letter: 1234 / 1522
Scott says...

This is our third car ordered from Ling and as usual the customer service has been quick and excellent. I would highly recommend LINGsCARS and will keep using Ling for our fleet requirements. Good delivery on the SAAB, no problems to report.

Scott

Editor Note: Scott, job done! Good customer on your 3rd car from me, next car I send you free mats! Each mat pack contains 4 mats, which means you will have one for each car - easy. How lovely it is to deal with you, Scott, and it's so easy to remember the name of someone who is called after the country he lives in :) - Ling
---

Customer Letter: 1233 / 1522
Lee says...

I love ding-a-ling and her team! She did everything that she promised - and more - when my C-Crosser turned up bang on time. It had an additional DVD player built in and a music system with a 30Gb hard drive!! Happy days! Excellent delivery, I was very happy with the dealer service. Thank you Ling and all of your team. See you in 2-years!

Lee

Editor Note: Louie, what a nutter you are! Hahahaha. Whenever I get the option to grab a higher spec car, I do, but that's not very often. In this case, you won the lottery! Nice to get a £thousand of stuff for nothing, eh? Happy days indeed. Enjoy the DVD and music! Have a great time in the C-Crosser. - Ling
---
Search my letters page!

| | | |
| --- | --- | --- |
| From your area... | ...or from people... | ...or about a specific car! |
| | | |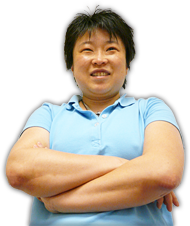 Online Service
Response Times
Quote > Proposal > Order > Delivery
75 CLIENTS IN 'PROPOSAL'
...LING REPLIES IN:
HRS : MINUTES sec
142 CLIENTS IN 'ORDER'
...LING REPLIES IN:
HRS : MINUTES sec
Customers use my secure LINGO management system.
Response times above based on last 4 hour period between
9am - 6pm, Mon to Fri -Ling

No Waiting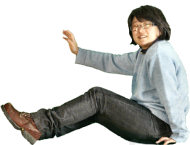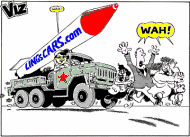 I am the Viz UK business ambassador!
Post me Ferrero-Rochers! Yum Yum!
Unlike most other internet car leasing sites, I publish all my contact information openly!
...so, you know who I am - Ling
THE UK's FAVOURITE
CAR LEASING WEBSITE!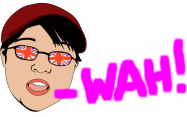 Boss: Ling Valentine MSc IoD
15 Riverside Studios
Newcastle Business Park
Newcastle upon Tyne, NE4 7YL
Tel 0191 460 9444
[email protected]
I prefer email to phone - Ling
VAT No: 866 0241 30
Co Reg No: 6178634
Consumer Credit Licence: 663330
Data Protection No: Z1098490
Best Before: 17/08/2007