CUSTOMER LETTERS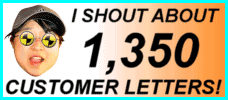 1522 LETTERS!
More customer letters than any other car sales site IN THE WHOLE WORLD! - Ling
You are viewing page 33 of 58 - go to page:
Search my letters page!

| | | |
| --- | --- | --- |
| From your area... | ...or from people... | ...or about a specific car! |
| | | |

Showing ALL my letters!



Customer Letter: 721 / 1522
Thomas says...

We used LINGsCARS and found Ling to very professional. She provided a quality service and was good value. I can certainly recommend LINGsCARS, Ling is very reliable, and we will certainly continue to use her in the future. Good delivery, very professional and reliable.

Thomas

Editor Note: As Director of a demolitions company, I'm glad you didn't demolish me with your letter, hehehe :) These Qashqais give you everything from an SUV, except the price and the costs. They are really popular. I am doing dozens of these, well done Nissan and well done the Mackams building them! - Ling
---

Customer Letter: 720 / 1522
Roy says...

We went to at least 10 other lease-hire providers and told them all to try and match Ling's price. The closest alternative would have cost us over £1000 more over the hire period. Ling's website is funny but her prices are seriously good. Excellent delivery, clear, concise and honest.

Roy

Editor Note: Well, here is another professional company, Blackburn Griffiths Ltd is a consulting civil engineering company in Cardiff... so Roy, I take your letter very seriously. Thanks for the comments. I really do my best and am so pleased to get a letter like this. Thanks. I will say the reason the Merc was cheaper than everyone else is that I treat it like a can of beans. I don't add crazy premium for a badge or a name. It makes no difference to me if you have a Fiesta, a Range Rover or a Merc... I simply treat you the same and don't try to make a massive profit. - Ling
---

Customer Letter: 719 / 1522
Neil says...

Thank you Ling - We have found your service to be fast and friendly. Every telephone call has been dealt with immediately and every email answered promptly. It's unusual and highly refreshing to deal with an honest company. We will be back in 24 months.

The delivery was excellent, the Astra arrived first thing, only delivery miles and clean as a whistle. Great Vauxhall Astra, fantastic on fuel, plus I get the kids in the back. Take care -

Neil

Editor Note: Wooo hoooo, you are a bloody Airspace Manager, guess that means some kind of Air Traffic Controller. Well, then your letter means even more to me, as you appreciate perfect service - I think you have to deliver that every day, or else. Well, these Astras are fast and fun and cheap. Enjoy, despite the kids in the back!! - Ling
---

Customer Letter: 718 / 1522
Karl says...

The best website for car leasing on the net.

I needed a quote and specification over the normal 10,000 miles. Not only did Ling's site give me this information, but it offered lots of other info as well. Ling was fantastic. Excellent services, very prompt, good information etc... no pressure from hard-hitting sales people, just good honest customer service.

Highly recommended.

Karl

Editor Note: Wow! What a letter, Karl! But then you did get one of the cheapest brand new Lexus IS-ses in the UK. Hope you like the new car, these are really lovely, I had one for a few weeks and the quality was stunning. See you in 2-years! - Ling
---

Customer Letter: 717 / 1522
Caron says...

Thanks for the BMW 1-series, really impressed with the way you dealt with everything. Very prompt and hassle-free. I had to wait all day for the delivery, because the car went to Birmingham first, but it was worth the wait!!

Many thanks, and I wouldn't hesitate to recommend you (actually, I already have) and I would definitely use you again.

Caron

Editor Note: Caron, well, a lorry carries many cars, so I guess it has to do a round-robin trip. It's also subject to traffic and drivers' hours restrictions so it is difficult to be exact sometimes. But I am really pleased you are happy with your BMW. That 1-series was a real bargain, a BMW badge for Astra cash. - Ling
---

Customer Letter: 716 / 1522
Mohammed says...

Third car from Ling, a Volvo C30 Coupe - as always a great service, and she efficiently organised the good delivery. I really liked chatting online with Emma - what does she look like?

Mohammed

Editor Note: Mohammed :) Well, just for you... here's Emma!


Emma has joined me to help me keep my service as the very best in the country. She is a gobby Geordie bird. As you are a plastic surgeon, Mohammed, maybe I should send Emma down for you to practice on :) Here's Emma terrorising the drivers at the 2007 RallyCross final. Contains swearing.

- Ling
---

Customer Letter: 715 / 1522
Samuel says...

Ling, I couldn't be happier with the service you provided for me. Thank you. I would not hesitate to recommend you (LINGsCARS) to anyone interested in leasing a car.

Samuel

Editor Note: Sam, well, you had a 150bhp 1.9 Astra for a bargain price, no wonder you are pleased. These Astras are so good, a million miles away from Astras of a few years ago. They are VERY popular. You are an osteopath, so maybe you can send me some magic potion to cure my bad back, from too many hours on my computer :) - Ling
---

Customer Letter: 714 / 1522
John says...

Dear Ling, many thanks for your patience whilst I waited for my new Ford Mondeo. I was impressed by your professionalism and prompt replies to my many emails. I am thoroughly enjoying my new car and am looking forward to dealing with you again in three year's time. Many thanks.

John

Editor Note: Here we go, a Director of an Engineering company. John, it is people like you that I value the comments from, so much, as you will judge me against your own standards. Thanks for the lovely letter, it's great to hear you are enjoying your new Mondeo, a car much better than the image of the badge it wears. Have a great time driving it. The car took a while, due to the production being flat-out! - Ling
---

Customer Letter: 713 / 1522
John says...

Hi Ling,

The BLING Lexus is A1!!!

I have only good things to say about your service and the efficient and personal way in which I was dealt with. These so-called bigger dealers should spend less time concentrating on profit and more on customers. The best recommendation I can give is that I will be back for my next car and hope you continue to teach these bullies a lesson.

Excellent delivery, the delivery driver was a star and rounded off a terrific experience of the whole process.

John

Editor Note: Well, that's great news. Delivery is the one of two aspects I cannot 100% control, so pleased when it is perfect. (The other aspect I have no control over is the factory building the cars, if there are production delays). Love to have professional types like you as customers. See you soon when your Lexus gets a couple of years old. - Ling
---

Customer Letter: 712 / 1522
David says...

Very good service as usual, thanks for getting me such a good deal... excellent delivery, my Pathfinder arrived on time.

Black Ink's Gallery in Stow on the Wold
David

Editor Note: David, you have had a few cars from me, so pleased we could arrange the swap-over so perfectly. You have a lovely art shop in a lovely part of the country. See you in a couple of years :) - Ling
---

Customer Letter: 711 / 1522
Yvonne says...

I had a lovely time on Ling's website, picking my Vauxhall Zafira and e-mailing Ling. She responds very quickly.

It was a no-hassle A* service. I will be using her website again. Good delivery, was the car supposed to have a full tank of fuel?

Yvonne

Editor Note: Yvonne, thanks for the comments from the very north of England. No, the car wasn't supposed to have a full tank of fuel, you get the car, not diesel. If there is fuel (often there is) than it's a bonus. The way I keep my prices down is to cut all the stuff you don't need, and please note... if you get a "free" tank of fuel from a dealer than it is not "free", you certainly pay for it in the hidden costs. Glad you enjoyed my website :) - Ling
---

Customer Letter: 710 / 1522
John says...

A very professional, timeous service from Ling. From the original email enquiry to the delivery of the Nissan Note to my doorstep, every aspect went according to plan. I have recommended Ling to all my colleagues within North Lanarkshire council who are also looking for personal leasing.

John

Editor Note: Well, I am so pleased to be able to promote my business in Scotland - I get attacked often by Scottish motor dealers for "invading" their area, one even said I was ignorant because I had never heard of the Highland Clearances. I thought that was a pre-reg car sale by Arnold Clark! I'm Chinese, not Scottish, sorry! I imagine the Scottish are not familiar with every Japanese massacre of Chinese, either. So... it's with pleasure I look forward to members of North Lanarkshire Council logging on my website, and with pleasure that we ignore the political nutters :) - Ling
---

Customer Letter: 709 / 1522
Stuart says...

LINGsCARS are fantastic. Very simple - a "no messing about" approach. I got a nice car at a good price. I don't have time to waste haggling or being "upsold" stuff I don't need. The delivery was excellent, better than I have received previously when dealing direct. If I need another lease car, I'm unlikely to go anywhere else!

Stuart

Editor Note: Great, brilliant. You are a specialist consultant in Telecoms... so your opinions mean a lot to me. I really try to give a straightforward service with no hassle, glad you liked it. Enjoy the new BMW 5-series and see you in a couple of years, Stuart. - Ling
---

Customer Letter: 708 / 1522
John says...

I was totally satisfied with the fantastic service levels of LINGsCARS, Ling always kept me up to date. No frills, no fuss, great deals, Ling would always be my first choice. Delivery; car arrived dirty.

John

Editor Note: John, thanks so much for your letter as the Director of your business. I always like notes from business owners. I'm sorry the day was rainy and miserable for your VW Passat delivery, the weather is always a problem in Autumn/Winter deliveries. I'll give the supplier a kick and make sure they use a local car wash in the future. - Ling
---

Customer Letter: 707 / 1522
Jason says...

Carlsberg don't do contract hire cars, but if they did, it would be done like this.

Ling, you were fast, efficient, friendly, and dare I say it ...you did exactly what it said on the tin. Fantastic. Excellent delivery, very polite and courteous. I'll be coming back in a couple of years when my Vauxhall Zafira contract expires.

Jason

Editor Note: Jason, hehehe, you are an Internet Retail Sales Director, so I really appreciate your comments, even if Carlsberg probably don't. Maybe I should drink more? Note: I promote sensible drinking by my customers!

- Ling
---

Customer Letter: 706 / 1522
Peter says...

I am passionate about customer service, and yours is brilliant! Immediate response to all enquiries, delivery as promised... and the price - absolutely magnificent. I will be back!! Fantastic delivery, BMW were brilliant.

Peter

Editor Note: Peter, thanks. I do my best. Glad I make you so happy. These BMW Coupes were very cheap. I hope you enjoy driving it for 2-years. Thanks for very lovely letter :) - Ling
---

Customer Letter: 705 / 1522
Darren says...

Great, easy to use and straightforward website. Fabulous communication which made the whole process pain free. Will definitely use Ling again and I have already recommended to colleagues and friends.

Darren

Editor Note: Darren, you are so sweet :) You are still missing your aerial for the Nissan Qashqai, but yet you write such a lovely letter. I am sorting out your aerial. - Ling
---

Customer Letter: 704 / 1522
Gerard says...

I tried Ling after experience with BMW Finance. She is definitely better (if a little wacky)! Good communication via email and phone, top notch covered-truck delivery. Excellent!

Gerard

Editor Note: Woooooo-Hoooooo. I have never had a covered-truck delivery before! That is Aston Martin treatment, not usually for lowly BMW customers! Hope you have a great 2-year love affair with the BMW 3-series coupe. Thanks for letter :) - Ling
---

Customer Letter: 703 / 1522
Keith says...

Hi Ling

I am writing to thank you for your service and to say how delighted we are with our new Vauxhall Zafira. You are a pleasure to do business with; everything was fully explained and upfront and it all happened when you said it would. I have no hesitation in recommending your company and look forward to choosing my new car with you in 2 years. Good delivery of the Zafira, as expected.

Keith

Editor Note: Keith, well I must say, you were a brilliant customer. It was very easy to deal with you, your paperwork was great. See you in two years! Enjoy the Zafira - a bargain! - Ling
---

Customer Letter: 702 / 1522
Peter says...

Ling! I love my new Grande Punto! Thanks again...

...and now, a poem:

Ling is the best, forget the rest,
She is a star, she'll get you a car,
No scratch, no dent and no loose screw,
Because the car is always new,
Great service, great prices and a lease without crisis,
Now, come to the crunch,
Do I get a free lunch?

Prompt delivery of my Punto by a very friendly delivery man. Excellent.

Peter

Editor Note: Great! - Free lunch in the post! Thanks Peter, you are a funny onion. :) - Ling
---

Customer Letter: 701 / 1522
David says...

Dear Ling

Thank you so much for your help to get my daughter her new Mini Convertible after all the hassle we had trying to get it in her name with no credit history. It was a pleasure to do business with someone who actually cares about the business they run! Will definitely come to you again, thanks. I can see why you are doing so well. Excellent delivery.

David

Editor Note: No problem at all, David. I hope your daughter has a great time in her new car. Roll on global warming so she can get the roof down! :) - Ling
---

Customer Letter: 700 / 1522
Malcolm says...

Once again Ling, you prove you are the best around. No rubbish hard selling, just the most competitive price and backed up with your normal first-class service.

Malcolm

Editor Note: Thanks for the letter, Malc, you are very kind. I used your company in return, to make me some new signs. They look very smart! Thanks. Enjoy BMW 3-series Coupe. - Ling
---

Customer Letter: 699 / 1522
Gregg says...

Ling - You live up to your reputation. Very happy and many thanks.

Gregg

Editor Note: Gregg, short letter, but a nice one. Thanks :) Enjoy the Astra Soprt Hatch! - Ling
---

Customer Letter: 698 / 1522
Stuart says...

Dealing with LINGsCARS was quite an experience! One I recommend.

Unlike other companies I spoke to, Ling was informal yet informative with great customer care offered at every stage. If you want a no-nonsense, friendly car hire broker, look no further. My repeat custom is assured. My Nissan Qashqai was delivered on time as promised. Can't ask for more.

Stuart

Editor Note: What a lovely letter, Stuart. These Qashqais are the most popular cars this year. Everyone seems so happy with them. Hope you enjoy! Thanks again :) - Ling
---

Customer Letter: 697 / 1522
Peter says...

"Does what she says on the tin". Good deals, good service, good variety, good delivery.

Peter

Editor Note: Peter, ANOTHER car for you, this time a Fiat Grande Punto! Keep it up :) I really enjoy to supply you. - Ling
---
Search my letters page!

| | | |
| --- | --- | --- |
| From your area... | ...or from people... | ...or about a specific car! |
| | | |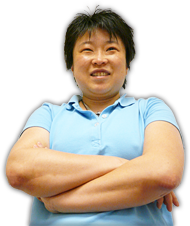 Online Service
Response Times
Quote > Proposal > Order > Delivery
75 CLIENTS IN 'PROPOSAL'
...LING REPLIES IN:
HRS : MINUTES sec
142 CLIENTS IN 'ORDER'
...LING REPLIES IN:
HRS : MINUTES sec
Customers use my secure LINGO management system.
Response times above based on last 4 hour period between
9am - 6pm, Mon to Fri -Ling

No Waiting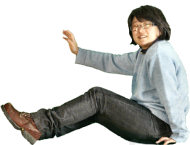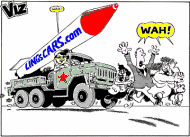 I am the Viz UK business ambassador!
Post me Ferrero-Rochers! Yum Yum!
Unlike most other internet car leasing sites, I publish all my contact information openly!
...so, you know who I am - Ling
THE UK's FAVOURITE
CAR LEASING WEBSITE!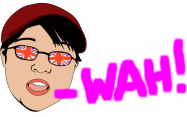 Boss: Ling Valentine MSc IoD
15 Riverside Studios
Newcastle Business Park
Newcastle upon Tyne, NE4 7YL
Tel 0191 460 9444
[email protected]
I prefer email to phone - Ling
VAT No: 866 0241 30
Co Reg No: 6178634
Consumer Credit Licence: 663330
Data Protection No: Z1098490
Best Before: 17/08/2007