CUSTOMER LETTERS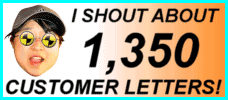 1522 LETTERS!
More customer letters than any other car sales site IN THE WHOLE WORLD! - Ling
You are viewing page 18 of 58 - go to page:
Search my letters page!

| | | |
| --- | --- | --- |
| From your area... | ...or from people... | ...or about a specific car! |
| | | |

Showing ALL my letters!



Customer Letter: 1102 / 1522
Jane says...

Unusual business practice. Much prefer something more formal with emails. However cannot fault speed and efficiency of service. Thanks.

Jane

Editor Note: Well, Jane, no problem. Sorry to say I am not very formal. I guess there are many different styles, but these are only cars and are not life or death. No-one dies :) Here I go again, hehehe. Sorry. Perhaps I made up for my lighthearted manner with speed and efficiency. Enjoy the Captiva! You were a very nice customer, despite that I irritated you. - Ling
---

Customer Letter: 1101 / 1522
Geoffrey says...

When I compared prices I was interested in LINGsCARS because it was a good quote for a Prius. As I researched more it become obvious that it was not just a good price. Ling is fun to do business with, enthusiastic and pays close attention to a customer's needs. She has made my first leasing experience a real pleasure, long may she prosper. My Prius was delivered to my door with courtesy and attention to detail!

Geoffrey

Editor Note: Geoff, I have withheld your address because you are a Training Development Officer with the British Army and I don't want Al-Qaida chasing you for free training. Thanks for the comments, glad you followed your instincts. Hope you enjoy that Prius. Better saving the world with a Prus than by shooting people :) - Ling
---

Customer Letter: 1100 / 1522
David says...

This was my first venture into the car leasing market and I must say that with the help of Ling it was a first class experience which I will be repeating once my lease expires on this car, and I will be returning to LINGsCARS. What more can I say other than - first rate all round - thanks. Good delivery on my Qashqai, the car was delivered on time, the gentleman spent some time explaining all the car's controls etc, very good.

David

Editor Note: Wow, David, you work in quite an unusual industry these days, you are a furnaceman making steel rolls. Big and tough, I guess, like the Qashqai. Plus, the car is made in Sunderland, where you live! Thanks for being a super customer. Glad you enjoyed the experience :) - Ling
---

Customer Letter: 1099 / 1522
Neil says...

I thought that Lingo was very easy to follow and very useful, especially live chat when you have a question, Ling responds very quickly. Ling was very helpful and kept me informed of what was going on. Loved the freebies through the post. Would recommend anybody to Ling, as she is lovely and friendly. Hope to speak to you soon. Excellent delivery of my Corsa, the dealer just rang and delivered as Ling said they would. Very helpful.

Neil

Editor Note: Neil, great, happy you are pleased. The freebies were poisonous, sorry about that. The Chinese sweets were infacted with the melamine, but it only harms small kids, not adults. Luckily, if you get ill, you work in a hospital. Hope to see you in 2-years for a new car! - Ling
---

Customer Letter: 1098 / 1522
Nicola says...

First class service with excellent customer service! Would most definitely recommend to others. Couldn't fault - thank you! Excellent delivery of my Honda Civic.

Nicola

Editor Note: Nicola, lovely-jubbly. You were great to deal with, thanks so much for the biz. Thanks for comment about customer service. See you in 3-years! - Ling
---

Customer Letter: 1097 / 1522
David says...

Great service with good communication. All went amazingly smoothly. Very impressed. Refreshing change to "normal" leasing companies. Excellent delivery of my Mercedes A-Class, did exactly what they said they would.

David

Editor Note: Dave P, why "amazingly" smoothly???? Wahhhhh! I am glad I am not "normal", hahaha! Normal leasing companies insist on phone calls, work via post-it notes and take ages to return communication. This is not me. I do things fast, all web-based for security and never use a post-it note. Still, apart from that rubbish, glad you like your new A-Class! - Ling
---

Customer Letter: 1096 / 1522
Julie says...

After dealing with other leasing companies in the past, I found LINGsCARS to be a refreshing change. Ling's website is fantastic! Not boring like the others. The service she provides was second to none and I will certainly be using her company in the future. I will have no hesitation recommending her to my friends. Good delivery, but couldn't deliver on the first day advised.

p.s. Loved the sweets!

Julie

Editor Note: Jules, you were a great customer, and you are a Tesco Personal Shopper, so I will say thanks for your order and every little helps! You were a breath of fresh air to deal with on my LINGO, always so happy! Enjoy the Vauxhall Astra Sport Hatch! Those Chinese sweets were withdrawn soon after I sent them to you, they contained the Melamine. - Ling
---

Customer Letter: 1095 / 1522
Ralph says...

Ling, I continue to sing your praises to anybody who will listen. Great Customer Service. In fact I simply repeat my praise from my last order:

Great car; great service, great Ling. ...All the very best

Ralph

Editor Note: Ralph, you are superstar, you are also Group Captain in the RAF so I withhold your address for security from the Taliban. It is always a pleasure to deal with you, and see your driving licence with the giant moustache and Biggles scarf. Please pass details to rest of RAF. I must say I have supplier about 6 RAF officers, this year! - Ling
---

Customer Letter: 1094 / 1522
David says...

Hi Ling. Thanks for my wonderful red car. It's beautiful. We are loving it. I enjoyed the banter between us on the lingo system (you are one crazy woman with a wicked sense of humour). You were there every step of the way for us and emailed me even if there was no news on the car, which made me feel I was your only customer. I know you were very busy with other clients. It was a pleasure doing business with you and looking forward to getting my next car from you. The Astra was more than a month late!

David

Editor Note: Yes... more than a month late. Vauxhall just can't get their act together. I order cars, they tell me a build date, then put it back. No wonder GM struggle. Glad you enjoyed the LINGO system, you were very chatty and I appreciate the comments. Thanks :) Glad you like your Astra Sport Hatch. - Ling
---

Customer Letter: 1093 / 1522
Sharon says...

My Fiat Panda is sleek, sophisticated, nippy and reliable like me and it's cuter than my husband. It's a fantastic runner for me - so thanks Ling for everything you've done. It was all done quickly and easily and you were a fantastic help with any queries I had. I'll definitely be using you again. Excellent delivery, they were quick and efficient.

Sharon

Editor Note: This is second Panda letter in a row who had a good delivery experience! Maybe FIAT were having a bad day??? Wow. I am not sure the Panda is "sleek" but then I have not seen your husband :) Glad you enjoyed getting your new car, Sharon! - Ling
---

Customer Letter: 1092 / 1522
Samuel says...

Being the first time that I had leased a car, I had lots of questions which you answered quickly and clearly, in fact you were very caring and supportive all the way. I am really pleased with my new Fiat Panda and I promise to recommend your company to my friends. Thanks very much Ling I look forward to dealing with you again in the future. Good delivery, efficient and prompt.

Samuel

Editor Note: Hehehe, not often a Fiat dealer gets called "efficient and prompt"! Thanks for the letter, Sam, you work for a Chinese shipping company, so maybe I should say "xie xie" :) Enjoy the Kung-Fu Panda! - Ling
---

Customer Letter: 1091 / 1522
Simon says...

Ling, from the start you were great. Your quote was £20 per month cheaper than the VW dealer. You made it a smooth easy transaction. Thank you for all your help. Good delivery by a very nice guy who dropped of the Golf.

Simon

Editor Note: Yes, Simon. I am usually a lot cheaper. I do not have glass palace and 40 staff and franchise requirements to support. This is why the dealers are falling like flies in the Credit Crunch. As you a director of a Electronic Test And Measurment Equipment company, I appreciate comments. Thanks. - Ling
---

Customer Letter: 1090 / 1522
Kenneth says...
From the start to finish it has been a delight to deal with LINGsCARS. Ling provides personal and attentive service and delivers the cars on time and at the agreed price. All very refreshing in this day and age. Excellent delivery of my new Audi A6 Avant. Personal, efficient and attentive.

Kenneth

Editor Note: Ken, you are retired ex-Chief Executive of a building society. So, I really appreciate what you have to say. Also, this Audi supplier is top-class. When a top financier chooses my service and finance product, I know I must be doing something right. Pay attention everyone reading this, Ken didn't get a loan, he rented the car! Rent depreciating assets. Thanks so much for being brilliant customer and look forward to future biz! - Ling
---

Customer Letter: 1089 / 1522
Elizabeth says...

A fantastic experience from start to finish - competitive priced cars combined with attention to details. Quirky fun and detailed explanations throughout. Made the process easy - great after sales service - would use you again and already recommended to friends.

Elizabeth

Editor Note: Wow, Liz, what a nice letter from a Land Rover Disco customer. Land Rover are struggling at the moment, so every little helps :) Thanks for saying it was a fantastic experience, I am doing my best to make great customers like you very happy! - Ling
---

Customer Letter: 1088 / 1522
Stephen says...

I couldn't be happier with the Mazda MX5 and the service you gave in supplying the MX5. Nothing was a bother to you. You replied to my emails very very quickly and I have to say that your approach to car leasing gave me satisfaction and a laugh. Why would anyone ever buy a car??? See you again in 2 years 10 months for the next one. Thanks again! Excellent delivery, car delivered on time and even had petrol in it.

Stephen

Editor Note: Steve, so glad you had some petrol, hahaha, usually my cars are delivered with a small amount. But, hey, if dealer wants to give away free petrol, who am I to stop them? :) Enjoy the fast 2.0 MX5, you just have to wait for summer! Must make a nice change from your normal HGV you drive as a job. - Ling
---

Customer Letter: 1087 / 1522
Alan says...

Ling is completely nuts, but she is great at this game! She kept me informed all along the way and sent me loads of weird sweets. I would go as far as to say that she has provided the best level of customer service I have ever experienced! Thanks very much and I will make contact again soon! Excellent delivery of my new VW Touran, nice and easy by a friendly dealer.

Alan

Editor Note: Alan, so glad you use you middle name as I cannot pronounce your first (Joaquim) :) - you are brilliant customer. As a training manager for a very large company I appreciate the comments. You have a great 7-seater car, lovely gearbox on those Tourans. Only downpoint is you live in Milton Keynes :) Thanks for the "nuts" comment. I will put that on my wall. - Ling
---

Customer Letter: 1086 / 1522
Joanne says...

We have had four or five cars from Ling now, it just keeps getting easier and easier from proposal to delivery. It all goes so smoothly. We have now reached the point when we require a contract car we only look at LINGsCARS! Excellent delivery, first class dealer.

Joanne

Editor Note: Joanne, yes, yes, you have had many cars and I always do my best. Even though you are in Goole, which on my map is near Holland, you choose me for your cars and I'm so grateful. I do my best. Thanks for being so lovely. - Ling
---

Customer Letter: 1085 / 1522
Sally says...

First class service. Cars and me don't mix usually but using Ling was so easy. Communication was excellent with lots of fun things to keep down the stress levels to nil! Highly recommended for female drivers and those who have not leased or rented a car before. Car arrived 9.30am from Manchester – fantastic timing! No more bank loans for the car. Excellent delivery. Fantastic timing to arrive at 9.30 Manchester - London.

Sally

Editor Note: Sally, you were star customer, so lovely! Now you have a lovely new Merc A-Class. Thanks for super comments. As you are a headteacher, you appreciate my systems. Thanks. Don't let kids scratch it! - Ling
---

Customer Letter: 1084 / 1522
Pete says...

Once again a smooth, untroubled transaction. The Volvo V50 Sportswagon arrived as promised. Thanks Ling. Excellent delivery.

Pete

Editor Note: Wow, another car for you, Pete. You have also had a Vauxhall Astra Sporthatch. Super customer. You do security systems if anyone is interested. I give you hyperlink! - Ling
---

Customer Letter: 1083 / 1522
Timothy says...

Absolute pleasure to deal with a real person with sense of humour, who is also totally professional, for my new Volvo C30. Good delivery.

Timothy

Editor Note: Great to hear you are happy chappy! Enjoy this Volvo which was cheaper than equivalent Focus! To help you with Google, I will say Viresco Technology do lawn care. Thanks, Timothy! - Ling
---

Customer Letter: 1082 / 1522
Paul says...

Ling, when I first saw your website I was inclined to look elsewhere. Only later did I come back due to some competitive prices. Once hooked, I was very happy with the order process and the whole transaction was quick and efficient on my X-Trail. I am delighted to recommend you but do worry you may miss customers because of the first impressions created by your site. Car delivered with a fault. PDI... what PDI?

Paul

Editor Note: Grrrr, bloody Nissan dealer! You subsequently said: "Engine Management Light on. The error code was unknown to them, and the resolution was to "reprogram the system"; a process that took the best part of two hours. Apparently now the fault has been cleared - oh dear! Well, they claim it came on AFTER PDI, but this is just their view. So glad it got fixed straight away. I guess this can happen to any car. I made my feelings known to them, though. Apart from that, so happy you were happy with my service. Re the website - yes, it does polarise people, but hell - at least you don't get bored! :) - Ling
---

Customer Letter: 1081 / 1522
Graham says...

Having been searching for a lease car for some months and speaking to many robots along the way, it was a breath of fresh air to deal with Ling. She explained many things competently and showed us how to use the system to get a high spec car for low spec money. Would 100% recommend Ling to others colleagues - thanks.

Graham

Editor Note: Wow, good to know I am human (too human for some) and not a robot! Thanks for recommendation. As a company director, I appreciate your comments! Cheers, Graham. Great customer. And nice car - Pug 207 CC. Get the top off! - Ling
---

Customer Letter: 1080 / 1522
Simon says...

Brilliant service from Ling. Start to finish. I will be recommending to my staff. Excellent delivery, spot-on service.

Simon

Editor Note: Yo! What a short letter, but as you are Northern Regional Logistics Manager for Allied bakeries, I think you know what you are talking about, so I won't moan :). You are based in Gateshead, too! Your bakery is about 200 metres from my office! Great to deal with you, so happy you love the Merc CLC! - Ling
---

Customer Letter: 1079 / 1522
Leo says...

The service, communication and fun we've had leasing this CLK Mercedes is recommended to all. See you in 2 years. Average delivery, not power-washed. Car was not clean on the outside.

Leo

Editor Note: Dr Leo!!! You are a GP and so would appreciate anything in the post for my psoriasis. Resting my elbows on my desk while typing makes them sore! Send cream. So happy you are happy with sexy CLK Merc. You will impress your patients if you bother with the house calls :) See you soon! - Ling
---

Customer Letter: 1078 / 1522
Daren says...

Fantastic all round experience, and the vehicle is just great. We have since used Lingscars.com to order a second car and would recommend to many more. Good delivery on the C-Crosser.

Daren

Editor Note: Daren, I have given you hyperlink for lovely short letter! I drove one of these C-Crossers in China, this year! Very nice. Thanks so much for kind words and for new order. You are lovely to deal with. - Ling
---
Search my letters page!

| | | |
| --- | --- | --- |
| From your area... | ...or from people... | ...or about a specific car! |
| | | |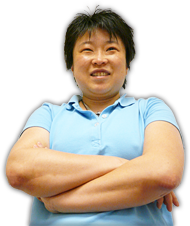 Online Service
Response Times
Quote > Proposal > Order > Delivery
79 CLIENTS IN 'PROPOSAL'
...LING REPLIES IN:
HRS : MINUTES sec
164 CLIENTS IN 'ORDER'
...LING REPLIES IN:
HRS : MINUTES sec
Customers use my secure LINGO management system.
Response times above based on last 4 hour period between
9am - 6pm, Mon to Fri -Ling

No Waiting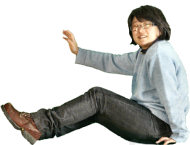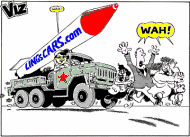 I am the Viz UK business ambassador!
Post me Ferrero-Rochers! Yum Yum!
Unlike most other internet car leasing sites, I publish all my contact information openly!
...so, you know who I am - Ling
THE UK's FAVOURITE
CAR LEASING WEBSITE!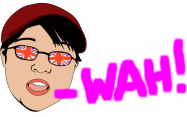 Boss: Ling Valentine MSc IoD
15 Riverside Studios
Newcastle Business Park
Newcastle upon Tyne, NE4 7YL
Tel 0191 460 9444
[email protected]
I prefer email to phone - Ling
VAT No: 866 0241 30
Co Reg No: 6178634
Consumer Credit Licence: 663330
Data Protection No: Z1098490
Best Before: 17/08/2007