CUSTOMER LETTERS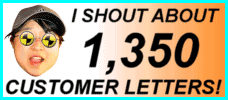 1523 LETTERS!
More customer letters than any other car sales site IN THE WHOLE WORLD! - Ling
Search my letters page!

| | | |
| --- | --- | --- |
| From your area... | ...or from people... | ...or about a specific car! |
| | | |

Customer Letter: 1420 / 1523
Derek says...

Hi Ling, just to say what a fantastic service you offer - simple, friendly, relaxed, punctual and polite. Got to admit, it put a smile on my face dealing with you. Keep up the good work! Excellent delivery, first class service

Derek Wibberley

Editor Note: Having a smile on the faces of my customers is my simple goal, Derek. If you are happy, I am happy. Simple! Enjoy the Qashqai! - Ling
---

Customer Letter: 1414 / 1523
Martin says...


Excellent customer service.
Very innovative/refreshing approach to leasing.
The cheapest new Merc E-Class I found.
Sometimes the literature/website too busy.
Overall very good.

Martin Marshall

Editor Note: Martin, you are Operations Director at Swizzles.




I could say EXACTLY the same stuff about your sweets :) Hope you still have all your teeth! Thanks for the "Refreshing" letter, hahaha, I tried chewing it, but it didn't taste as good as a real Refresher! Enjoy the lovely cheap new Merc! - Ling
---

Customer Letter: 1408 / 1523
Joanne says...

Have nothing bad to say whatsoever - the whole process was so easy. Was a bit nervous at first doing it all online, didn't actually speak to anyone but soon got over it! Any questions I had were answered in a matter of minutes. Have recommended Ling to everyone. Think you have a customer for life in me!! Delivery excellent: On time as described, can't ask for more!

Joanne Robertshaw

Editor Note: Joanne, you are an example of a super customer who went through my whole process and we never actually spoke. It shows the completeness of my LINGO system, I think. You are also a police officer, so I have withheld your address for security. Wear your stab-vest at all times, I want to keep my "customer for life" for a long time! Thanks so much for the comments, they mean a great deal to me. Have a happy time with the new Corsa! - Ling
---

Customer Letter: 1405 / 1523
Andrew says...

Dealing with Ling was always a pleasure. I always knew exactly where in the process the deal was. The prices were very good, the website very informative and all communications very efficient and clear. The only disappointing aspect of LINGsCARS was the free lunch. Very professional delivery service, excellent!

Andrew Watson

Editor Note: Hahahaha! Hope you did not get too poisoned by the FUKU noodles and dried plum pudding. Always causes big adventures on the toilet :) Maybe I should supply free loo roll, too? Apart from that rubbish, you seem VERY happy with your new Qashqai plus 2, Andy, and it was lovely to deal with you. Thanks for joining in the fun! - Ling
---

Customer Letter: 1395 / 1523
Michael says...

Excellent customer service. The difference is – Ling tells you the answer before you've asked the question – upfront, no bullshit, informative, with large dollops of that legendary North Eastern wit - what's not to like? Would recommend without question.

Good delivery of my new Fiesta, on time as promised.

Michael Clayton

Editor Note: Well, I have to have wit when dealing with tight Yorkshiremen! Hahaha, otherwise I would have to make grumpy grunting noises to communicate, like they do in Yorkshire :) Where the hell is Skipton? In the middle of nowhere, no wonder you chatted a lot and seemed lonely. Never mind, you have new Fiesta pet, now. :) By the way, the answer is always: "Database" :) - Ling
---

Customer Letter: 1388 / 1523
Denise says...

Ling, I really like your website it was as easy or technical as I needed it to be. I have genuinely recommended you to loads of people. Very good service from you and that's as far as I go 'cos I don't do gushy, or for people to think you wrote this yourself. Thank you. Good delivery but slight delay in handbook arriving.

Denise Ridgard

Editor Note: Hahahaha, well, this is gushy enough. I did not delay the car to wait for a book, I think you can figure out which buttons to press to make it work. Thanks so much for non-gushy letter. I believe you are not me. - Ling
---

Customer Letter: 1377 / 1523
Antony says...
Ling, fantastic service all round, super communication, humour throughout! You made it a doddle to lease from you and your dedicated, reliable team. Will definitely be returning, the new A3 is fantastic, great value! Thanks again Ling and team! Regards a happy customer.

Antony Byrne

Editor Note: ...except you have a problem with the AirCon! Car is getting hotter when you switch it on. This will be fixed, pronto, for you. Good job this summer is so bad :) Apart from that (you don't even mention it), you seem very happy! Thanks for comments. "Doddle" is good I guess (even though I have no idea what "doddle" is :). I withhold address as you are in sensitive employment for terrorist targeting. Bloody AlQaida! They are pain in ass! - Ling
---

Customer Letter: 1368 / 1523
John says...

Buying a car from Ling is a great experience! Her quirky and honest communications were very funny and she delivered exactly as she said she would. I had my car in less than one month from start to finish! Ling's speed of response to queries and customer service is breathtaking. Thanks Ling and I recommend you to all I meet.

PS: The car is great.

PPS: You get 11/10

John Gornall

Editor Note: Wow! 11 out of 10, hahahaha! That's fantastic, John. You are a head honcho Company Secretary at Bradford and Bingley, so I withhold your address as some people hate the fat cats - even though you are not fat and never meowwwed at me. You were a lovely customer. Thanks for passing so much more business from the building society. I have had quite a few enquiries. - Ling
---

Customer Letter: 1362 / 1523
Diane says...

Dealing with LINGsCARS gave me peace of mind from beginning to end, never had a problem, helping me with any concerns I had. I would definitely recommend LINGsCARS, probably using Ling after our existing contract runs out. I was disappointed the car didn't arrive on a trailer.

Diane Mawson

Editor Note: Di, glad you are happy with my service. We can't have it all ways, re the delivery (Birmingham to Leeds). If cars are trailered then someone has to pay and the cost of the rental goes up. It is cheaper to drive cars because that's what they are built to do. Any miles will be adjusted so you don't pay for them at the end. Apart from that you seem a happy bunny with your new C4 Picasso. Thanks so much for comments :) - Ling
---

Customer Letter: 1360 / 1523
Ian says...

This is the first time I have leased a vehicle like this. Ling's website & service has made the process as smooth as possible. Ling and the team have been there for me every step of the way. The Lingo system is brilliant and response times have been excellent. I would recommend using Ling to anyone. The car is fantastic and just what I ordered. Thanks for all your help, guidance and support. Excellent delivery of my new A5 Coupe, first class service from supplying dealer.

Ian Green

Editor Note: Yes, as they say in Liverpool, your A5 was a "steal", hahahaha! You had extras including electric folding mirrors, 19 inch y spoke alloys, Audi music interface, GSM phone prep as standard. As a high-up in education, your comments on MY business are very welcome. Thanks so much, Ian! - Ling
---

Customer Letter: 1352 / 1523
Brian says...

For a while, I wondered whether we had done the right thing - entering into a business relationship with this lunatic Chinese lady. But she knows what she is doing - she's doing good business, and she's doing it with humour! The whole process of arranging the lease went through without a hitch, and the new Mondeo Estate didn't have a speck of dust on it when it arrived. So, we're delighted with the car, and with Ling. When we increase our fleet by another ten or twelve vehicle, I don't think we will be looking anywhere else - Wah!!

Brian Mott

Editor Note: Wah!!! indeed :) Hahahahaha. I do my best, and with following wind (after eating noodles) I manage to do a good job. Thanks for kind letter Brian. It is worth to have fun, because cars are fun... until they get banned. Glad you were so happy and I look forward to those next 10 cars, hahahaha. Maybe you should wait until the crunch is over? - Ling
---

Customer Letter: 1351 / 1523
Gordon says...

I have just received my second vehicle off Ling and, as with the first, I have been extremely impressed with the speed and efficiency with which the whole transaction completed. The Lingo system is great for keeping up to date. Great service, thank you. Excellent delivery, fast, kept me informed.

Gordon O'Donnell

Editor Note: Yo! Gordon! Thanks so much for the lovely letter. You are repeating customer. I am getting so many people coming back for second, thire and fourth cars and vans that I am losing touch!! Your new Citroen Dispatch will be a great van, so cheap too. Enjoy! - Ling
---

Customer Letter: 1319 / 1523
Robert says...

There are no bad things to say about LINGsCARS. Great people. Great service. Excellent comms. Only took 39 working days from start to getting my Citroen C1 delivered to us. Well done all at Ling's. I am telling all my friends about you. ps- nice Chinese sweets too :-) Good delivery, on time, friendly.

Robert Tonson

Editor Note: Wahhhhhhh! Never mind the car... Another mentalist customer who LIKES the sweets! And I spend so long to find especially awful Chinese sweets to send out, from Hawthorn to Sweetcorn to Durian and Prune (not even Chinese like them, hahaha!). Last year I even managed to find some Chinese white rabbit ones containing that melamine-infected Chinese milk. They make you fart like hell! However, I like your letter, thanks for all the comments, Bob :) - Ling
---

Customer Letter: 1301 / 1523
Neil says...

Had a few hiccups (mostly from the dodgy sweets Ling sent) but got there in the end. Not your fault at all Ling. You have always responded when asked. It was Merc themselves who slowed the process. Dealership was good and car delivered when promised by courteous and knowledgeable delivery guy. All in all painless, except for Mercedes Finance slowing it a little. Your service was efficient and fun. Delivery was courteous and on time. Thanks Ling, speak to you in a couple of years.

Neil Mcintyre

Editor Note: Yes... it is amazing. Merc have been giving me grief lately, saying I should not use their logo on my site, but they are wrong; it is entirely legal. They try to bully me. They should concentrate on improving their finance service, eh? They should be pleased I sell cars for them in these times. Your new C-Class saloon is a lovely car, Neil, hope you enjoy it! You live in Liverpool. Make sure you lock the car! - Ling
---

Customer Letter: 1295 / 1523
Ben says...

Simple, easy and effective leasing for my new Citroen C5. We have used many others, Ling was probably the most pleasure. Will be using again.

Ben Rice

Editor Note: I am glad you give you big pleasure Ben! Citroen C5 is lovely car, so comfy. Enjoy it!! - Ling
---

Customer Letter: 1289 / 1523
Adele says...

Great service with the supply of my new Ford Focus CC, thank you! Excellent delivery, by a very nice guy.

Adele Galbraith

Editor Note: Wow, short letter Adele. You run a barber shop called Barbers Of Birstall so guess you are busy trimming hair. I would never suggest a CC is a hairdresser's car, hahaha! Very sorry for that. Take care, talk in a couple of years. - Ling
---

Customer Letter: 1285 / 1523
Graham says...

Hi Ling, the new C-Crosser arrived promptly and clean, without problem. The whole process was pretty painless and straightforward; certainly the most pleasurable car buying/leasing experience I've had. I'll be back in 2-years and have recommended you to numerous friends and colleagues. Good delivery, clean car, although driver's seat was dirty.

As I've previously mentioned, you have reached "hero" status with my kids - they were forming a queue to open your letters because of the sweets!! Thanks again for making it an enjoyable experience, I appreciate the humour!

Graham Hitch

Editor Note: Hmmm, maybe the delivery driver had a dirty ass? Whatever, sorry about that. But the rest of the car supply went really well. As you are in quite a sensitive job, I withhold your address and job info and changed your name - it is amazing to deal with such people as you. All I can say is that I am very glad I am on your side and not against you!! Thanks for letter, I would never expose a customer to danger. Kids are mental, the sweets are verging on the poisonous, hehe. Go and enjoy the new Citroen, great cars, these! - Ling
---

Customer Letter: 1284 / 1523
Catriona says...

For the second time, Ling has treated me with legendary Chinese efficiency. A fantastic car and some wierd sweets. Three weeks from start to finish with documents sent out and uploaded before you can say "Dragons' Den". Why would I ever bother going anywhere else? Excellent delivery of my Citroen C5 Tourer, spot on, no complaints. Thanks, Ling!

Catriona Bright

Editor Note: Catriona, yep, this C5 follows on from a Mazda MX5, quite a different car, but just as good value! Great to have you back, repeating customers are my favourite. You are always lovely to deal with and as a company director, I take your views seriously. Thanks for being so sweet to me, apologies for weird sweets I sent in return, hahaha, you are not supposed to EAT them! Yuk. - Ling
---

Customer Letter: 1268 / 1523
Marcus says...
Excellent service, as always. Sure to use you again.

Marcus Farrar

Editor Note: Marcus, you are famous in my office for your short (but sweet) comments. You have had LOADS of cars from me. We have to take care of some security issues as you are a criminal lawyer, but we always manage to overcome the restrictions you like to be placed on your personal information. Thanks again, enjoy the new Astra! - Ling
---

Customer Letter: 1267 / 1523
Phil says...

Most of the other firms we approached were a pain in the arse and were trying to lift our legs with the price. We approached Ling, got a good price straight away and found it really easy to deal with her. Ling was £100 per month cheaper than some of the rip off merchants. The car was delivered on time and we will have no hesitation in dealing with Ling next time around. Excellent delivery.


Who needs a skip when you've got a SAAB Sportwagon??? Hahahaha! - Ling
Phil Langdale

Editor Note: Phil, well, you own a waste disposal company so I expect you get tired of messing around with rubbish, hahaha! Why other firms try to charge too much and give you problems, I don't know. Really lovely to deal with you and you were lovely. Thanks so much for the business :) Enjoy the SAAB Sportwagon! - Ling
---

Customer Letter: 1265 / 1523
Matthew says...

This is my second car from Ling and again it was a pain free process. Good value and excellent service. Ling is a bit different, and I like that. Excellent delivery of my new Koleos. Thanks again.

Matthew Nabozny

Editor Note: Yep, Matthew, you are one of my best Solicitor clients. You are a Polish descent person, and I love to deal with multi-ethnic clients :) I always worry about making a tiny mistake and getting sued, hahaha. This Renault Koleos replaces a Citroen C4 you had last time. - Ling
---

Customer Letter: 1251 / 1523
Susan says...
Fab friendly efficient fast service - I am loving the LINGO area where you can keep up to date with progress. Loving the sweets, too!!!

Ling is one of the best, both myself and my partner have cars from Ling and we are both very very happy. XXX. Excellent delivery of my new Chevvy Aveo, no problems, delivered on time.

Susan Waterhouse

Editor Note: Sue, you are a superstar to write me such a lovely letter. I really do my best to make you a happy customer, but we end up being good friends after all the chat. Let me know how you get on in the Aveo - a car which is really nice and also cheap, but goes a bit unnoticed. It deserves to sell more. - Ling
---

Customer Letter: 1247 / 1523
Andrew says...

There are so many leasing companies on the web; use Ling - she is absolutely excellent. Always on the LINGO system when needed. Do not go anywhere else, best by far, prices very competitive. What more can I say?

Beautiful car, the Honda Civic. No marks, but an average valet before delivery (had to clean myself).

Andrew Abbotts

Editor Note: Andy, thanks so much for the comments, everyone loves the LINGO system :) Great to deal with you. You seem very happy with your fast Type-R. Shame the dealer didn't clean the car so well... I just can't believe they mess this up. Dealers are often the weakest link. Apologies, I have kicked them. - Ling
---

Customer Letter: 1243 / 1523
Vanessa says...

Fantastic!!! I was kept informed at every step of the process. Ling is 100% efficient and very friendly - I loved her letters, sweets and jokes. It made leasing a car a pleasure. I would recommend Ling to anyone thinking of leasing a car. I love my new shape Fiesta, it currently wears a comic relief red nose!!! Excellent delivery.

Vanessa Davies

Editor Note: Vanessa, great. 100% efficient is 100% happy. Glad you laughed at the jokes, sometimes they lose something in the translation... and the sweets, well they are unusual to say the least. Will love to deal with you again in 3 years :) - Ling
---

Customer Letter: 1239 / 1523
Janet says...

A smooth transaction from start to finish! I will definitely use you next time and I have already recommended you to a friend. Excellent delivery of my Citroen C5. No problems so far but I've only had my new car for a week.

Janet Mcdonnell

Editor Note: Ah, well, having a Citroen for just one week without any problems is very good news, Janet. This is only more significant when the car in question is a FIAT. However, these C5s are very popular and are quite different from the 2CVs of the past :)

- Ling
---
Search my letters page!

| | | |
| --- | --- | --- |
| From your area... | ...or from people... | ...or about a specific car! |
| | | |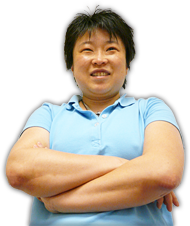 Online Service
Response Times
Quote > Proposal > Order > Delivery
76 CLIENTS IN 'PROPOSAL'
...LING REPLIES IN:
HRS : MINUTES sec
114 CLIENTS IN 'ORDER'
...LING REPLIES IN:
HRS : MINUTES sec
Customers use my secure LINGO management system.
Response times above based on last 4 hour period between
9am - 6pm, Mon to Fri -Ling

No Waiting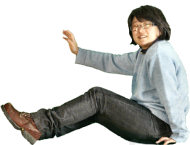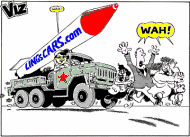 I am the Viz UK business ambassador!
Post me Ferrero-Rochers! Yum Yum!
Unlike most other internet car leasing sites, I publish all my contact information openly!
...so, you know who I am - Ling
THE UK's FAVOURITE
CAR LEASING WEBSITE!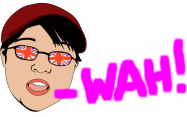 Boss: Ling Valentine MSc IoD
15 Riverside Studios
Newcastle Business Park
Newcastle upon Tyne, NE4 7YL
Tel 0191 460 9444
Fax 0870 486 1130
sales@LINGsCARS.com
I prefer email to phone - Ling
VAT No: 866 0241 30
Co Reg No: 6178634
Consumer Credit Licence: 663330
Data Protection No: Z1098490
Best Before: 17/08/2007