CUSTOMER LETTERS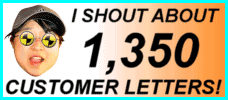 1524 LETTERS!
More customer letters than any other car sales site IN THE WHOLE WORLD! - Ling
Search my letters page!

| | | |
| --- | --- | --- |
| From your area... | ...or from people... | ...or about a specific car! |
| | | |

Customer Letter: 323 / 1524
Andrew says...

"So it took about 4 weeks from first contact with Ling to delivery. BIG DEAL! It's the money I saved that's great! I didn't even have to get off my bum at all, as the car was delivered to my work - exactly when Ling said it would be. Fantastic!"

Andrew Caine

Editor Note: Whoa! First NASA (see letter below), now Aqua World! Isn't that Florida? Oh, no, it's Warrington, some northern drug dealer town. Never mind! That will do, I look forward to visiting killer whale "EckyThump" or whatever name is, in paddling pool in Warrington. My God, I have prestigious customers, eh? Enjoy Mazda RX-8, Andrew, you were VERY nice customer. Hope you have cheap petrol station nearby... - Ling
---

Customer Letter: 316 / 1524
Cath says...

"Hi Ling, just to let you know that my new Renault Clio arrived this morning. Am well pleased with both it and your service"

Cath Harper

Editor Note: A short and sweet letter, about a short and sweet car to a short and sweet person (me!), from a short (maybe) and sweet person (you). Thanks, Cath! - Ling
---

Customer Letter: 280 / 1524
Ann says...

Thanks Ling,
We are absolutely thrilled with our new Mercedes-Benz Sport Coupe. Your service and the delivery were excellent. We will certainly contact you aghain when we require any other vehicles.
Kind regards,

Ann Harrison

Editor Note: I am looking forward to replacing rest of your fleet of (200?) vehicles, Ann! You and Peter were such nice customers. It is so pleasant to deal with North-West UK customers, you have very nice accents! Glad you like Sport Coupe - Ling
---

Customer Letter: 278 / 1524
Ashley says...

Thank you for giving me a wonderful service, everything was straight forward without complications. Delivery of my Fiat Panda was excellent. Keep sending the sweeties, and I will say more nice things!

Ashley Wilcox

Editor Note: You know Ashley, Pandas (animal) actually come from my hometown, Chengdu. So it always makes me smile to deliver same-name car. Even though car breaks down more often than animal. Good job animal is Chinese, not Italian - Ling
---

Customer Letter: 277 / 1524
Aidan says...

Dear Ling,

Thanks for sorting me out with my SAAB - you were really helpful, very straightforward and fun to deal with. Anyone who doesn't believe you're real or is scared of dealing with a website that is as entertainingly random as yours, is missing out. I've recommended you to everyone I know, and even to random people in the street.

Aidan Cook

Editor Note: WAH! Praise from Internet company is praise indeed! You have some big-name clients like Travel Inn, Link, Babycham etc. Thanks very much for saying such nice things about me and my site, I make your company name hyperlink - Ling
---

Customer Letter: 276 / 1524
Richard says...

Great Car,
Great Price,
Great Service,
Delivered Quickly.

One note though; I wasn't sure about insurance. Who is owner, who is registered keeper?

Richard Goodison

Editor Note: Wah!!! Yet ANOTHER Toyota Verso! Your question is often asked, but actually irrelevant. I do explain on website, but easily missed. As long as you insure car, it does not matter. But for record, you are neither registered keeper OR owner. You are simply renting car. Owner/keeper is finance company who buy car from dealer, then they rent it to you - Ling
---

Customer Letter: 274 / 1524
Richard says...

Hi Ling, any chance of you generally organising my life for me because I'm sure that I'd sell more, spend less, sleep more, eat less etc? (Are you MAD????? - Ling) Seriously (Phew! - Ling), you have a great demeanour, which very importantly is backed by fantastic service. I will certainly be back. Dealer was crap! No customer service at all!

Richard Farnhill

Editor Note: Hmmm, this letter is curate's boiled egg! I rarely get complaints about this certain Citroen dealer. Sorry they were crap at Berlingo delivery. I need you to expand on the crapness, give me some clue. Usually they are very good. I will monitor them closely. Richard, you are quite mental. I am just about opposite to every point you write in your letter. I "spend more, sleep less, eat more", etc. The only nail you hit on head is "sell more". Thanks - Ling
---

Customer Letter: 272 / 1524
Stephen says...

Many thanks, Ling. The Toyota Verso was delivered on time and was everything I expected (I TELL you Verso is good car! - Ling). A personal service for a one car personal contract hire - prompt to respond to email and phone questions; excellent! The supplying dealer was very professional. Many thanks Ling.

Stephen Rose

Editor Note: Ah, my husband was born in Wakefield! I have visited many times. Another Corolla Verso! These becoming VERY popular cars, but still under radar - Ling
---

Customer Letter: 257 / 1524
Neil says...
Once I'd decided which vehicle I wanted (the range was vast) I just let Ling do her stuff. Within the week it was all done and dusted. That's goddamn good service in my book. Cheers Ling, talk to you later.

Neil Wright

Editor Note: Waaaaaaaaah! I am making rod up my own back, here! Thanks for letter Neil, but everyone else please note I cannot usually deliver these damn new cars so fast. See letter above and you'll see what I mean! Neil, you were very lucky - Ling
---

Customer Letter: 253 / 1524
Martin says...

What a great experience! Ling has bent over backwards to help at every opportunity! Highly recommended! Brilliant service. Thanks.

Martin Lonsdale

Editor Note: Oh! I am pleased you had a great time ordering new Mini One, Martin. I suppose bending over backwards is slightly more discreet than bending over forwards, as Google has just done for Chinese Government. Who was St Helen? - Ling
---

Customer Letter: 251 / 1524
Paul says...

Ling, I am so pleased with my new Peugeot 407. I love everything about it. The dealer you chose was excellent, delivered the car a day early, good job well done. My missus even likes the colour! I don't know how you managed to get me FREE SAT-NAV, but thanks! Great car, great service, great deal. I've told all my friends, family and colleagues about you.

Paul Nolan

Editor Note: Free Sat-Nav! Well, I'm glad you appreciate it, Paul. Everyone else should note that I cannot often supply free things, only when dealer has opportunity to supply car with extras (and I tell dealer "supply or lose order!"). Glad you are so pleased with 407, so much better to rent Peugeot 407 as residuals not strongest in world and if you were to buy it, you would lose a ton of cash in depreciation. Also, what is "missus"??? - Ling
---

Customer Letter: 247 / 1524
Phil says...

Hi Ling,

Just to say thank you for sorting my Mercedes C-Class so painlessly, it arrived on time with just 1 mile on the clock! Everything was to spec.

It was nice to deal with someone who enjoys business so much; it really shows and I'm looking forward to my next new car (only 24 months to wait). I would recommend the C220, it's not high performance or sports handling but it's a great mini-tourer. The Mercedes-Benz dealer you chose was excellent.

Phil Crossland

Editor Note: Phil, glad you are happy. My superhusband has taught me some lingo assisting me to communicate with you, as you are ethnic minority person from Yorkshire; "ArrDo Phil you are getting reet good car wit'Merc. I am looking forrard to making you happy in't fuoooture with new car in end of 2007. Weirs tha' dog gone? Into't field wit' cows, eeh! Get yer 'and in't pocket next time lad and rent't Eeeh-Class Merc yer tight bugger". How about that? I am like native of Leeds, eh, except without flat hat, hole in shoe, council house and 17 offending kids! - Ling
---

Customer Letter: 225 / 1524
John says...

I have been leasing cars from Ling for four years now; 6 cars (for interest... Picasso, Golf, Picasso, Saab 9-3, Saab 9-5, latest is Honda Jazz - Ling). Each time Ling (that's me! - Ling) has been most helpful and provides the information I have needed. The cars have been delivered on time, everytime. I would not hesitate to recommend LINGsCARS to anybody.

John Wilson

Editor Note: My God! You proposed your first car with me on 4/12/2001, John!!! That is amazing. Time is flying, as saying goes. Glad you are always so happy, in Ripon, where I have found out that every evening at 9pm, someone blows a horn in street. Disgusting drunken English girl, I bet. Happens on Newcastle Quayside every night too, but not to rigid timetable. I am blaming government drinking laws- - Ling
---

Customer Letter: 223 / 1524
Iain says...

It was a pleasure dealing with Ling, she did exactly what it said on the website! The car (Megane CC - Ling) is great, pity about the weather. I will certainly use Ling again and have no hesitation in recommending her. Excellent communication and delivery from the supplying dealer, too.

Iain Macpherson

Editor Note: Of course I did what it says on website! I wrote it! Duh!!! ... And what do you expect from weather, Iain? First; Preston is in West of country, closer to George Bush environmental terrorist greenhouse effects, and Second; you were taking delivery of a convertible, hahahah! - Ling
---

Customer Letter: 219 / 1524
Thomas says...

I found Ling quite different in the way she dealt with my application. I mean of course in a nice way. I was dealt with with no fuss and had confidence that both my SAAB 9-3 and finance would be sorted out quickly and professionally. I was right in both cases. The SAAB arrived on time with no problems. Thank you, see you in 2-years.

Thomas Murphy

Editor Note: Oh, Thomas, thanks for letter. I was worried that being from Liverpool you might just steal the free keyring and Chinese sweets and cancel car, but how wrong I was! So nice to deal with kind untypical Scouse stereotype person! - Ling
---

Customer Letter: 217 / 1524
Darren says...

Everything went smoothly, emails were answered promptly, delivery of my new Toyota Corolla was arranged with the minimum of fuss. Overall everything was just as it was supposed to be. That might not sound like a fantastic endorsement, but how often can you say all that nowadays?

Darren Cross

Editor Note: I am so pleased to supply car to enclave of People's Islamic Republic of Bradford. My sister in law lives in Bradford, and I enjoy to go there to eat delicious meals of British Sub Continent food. What a shame there is no British city with such a large Chinese immigrant population, the food would be wonderful. I see many Toyotas in Bradford, mainly 20-year old minicabs, so your new Corolla should both fit in and stand out, Darren! - Ling
---

Customer Letter: 212 / 1524
Tony says...

Hi Ling,

Many thanks for supplying the car on the date you stated at the price quoted on your web site.

We have been supplied many cars by larger leasing companies in the past, and we have always been let down on the delivery and specification stated. It is very refreshing to know that what you say happens and that no false promises are made about the delivery date or specification.

My only concern is the advertising Missile on the top of my new car. I went to the local garage to get the missile removed but they only had British, not Chinese spanners. Please can you send some spanners as the MPG is being affected.

Tony Stanley

Editor Note: Ho, ho, ho, damn funny customer thinks HE can do jokes on MY webpage. As reward, I advertise your website Tony, www.buyrightprint.com. Tony can supply 500 full colour business cards, gloss laminated (but no missile) for only £50. Glad you are happy with new Shogun, Tony! - Ling
---

Customer Letter: 197 / 1524
Peter says...

Ling:- we love her. She's a very witty Chinese lady, exceptionally efficient at her job. We have had lots of cars from her.

Peter Boyes

Editor Note: Whoa! Peter is one of my BEST customers. He is also in motor trade so I appreciate comments from someone who should be immune to sales bullshit. Enjoy new Picasso, Peter!! - Ling
---

Customer Letter: 193 / 1524
Ruth says...

Ling, I was blown away with your "beyond the call of duty" service. Everything was handled efficiently, quickly and competitively. You delivered my Honda CRV when you said you would. The Honda dealer was excellent. I would definitely recommend and use you again!

Ruth Shearn

Editor Note: Ruth, thanks for letter, and thanks for flowers! I will ask you to do some PR for me. I like to give business back to customers, and all my printing, office supplies, insurance and now PR is handled by customers of mine - Ling
---

Customer Letter: 191 / 1524
Mike says...

My new VW Passat is a great car, Ling. The dealer was excellent, all as promised. You were considerably cheaper than the next-best like for like deal I found. I have recommended you, and my wife's business partner called Tom Murphy has just ordered a SAAB from you. Thanks!

Mike Sheron

Editor Note: Mike, thanks. I know VW Passat's are nice, everyone likes them! Thanks for referral, so many people begin to recommend friends. It's a shame my margins are so low, or else I could pay commission. A big THANK YOU!! - Ling
---

Customer Letter: 190 / 1524
Edna says...

Communication - the best! Every request/question was answered quickly and well.

Customer Service - the best! friendly, very!

Good Prices - compared more than favourably with other companies and all prices up front - great!

Dealer - friendly, efficient service, very happy!

Love the quirky site! Five stars from me!

Edna Luke

Editor Note: Ed! Wah, what a nice letter! Hope you enjoy flashing around Leeds in new MX5! Maybe weather kind to you and you can get top down - Ling
---

Customer Letter: 186 / 1524
Chris says...
Ling, I found your site because you are a Googlewhack!!! If you enter the words "antidisestablishmentarianism multipla" you are the only site that is found!! I am, however, glad I found you because it is a mad site!!! I think you should get in touch with Dave Gorman to tell him you are a Googlewhack!

Chris Eyre

Editor Note: Whoa! So damn proud to be Googlewhack! For idiots, this means I am only result in Google when search inputted. Google searches 8,168,684,336 web pages when I checked. Over 8 BILLION! And I am only result!! Hey! And word antidisestablishmentarianism is longest word in UK. But it is summing me up, how damn appropriate. I have emailed to Dave Gorman (who is Dave Gorman?), but a big THANK YOU to Chris Eyre! I send you special gift of genuine used-by-red-guard 1960's Mao red book! - Ling

Update: Because I print this letter, this is no longer Googlewhack. Ironic, huh? - Ling
---

Customer Letter: 185 / 1524
Peter says...

We love the mad crazy Chinese woman. Nothing is too much for her and her cars are always what she says they will be (unlike others!). Excellent service and great fun as well!

Peter Boyes

Editor Note: Peter! Wow, you are too kind. You have had new Mercedes C class and I am quite jealous. You and brother Martin are long term customers, you must have had 10 cars from me now. Thanks for letter and I will talk to you when you want next car! - Ling
---

Customer Letter: 183 / 1524
Simon says...

Although your prices are extremely competitive, the main reason I decided to buy my BMW 118 from you was simply down to your website. It is a refreshing style, straight to the point, what you see is what you get, nothing is hidden whilst at the same time it is quite entertaining to read. The subsequent process was surprisingly easy, so the overall buying experience was top notch. Thank you.

Simon Speight

Editor Note: So pleased you like the website, Simon, hope you like BMW 118 as much. I put lot of work into both website and making life easy for customer! - Ling
---

Customer Letter: 180 / 1524
Brian says...

Ling always gives excellent service, she tries harder and usually comes up with better deals than anybody else. She is also more efficient than any of the big companies I have dealt with, keeping us well informed about deliveries and paperwork etc. Ling will always be my first choice for lease cars.

Brian Slingsby

Editor Note: It's not often I supply courtesy cars these days, but I'm glad to have customers like you Brian in the trade who know what they are talking about and prove that my method of being efficient with low overheads (just me!) is the way to go to acheive Zen-like harmony. Get the Corsa working! - Ling
---
Search my letters page!

| | | |
| --- | --- | --- |
| From your area... | ...or from people... | ...or about a specific car! |
| | | |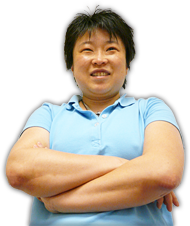 Online Service
Response Times
Quote > Proposal > Order > Delivery
84 CLIENTS IN 'PROPOSAL'
...LING REPLIES IN:
HRS : MINUTES sec
114 CLIENTS IN 'ORDER'
...LING REPLIES IN:
HRS : MINUTES sec
Customers use my secure LINGO management system.
Response times above based on last 4 hour period between
9am - 6pm, Mon to Fri -Ling

No Waiting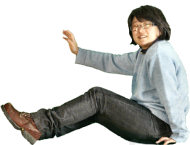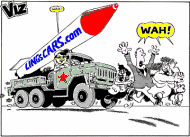 I am the Viz UK business ambassador!
Post me Ferrero-Rochers! Yum Yum!
Unlike most other internet car leasing sites, I publish all my contact information openly!
...so, you know who I am - Ling
THE UK's FAVOURITE
CAR LEASING WEBSITE!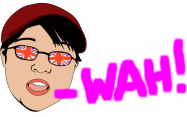 Boss: Ling Valentine MSc IoD
LING World Headquarters
Vance Business Park
Gateshead, NE11 9NE
Tel 0191 460 9444
Fax 0870 486 1130
sales@LINGsCARS.com
I prefer email to phone - Ling
VAT No: 866 0241 30
Co Reg No: 6178634
Consumer Credit Licence: 663330
Data Protection No: Z1098490
Best Before: 17/08/2007