CUSTOMER LETTERS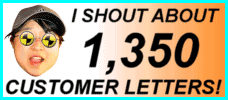 1523 LETTERS!
More customer letters than any other car sales site IN THE WHOLE WORLD! - Ling
Search my letters page!

| | | |
| --- | --- | --- |
| From your area... | ...or from people... | ...or about a specific car! |
| | | |

Customer Letter: 911 / 1523
Paul says...

The A6 you sourced for me is excellent, I am really pleased I chose this over the 5 series BMW.

The service I received from you was first class.

I spent a lot of time looking for the best deal and wish I came through to you in the best place. I will definitely be recommending you to my colleagues and family, as although cost was important, quality of service by the supplier is paramount. I received both (cheap cost and quality) from you. Excellent delivery, I do miss the emails (now I have the car)!

Thanks for all your help. Best wishes, Paul.

Paul Sharrock

Editor Note: Well, we did have some problems along the way, with your car, Paul. However, I guess it is how problems are resolved that matters, and you sound very happy now. Everyone who takes an A6 is very happy with the car... and the advantage over the BMW is that people let you pull out at junctions, in an Audi :) You are a director in a multinational car hire company (everyone would recognise the name), so I value your views. - Ling
---

Customer Letter: 897 / 1523
Justin says...

Ling delivers on all of her many promises that she makes on her website. Always helpful and available and I wouldn't hesitate to recommend her to anyone. My Freelander arrived exactly on time as promised.

Justin Luckman

Editor Note: Just-in time for the Easter snow, Justin, hahahaha! Sorry, that was a very bad joke! As I type this, everything is white, and I am thinking of you driving your new 4x4. What a shame I didn't promise snow! - Ling
---

Customer Letter: 895 / 1523
Bruno says...

Excellent service, Ling. Very quick and efficient. My mats for my new Citroen C2 also came very quickly. A good friendly chap delivered the car. I can't fault you, really!

Bruno Carrouche

Editor Note: Bruno and Sharon, well, I'm glad you like the fully loaded Citroen and I'm glad you liked my service. I give you a free hyperlink for yourbusiness! - Ling
---

Customer Letter: 883 / 1523
Linda says...

A very easy and friendly transaction. Ling was very helpful even when there was a delay from the dealer. I would definitely use Ling again. Thanks... (how do you say "thanks" in Chinese?)

Linda Richards

Editor Note: Linda, you say "xie xie" but it is pronounced "shay shay". That is thank you to most Chinese in the official Chinese language mandarin - (China, Taiwan, Malaysia, Singapore). In Hong Kong and the south of China (and probably your local Chinese takeaway), they speak Cantonese... so you would say it like this "mmm-goy". You should try it!! :) Anyway, all that rubbish aside, I'm glad you are happy with your Grande Punto oooop in Barnsley! Hahaha. I know you say thank you in Yorkshire by just making a grunting noise - my husband is from Wakefield. - Ling
---

Customer Letter: 882 / 1523
Claire says...

Thank you so much, Ling. The Citroen Relay is very good. Excellent service. Excellent delivery.

Claire

Editor Note: Wow, Claire, such a short letter, but straight to the point. This is your third van from me. That's brill. Talk again soon - for your fourth! :) - Ling
---

Customer Letter: 881 / 1523
Steve says...

I love getting cars from Ling. Always a good price and she always goes the extra mile - a very customer focused lady. Good delivery on my new Corolla Verso, car arrived when promised, so... great!

Steve Atherton

Editor Note: Steve, you are a certified Aborist. I think. Which makes you special, I don't meet many of those! You have had quite a few cars from me including TWO Versos, a Scenic and a Megane, and we began with a Peugeot 307 (back in 2002!!!). My God! So long a go. Thanks for being a lovely long-term customer. Go chop some trees :) - Ling
---

Customer Letter: 876 / 1523
Darren says...

The Audi A6 Saloon arrived on time, very quickly and in pristine condition. I am very happy with the service and will definitely use Ling again. Excellent delivery.

Darren Shelton

Editor Note: Wow, short and sweet letter from another Audi customer. Thanks for the comments from Immingham, Darren. Talk in a couple of years, eh? - Ling
---

Customer Letter: 874 / 1523
Andy says...

Thank you for your prompt service, your excellent customer communication and your attention to detail - a pleasure doing business with you! The Kia Picanto was a "Valentine's Day Success"! Excellent, efficient delivery, on time.

Andy Malcolm

Editor Note: Andy, you are such a good customer, you have had many cars. I think you will get good use out of this Picanto, I got you one with free air-con! I have given you a free bloody hyperlink for your company. Talk soon :) - Ling
---

Customer Letter: 867 / 1523
Gordon says...

Hello Ling, many thanks for your help in securing the registration number for my impending Nissan Qashqai. I am more than impressed by your efficiency in dealing with client problems. It is very inspiring to witness at first hand the speed in which you respond with advice and guidance to daily business. A grateful client, thank you Ling.

Gordon McKellar

Editor Note: Wow, a lovely letter and I haven't even delivered the bloody car yet! :) No problem, I try to do things as fast as possible, Gordon. Don't get shot in Nottingham while you are waiting for your car. - Ling
---

Customer Letter: 865 / 1523
Antonio says...

Thank you very much for a great service. All the paperwork was quick and easy. Delivery of my new Lexus IS 220 was excellent - even free training on how to use all the gadgets. Extremely good. I would recommend LINGsCARS to anyone (I'm doing it!).

Antonio Moreira

Editor Note: Tony, you are a bloody star, thanks for passing my name around, I appreciate it. Your Lexus was cheap, fast and is a beautiful new car - I hope you are very happy with it. As you are a database administrator in the gun capital of the UK (hehehe), I appreciate your comments about my service. We both know the answer to EVERYTHING is "a database". - Ling
---

Customer Letter: 864 / 1523
Leigh says...

Well, who would have thought you could buy a car without speaking to anyone!?!

This is exactly what I did (not that I wouldn't have minded speaking to Ling, though). The whole deal on my new Renault Megane Coupe Cabrio was done very efficiently by email. All questions were answered very promptly and all my options and changes of mind were dealt with understandingly and without hesitation.

Service brilliant - car brilliant. Back in 12 months for another, hopefully. Delivery all as arranged, excellent!

Leigh Cole

Editor Note: Wow. Wow. Wow. I did not deliberately not speak to you Leigh, hehehe. But everything went so smoothly without human intervention needed on the phone. Lovely. This keeps my costs down and means I can knock out the cars even cheaper. Great! All you need now is some sunshine for the Megane CC! Thanks for the letter. - Ling
---

Customer Letter: 857 / 1523
David says...

Long Live Ling!!!

Best deals on wheels and so much more FUN than your regular dodgy dealer. The paperwork got a little lost, but we will forgive Ling anything. Excellent delivery of my Kia Picanto, and a friendly drop-off.

David Hardy

Editor Note: David, you were a victim of the postal strike! Despite the fact that I sent all your stuff to the finance company special delivery, it still remains undelivered to this day. Bloody post office! Grrrr. Still, it didn't stop you getting your car on time :) Enjoy, you are a repeating customer. You are Europe's Biggest Online Giftware Wholesaler. Ancient Wisdom has over 10000 exotic, interesting & unique product lines spread over approaching 1000 web pages all available to order on-line for delivery next day in the UK (well you do your best). I am so pleased you used MY website to get your cars! - Ling
---

Customer Letter: 855 / 1523
Isobel says...

It was a pleasure leasing my new Renault Megane Coupe-Cabriolet from Ling. The dealer dragged their feet, but Ling kept on the case and got everything sorted. The car is great, I'm just waiting for some sun to get full use. I will certainly go back to Ling at the end of my contract. The dealer was slow and inefficient, I had to provide info more than once.

Isobel Green

Editor Note: Isobel, apologies for the dealer. I kicked them as much as I could, and you got the car after a short delay. I sent everything to them special delivery - they still managed to misplace it! I find it really hard to make dealers work faster, and have now changed supplier for these Renaults. Keep in touch, get the roof down and I'll see you in 2-years! - Ling
---

Customer Letter: 850 / 1523
Peter says...

Not only did I get a car at an (as yet) unbeatable price, I found the whole process absolutely painless and actually a lot of fun! LINGsCARS is the most responsive company I have ever dealt with and they set a standard in customer care that the competition will struggle to match. Good delivery of my Megane CC, and the dealer - Renault D******** were polite, if barely awake.

Peter Hennerley

Editor Note: What a fantastic letter, thanks. You are my 850th letter writer, Peter! So double-thanks! I have woken the dealer up by kicking them. Just wait for Global Warming to kick in, you will have a lovely time in your Coupe Cab. Go and enjoy it! Glad you had fun :) - Ling
---

Customer Letter: 846 / 1523
Sean says...

Best price on the internet, with friendly helpful staff. The supplying dealer though, they struggeld to give me a delivery date.

Sean Rhodes

Editor Note: Yes, Sean. Alfa dealers are World renowned. It is so hard to find one that does a good job. But the cars are fine and I am sure you will enjoy the 159! - Ling
---

Customer Letter: 840 / 1523
Claire says...

Hiya Ling, Thank you so much, again! We just placed an order for another van (a Citroen Relay, your 3rd van from me - Ling) as your service exceeded our expectations. Excellent delivery. Many thanks.

Claire

Editor Note: Wow!!!! That;'s 3 x vans. I am so proud when customers like you come back, Claire. It shows I can give consistently good service. I hope these vans earn their keep. Lovely to deal with you, thanks for the letter! - Ling
---

Customer Letter: 835 / 1523
Darren says...

Our SAAB 9-3 Convertible arrived as ordered - excellent! This kept me in the good books with her indoors, I even managed to get a promise out of it. You've got to keep the lady in your life happy. Thanks, Ling.

Darren Shelton

Editor Note: Ha! No-one keeps ME that happy! I have a similar car, but mine is an A4 Cab, not a SAAB. Lovely. Now your wife and I both wait for this bloody Global Warming to kick in! Makes a change from Global Moaning, which is what us women are good at, eh? Sunny Immingham and a SAAB Convertible - a dream come true! ...Darren, I note you have now ordered an Audi A6 Saloon 2.7 TDI V6 (177bhp) Le Mans ... that to keep YOU happy? Or just for when it rains? - Ling
---

Customer Letter: 833 / 1523
Leslie says...

Hi Ling -

The V50 arrived safe and sound with no dings or dents - just a bright shiney new car. Thanks to you and your staff for the ecxellent service and tremendous patience. I have told all my work colleagues about the fantastic deals on your site and I've strongly recommended they pay you a visit. In good "Arnie" fashion, "I'll be back!". Excellent delivery, the car arrived spic and span and the delivery guy was very helpful.


Leslie Holden

Editor Note: Hahahahah, Arnie, I have included a picture of you in your new car! Gotta laugh. Well, your Volvo V50 is such a nice car, everyone who has them rates them very highly! Thanks for kind letter, I do my best to make you happy! Thanks for recommending me, I appreciate that. - Ling
---

Customer Letter: 831 / 1523
Andrea says...

Ling - what more does anyone want?

Friendly service, prompt quotes, great emails, free car tax, as much down to earth advice as you can get, free lunch, excellent follow-up, and above all a FABULOUS Toyota Prius car. I have already recommended LINGsCARS to others - be good boys and girls and use Ling.

It was never dull, AA/RAC was included, there was free delivery, fast credit checks and it was jolly good fun. Excellent delivery from the dealer who was prompt, pleasant and a good choice! I love my new Toyota Prius.

Andrea

Editor Note: Another green customer :) I really applaud your car choice, now these Priuses are the same price as "normal" cars. Hope you enjoy it, enjoy the fuel savings, and thanks for the very kind letter, Andrea. - Ling
---

Customer Letter: 820 / 1523
Mark says...

Hi Ling,

Just thought I would let you know that the Volvo V50 Sportswagon has arrived and is in perfect condition. Thank you for all of your support and patience. I have passed on a few recommendations to friends, family and colleagues, which is a sign of contentment! Thanks again and will be back in the future.

Mark Johnson

Editor Note: Mark, that's great! Thanks so much for the letter and I hope you like it, these are very comfy cars. As you are consultant to defense industry, if you get tired of the car, you can wire it up and road test it like Al Qaida do :) Boom :))) - Ling
---

Customer Letter: 817 / 1523
Peter says...

Excellent service, car in excellent condition with low delivery mileage. The Nissan Navara is a cracking car. I will definitely contact Ling for a new vehicle when the contract expires. My friends are now looking to use Ling, too. Thanks, Ling!

Peter Dea

Editor Note: Peter, well, not sure if the Navara qualifies as a "car" but what the hell, as long as you love it. As you are an NVQ assessor, I hope you give me top marks :) See you in two years, and I hope you have LOADS of friends, hehehe. - Ling
---

Customer Letter: 813 / 1523
Paul says...

Service and communication excellent. Straight forward ordering and delivery, but the Zafira came with no spare tyre! One week later I got a puncture. I would definitely use Ling again. Excellent delivery.

Paul Miller

Editor Note: Oooooops, gosh, that's not funny. Bloody Vauxhall save money and weight by including a can of gunk to spray into the tyre, not a spare wheel. This also saves CO2 emissions. However, not always so good when you have a puncture, eh? Anyway, I'm so glad you are happy, Paul. See you in 2 years! - Ling
---

Customer Letter: 809 / 1523
James says...

Dealing with Ling was like a "breath of fresh air" - honest, upfront and very efficient, all at a very competitive price.

James Pibworth

Editor Note: James, short letter but then you were a very easy customer to deal with. Thanks for having the Nissan Qashqai, hope you are very happy with it. If only everyone was as organised as you :) - Ling
---

Customer Letter: 796 / 1523
Stewart says...

Thank you for supplying my new Honda Civic, it looks and drives just as it should! What an experience, you're a wild one, still it's a good way to lease and would be boring if we were all business-like and "stiff" all the time! Delivery was excellent.

Stewart Collinson

Editor Note: Hahahaha, a "wild one"! I just like to have fun, Stewart, that's what it should all be about. Have a great time in the Civic, see you in 2-years. - Ling
---

Customer Letter: 791 / 1523
Craig says...

I think it's great that I got to deal directly with Ling and my fiancée absolutely loves her new car!! Excellent delivery. Thanks Ling!

Craig Pope

Editor Note: Craig, I hope the Grande Punto has done the trick for your future wife (or civil partner - I can never be too sure, hehehe). These are fantastic value cars. So pleased you are happy, and it is me who should be pleased I spoke directly to you, you were lovely customer. thanks. - Ling
---
Search my letters page!

| | | |
| --- | --- | --- |
| From your area... | ...or from people... | ...or about a specific car! |
| | | |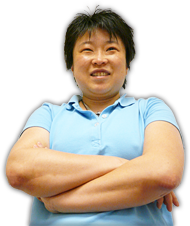 Online Service
Response Times
Quote > Proposal > Order > Delivery
75 CLIENTS IN 'PROPOSAL'
...LING REPLIES IN:
HRS : MINUTES sec
122 CLIENTS IN 'ORDER'
...LING REPLIES IN:
HRS : MINUTES sec
Customers use my secure LINGO management system.
Response times above based on last 4 hour period between
9am - 6pm, Mon to Fri -Ling

No Waiting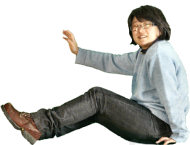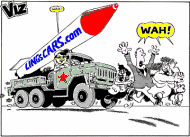 I am the Viz UK business ambassador!
Post me Ferrero-Rochers! Yum Yum!
Unlike most other internet car leasing sites, I publish all my contact information openly!
...so, you know who I am - Ling
THE UK's FAVOURITE
CAR LEASING WEBSITE!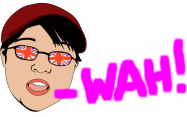 Boss: Ling Valentine MSc IoD
LING World Headquarters
Vance Business Park
Gateshead, NE11 9NE
Tel 0191 460 9444
Fax 0870 486 1130
sales@LINGsCARS.com
I prefer email to phone - Ling
VAT No: 866 0241 30
Co Reg No: 6178634
Consumer Credit Licence: 663330
Data Protection No: Z1098490
Best Before: 17/08/2007