CUSTOMER LETTERS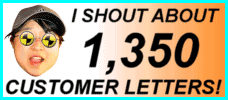 1523 LETTERS!
More customer letters than any other car sales site IN THE WHOLE WORLD! - Ling
You are viewing page 2 of 4 - go to page:
Search my letters page!

| | | |
| --- | --- | --- |
| From your area... | ...or from people... | ...or about a specific car! |
| | | |

Customer Letter: 1028 / 1523
Colin says...

A very enjoyable experience, stress free with all promises, kept all in excellent price. Also excellent delivery by a nice person. My new Nissan Micra arrived on time.

Colin

Editor Note: Great, I'm happy that you are happy, Colin. I have withheld your address for your security requirements. Morpeth is lovely place with lovely customer! - Ling
---

Customer Letter: 1010 / 1523
Stuart says...

Hi Ling,

Great car, great service, great deal. If only everything in life was this simple. Thanks for all your help. Excellent delivery of my new Suzuki Swift, what a lovely man, reminded me of my Grandad.

Stuart

Editor Note: Stuart and Nicola, you run a great web design company close to me in Gateshead. You say "Collate I.T specialise in creative solutions to your business problems. We can do a lot with a little and as we're independent and open minded, you get the best advice and a straight forward approach to getting things done." Maybe some other customers will contact you, I give you hyperlink. Enjoy the Suzuki. - Ling
---

Customer Letter: 1000 / 1523
Andrew says...


Hi Ling,

Just a quick note of thanks to go on your website :)

I know this is a bit delayed, but, I've been too busy enjoying my new Lexus and Kathryn's Volvo to get in touch. I've noticed a lot of people say that you are better than your competitors, I don't think this goes far enough.

You're a better way of driving a car.

I've bought numerous new cars over the years, and every couple of years I dread having to get a new one, first you have to put up will all the drivel that comes out of the salesman's mouths, then you have to take a kick to the nuts over the price of your trade in. You've then got to jump through hoops to get your car financed and fight off every advance of the 'business manager' to take a GAP or a Supaguard, or mats or something else to drive up the profit they're making out of you.

I realised enough was enough, I sold my car privately and pocketed what value was left in it, I put that money in the bank then picked a new Lexus for myself and a Volvo for my wife. I filled in some simple forms, sent some proofs and then waited for the delivery day. They were both delivered on the exact day they were promised (even with a 12 week wait on the sexy new Volvo coupe). Ling kept in touch to let me know how things were progressing, I didn't even have to make one phone call for an update (something un-heard of in the retail world).

Delivery was via low-loaders by professional, courteous people, and, there's nothing better than having your new car delivered to the office, just a quick 15 minutes, sign some paperwork; no up-sell, no smarmy salespeople showing you how to work the radio as if you're a moron, no false smiles or the false promise of a 'come back anytime you need any help with something'.

I will never buy a new car again, I'll stick all my money in the bank and pay a small monthly fee for the privilege of driving a brand new car every 2 years without the hassle or headache of dealing with the retail car market and the piranhas that work in it. Your website was like a sackload of cocaine wrapped in a marijuana shell which transfixed me until the day my new car arrived. I dread the day when the whole world wakes up to car leasing and I don't feel as smug as I currently do.

Andrew

Editor Note: Andrew, hehehehe, you are my 1,000th customer letter! AND you had 2 x cars!!! I thought you were very efficient replying to my emails and stuff, probably because you are one of those wierd Apple-Mac experts. I hope you and Kathryn have a great time in the two new cars, you are quite local so I may see you around! As reward for being 1000th letter, i send you 2 x sets of LING car mats :). And as further bonus, I have found a picture of those pesky car dealer piranhas here...

- Ling
---

Customer Letter: 999 / 1523
Pete says...

Hiya Ling

Just a quick note to say how pleased the family and I are with the new Grande Punto, we went out at the weekend with it and can't fault it. It really is going to make a difference for us. I know it's not ours, but we can pretend it is :-)

On a personal note can I give you a big thank you for making the whole leasing experience so easy, fun and enjoyable.

Nice, honest, genuine people who care about their customers are all but extinct in this day and age but you are all of these and more. You take personal service to whole level. Your fun and honest approach is like a breath of fresh air, if only all companies operated like this maybe the world would be a brighter place, and I really do mean that.

I for one will spread the word of Ling and with any luck it will spread quicker than a epidemic of asian bird flu :-).

Thanks Ling.

Pete

Editor Note: Pete! I play table tennis in Cramlington, practicing for the Olympics (as if), so I know you are quite close. I may see the Punto around. I am very happy that you all seem pleased, glad to be able to give you the good service. Please recommend me. Thanks for such a kind letter :) - Ling
---

Customer Letter: 998 / 1523
Competitors says...

Just for a change, I thought I would show you some of the comments I regularly receive from competitors. It kind of shows what they think of me. Glad 1000 of my customers who bother to write in, seem to disagree with them - Ling

Derek Glass, ACPL Online: - "If you had a black cat you could have the tag "The Black Cat and his oriental twat!""

Marcus Nicholls - Sales manager AUF.co.uk: - "Great character name….. LING STING - A Chinese Arsehole!"

Martyn Lambert Associate partner - Neva Consultants: - "She makes our industry into a joke." "Maybe someone could press that button on the rocket launcher while she's sitting on the missile!!"

Ian Sturgeon - Knights of Newcastle (Kia/Proton Franchise): - "Fok you too, slanty." (sic)

Derek Glass, ACPL Online: - "Yeh Ming go funk urself and eat some noodles!"

Neva Consultants: - "Chinese twat"



Competitors

Editor Note: Well, glad to know there are professionals in this car leasing industry. I bet they sit and "tut" all the way through Top Gear, too... - Ling
---

Customer Letter: 901 / 1523
Dave says...

Great Service, sorted quickly and without hassle, great price as well! Citroen Berlingo delivered as promised.

Dave

Editor Note: Thanks Dave, you are a super local customer. I have given you a hyperlink. If anyone runs into an IT problem... they can call you. You fix it. Pronto. Enjoy the Berlingo, hope it makes you lots of money delivering computers and stuff! - Ling
---

Customer Letter: 900 / 1523
Brian says...

Ling's service has been efficient, good value for money and great fun, a combination that is hard to beat. Wish my bank was this good! I will definitely be coming back again soon. The Grande Punto is great. Good delivery.

Brian

Editor Note: Brian, thanks for lovely letter. I particularly appreciate letters like yours, from company directors, they give me great feedback to my service. - Ling
---

Customer Letter: 870 / 1523
Alyson says...

Dear Ling,

We love our Nissan Micra, thank you so much for your very efficient and professional service in arranging our lease and supplying the car in such a short time. We have recommended your services to lots of people. Expect to be very busy! Excellent delivery and a very helpful and pleasant driver!

Alyson

Editor Note: Great! Alyson, you live so close to me, I pass your house every time I drive to the Toon. If I see you, I will stop and have a chat. Thanks for your help in sorting the paperwork so fast, it enabled me to arrange the fast delivery. Go drive your Micra! - Ling
---

Customer Letter: 856 / 1523
Peter says...

I used Ling to contract hire a BMW 3-series Coupe recently and I found her service first class. Ling made the whole experience much quicker, easier and more cost effective than my previous experiences with contract hire companies. I would thoroughly recommend LINGsCARS to anyone.

Peter

Editor Note: Peter, well, there was a mix-up with the BMW dealer with your sat nav, but apart from that things went really well. You are based so close to me, you are in the same postcode number! Recruitment Now provides Permanent and Temporary recruitment solutions delivered with a unique warm, friendly and personal approach. Your team of senior consultants deliver a bespoke recruitment and selection service that is second to none. It's a pleasure to have you as a customer! - Ling
---

Customer Letter: 829 / 1523
Mark says...

Dear Ling,

This Audi A6 Saloon 2.7 Tdi V6 177bhp Le Mans Saloon is the second car I have leased through LINGsCARS, and I can safely say that I would not consider using another leasing firm. Your no-nonsense approach is very refreshing and it is clear that your excellent support and customer service is based on a genuine interest in your customers' satisfaction.

Thank you for making the process pain free and pleasurable, without any of the usual lease company flannel. Simple things like returning calls and giving unprompted regular updates on my order are greatly appreciated. I look forward to ordering my next lease vehicle from Lings in 2010 when my existing lease completes.

Mark

Editor Note: Mark, from a recruitment firm Director, this is a massive compliment, thanks. CDM Recruitment Ltd is a rapidly expanding, forward thinking recruitment company supplying staff to the construction industry and built environment. You now have a great posh car at a fantastic price. Also, you are quite local company. Maybe I will spot you driving around! See you in two years! - Ling
---

Customer Letter: 814 / 1523
Ross says...

Great site, great service, great car! Thanks.

Ross

Editor Note: Yikes, you are so local!!! Rozmic provide services for the email and instant messaging sectors. Ross, I'm happy you are so pleased! The Freelander is just in time for a dusting of snow, too. See you around :) - Ling
---

Customer Letter: 768 / 1523
Anne says...

Dear Ling, I want to thank you for making the first time I lease a car a good experience. You were very helpful, you answered all my questions and you have a brilliant sense of humour.

I would certainly recommend you to all my friends, just as you were recommended to me by my son-in-law. Excellent delivery, car was delivered on time on the date stated.

Anne

Editor Note: Anne, you are quite close to me, in Prudhoe - just 8 miles up the road. Great to have recommendations, what a fantastic mother-in-law you must be for your son-in-law to look after you like this. I might see you bombing around in the Punto! - Ling
---

Customer Letter: 762 / 1523
David says...

We got a great deal from Ling on our Qashqai. I trawled the Internet but could not beat Ling's package. I thought long and hard about leasing and I believe it makes good financial sense. No slimy salesmen to deal with or dealerships pestering you to buy.

Ling is the opposite of this; she is honest, upfront, and fun to deal with, too. Delivery on time, car A1 condition, friendly service, excellent. Never mind garlic bread, contract hire is the future.

David

Editor Note: You are a quality technician, David, so I am glad you appreciate my quality of the service. I do my best to make you happy :). You are quite local to me, from Blyth and you work just three miles away as the eagle flys. Enjoy the Qashqai, also built locally in Sunderland. - Ling
---

Customer Letter: 751 / 1523
Stewart says...

Not my first lease car, but I must say this was the best service so far. Good communication is essential when getting a lease car and Ling gave it 100%. My new Nissan Qashqai was delivered on time and well presented. Excellent.

Stewart

Editor Note: Stewart, you are retired high-ranking firefighter, and you live quite close to me in Whitley Bay (nice place). It's great to get recommendations from professional people like you, I have supplied many high-ranking police and fire people. So glad you are damn pleased with my service. Maybe see you in 2 years? Hope so! - Ling
---

Customer Letter: 745 / 1523
David says...

Excellent service, great price, really happy with the new 150bhp Vauxhall Astra, I will use Ling again! Excellent delivery.

David

Editor Note: David, and I will accept you are a customer, again, hehehe. You are very local to me, wow. Maybe I will see you around! So pleased you are very happy with everything. As you are a senior manager in a professional business (Quantity Surveying) I really appreciate your comments. - Ling
---

Customer Letter: 700 / 1523
Malcolm says...

Once again Ling, you prove you are the best around. No rubbish hard selling, just the most competitive price and backed up with your normal first-class service.

Malcolm

Editor Note: Thanks for the letter, Malc, you are very kind. I used your company in return, to make me some new signs. They look very smart! Thanks. Enjoy BMW 3-series Coupe. - Ling
---

Customer Letter: 691 / 1523
David says...

Ling, I can't thank you enough for the brilliant service you gave us. It was great to be able to ask loads of questions ahe best part was... everything you told us was true! I will (and have) recommend you to everyone. Good delivery, car arrived first thing, and everything was well.

David

Editor Note: Hehehe, why do you think I would not tell you the truth? Maybe you have experience of other car contract hire companies, eh? So pleased you are happy with the Toyota Rav 4, David, hope you found it a tax-efficient way to grab a cheap new car! - Ling
---

Customer Letter: 686 / 1523
Colin says...

Everything happened just like Ling said it would - my gleaming black new Astra SRi arrived right on the agreed date in great condition. Ling must have been sick of all my emails asking when it was coming - but when she says "8-weeks", she means "8-weeks". The car was driven up from ******. Good delivery.

Colin

Editor Note: Colin, hey, I play ping pong at a club very near you!. Your 140bhp SRi Astra VVT will be zipping around Northumberland on the great roads - I guess :) The delivery mileage will not affect your contract. glad you were happy, the factory order on these cars means they are as cheap as chips - only £170/mth+VAT - that's the benefit of the 8-week wait. - Ling
---

Customer Letter: 682 / 1523
Philip says...

Excellent service and spot-on delivery. Exactly 9am as suggested. I love driving my new Honda Civic, so much that I have put 3000 miles on in the first 6-weeks, GULP! I will have to get a bus pass before the contracted miles over-run the limit, oooops. I have recommended you to everyone.

Philip

Editor Note: Philip, well, you can easily increase the mileage if you want. I always advise waiting a while to see what happens over a longer period, your useage may change. It's good to be aware of the miles you are driving in this environmental age. Hope to see you around Newcastle! I give you hyperlink! Thanks for recommends :) - Ling
---

Customer Letter: 671 / 1523
Darrell says...

I found Ling to be the most efficient person. Not only was she very efficient in supplying the right car, she was also very quick in replying to any email questions I put forward. I would suggest that anyone wishing to lease a car seriously looks at doing business with Ling. If you can find a better service anywhere, it's probably a lie! Very good delivery, excellent handover of my new Vauxhall Zafira. Thank you very much for a professional yet personal service.

Darrell

Editor Note: Darrell, you are quite local to me, so I had to impress you or you might have knocked on my door and complained! :) Those Zafiras have been brilliant value all year. I have done... over a hundred I think. See you in a couple of years, or driving around the toon! - Ling
---

Customer Letter: 629 / 1523
David says...
I am a multi-car user ALL PROVIDED BY LING! Ling's prices are good and her levels of service are even better. Communications via email, letter or phone are all very good. Strangely, Ling also has a sense of humour. Many thanks, Ling. Keep those prices low and service levels high. Excellent delivery of my BMW 320i Coupe, good communication on delivery, car was immaculate.

David

Editor Note: David :) You are a bloody nit wit! Why is it surprising that I have a sense of humour? Are you comparing me to Chairman Mao, or to your local Chinese takeaway??? :) As you say, you have other cars from me... you are also local! I love local business customers. I will be along for my free shopping, soon... in a Transit van! - Ling
---

Customer Letter: 607 / 1523
Paul says...

I found that Ling has been a very helpful person to deal with, I felt as if I was her most important customer. As a customer service manager myself, I know how good the quality of her service is. Well done with my new Audi Q7!

Paul

Editor Note: Paul, well, you got your car at last. The waiting time is 16 weeks for these Q7 beasts, so thanks for being so patient. You work for SafeStyle UK, so it's only a shame I cannot match your "BOGOF" Buy One Get One Free window offer :) - Ling
---

Customer Letter: 592 / 1523
Darrell says...

Ling, The Vauxhall Zafira arrived with 250 on the clock and I was given a very good demonstration by the Vauxhall chap. Thank you very much for all your hard work on getting this car to me.

Darrell

Editor Note: Hey, no problem, Darrell! My Vauxhall supplier is in the Midlands, so they probably had a nose bleed delivering the car to South Shields, hahaha. Enjoy it, any problems with it, talk to a Vauxhall dealer. As you a senior IT engineer, I appreciate that you enjoyed using my web service :) - Ling
---

Customer Letter: 570 / 1523
Steve says...

Hi Ling

My new BMW 320i Coupe arrived yesterday which was 10 days earlier than you'd initially anticipated. This is the first time I have leased a car and have to say that any doubts I had about the process disappeared once I'd visited your web site (what a hive of information + some bonus dodgy gags!).

Your responses to the few questions I had were super-quick and you can bet I'll be back in 2 years. Cheers!

Steve

Editor Note: Hehehe, well - you don't get the dodgy gags from Fawdington BMW, the local expensive dealer, eh? These BMW Coupes were so cheap, I have had a few people ordering two cars, his and hers! I was not sure about the delivery time as these were a brand-new model, so I was pessimistic about delivery. It is nice when it happens faster than you think it will :). It's good that your first time as a leasing virgin was so rewarding, hehehe - Ling
---

Customer Letter: 564 / 1523
Ben says...

It was an absolute pleasure to deal with Ling. She was straight to the point and extremely quick with her responses to my questions. My Mazda MX5 was delivered exactly on time.

Ben

Editor Note: Here we go, here's another customer who disagrees with Mazda UK trying to illegally terminate my supply by pressurising my suppliers. They really should stop this bullying, huh? Ben, it is ironic that as a Roofing Contract Supervisor, you choose a car without a roof! Hahahah. I play ping-pong in a club close to you, in Cramlington! Maybe I will see you zoom, zooming around. - Ling
---
Search my letters page!

| | | |
| --- | --- | --- |
| From your area... | ...or from people... | ...or about a specific car! |
| | | |
You are viewing page 2 of 4 - go to page: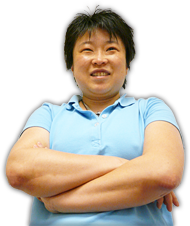 Online Service
Response Times
Quote > Proposal > Order > Delivery
85 CLIENTS IN 'PROPOSAL'
...LING REPLIES IN:
HRS : MINUTES sec
95 CLIENTS IN 'ORDER'
...LING REPLIES IN:
HRS : MINUTES sec
Customers use my secure LINGO management system.
Response times above based on last 4 hour period between
9am - 6pm, Mon to Fri -Ling

No Waiting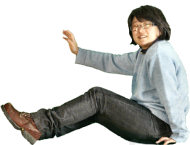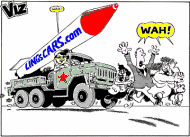 I am the Viz UK business ambassador!
Post me Ferrero-Rochers! Yum Yum!
Unlike most other internet car leasing sites, I publish all my contact information openly!
...so, you know who I am - Ling
THE UK's FAVOURITE
CAR LEASING WEBSITE!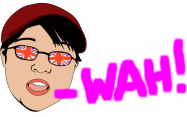 Boss: Ling Valentine MSc IoD
15 Riverside Studios
Newcastle Business Park
Newcastle upon Tyne, NE4 7YL
Tel 0191 460 9444
[email protected]
I prefer email to phone - Ling
VAT No: 866 0241 30
Co Reg No: 6178634
Consumer Credit Licence: 663330
Data Protection No: Z1098490
Best Before: 17/08/2007