CUSTOMER LETTERS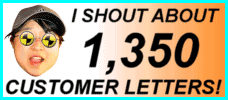 1523 LETTERS!
More customer letters than any other car sales site IN THE WHOLE WORLD! - Ling
Search my letters page!

| | | |
| --- | --- | --- |
| From your area... | ...or from people... | ...or about a specific car! |
| | | |

Customer Letter: 244 / 1523
Carl says...

Website is fun/crazy/easy to use - that's what made me use Ling!

Service over the phone and via the online chat was quick and easy - no hassle. My BMW Z4 arrived less than 4 weeks from looking on her website - excellent! The car arrived when Ling said it would - not very clean outside, but then after 400 miles on a trailer (in December! - Ling) I guess that's not Ling's fault.

Carl

Editor Note: Wah, wah, wah! My favourite Japanese Restaurant is on your street, Bath Lane! I often go to Fujiyama in Newcastle! Edmund Ng my friend, also my nephew's Gong Fu teacher! You live just at end of Newcastle Chinatown, can I swap houses??? I will say hello if I see you driving Z4 around there. - Yes, it is so difficult in winter to deliver clean cars from trailer; if they are driven, driver can carwash it, but this is impossible on trailer. Car from London area to Newcastle, so lots of chance to get dirty on way, sorry! - Ling
---

Customer Letter: 243 / 1523
William says...

Ling, many thanks for your help in arranging my recent lease. My first dip into the leasing pool was made very straightforward with your professional guidance. The delivery arrangements for my C4 were excellent. Thanks again.

William

Editor Note: Oh! Local customer! Wah! I always happy to sell to people locally, maybe you will see me driving around in my new London Bus, or in my Nuclear Rocket Truck. Please hoot and wave! Have good time in Citroen C4 - Ling
---

Customer Letter: 235 / 1523
Leanne says...

Hi Ling, I couldn't be happier with the new Citroen Picasso I have rented from you. My husband is an AA patrolman, so he knows a thing or two about cars and dealer service, and he is also impressed; more so with the first-class, hassle-free service you provide. Your dealer was simply the best! Once again Ling, thank you very much. Till next time, all the very best

Leanne

Editor Note: Leanne, so glad you are happy. AA Patrolman husband is good, much more useful than mine... if any customer has problem with car in North of England, I will call your husband to assist, he can rebrand as LingEmergencyServiceMan. I pay cash or credit against new car - Ling
---

Customer Letter: 229 / 1523
Peter says...

Hi Ling, I'm very impressed with your overtly customer-service-orientated way of dealing. It's a very fresh "no pressure" approach and well priced deals. I'm also very impressed with my new Shogun Sport! In addition, the dealer you chose was excellent, professional and on time.

Peter

Editor Note: Peter, with your surname I would have thought you would prefer F430 to Shogun, but never mind! I am always happy to have local customer for a change. Enjoy Shogun! - Ling
---

Customer Letter: 215 / 1523
says...

Hi Ling,

A pleasure to deal with you, excellent service at a very competitive rate. The Picasso arrived on the specified date, the driver was extremely courteous and very helpful. Good service all round. I will have no hesitation renting from you in the future

T

Editor Note: Wah! Local customer is veterinary! Good. Please to take hand out of ass of cow, and answer my question: I have cat, called "362", boy, from cat rescue. Every night he attacks my husbands socks and eventually kills them with back feet and makes big holes. I am tired of buying socks. How can I control mad cat, Leon? My nephew from China says to cook. Delicious, but small meat. Please to answer urgently - Ling
---

Customer Letter: 210 / 1523
Philip says...

Excellent car, excellent service! My Citroen C2 was delayed from dealer, but Ling chased up straight away.

Philip

Editor Note: Ah, you see Philip; I always say sometimes car can be delayed... I have investigated this delay and it was due to bloody French - they damn bloody foreigners smelling garlic. The communist dock workers at Calais created a bottleneck at Channel Tunnel that affected ALL Citroen and Peugeot cars this month. Only cars already in UK got delivered on time. Of course this is not dealer fault or my fault, but French European socialist leftie union freeloader fault. They should take lesson from China Communist experiment, and just pretend to be communist while really being raging capitalists. Mind you, French and Chinese governments equally corrupt. Sorry about delay, but glad you like car and rest of service Philip - Ling
---

Customer Letter: 207 / 1523
Mike says...

Ling,

I am Managing Director of a car supermarket business with 5 sites (to date) and 500 cars in stock. Yet I STILL can't run my own cars for staff and courtesy cars for customers as cheaply as you can supply them to me. So I am forced into the embarassing position of having to order from you; 1 x Merc E Class, 1 x BMW X5, 6 x VW Golfs, 2 X VW Tourans, 10 X Honda Jazz, 1 X SAAB Convertible, 1 X BMW Z4 and finally 1 X VW Passat, so far, this year.

The main way that my business undercuts the car supermarket and franchised car sales competition is by lowering costs and cutting overheads. Your contract hire cars, which are the cheapest in the industry, enable me to do that. If your turnover continues to grow as fast as it currently is, your car sales total (in £'s) will equal ours (with 50 staff and 5 sites) by the end of 2006! You are amazing.

Mike

Editor Note: Mr Mike Porritt, I declare interest here. You are good friend, and my husband has shareholding in your business. But, remarkably, what you say is true. Thanks - Ling
---

Customer Letter: 192 / 1523
Bob says...

The service I received was excellent, Ling made everything really easy, we would recommend her to others. We received a good all round service and enjoyed talking to her. The dealer was very efficient and the BMW 118 is a good car.

Bob

Editor Note: Bob, you are fantastic repeat customer, and you are also local to me. It is shame I never need precisely engineered things, or I would give you business. Biggest thing I have that is engineered, is my Zil Nuclear Missile truck - Ling
---

Customer Letter: 177 / 1523
Jackie says...
I love your website, it's completely mad but absolutely brilliant - I'll definitely be recommending it to others.

Jackie

Editor Note: Thanks Jackie! - Ling
---

Customer Letter: 172 / 1523
Tim says...

I have now had 5 vehicles from Ling including 2 BMWs and she has been nothing but First Class. Great deals and very smooth transactions, and this last dealer like the others was top class. Keep it going and please send me some free lunch.

Tim

Editor Note: Tim, if you have 5 cars then I should buy you and Michael damn dinner in Newcastle Chinatown (never mind free lunch). You also very local to me, nice to meet some customers now and again, huh? New customers reading these letters should be kind to notice lots of repeat business creeping in. Once I get claw into poor customer, you can never escape Ling, hehehe - Ling
---

Customer Letter: 157 / 1523
Tony says...



Ling always will do her best for you. She rings back when she says she will! We have had several cars from her now, and wouldn't hesitate to recommend her and use her again!

Tony

Editor Note: Oh, we really MUST get some fast cars on like TVR. I work on it. Maybe you give me demo, Tony? Yellow please. - Ling
---

Customer Letter: 144 / 1523
Harry says...

Ling was recommended by a colleague who had great service over the past 5 years. Efficiency and personal service was to the forefront on all contact situations.

Harry

Editor Note: Wow! My nephew (from China) goes to school on the same road as your house! Small world, eh, Harry! Maybe see your Mini Cooper around - Ling
---

Customer Letter: 121 / 1523
Elaine says...

I would have no hesitation in recommending or using LINGsCARS.com again. Ling handled all the relevant paperwork efficiently and professionally. Everything happened when she said it would, which is very refreshing! I got a great deal on my new VW Polo so my purse feels the benefit as well.

Elaine

Editor Note: Wow, Elaine you so kind! I am so happy to have so many happy customers! - Ling
---
Search my letters page!

| | | |
| --- | --- | --- |
| From your area... | ...or from people... | ...or about a specific car! |
| | | |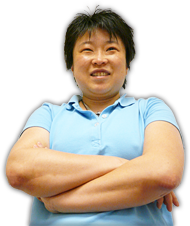 Online Service
Response Times
Quote > Proposal > Order > Delivery
86 CLIENTS IN 'PROPOSAL'
...LING REPLIES IN:
HRS : MINUTES sec
106 CLIENTS IN 'ORDER'
...LING REPLIES IN:
HRS : MINUTES sec
Customers use my secure LINGO management system.
Response times above based on last 4 hour period between
9am - 6pm, Mon to Fri -Ling

No Waiting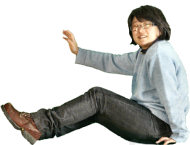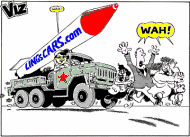 I am the Viz UK business ambassador!
Post me Ferrero-Rochers! Yum Yum!
Unlike most other internet car leasing sites, I publish all my contact information openly!
...so, you know who I am - Ling
THE UK's FAVOURITE
CAR LEASING WEBSITE!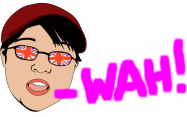 Boss: Ling Valentine MSc IoD
15 Riverside Studios
Newcastle Business Park
Newcastle upon Tyne, NE4 7YL
Tel 0191 460 9444
[email protected]
I prefer email to phone - Ling
VAT No: 866 0241 30
Co Reg No: 6178634
Consumer Credit Licence: 663330
Data Protection No: Z1098490
Best Before: 17/08/2007