CUSTOMER LETTERS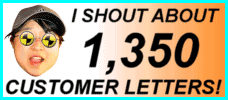 1522 LETTERS!
More customer letters than any other car sales site IN THE WHOLE WORLD! - Ling
You are viewing page 1 of 2 - go to page:
Search my letters page!

| | | |
| --- | --- | --- |
| From your area... | ...or from people... | ...or about a specific car! |
| | | |

Customer Letter: 1495 / 1522
Stewart says...



Simple and user-friendly process. Both my very recent Audi A5 Cabriolet and the Q7 I had over a year ago from Ling have been great. I will be using Ling again to change the Q7 in 2010. Excellent delivery on both cars.

Stewart

Editor Note: Hey, Stewart, you have had £60,000 of cars from me! How good is that? :) You are just brilliant to deal with and always enjoyed your chats. I will look forward to sorting out the Q7 replacement. Thanks for great letter! - Ling
---

Customer Letter: 1463 / 1522
Stuart says...

It was very simple arranging delivery of my new Fiesta. From beginning of enquiries to delivering of car was 2 weeks. I am happy with the service I received from LingsCars. Good delivery.

Stuart

Editor Note: Stuart, that's great! Not often I can deliver THAT fast! You wanted a black car as you are a Funeral Director. Except it would be hard to fit the coffin of a cat in a Fiesta, never mind a human! Thanks for the biz, hopefully I will not need services from you soon :) - Ling
---

Customer Letter: 1430 / 1522
Denise says...

Very competitive. Excellent service. Loved the frequent communication so I knew what was going on. And - I'm loving my new car!

Denise

Editor Note: You should be loving the car, Denise, the Qashqais always make people say how good they are. Thanks so much for kind comments. :) - Ling
---

Customer Letter: 1391 / 1522
Roderick says...

Dealing with LingsCars was a totally different experience, quick answers, every effort made towards customer service, advice, progress updates. Despite poor performance by dealership, would I use Ling again? Most definitely. Already looking at the brochures. Delivery AAAA++.

Roderick

Editor Note: You said the dealer was poor, Rod. Believe it or not this was Mercedes Benz UK. They are quite arrogant to force me to remove their logos from my website, then they perform so poorly. Ho-hum. Never mind, together we battled through and you are happy in the end. You are wind energy construction manager, so I think Mercedes will say you are full of wind, but they had better start listening to customers, eh? Enjoy the C-Class. Thanks for letter! - Ling
---

Customer Letter: 1347 / 1522
Charles says...

Thanks Ling. Fiesta is great, great service, 5 weeks from first contacting you, to car at my doorstep. First class.

Charles

Editor Note: Chic (your nick if people wonder), it's great that you had a Fiesta so fast. Many customers have had Fiestas delayed because Ford cannot keep up with demand. However, you were a lucky one. Enjoy your new silver Titanium TDCi. - Ling
---

Customer Letter: 1341 / 1522
Stephen says...

I can't believe how quick and convenient it was to deal with Ling. This is the first lease car deal I have set up and from the start 'til I received the car Ling was superb. Free money, mints and coffee just added to the deal. Recommending Lings to everyone now. Thanks! Excellent delivery. Arrived on time in great nick.

Stephen

Editor Note: What is "great nick"? Guess that means good condition, Stevie, hahaha. Honda Civic is most popular car, also built in UK which is good. Shame no cars are built in your part of Scotland any more. See you in a couple of years! - Ling
---

Customer Letter: 1338 / 1522
Gayle says...

A great service provided by Ling and her team from start to finish. To begin with, the website looks a little daunting but you soon get the hang of it. All the way through the process you are kept up to date with what's happening. No lapse in communication whatsoever. I'll definitely be using LingsCars again! Excellent delivery by the Citroen dealer - could not be faulted!

Gayle

Editor Note: Gayle, so pleased you are happy! The C4GP is a great 7-seater! It's hard to add anything to your letter. Thanks so much for being a lovely customer. - Ling
---

Customer Letter: 1257 / 1522
Frank says...

A bit zany, at times unusual, free gifts galore, but always excellent communication and 100% professional service. Will most definitely use you again and recommend to all my friends and work colleagues.

Frank

Editor Note: Frank... you are a management consultant (now with a new MK6 Golf) so I appreciate your kind words. You are also Scottish and I always enjoy dealing with ethnic minorities :) Go drive your car, and thanks for the biz. Zany is good, I guess, hahaha! - Ling
---

Customer Letter: 1175 / 1522
William says...

Doing business with Ling was a refreshing change to the normal. The Lexus IS was delivered to my satisfaction and is an absolute stormer. Hope to do business with Ling in the future. Delivery was excellent.

William

Editor Note: Bill Brodie (a good Scottish name!), thanks for the letter. I am relieved I am not normal. Hope the lovely smooth Lexus is impressing you. Good cars (despite being Japanese). - Ling
---

Customer Letter: 1173 / 1522
David says...

It was such a pleasant change being able to complete the transaction for my new Subaru Legacy without having to deal with unnecessary paperwork or delays. The overall service was first class - and a bundle of laughs, as well. I'm not Duncan!

David

Editor Note: Hahahaha, I called you Duncan by accident. Bloody Scottish names! :) As a solicitor, I look forward to the writ when the Subaru breaks down. Now... here is an unusual car, I do not sell many of these, they are a low volume model. I'm not sure I have ever seen one! Hope you like it, it is certainly rare. They get very good reviews. - Ling
---

Customer Letter: 1168 / 1522
Sonia says...

I am disappointed that I have not received my handbook for my car, a new Ford Ka. I love my new Ka, its so economic and nippy to run about in it. I can even have sex in my dream machine. Delivery was fine.

Sonia

Editor Note: Sonia, yep, the stupid dealer has forgotten to send your handbook with your car. Aren't dealers hopeless? But the main thing is, you have your new Ka. Hmmm, I just know there will be loads of clicks on this letter because you use the magic SEO word. How you manage that in a Ford Ka is beyond me! You must be very flexible and have a small partner, hahaha. It is a real Sex-In-The-City car :) - Ling
---

Customer Letter: 1163 / 1522
Claire says...

Ling was extremely friendly and helpful during our time of leasing our Mazda. The website is very unique and easy to work. Ling was very prompt and informative and the information she gave us was very precise. I will certainly be using LINGsCARS again and would highly recommend her to friends and family. Delivery service was excellent. Very helpful and friendly.

Claire

Editor Note: Claire, well, you work at a major bank, so I keep my fingers crossed for your job prospects! Hope you are enjoying the Mazda 2. You were very friendly to deal with, thanks for making my job simple and being so good with the paperwork. Speak soon! - Ling
---

Customer Letter: 1161 / 1522
Ian says...

I liked the service and good communication via website - different, easy and fun. This was a new way of getting a car for me. I did not test drive but just looked for information on websites - Top Gear ratings, auto and manufacturer websites. I worked out costs and came to the conclusion Ling may be right on leasing. May well do this again for my main car. Delivered on time, friendly helpful and phoned in advance of delivery. Excellent.

Ian

Editor Note: Ohhh, I am looking forward to your main car, Ian. You are another Fire Service man, an ICT manager. I hope you get some ideas from my website. Maybe when someone dials 999 you can have a little missile truck spinning round :) Or not. Whatever, thanks so much for being a great customer from Scotland! Typically, you were happy to save money. - Ling
---

Customer Letter: 1158 / 1522
Martin says...

First class service yet again. Our staff engineer was delighted with his car and once again a great and painless experience dealing with your organisation. Delivery of our Lexus IS was excellent.

Martin

Editor Note: Martin, you have had a Discovery before, and now a Lexus IS. Your company is an engineering business. Thanks so much for the lovely comments, it means so much to me to have people who come back many times. I try to look after you! You are called "Welsh" but you are Scottish. I'm very confused! Hahaha. - Ling
---

Customer Letter: 1143 / 1522
Michael says...
Excellent service provided by Ling. A great deal, backed by regular communications. Recommended, so would certainly use again. Proud as punch in my new Audi A3. Car arrived earlier than the agreed time, but they forgot to bring my driving licence back.

Michael

Editor Note: Michael, yes, new security meant that at the time, the Audi supplier needed to physically see your driving licence. They posted it back Special instead of doing what I wanted, bringing it back with the car. Thanks for pointing this out. However, overall you seem 100% happy, which is my aim. Go drive your new A3. - Ling
---

Customer Letter: 1133 / 1522
Walter says...

Initially I was a little wary about the lease contract concept, but was convinced after studying Ling's site. Having completed all the proceedings I am now driving a very nice car I otherwise would not have been able to afford. Ling makes the daunting process easy (and enjoyable if you have a sense of humour). I am a convert! Thanks. Good, delivery as promised, no further dealer contact though.

Walter

Editor Note: Hahahaha, you insist I call you "Iceman", Walter! So, I call myself "Maverick" when I talk to you :) You were fun, and you are correct - people with sense of humour missing need not apply! Why do you want further contact from the dealer, they will only mess it up? You should be damn happy with your Super Duper Vauxhall Sport Hatch which was soooooo cheap! You got a 1.9 CDTi (150bhp) SRi for the price of a 1.4 LS. Maverick out! What a bloody Top Gun! Hahahaha! - Ling
---

Customer Letter: 1096 / 1522
Julie says...

After dealing with other leasing companies in the past, I found LINGsCARS to be a refreshing change. Ling's website is fantastic! Not boring like the others. The service she provides was second to none and I will certainly be using her company in the future. I will have no hesitation recommending her to my friends. Good delivery, but couldn't deliver on the first day advised.

p.s. Loved the sweets!

Julie

Editor Note: Jules, you were a great customer, and you are a Tesco Personal Shopper, so I will say thanks for your order and every little helps! You were a breath of fresh air to deal with on my LINGO, always so happy! Enjoy the Vauxhall Astra Sport Hatch! Those Chinese sweets were withdrawn soon after I sent them to you, they contained the Melamine. - Ling
---

Customer Letter: 1058 / 1522
Toby says...

Overall a very slick hassle-free process. Lingo is a great system and all my queries were answered in ultra-fast time. Car arrived on time, well valeted and as described. Got the colour (black) I wanted despite my local Chevrolet dealer telling me "no black Captivas available in UK for 6 months"!!! Fine, clean car delivered with nothing missing. No dust caps on the number plate screws mean they miss out on an "excellent" rating. I have already recommended Ling.

Toby

Editor Note: Dust caps!! Hahahahah. Sorry to laugh, Toby, but if that is all then I would accept that for every delivery. As you work in car sales at a big retail garage, I a) appreciate your comments, b) realise you don't want your address shown, c) wonder what they will say when you turn up to work in your new Captiva? Fun, fun, fun. See you in 2-years! - Ling
---

Customer Letter: 1029 / 1522
Scott says...

Excellent service from start to finish. Great communication and nothing was a problem. Ling kept us up-date with every part of the car lease progress. I would and have recommended Lingscars to all my friends and family. Will most certainly lease from Ling again. Good deliver, dealer supplied my new Mitsubishi Outlander promptly and on time.

Scott

Editor Note: Scott, super duper lemon squeezy. You got a great deal on this new Outlander, customers love these cars. Very economical for the type of car (4x4). I will see you in 3-years, I hope :) Thanks for letter! - Ling
---

Customer Letter: 1020 / 1522
Lori says...

I quite often forgot I wasn't Ling's only customer! Ling provided me with probably the best service I have ever received from a company in any industry.

The online sign in area and LINGO message board is a fantastic tool for busy people to use. And Ling's response times and updates were great and frequent. I have recommended LINGsCARS to lots of people already and will definitely use again! Thank you!

Quick delivery, my Mazda MX5 arrives at 7.15am, great!

Lori

Editor Note: What an alarm call! Lori, you are talking about my LINGO system and people reading this will not know what it is. It is my behind-the-scenes communication area for customers, 100% secure. It is quite good, all built myself :) As you are a Business And Systems Integration Analyst, I value your opinion, thanks! You have a super car with your new MX5, just wait for the sunshine. - Ling
---

Customer Letter: 907 / 1522
Russell says...

The whole process was flawless. It is made simple and easy by the service provided. I felt I was treated like an individual, not just another customer. Ling's business model is unique and not boardroom, sales centre stuff. You should start another company selling Chinese sweets. They're not bad at all. Excellent delivery, though I had little contact with the dealer due to the service provided by Ling. Excellent!

Russell

Editor Note: Russell, you are director of a Health and Social Care company, so you know how important it is to have happy customers and to look after them. So... I appreciate your comments. thanks. Enjoy the Renault Grand Scenic, see you in a couple of years! More sweets in the post. They may very well be bad for health. - Ling
---

Customer Letter: 859 / 1522
Robert says...

Can I say on behalf of Pauline and myself, thanks very much for an outstanding service, you were there to guide from inception to completion and with a turn around of less than 2 weeks that was fantastic.

Robert

Editor Note: Hahaha, I am amazed! Miracles CAN happen! That was so fast. It helped that you were very good at the paperwork. Thanks, Robert and Pauline. Enjoy the Picanto!! - Ling
---

Customer Letter: 808 / 1522
Edward says...

Ling has been courteous and very enthusiastic in my dealings with her so far. She always responded to any queries during her processing of my Skoda Fabia with a smile.

Anything Ling can do to make the dealings with the lease company less complicated and bereaucratic would make it more pleasant next time. Good delivery, no problems with Ling's service.

Edward

Editor Note: Edward, well, yes... the finance companies are a bit stuffy. They are slow to respond and sometimes difficult to deal with - I know this, I spend my life dealing with them. They are also sticklers for perfect information. But they are supplying cars at a distance and it can be a big risk for them. Hope you enjoy the Fabia, I have been to your part of the UK, I call in at Eyemouth for an ice cream and some fish, when I am on my way back from Edinburgh. Lovely! - Ling
---

Customer Letter: 806 / 1522
William says...

Ling was a great help in finding and supplying the right car for me. She answered my questions quickly and was quick with reassurance and advice. The Fiesta was delivered when she said it would be. Excellent.

William

Editor Note: Up in the wilds of Northumberland (not TOO far from me) there is now a new Fiesta zipping about. It was great dealing with you, William, and I hope you have a great time avoiding the sheep in your new car. - Ling
---

Customer Letter: 755 / 1522
Gunnel says...

Ling, I found you on the internet by chance. Your quick response to my enquiry was impressive, and your prices were great. At every stage of the transaction, you were extremely helpful and super-efficient! In fact the whole exercise was painless.

I cannot fault your service in any way, and you deserve success. Excellent delivery, the car was very well prepared and clean. I will definitely be back!

Gunnel

Editor Note: Gunnel, well, what a bit of chance! You are now driving around Moscow, topless. Not sure what the local militia will say about that? It was a pleasure to deal with you and as a partner in your own business I take your words seriously. Thanks for finding me :) - Ling
---
Search my letters page!

| | | |
| --- | --- | --- |
| From your area... | ...or from people... | ...or about a specific car! |
| | | |
You are viewing page 1 of 2 - go to page: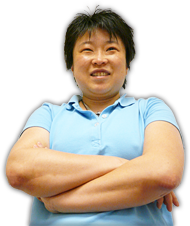 Online Service
Response Times
Quote > Proposal > Order > Delivery
81 CLIENTS IN 'PROPOSAL'
...LING REPLIES IN:
HRS : MINUTES sec
120 CLIENTS IN 'ORDER'
...LING REPLIES IN:
HRS : MINUTES sec
Customers use my secure LINGO management system.
Response times above based on last 4 hour period between
9am - 6pm, Mon to Fri -Ling

No Waiting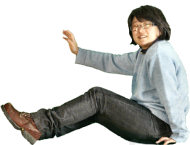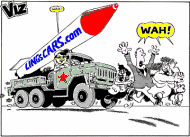 I am the Viz UK business ambassador!
Post me Ferrero-Rochers! Yum Yum!
Unlike most other internet car leasing sites, I publish all my contact information openly!
...so, you know who I am - Ling
THE UK's FAVOURITE
CAR LEASING WEBSITE!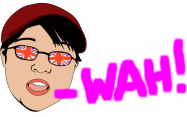 Boss: Ling Valentine MSc IoD
15 Riverside Studios
Newcastle Business Park
Newcastle upon Tyne, NE4 7YL
Tel 0191 460 9444
[email protected]
I prefer email to phone - Ling
VAT No: 866 0241 30
Co Reg No: 6178634
Consumer Credit Licence: 663330
Data Protection No: Z1098490
Best Before: 17/08/2007