CUSTOMER LETTERS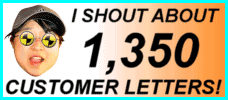 1523 LETTERS!
More customer letters than any other car sales site IN THE WHOLE WORLD! - Ling
Search my letters page!

| | | |
| --- | --- | --- |
| From your area... | ...or from people... | ...or about a specific car! |
| | | |

Customer Letter: 295 / 1523
Richard says...

"Ling offered the best value deal available. Efficient communication, level of service and care. Excellent, will definitely use Ling again for our fleet."

Richard Barry

Editor Note: Richard, it helps that you had a VW Passat, as my VW dealer is very efficient. Thanks for being such a sweet customer! - Ling
---

Customer Letter: 238 / 1523
Colin says...

You're a really crazy lady and you are obviously working too hard. However, the garage you use is excellent and they are being very flexible about me changing my delivery dates.

Colin Newbold

Editor Note: Ah, Colin, I made mistake. I forgot you delayed your car delivery until end January. Obviously working too hard, please forgive me. Will re-jiggle all your dates. Hope you like new BMW 1-series when it arrives - Ling
---

Customer Letter: 141 / 1523
Ben says...
What a great website and a brilliant way of doing business! A relative just got a car (and a FANTASTIC teeshirt) from you... thanks! Please send me a Ling keyring.

Ben Hodgson

Editor Note: Ben, I send you keyring AND some tea from Chengdu my home city (for nice comments). Enjoy it. You too can have teeshirt, just play quiz - and win! - Ling
---
Search my letters page!

| | | |
| --- | --- | --- |
| From your area... | ...or from people... | ...or about a specific car! |
| | | |