CUSTOMER LETTERS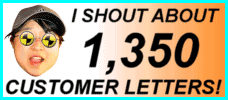 1524 LETTERS!
More customer letters than any other car sales site IN THE WHOLE WORLD! - Ling
You are viewing page 1 of 1 - go to page:
Search my letters page!

| | | |
| --- | --- | --- |
| From your area... | ...or from people... | ...or about a specific car! |
| | | |

Customer Letter: 1524 / 1524
Brian says...

Ling, it was a pleasure to deal with your company from start to finish. Every query and question was dealt with promptly. I was made to feel like I was your "only" customer such was the personal nature of your service. Dealer Service – Excellent – Very prompt and efficient.

Brian Roffe

Editor Note: Brian, but you were my only customer, it was a quiet week, hahahahaha! I do treat everyone individually, I find it much more enjoyable. Mazda 3 is a great car, low-profile, but very good. Thanks for your communication, you were very good to deal with, that helps. - Ling
---

Customer Letter: 1400 / 1524
David says...

This is the first time I've used contract hire to get a car and I must say that the experience of using LingsCars has been excellent from start to finish. The communication has been superb throughout and by far the best for any product that I've purchased recently.

I think your Lingo system is great and really lets people feel a lot more in control of things. Other companies (not just those in the car leasing business) could learn a lot from this. I have already recommended LingsCars to friends and would have no hesitation in using you again. Good delivery, car arrived not quite agreed time, but otherwise great.

David Groark

Editor Note: Dave, thanks so much :) As this was a VW Scirocco, it was subject to a small delay as the production was overbooked at the factory and VW struggled to cope, but... you have one of the best selling cars of 2009, and so cheap. Hope you love it. Thanks for kind comments. Great customer. Funny name though, I still can't say it. :) - Ling
---

Customer Letter: 1369 / 1524
John says...
Hi Ling, thanks for the great service during the whole process. Car arrived two days earlier than planned. Loved the crack during the emails, the best thing was the sweets sent in the post, ta. Excellent services Ling, who needs a Dragon? Good service and good communication from the dealer during delivery, too.

John Wardropper

Editor Note: Hey, you are easily pleased if the best thing about getting a new Audi A3 are some rancid Chinese sweets! :) I choose the worst ones, especially! Hahahaha. Have a super time in your new A3 Sport. You are quite close to me, in Seaham, maybe see you around? - Ling
---

Customer Letter: 1232 / 1524
Allan says...

This Audi A3 Cabriolet is the second car that I have obtained from Ling. Everything from Ling's end went smoothly and efficiently and informatively from start to finish. I would heartily (and I do) recommend her. If Ling keep up these high standards she will have my business for life. Good delivery, but she was let down by the dealer - the new Audi was filthy when it arrived.

Allan Thompson

Editor Note: Allan, thanks so much. It disappoints me that car dealers can't do a simple thing like wash a new car before handover, when it is only £2.50 at a car wash. Apart from that you are very pleased, and you should be, your A3 Cabriolet is a really lovely new car! Happy to have customers back for a second time around. - Ling
---

Customer Letter: 1100 / 1524
David says...

This was my first venture into the car leasing market and I must say that with the help of Ling it was a first class experience which I will be repeating once my lease expires on this car, and I will be returning to LINGsCARS. What more can I say other than - first rate all round - thanks. Good delivery on my Qashqai, the car was delivered on time, the gentleman spent some time explaining all the car's controls etc, very good.

David Barras

Editor Note: Wow, David, you work in quite an unusual industry these days, you are a furnaceman making steel rolls. Big and tough, I guess, like the Qashqai. Plus, the car is made in Sunderland, where you live! Thanks for being a super customer. Glad you enjoyed the experience :) - Ling
---

Customer Letter: 868 / 1524
David says...

The A-Class was delivered today Ling. Thanks so much for your excellent service.

It took exactly 2 weeks from subitting my first proposal form, to having a shiny black new Mercedes A-Class outside my house, for an amazing price of £170 per month including VAT. I have since found other PCH Brokers offering the same car for up to £267 per month, so you can imagine how pleased I am!

The car was driven up from Exeter by a friendly driver, who showed me all of the controls and paperwork that come with the car. Overall, it has been a brilliant way of getting a new Mercedes. Every email I sent you was answered almost immediately, and even when there was a slight delay in delivery (of only 1 day), you called me as soon as you could to let me know.

I will finish by saying that anyone that gets a Personal Contract Hire car in the UK from anyone other than Ling, is an absolute fool, an idiot, and must have more money than common sense. Thanks again!

David Rogers

Editor Note: David, you are bloody superstar. This was a dead cheap Merc A Class and it was delivered very quickly. I am so pleased I saved you £100/month, that's £3,800 you have left in your bank. You can afford a massive diamond ring for your wife! Enjoy the A Class, use a big Krooklock in Easington!!! :) - Ling
---

Customer Letter: 811 / 1524
Mark says...

Dear Ling, I recently received delivery of my new Audi A6, which was delivered to my office in Hebburn. The service was great, as I now come to expect from you (this is my second Ling lease). The delivery mileage was 225.5 miles and I got the delivery driver to sign this off.

Mark Bulmer

Editor Note: Mark, I'm so pleased you are just as pleased with the second car you have had from me, as the first. These A6s were real bargains. A bit more luxury than your last car, the diesel Freelander, eh? - Ling
---

Customer Letter: 669 / 1524
Martin says...

Great service!!! Emails answered very quickly. No bullshit. What Ling says is what Ling does!

I would recommend and use again once this lease on my Vauxhall Zafira expires. Nice to deal with a person and not a machine.

Martin Ballantine

Editor Note: Well, thanks Martin. I feel like a machine, sometimes... I am so busy. Glad to hear you are pleased with my service and hope you are as pleased with the Zafira. Also nice to deal with local Mackam customer. See you in 2-years :) - Ling
---

Customer Letter: 446 / 1524
Allan says...

"From start to finish I was kept informed of when and where my delivery would be, the cost, the outlay and how to proceed. I will definitely advise my clients to go to LINGsCARS without hesitation! Car was delivered with the wrong number plates."

Allan Thompson

Editor Note: Yep, Allan. You had wrong number plates! Your personal plates say "54" on them and the dealer defaulted to "56", as that is current plate at time of delivery. Idiots. I immediately arranged for these to be changesd and fitted FOC to you in Sunderland the very next day. Shame the dealers don't take so much care, eh? You are a very good customer and also very good ping-pong player! - Ling
---

Customer Letter: 409 / 1524
Paul says...

"Ling, got the Nissan Note after a short wait - really enjoying the car. I'm surprised it had to come from *******, since it was built around 12 miles away from me. Anyway, thanks for sorting it all out!"

Paul McNulty

Editor Note: Yep, it is a ridiculous situation that I have to put dealers (middlemen) in the loop. Much better if I could deliver from manufacturer compounds - like I can do with some Fiats and some BMWs. Dealers are an extra layer of cost and inefficiency, unfortunately. Some of them are very good though, including the dealer who sorted your Nissan Note (unlike the one that went to Scotland...see 4 letters below). Enjoy the car, Paul! - Ling
---

Customer Letter: 148 / 1524
Bryan says...
Ling,

Your service was spot on and very quick, with minimum work to do on my part. Thanks and good luck.

Bryan Stephenson

Editor Note: Thank you Bryan. Saab is good choice of car - Ling
---

Customer Letter: 119 / 1524
Philip says...
Hi, I am currently studying for a BA at Sunderland University, and I would like to ask you a question; Do you consider your vocation to be work or art? And if art, can you briefly describe your concious feelings about it. Thanks in advance, this would be great feedback for my BA.

Philip LeGrist

Editor Note: What? I do not understand question. Who are you? I have strong view on art. Art is only art if containing picture of Elvis, Mao, Jesus or dog playing poker. My work is not art, my work is better than that - Ling
---
Search my letters page!

| | | |
| --- | --- | --- |
| From your area... | ...or from people... | ...or about a specific car! |
| | | |
You are viewing page 1 of 1 - go to page: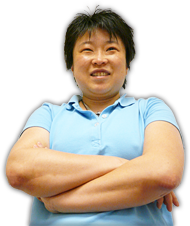 Online Service
Response Times
Quote > Proposal > Order > Delivery
84 CLIENTS IN 'PROPOSAL'
...LING REPLIES IN:
HRS : MINUTES sec
129 CLIENTS IN 'ORDER'
...LING REPLIES IN:
HRS : MINUTES sec
Customers use my secure LINGO management system.
Response times above based on last 4 hour period between
9am - 6pm, Mon to Fri -Ling

No Waiting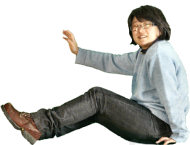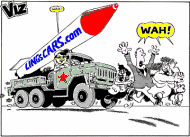 I am the Viz UK business ambassador!
Post me Ferrero-Rochers! Yum Yum!
Unlike most other internet car leasing sites, I publish all my contact information openly!
...so, you know who I am - Ling
THE UK's FAVOURITE
CAR LEASING WEBSITE!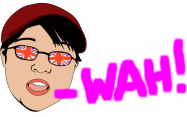 Boss: Ling Valentine MSc IoD
LING World Headquarters
Vance Business Park
Gateshead, NE11 9NE
Tel 0191 460 9444
Fax 0870 486 1130
sales@LINGsCARS.com
I prefer email to phone - Ling
VAT No: 866 0241 30
Co Reg No: 6178634
Consumer Credit Licence: 663330
Data Protection No: Z1098490
Best Before: 17/08/2007