CUSTOMER LETTERS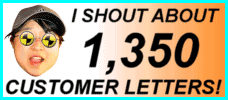 1523 LETTERS!
More customer letters than any other car sales site IN THE WHOLE WORLD! - Ling
You are viewing page 1 of 1 - go to page:
Search my letters page!

| | | |
| --- | --- | --- |
| From your area... | ...or from people... | ...or about a specific car! |
| | | |

Customer Letter: 1495 / 1523
Stewart says...



Simple and user-friendly process. Both my very recent Audi A5 Cabriolet and the Q7 I had over a year ago from Ling have been great. I will be using Ling again to change the Q7 in 2010. Excellent delivery on both cars.

Stewart Thomson

Editor Note: Hey, Stewart, you have had £60,000 of cars from me! How good is that? :) You are just brilliant to deal with and always enjoyed your chats. I will look forward to sorting out the Q7 replacement. Thanks for great letter! - Ling
---

Customer Letter: 1341 / 1523
Stephen says...

I can't believe how quick and convenient it was to deal with Ling. This is the first lease car deal I have set up and from the start 'til I received the car Ling was superb. Free money, mints and coffee just added to the deal. Recommending Lings to everyone now. Thanks! Excellent delivery. Arrived on time in great nick.

Stephen Holden

Editor Note: What is "great nick"? Guess that means good condition, Stevie, hahaha. Honda Civic is most popular car, also built in UK which is good. Shame no cars are built in your part of Scotland any more. See you in a couple of years! - Ling
---

Customer Letter: 1158 / 1523
Martin says...

First class service yet again. Our staff engineer was delighted with his car and once again a great and painless experience dealing with your organisation. Delivery of our Lexus IS was excellent.

Martin Welsh

Editor Note: Martin, you have had a Discovery before, and now a Lexus IS. Your company is an engineering business. Thanks so much for the lovely comments, it means so much to me to have people who come back many times. I try to look after you! You are called "Welsh" but you are Scottish. I'm very confused! Hahaha. - Ling
---

Customer Letter: 755 / 1523
Gunnel says...

Ling, I found you on the internet by chance. Your quick response to my enquiry was impressive, and your prices were great. At every stage of the transaction, you were extremely helpful and super-efficient! In fact the whole exercise was painless.

I cannot fault your service in any way, and you deserve success. Excellent delivery, the car was very well prepared and clean. I will definitely be back!

Gunnel Caplan

Editor Note: Gunnel, well, what a bit of chance! You are now driving around Moscow, topless. Not sure what the local militia will say about that? It was a pleasure to deal with you and as a partner in your own business I take your words seriously. Thanks for finding me :) - Ling
---
Search my letters page!

| | | |
| --- | --- | --- |
| From your area... | ...or from people... | ...or about a specific car! |
| | | |
You are viewing page 1 of 1 - go to page: