CUSTOMER LETTERS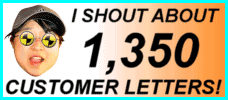 1522 LETTERS!
More customer letters than any other car sales site IN THE WHOLE WORLD! - Ling
You are viewing page 1 of 1 - go to page:
Search my letters page!

| | | |
| --- | --- | --- |
| From your area... | ...or from people... | ...or about a specific car! |
| | | |

Customer Letter: 1429 / 1522
Tamar says...

The whole process from start to finish has been super professional with added crazy humour! I have thoroughly enjoyed and appreciated your quick and witty management and responses. Far more exciting than the usual stuffy and serious protocol most companies use. It should be exciting getting a new car and it was! Thanks to you! Although a delayed delivery, very good so far!

Tamar

Editor Note: I looked at this, and the delivery was delayed due to nits at Lombard/RBS who managed to suddenly decide to pull out of the market and who delayed the paperwork to allow the supplier to release the car for delivery. Typical. The RBS are entirely hopeless lately. Pity all their Jam Jar customers who got left in the lurch. But... despite that, you seem 100% happy, Tae! How good is that! You have a super car (Grande Punto Sporting), super fast model, super cheap price. Great. - Ling
---

Customer Letter: 1326 / 1522
Linda says...

My new Corsa arrived about 10.30 in morning. The fellow who delivered it was friendly. I took him back to Derby railway for his train back. Car very clean and has everything. Love the way you represent yourself and your company. Everything is very precise but obviously presented in an unusual silly manner. I will definitely use your company again if I decide to continue leasing. Excellent delivery.

Linda

Editor Note: Windy, you were lovely to deal with. Cars are a bit silly anyway, so why not deal with them in a silly manner :) ??? Hope you really enjoy the Corsa. You have aircon in yours for the summer, so you can stay cool. Lovely! I pass comments to supplier, thanks. - Ling
---

Customer Letter: 1172 / 1522
Richard says...

Ling! What can be said?
Ling and co are extremely good at what they do! A sweet, innocent, cost competitive lease car provider! Offering blatant bribes for your custom! Every time I see a "Ling" envelope or receive a "Ling" e-mail I smile! Well nearly always (I lied about the sweet and innocent part!). Delivery was good.

Richard

Editor Note: Hey, another Ford Focus customer! You are director of a company called Elbus Ltd, I always like to get letters from company directors, because I like to hear what people like you who run businesses think of my service. Glad you like the envelopes :) Of course I am sweet and innocent! You think I am guilty??? Pssssssh. Thanks, Richard! - Ling
---

Customer Letter: 1013 / 1522
Dave says...

I've just received delivery of my new car. It's the first time that I have leased and I was a little unsure if it was the right thing to do especially when I first saw Ling's web site. I needn't have worried. The service has been excellent. Four weeks from the first enquiry to delivery. Excellent value as well, the only concern I have is that I hope Ling doesn't make her fortune and retire before I have my next car. Good promt and efficient delivery service.

Dave

Editor Note: Hahahaha, I hope I retire before you have your next car, I wish!!! Dave, thanks so much for taking the car. It is easy peasy once you have figured out the savings. My website is designed to confuse :) See you in 2-years unless I am in the Caribbean. - Ling
---

Customer Letter: 855 / 1522
Isobel says...

It was a pleasure leasing my new Renault Megane Coupe-Cabriolet from Ling. The dealer dragged their feet, but Ling kept on the case and got everything sorted. The car is great, I'm just waiting for some sun to get full use. I will certainly go back to Ling at the end of my contract. The dealer was slow and inefficient, I had to provide info more than once.

Isobel

Editor Note: Isobel, apologies for the dealer. I kicked them as much as I could, and you got the car after a short delay. I sent everything to them special delivery - they still managed to misplace it! I find it really hard to make dealers work faster, and have now changed supplier for these Renaults. Keep in touch, get the roof down and I'll see you in 2-years! - Ling
---

Customer Letter: 831 / 1522
Andrea says...

Ling - what more does anyone want?

Friendly service, prompt quotes, great emails, free car tax, as much down to earth advice as you can get, free lunch, excellent follow-up, and above all a FABULOUS Toyota Prius car. I have already recommended LINGsCARS to others - be good boys and girls and use Ling.

It was never dull, AA/RAC was included, there was free delivery, fast credit checks and it was jolly good fun. Excellent delivery from the dealer who was prompt, pleasant and a good choice! I love my new Toyota Prius.

Andrea

Editor Note: Another green customer :) I really applaud your car choice, now these Priuses are the same price as "normal" cars. Hope you enjoy it, enjoy the fuel savings, and thanks for the very kind letter, Andrea. - Ling
---

Customer Letter: 770 / 1522
Michael says...

My Lexus IS was delivered on time, exactly as ordered and with a full tank of fuel. Most impressive!

The free Chinese sweets had my dog doing somersaults and they turned his water green. My advice is to go to Ling for a car, not for a takeaway.

Michael

Editor Note: Mike, hehehehe. Wow. Full tank of fuel was a bonus. You did the right thing not to eat the sweets yourself. Sweets might be awful, but dog is delicious dish. As you are an IT Consultant, I am really pleased you enjoyed my website and service. - Ling
---

Customer Letter: 718 / 1522
Karl says...

The best website for car leasing on the net.

I needed a quote and specification over the normal 10,000 miles. Not only did Ling's site give me this information, but it offered lots of other info as well. Ling was fantastic. Excellent services, very prompt, good information etc... no pressure from hard-hitting sales people, just good honest customer service.

Highly recommended.

Karl

Editor Note: Wow! What a letter, Karl! But then you did get one of the cheapest brand new Lexus IS-ses in the UK. Hope you like the new car, these are really lovely, I had one for a few weeks and the quality was stunning. See you in 2-years! - Ling
---

Customer Letter: 679 / 1522
Lesley-Jane says...
Dear Ling,

Sorry for taking so long to write, but have been too busy enjoying the last days of sun in my lovely new Mercedes SLK! I'd just like to say I was nervous about using an internet company, but to anyone reading this... Don't be afraid of Ling, her service is great and she keeps you informed all the way along. I will definitely use her again. Good delivery. The car arrived on time, but had delivery mileage on the clock.

Lesley-Jane

Editor Note: Lesley-Jane, wow, I love to supply these sexy 231bhp SLKs. Fast, eh? I can undercut Mercedes Benz dealers massively. The mileage is because the car was driven to you and it will be added to your contract mileage, so you will not have to pay for it. I insist on free delivery and the dealer can choose the method. Yours was driven, others may be transported, it just depends on circumstance. Hope you enjoy the car in the sunshine! - Ling
---

Customer Letter: 652 / 1522
Karl says...

Hi Ling

The Lexus arrived safe and sound.

A few months ago I was tasked with improving customer services within my company. I hope you will allow me to say that you are a role model in this area. You are also a little nuts.

Your service is absolutely first class. Thank you for everything.

Karl

Editor Note: Karl, well you work for a big aircon company, so that's a great compliment. I work like a dog to make this happen smoothly, not helped by the damn Post Office who keep going on strike. I will make sure I keep my standards up. You are so sweet. Enjoy the Lexus IS 220D, brilliant bling car, low cost. - Ling
---

Customer Letter: 621 / 1522
Alastair says...

Ling, many thanks for the outstanding service that you provided getting my Range Rover Sport 2.7 Tdi V6. I would not hesitate to recommend you to anyone and rest assured you will be my first port of call for all future cars.

Alastair

Editor Note: Well, you are a principal consultant at a London Business Consultancy, so I take your words and gold-plate them. It's lovely to have such kind comments from someone who is an expert in this field. Hope you enjoy your Range Rover in London, beware Ken Livingstone! - Ling
---

Customer Letter: 603 / 1522
David says...




Ling was professional, she kept every promise about my two Fiat Grande Puntos - and she was refreshingly keen and enthusiastic. If Ling keeps this up I will definitely do business with her again.

David

Editor Note: David, wow, I love comments like this, from people who run their own service businesses. It means so much to me. Being an estate agent is quite difficult at the moment, so thanks for the car orders and thanks for the comments! I hope I can keep it up, I've managed for seven years, now :) - Here's a pic of your office in Swadlingcote.


- Ling
---

Customer Letter: 590 / 1522
Alastair says...

Ling,

Just a quick email to let you know that the Range Rover Sport arrived yesterday, and to thank you for the outstanding service that you have provided over the past 10 weeks. I would not hesitate to recommend you to anyone, and rest assured that you will be my first port of call for all future cars.

Alastair

Editor Note: Alastair, well what a shame it is not flooded in Derby (rest of UK is under the water when I read this). Or else you could have "tested" it, as it is the best 4x4 thing. Everyone who has had these RR Sports have been really happy - I must be the only supplier who does not load the commission up to £1000. I supply these cars for exactly the same tiny margin as every car, from Kia Picanto to Merc S Class. You are a very special customer, but your car to me is like a can of baked beans, hehehe. - Ling
---

Customer Letter: 560 / 1522
Stuart says...


There was a young lady called Ling,
Selling new cars is her thing,
I ordered a Zafira,
No other dealer came near her,
Now I'm driving along with bling!
(At least it does not rhyme with "cock", hehehe - Ling)

Ling, your service over the Zafira was nothing short of excellent - always replying promptly to my questions. If this mould-breaking idea (what idea? good service??? hehehe - Ling) could be transferred to other major purchase areas (eg Houses), life would be simpler for everyone. Good delivery, no complaints, came exactly on time.

Stuart

Editor Note: How nice of you to compose beautiful poem, Stuart. I always hold my breath when I begin to read the rhymes, I never know what the ending will be. But yours is very sweet. You were lovely to deal with, hope you have many happy times in the very cheap new Zafira - Ling
---

Customer Letter: 542 / 1522
Joanne says...

"Ling was helpful, efficient and very through. She made the process very simple and kept me informed every step of the way. Unfortunately the Mazda 5 arrived with a scratch."

Joanne

Editor Note: Hmmm, well, I must say occasionally this (the scratch) happens. It is not pleasant but it always gets fixed. Your car was checked on delivery by your husband who missed the scratch... I asked you to beat him up for me for not seeing it, and I subsequently offered to pay for the Dent Devil man to sort it out FOC. You were kind enough to send me a photo of your husband after you had finished educating him:


Subsequently, I have written a full guide to checking cars on delivery and a copy goes out with all finance documents to help customers. But this scratch is a very rare event, as dealers are usually more careful and they know I will terminate them if it happens more than once. Enjoy the MX5, get the top down and the sun cream on and enjoy yourself, you deserve it, Joanne! - Ling
---

Customer Letter: 421 / 1522
Richard says...


"We ordered two new cars from Ling.

I can honestly say that the whole transaction was incredibly simple and smooth, even whan we had to change the delivery date on one of the cars. Communication by phone and email was absolutely excellent and the cars were delivered exactly as specified and on time.

The supplying dealer was excellent and the cars were in perfect condition, delivered on time."

Richard

Editor Note: Richard, you had two Renault Megane Coupe Cabriolets - just in time for the winter weather, hehehe. So glad I was able to meet your delivery changes, luckily my Renault supplier is one of the best in the UK. Great to deal with you and it's nice to know that the employees of your care agency are running around in the cheapest Renault Coupe Cabs in the country - Ling
---

Customer Letter: 338 / 1522
Wac says...

"Excellent service, very professional company. Highly recommended. Honda CRV delivered on time, as advised."

Wac

Editor Note: Have a great time in your new CRV, Wac!! - Ling
---

Customer Letter: 319 / 1522
Wac says...

"Ling, the car arrived today and it is very nice. Thank you for an excellent service."

Wac

Editor Note: Wac, I am not surprised you think new Honda CRV with brand new diesel engine is nice... it seems to be the best engine in it's class. Enjoy CRV! - Ling
---
Search my letters page!

| | | |
| --- | --- | --- |
| From your area... | ...or from people... | ...or about a specific car! |
| | | |
You are viewing page 1 of 1 - go to page: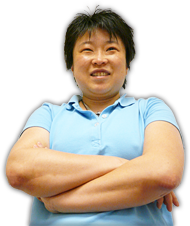 Online Service
Response Times
Quote > Proposal > Order > Delivery
76 CLIENTS IN 'PROPOSAL'
...LING REPLIES IN:
HRS : MINUTES sec
113 CLIENTS IN 'ORDER'
...LING REPLIES IN:
HRS : MINUTES sec
Customers use my secure LINGO management system.
Response times above based on last 4 hour period between
9am - 6pm, Mon to Fri -Ling

No Waiting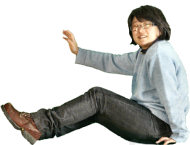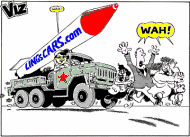 I am the Viz UK business ambassador!
Post me Ferrero-Rochers! Yum Yum!
Unlike most other internet car leasing sites, I publish all my contact information openly!
...so, you know who I am - Ling
THE UK's FAVOURITE
CAR LEASING WEBSITE!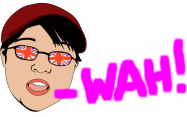 Boss: Ling Valentine MSc IoD
15 Riverside Studios
Newcastle Business Park
Newcastle upon Tyne, NE4 7YL
Tel 0191 460 9444
[email protected]
I prefer email to phone - Ling
VAT No: 866 0241 30
Co Reg No: 6178634
Consumer Credit Licence: 663330
Data Protection No: Z1098490
Best Before: 17/08/2007