CUSTOMER LETTERS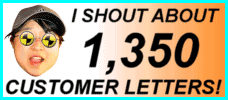 1523 LETTERS!
More customer letters than any other car sales site IN THE WHOLE WORLD! - Ling
You are viewing page 1 of 1 - go to page:
Search my letters page!

| | | |
| --- | --- | --- |
| From your area... | ...or from people... | ...or about a specific car! |
| | | |

Customer Letter: 515 / 1523
Scott says...

"Dear Ling,

I would like to thank you for multiple things. The first is the car delivery (the FASTEST car order I have ever received). The second thing is the communication from yourself, always clear and correct, with a smile :). The third thing is your website, easy navigation and fun.

You are doing great work. Thanks and regards,"

Scott Harper

Editor Note: Scott, you almost make me blush with your sweet words. Look, all I do is to do my best. I communicate as fast as I can and don't mince the words. We do have fun... but I can also be very honest which offends some people. But I am so glad you seem very happy, that is a job well done. Must praise my Citroen supplier for his good work! - Ling
---
Search my letters page!

| | | |
| --- | --- | --- |
| From your area... | ...or from people... | ...or about a specific car! |
| | | |
You are viewing page 1 of 1 - go to page: