CUSTOMER LETTERS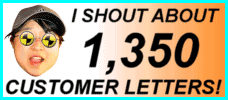 1524 LETTERS!
More customer letters than any other car sales site IN THE WHOLE WORLD! - Ling
You are viewing page 1 of 1 - go to page:
Search my letters page!

| | | |
| --- | --- | --- |
| From your area... | ...or from people... | ...or about a specific car! |
| | | |

Customer Letter: 1140 / 1524
Paul says...

I have found you to be straightforward - no messing about and everything made as simple as possible. The whole exercise has been painless. Ling, you do what you say you are going to do - a rarity in this day and age. Many thanks. However, the supplier put the wrong registration in the service book - but good delivery.

Paul Giddy

Editor Note: Why do dealers make these simple errors?? I just don't know. Apart from that, I'm pleased you are happy. It is crazy that customers get surprised when I do what I say I will do - this should be normal behaviour. Unfortunately, with car leasing companies, it rarely is! Thanks for letter, Paul. - Ling
---

Customer Letter: 418 / 1524
Ann says...

"Thanks Ling, the whole process was extremely painless! Swift service, quick response - no hard sell - just plain information. You replied promptly and efficiently.

The Kia Picanto was delivered within 3 weeks from start to finish. I will definitely recommend LINGsCARS.com and I would use you again. Delivery was good, but they did not let me know that the car was coming - lucky I was in!"

Ann Giddy

Editor Note: Hmmm, Ann - you can see the difference between a typical Kia dealer and a BMW dealer (if you read the letter above). I just don't know why all dealers cannot achieve the same high standard, what does a phone call cost? I will have a rant to them. You were a lovely customer, thanks! - Ling
---
Search my letters page!

| | | |
| --- | --- | --- |
| From your area... | ...or from people... | ...or about a specific car! |
| | | |
You are viewing page 1 of 1 - go to page: