CUSTOMER LETTERS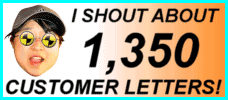 1522 LETTERS!
More customer letters than any other car sales site IN THE WHOLE WORLD! - Ling
You are viewing page 1 of 1 - go to page:
Search my letters page!

| | | |
| --- | --- | --- |
| From your area... | ...or from people... | ...or about a specific car! |
| | | |

Customer Letter: 1529 / 1522
Marcus says...

As always absolutely perfect. Cannot be faulted.

Marcus

Editor Note: As always, a short note from Marcus. A very good customer, had many cars, now including this Seat Ibiza for his staff. Top Prison Solicitor. - Ling
---

Customer Letter: 1523 / 1522
Marcus says...



Perfect.

Marcus

Editor Note: Jeeez, one word. But a good one. And a good car, a 207bhp Golf GTi. Enjoy it, hahaha :) - Ling
---

Customer Letter: 1505 / 1522
Marcus says...

Perfect.

Marcus

Editor Note: Wow! Taciturn Yorkshireman just never stops blathering on :) Brilliant customer, had so many cars now. Famous criminal lawyer, too! - Ling
---

Customer Letter: 1455 / 1522
Laura says...

An excellent service provided. Friendly staff answering my questions really really quick. I knew where I stood at all times with my leasing process. I have to say that I would have liked more of a 'heads up' on the difficulties with insurance. Good dealer.

Laura

Editor Note: Hmmm, not sure what the difficulties with insurance are, you just insure the car as normal (fully comp). Guess you found an insurance company who made your life hard, Laura, but in my whole business life I have never known a customer who could not arrange insurance. I think Confused.com have got confused :) Glad you loved my service. Enjoy the bloody Grande Punto! - Ling
---

Customer Letter: 1395 / 1522
Michael says...

Excellent customer service. The difference is – Ling tells you the answer before you've asked the question – upfront, no bullshit, informative, with large dollops of that legendary North Eastern wit - what's not to like? Would recommend without question.

Good delivery of my new Fiesta, on time as promised.

Michael

Editor Note: Well, I have to have wit when dealing with tight Yorkshiremen! Hahaha, otherwise I would have to make grumpy grunting noises to communicate, like they do in Yorkshire :) Where the hell is Skipton? In the middle of nowhere, no wonder you chatted a lot and seemed lonely. Never mind, you have new Fiesta pet, now. :) By the way, the answer is always: "Database" :) - Ling
---

Customer Letter: 1368 / 1522
John says...

Buying a car from Ling is a great experience! Her quirky and honest communications were very funny and she delivered exactly as she said she would. I had my car in less than one month from start to finish! Ling's speed of response to queries and customer service is breathtaking. Thanks Ling and I recommend you to all I meet.

PS: The car is great.

PPS: You get 11/10

John

Editor Note: Wow! 11 out of 10, hahahaha! That's fantastic, John. You are a head honcho Company Secretary at Bradford and Bingley, so I withhold your address as some people hate the fat cats - even though you are not fat and never meowwwed at me. You were a lovely customer. Thanks for passing so much more business from the building society. I have had quite a few enquiries. - Ling
---

Customer Letter: 1268 / 1522
Marcus says...
Excellent service, as always. Sure to use you again.

Marcus

Editor Note: Marcus, you are famous in my office for your short (but sweet) comments. You have had LOADS of cars from me. We have to take care of some security issues as you are a criminal lawyer, but we always manage to overcome the restrictions you like to be placed on your personal information. Thanks again, enjoy the new Astra! - Ling
---

Customer Letter: 1226 / 1522
Kimberley says...

Dear Ling

Great service, thanks! The LINGO system works really well, so as a customer you are always fully up to speed with the status of your order and the paperwork process. My last car was from Jam Jar. Nice car, but crap service from them. The service you offer is very personal, quick, and makes the purchase experience a lot more fun.

Speak to you again in 12-months when the 307CC goes back.

Car arrived on time, pleasant delivery driver, but the car only arrived with one key (which you resolved immediately) and was not very clean on the inside.

Kimberley

Editor Note: Kim, well, I have gone mental and got you the second key. And had a go at them about the state of the car. It is unbelievable that this happens. I simply cannot believe that the fools and idiots deliver dirty cars (inside). Sheesh! Apart from that, you are happy, that's good. Get the roof down in the sunshine, and all those small things will be forgotten. - Ling
---

Customer Letter: 1199 / 1522
Jennifer says...

This Citroen C5 Tourer has got to be the easiest car lease I have ever done. Ling was great – very prompt at replies and always with a solution. I found the exact car I wanted and an so pleased with it. The dealer did not fit one of my extras for delivery but Ling made sure this was done. Would definitely use again when my lease is up and I have recommended to everyone! Delivery was excellent, you sorted the problem very quickly, cannot fault the dealer apart from this small error.

Jennifer

Editor Note: Yes, Jenny, the dealer forgot to fit the bluetooth. Aaaargh! These bloody dealers drive me mad. How can they forget stuff? I make it so clear and include it in the description on every bit of my correspondence with them. Still, so pleased at the rest of your comments! Thanks :) There is always a solution. I got them to retro-fit the bluetooth immediately. - Ling
---

Customer Letter: 1014 / 1522
Marcus says...
Ling, the Audi A3 arrived on time. Once again, excellent service. Sure to use Lingscars again.

Marcus

Editor Note: Once again a short letter from one of my best customers. Your letters get shorter and shorter, Marcus. As you are a Solicitor, it is a nice surprise that you do not charge me £100 for each letter :) - Ling
---

Customer Letter: 989 / 1522
Paul says...

Very easy process from beginning to delivery of car, Ling does all the hard work. I just read the forms and signed them. Delivery was spot on, no fuss or bother.

However... I haven't had confirmation from the finance company on what day my payments are taken from my account. The car was first registered 24/12/07, I took delivery 19/05/2008, on a 3-year contract - so there is a warranty shortfall.

I'd recommend Lings Cars / her process to anybody thinking about getting a new car.

Paul

Editor Note: Paul, well, the finance company should take payment 1 month after delivery, but that can usually be adjusted by you by a few days either way to fit in with pay-day, etc. I did make clear on my car detail page that these were pre-reg cars, so yes, you have a warranty shortfall on a 3-year contract. However, this is a Honda, and they have the lowest warranty claims in the industry. Thanks for the recommendation, you were a really nice customer to deal with, in enclave People's Republic of Bradford. - Ling
---

Customer Letter: 959 / 1522
Nigel says...

Hi Ling

I have taken delivery of the Renault Grand Scenic. Excellent car, delivered on time by Renault XXXXX. You are excellent, you sorted the minor problem we had with the factory order. Every time I had a question during the order process you immediately emailed me back. You are very professional. See you soon.

Nigel

Editor Note: Nigel, yes, the Renault factory system made a mistake, but it was sorted out immediately. Thanks for kind letter, I hope you enjoy the MPV! - Ling
---

Customer Letter: 915 / 1522
Steve says...

Dear Ling

Thanks once again for the great service and support. We are always sure of an immediate response to any questions or concerns and as always, you offer the best lease deals around. Good on time delivery of our new Citroen Xsara Picasso, friendly service.

Steve

Editor Note: Wow, car No.2, eh, Steve??? Fibretronic is the leading developer and manufacturer of soft electronic component solutions. Your platform technologies, such as textile based switches and keypads, fabric iPod controls, wearable sensor and lighting systems and other soft-format electronics are available for immediate application in a broad range of textile and related products. I am so pleased to be associated with a market leader in new technologies. Look forward to your 3rd car!


- Ling
---

Customer Letter: 912 / 1522
Marcus says...

Once again, excellent service. See all my previous comments!

Marcus

Editor Note: Marcus, hahahaha, you have had so many cars from me, you are getting bored writing me letters! You have had... let me count... this VW Touareg, a BMW Coupe, an Audi A3 is still on order, a Renault Clio, another Audi A3, and a VW Golf. My God, you are a fantastic repeating customer as well as a kewl criminal lawyer. Thanks for the 4 x words :) - Ling
---

Customer Letter: 906 / 1522
Helen says...

Ling's service was excellent. Prompt replies to enquiries, faster than lightning emails and a great personal service – I will be recommending Ling to anyone who asks! Keep up the good work; it's great to deal with efficient people for a change. My new C4 Picasso was delivered exactly on time by pleasant staff.

Helen

Editor Note: Hey, anyone with foot problems, visit my customer! Luckily, the Chinese do not bandage feet these days, so I do not have this problem :) Hope you enjoy the nice new Citroen, they are great cars with loads of equipment. Thanks for the letter, I like the "faster than lightning" comment, Helen! - Ling
---

Customer Letter: 871 / 1522
Marcus says...

Once again, an excellent service provided for our new BMW 3-Series Coupe. Everything ran smoothly and Ling was extremely helpful every step of the way. Thanks!

Marcus

Editor Note: Marcus, you are my favourite criminal lawyer, if ever i end up in jail, i will give you a call. Thanks for being so lovely. As requested, I have posted you a batch of Chinese Polos (your favourite sweets). Go drive! You have had so many cars now, I lose track! Enjoy your Audi 3-series hatchback 4x4 5dr hybrid convertible :) - Ling
---

Customer Letter: 858 / 1522
Marcus says...

Excellent services provided with our new Renault Clio.

Marcus

Editor Note: Marcus, are you trying for the "shortest letter award"??? Hehehe. You even got a 5dr car for the price of a 3 door Clio! You have had many cars from me. Speak to you soon!! - Ling
---

Customer Letter: 815 / 1522
Ashley says...

If you keep sending me sweets in the post, I will need a bigger car! Or is that the plan?

Excellent delivery of my Clio, the car arrived at 8.30am on the day you said it would.

Ashley

Editor Note: Ashley, hehehe, yes, bigger car (but no more profit) :))). This is the second car you have had from me, your last was a Panda, so I guess that's the sweets working. Suck, not crunch! - Ling
---

Customer Letter: 739 / 1522
Andy says...
Ling, you may be bonkers, but I can't fault the service! Excellent. Thank you.

Andy

Editor Note: Andy, yet another car (Audi A3) for your cleaning company, thanks for the super letter. Bonkers, indeed! - Ling
---

Customer Letter: 704 / 1522
Gerard says...

I tried Ling after experience with BMW Finance. She is definitely better (if a little wacky)! Good communication via email and phone, top notch covered-truck delivery. Excellent!

Gerard

Editor Note: Woooooo-Hoooooo. I have never had a covered-truck delivery before! That is Aston Martin treatment, not usually for lowly BMW customers! Hope you have a great 2-year love affair with the BMW 3-series coupe. Thanks for letter :) - Ling
---

Customer Letter: 503 / 1522
Julie says...

"Ling, many thanks. A pleasure to deal with. Excellent delivery. Very good!"

Julie

Editor Note: Hehehe, Julie! I know why your letter is so short... you are out in this sunshine enjoying the new SAAB 9-3 convertible! A very fast turnaround for your new pose-mobile! - Ling
---

Customer Letter: 386 / 1522
Christopher says...

"LINGsCARS.com does exactly what it says on the tin, but with a sense of humour!

Thanks Ling, everything went perfectly and the Nissan Note is great, we love it. Dealer was excellent, they could not have been more helpful."

Christopher

Editor Note: Christopher, on my tin it says "MADE IN CHINA - PLEASE RECYCLE". In contrast to letter (2 below) from Sally Jackson, this is proof that at least one Nissan dealer can hit the spot. Well done. Enjoy your car, Christopher from People's Islamic Republic of Bradford. Note: I am not anti-Muslim, just anti-religion (being a bloody Chinese) - Ling
---

Customer Letter: 274 / 1522
Richard says...

Hi Ling, any chance of you generally organising my life for me because I'm sure that I'd sell more, spend less, sleep more, eat less etc? (Are you MAD????? - Ling) Seriously (Phew! - Ling), you have a great demeanour, which very importantly is backed by fantastic service. I will certainly be back. Dealer was crap! No customer service at all!

Richard

Editor Note: Hmmm, this letter is curate's boiled egg! I rarely get complaints about this certain Citroen dealer. Sorry they were crap at Berlingo delivery. I need you to expand on the crapness, give me some clue. Usually they are very good. I will monitor them closely. Richard, you are quite mental. I am just about opposite to every point you write in your letter. I "spend more, sleep less, eat more", etc. The only nail you hit on head is "sell more". Thanks - Ling
---

Customer Letter: 217 / 1522
Darren says...

Everything went smoothly, emails were answered promptly, delivery of my new Toyota Corolla was arranged with the minimum of fuss. Overall everything was just as it was supposed to be. That might not sound like a fantastic endorsement, but how often can you say all that nowadays?

Darren

Editor Note: I am so pleased to supply car to enclave of People's Islamic Republic of Bradford. My sister in law lives in Bradford, and I enjoy to go there to eat delicious meals of British Sub Continent food. What a shame there is no British city with such a large Chinese immigrant population, the food would be wonderful. I see many Toyotas in Bradford, mainly 20-year old minicabs, so your new Corolla should both fit in and stand out, Darren! - Ling
---
Search my letters page!

| | | |
| --- | --- | --- |
| From your area... | ...or from people... | ...or about a specific car! |
| | | |
You are viewing page 1 of 1 - go to page: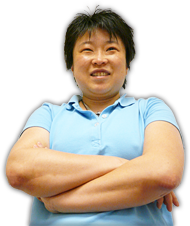 Online Service
Response Times
Quote > Proposal > Order > Delivery
76 CLIENTS IN 'PROPOSAL'
...LING REPLIES IN:
HRS : MINUTES sec
113 CLIENTS IN 'ORDER'
...LING REPLIES IN:
HRS : MINUTES sec
Customers use my secure LINGO management system.
Response times above based on last 4 hour period between
9am - 6pm, Mon to Fri -Ling

No Waiting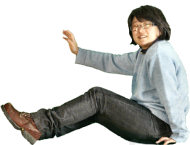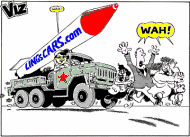 I am the Viz UK business ambassador!
Post me Ferrero-Rochers! Yum Yum!
Unlike most other internet car leasing sites, I publish all my contact information openly!
...so, you know who I am - Ling
THE UK's FAVOURITE
CAR LEASING WEBSITE!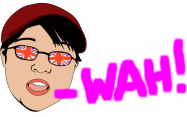 Boss: Ling Valentine MSc IoD
15 Riverside Studios
Newcastle Business Park
Newcastle upon Tyne, NE4 7YL
Tel 0191 460 9444
[email protected]
I prefer email to phone - Ling
VAT No: 866 0241 30
Co Reg No: 6178634
Consumer Credit Licence: 663330
Data Protection No: Z1098490
Best Before: 17/08/2007