To see more films, movies and TV adverts, visit my

YouTube

page!


AWARD CEREMONY!

Ling wins national AWARD

and receives her prize at the Dorchester Hotel!





Ling at the EveryWoman Awards


Well
done
Ling!
..say
UK
leaders!






Brown


"I am delighted to send my support to all those involved in this year's everywoman Awards. These Awards are an opportunity to recognise some of this country's leading business talent and showcase some exceptional entrepreneurial spirit. Congratulations to Ling. I am sure your achievements will inspire many more women to follow in your footsteps, blah, blah, blah..."

Cameron


"I am delighted to send my best wishes to everyone attending the 2009 NatWest everywoman Awards - and especially to those nominated to receive an award, including Ling. These Awards are a great way of celebrating the success of women in business. So inspiring more women to set up their own businesses is crucial to our long-term economic recovery, blah, blah, blah..."

Clegg


"I'm delighted to be able to give my support to the 2009 NatWest everywoman Awards. This is a fantastic opportunity to recognise the immense contribution made by women in business to our economy and society. I'd like to offer my warmest congratulations to everyone involved, including Ling. Blah, blah, blah..."
Every year at the Dorchester Hotel in London, the NatWest sponsored EveryWoman Awards takes place. The EveryWoman IRIS Award recognises the woman whose "business success and growth" is a result of successful application and use of communications and I.T.
COMMUNICATIONS AND I.T AWARD!
EVERYWOMAN IRIS AWARD WINNER!:

I am the award winner! I was selected from the nominees of the four categories. Iris is messenger of the gods and the personal messenger of Hera, Queen of the Gods. A bit like an electronic DHL.
SPONSOR:

BT Business sponsors the NatWest EveryWoman Iris Award, along with EveryWoman title sponsor, NatWest bank. NatWest has sponsored the Every Woman Awards since 2002, when the Awards were launched. The EveryWoman Awards play a massive role in recognising and honouring the remarkable achievements of many women across the UK. These women prove that with determination, passion and drive, they can juggle demanding and highly successful careers in business, along with their personal lives.


LING!
GOVERNMENT:

The Government Equalities Office is a compact policy Department with just over 100 staff, under the leadership of Harriet Harman QC. Harriet is joined by Maria Eagle MP (GEO and Ministry of Justice Minister of State), and Michael Foster MP (GEO Parlimentary Minister for Equality).

The GEO is responsible for equality legislation and strategy and it is the leading Government Department for issues relating to women, transgender equality matters and sexual orientation.

BUSINESS LINK:

Business Link, the business support and advice service is funded by the Government. Business Link sponsors the NatWest Everywoman Awards and actively targets under-represented groups within the business sector. Business Link has found that 25% of businesses are majority managed by women. Their partnership with EveryWoman means that Business Link can reach far more women and they help to build on the work that EveryWoman carries out.
Little
and
Large!
Fiona
Brucie
meets me!





OTHER EVERYWOMAN AWARD SPONSORS::

Other EveryWoman Award sponsors include IBM, Coutts Bank, the Aspire Fund, Exemplas, and the Royal Mail. The Financial Mail on Sunday is the EveryWoman Awards media partner.
EVERYWOMAN WEBPAGE:

The NatWest EveryWoman Awards website contains full information about the Awards and gives details of how to book, attend and join in the event. It gives full details of all the EveryWoman Award sponsors and judges and has pages of information about past winners of the EveryWoman Awards.

All the EveryWoman Award categories are listed and full details of all the NatWest Award sponsors are shown. Selection as a finalist or winner in the Awards carries a great endorsement for the businesswonam featured and follows rigorous investigations about the businesses and their financial records and success.

NATWEST EVERYWOMAN JUDGES:

The COOL-LOOKING EveryWoman Award judges are shown below...

EveryWoman:
Avril Owton

EveryWoman:
Beverley Webster

EveryWoman:
Cath Collins

EveryWoman:
Christina Vaughan

EveryWoman:
Deirdre Bounds

EveryWoman:
Joanna Hansford

EveryWoman:
Joy Nichols

EveryWoman:
Karen Gill

EveryWoman:
Liz Jackson

EveryWoman:
Mandy Nickerson

EveryWoman:
Maxine Benson

EveryWoman:
Perween Warsi

EveryWoman:
Rowena Ironside

EveryWoman:
Sarah Anderson

EveryWoman:
Sharon Hilditch
THANKS TO JUDGES!


Read the official Award announcement, below:


Ling Valentine wins everywoman Iris Award sponsored by BT Business

2 December 2009: The UK's leading female entrepreneurs are today recognised for their inspiring achievements at the annual NatWest everywoman Awards, acting as role models for the next generation of young women wanting to go it alone. Ling Valentine, from Gateshead has been chosen as winner of the everywoman Iris Award sponsored by BT Business for a woman whose business growth and success has been greatly improved through successful implementation and use of IT and communications. Her company LINGsCARS.com operates exclusively online, leasing cars at affordable rates across the UK.

Operating in a notoriously turbulent sector, LINGsCARS.com has grown year on year since Ling founded it in 2001, with more than 100,000 unique monthly users to the website and an average of £3.5 million worth of cars and vans leased monthly. Her company answers online enquiries in fewer than 10 minutes.

Ling has built up an enviable reputation in the new car industry by always delivering on price, product and exceptional customer service and security, plus her ability to keep costs low due to the simple business model of operating exclusively online.

Ling is seen as a pioneer in the field, taking an innovative approach by responding to her customers' demands, rather than following the traditional sales model in the car industry.

Dorothy Sheehan, General Manager, BT Business said, "On behalf of BT Business, I am absolutely delighted to be recognising such a superb winner with the everywoman Iris Award, for the best use of IT and Communications. Ling Valentine has fully grasped the power of today's technologies, enabling her to build a creative online business in line with the needs of her customer. Her innovative use of the internet and her dedication to first class customer service should bring her many more years of business success."

Co-founder and Director of everywoman, Karen Gill, MBE comments, "2009 has been an incredibly tough year for UK plc. This year, more than ever, we are overwhelmed by the achievements of our award winners. Ling has done incredibly well in a market badly affected by the recession. They have all exhibited gritty determination to succeed, regardless of the obstacles that are thrown at them, all the while demonstrating ethical working practices internally."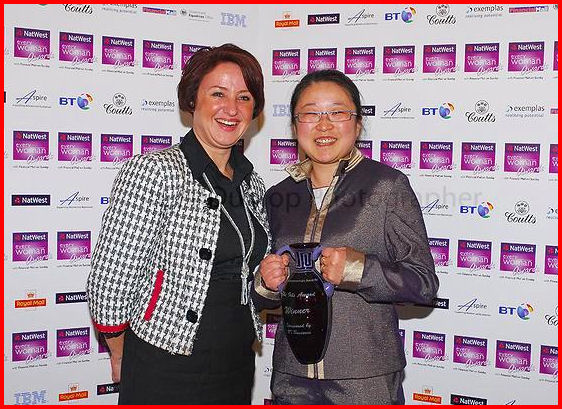 Dorothy Sheehan, General Manager of BT Business
with NatWest Everywoman Awards winner Ling Valentine of LINGsCARS