This HOW-TO is to show how active web-management can create thousands of FREE visitors worth THOUSANDS of Google $$$s
FIND THE OPPORTUNITY:

On this particular evening (Aug 26th 2009), BBC TV are due to run a popular TV show called DRAGONS' DEN. Investors arrive to pitch their investment ideas. The show gets circa 2 million high-quality prime-time ABC123 viewers (plus repeats and online). One of the business people pitching for investment is a car company called BEE AUTOMOBILES. The CEO Martin Voller wants £2.5m of investment (a show record) to build electric cars he claims are revolutionary.

The argument about the (failed) investment is not the issue. What I am aiming to do is draw thousands of motivated TV viewers to my website LINGsCARS.com.

To get visitors by Google AdWords costs around £1 to £2 per click for car search terms. Everyone runs a car, so every extra visitor is a potential customer for me.
THE TARGET:

Stephen Voller's company Bee Automobiles is getting 15 minutes of BBC prime-time exposure to a high demographic TV audience. I want every online search for his product (electric cars) to divert to my website. As the programme airs, the BBC keep a very small amount of information online in order to protect the TV programme interest and outcome. Bee Auto is an ideal target: unknown, poor online presence, highly relevant subject (for me).

I research Stephen Voller's Bee Auto and find his website to be badly SEO'd, a bit thin and lacking in information. An ideal target. I take aim...
THE HOOK AND WORM:

To capture visitor clicks, I need to set a good bait. It must be completely worthwhile for visitors, to avoid annoyance, contain links to the real BEE Auto site and satisfy fans of the TV programme. It also needs to give them further tasty information about LINGsCARS and my services and give the visitors a reward for visiting.

First I plan my blog post. Blog posts (if set up correctly and pinged to blog services) can propogate extremely quickly. I set my blog around lunchtime on the day of the TV broadcast.

Blog post titles are very important, as are the first few hundred words. I choose these VERY carefully. I want every interested TV viewer who Googles any reference to the BEE Auto car investment presentation on Dragons' Den to find MY links first.

Here is the title and first words of my blog post: BEE CARS BBC Dragons Den Bee electric cars BATTERY CARS Stephen Voller Dragons' Den Battery Bee One B1 Electric vehicle investment cash for eletric battery cars

Electric cars on BBC Dragons Den. Bee Automobiles or Bee Cars want to make new generation electric cars or eletric cars or electric vehicles or battery cars on Dragons Den. Their boss, Stephen Voller asks Dragons Den investors for £2.5 million cash money for green electric battery powered cars investment.

FROM BLOG TO WEBSITE:

When visitors land on my blog, I need to transfer them to my website proper (to get inside their brain). So, I give several links and the promise of further information.
THE WEBPAGE:

My LINGsCARS website landing page gives visitors instant notice that they have come to the right place. In addition to the information about Bee Autos and Stephen Voller and the Dragons' Den pitch, I offer a FREE CHAPTER of a BBC book dedicated to myself, called "DRAGONS' DEN, SUCCESS FROM PITCH TO PROFIT". This links to a further page with even more interesting info.

I also offer a movie of my own Dragons' Den pitch from several years ago (I got investment offered, but turned it down).

In my view, it is really important to give several rewards to visitors for landing on my page. If they leave empty handed, they may feel short changed. Due to the nature of my website (bold, exciting, millions of clickable interests), I usually manage to keep visitors hanging around for ages. There are loads of easter-egg type rewards as people explore LINGsCARS.

In addition, my website "Electric Car" landing page has tons of keywords and key phrases, too. I also use plenty of images to confirm that visitors have landed on the right page. How often do I see boring text-based pages which (in my view) just bore most people. Who wants to be faced with reams of text when they've just been watching TV with visual stimulation?

All this would be useless without the TV viewers finding my pages, so... let's look at Google and their lovely furry friendly spider...


GETTING ONTO GOOGLE:

Without my site being listed on Google for all the possible search terms the TV viewers would type in, everything else would be pretty pointless. It's also pointless to worry about any search other than Google (in the UK). The blog post (above) and the webpage (above) were both spidered heavily within 2 hours by Google.

I have the advantage of knowing the Google spider's schedule as I watch it munching through my site every day. In this case, even though the blog was posted at lunchtime, and the webpage only went live at 3pm, both pages got spidered and ranked by Google, in time for the TV programme (9pm the same day).

In many instances Google gave me a DOUBLE LISTING (one for web page and one for my blog). This is important especially for people using laptops or smaller screens, as it pushes other (competitive) listings down below the edge of the screen. Only just over half people bother to scroll if something they like is in their view. Instead, they click! Hehehe... (see below)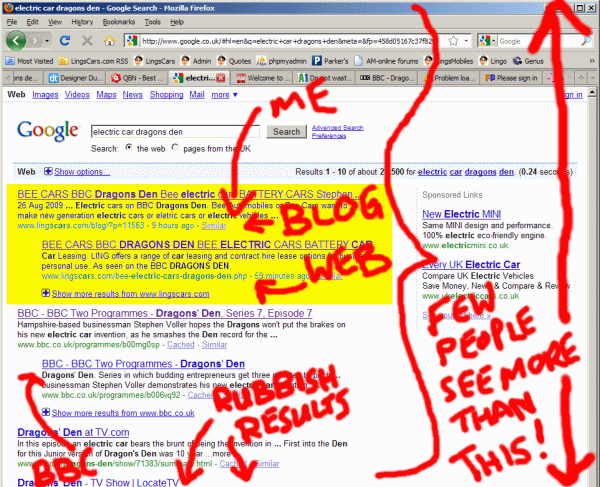 Look carefully at the image above and also examine the various search images below. Now you can see the importance of my phrasing in the blog and webpage! Pay attention to me! Google Spider has eaten this up and spit it out, like a furball of LINGsCARS vomit... if you see what I mean. Also, note you can see the time of posting, the blog at just before noon, and the webpage was spidered about 6pm. Spider arrives more frequently than a London bus!
Good spider... have some more live flies. Yum.


GOOGLE RESULTS:

Screenshots below taken at 7pm, 2-hours before the TV show is broadcast. Click each, to view.

As you can see from the images above, LINGsCARS ranks top, or very highly for all those search terms. Now, we wait for the TV show Dragons' Den to be broadcast... TICK TOCK!

GOOGLEJACK RESULTS:

Below is a graph showing unique human visits to LINGsCARS.com. You can see it's usually quite a stable pattern, representing circa 85,000 unique visits a month. You can clearly see the peak created by the GoogleJack!

The GoogleJack represents a 4,500 visitor increase (over Wednesday average figures) on the day of the TV show, plus 2,000 the day after. 6,500 top quality ABC123 visitors. To buy those visitors on Google AdWords would typically cost £9,750 (around $15,000) at £1.50 per visitor. There will be a repeat of the TV programme on Sunday evening, too.




Additional visitors will continue over the next week as the TV programme is repeated and people discuss it at work, at home and online on blogs and forums and on the BBC. I will post latest graphs as the month progresses. ("Now" represents when I snapshotted the graph. "Now" is currently 7am the Friday morning following the Wednesday pm TV show.)

It could be argued that not all visitors are beneficial - I strongly disagree. Any visitor may contact friends and family, Tweet, blog and discuss (of course, they must see something worth discussing!). Many people will post links and refer others to LINGsCARS.com. Links are very valuable things for your website.

I lease new cars, therefore virtually every credit-worthy adult in the UK is a potential customer. Car replacement cycles are typically over 2 or 3-years, so my prime objective is to engage with intelligent adults and burn LINGsCARS.com into their memory cells for the time when they are looking for a new car. Using this GoogleJack technique, I will have exposed (probably) another 10,000 visitors to my products and website over the next month.

GOOGLEJACKING ETHICS:

In my view GoogleJacking is a completely ethical competitive business technique. I did nothing to harm the brand of the business taking part on Dragons' Den (Bee Automobiles) and I simply shouted louder. It's like a store having a sale, and a competitor store putting up bigger signs to attract away the customers. Stephen Voller either failed to take advantage, or chose not to (his webpage is lacking in substance, anyway). This GoogleJacking technique can be effective for any business type, and simply needs a small amount of planning, energy and execution.

You must a) get the extra visitors, b) engage with them. Without either of these two factors, it's a complete waste of time and effort.

I HOPE YOU WILL APPLY THIS TECHNIQUE TO YOUR BUSINESS!

I look forward to any comments! Catch me on Twitter @LINGsCARS
- Ling

Have a free read (below), hahaha!