Bee Automobiles want to make new generation electric cars or eletric cars or electric vehicles or battery cars on Dragons Den. Their boss, Stephen Voller asks Dragons Den investors for £2.5 million for green electric battery powered cars.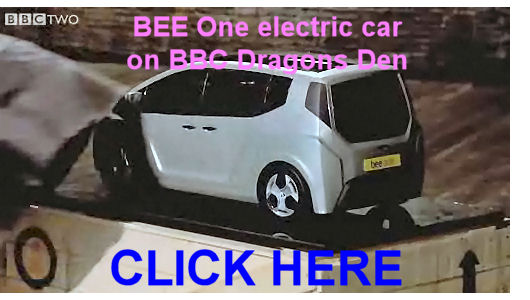 Stephen says that his Bee Cars perform like normal cars, and are powered by lithium batteries. He says the cars can be recharged quickly and have "adequate" range. Will the BBC Dragons invest in electric cars? The last car business on Dragons Den was LINGsCARS, when I turned down Dragon investment and went on to win an environmental motor industry award in 2008.
Read about my time on Dragons' Den!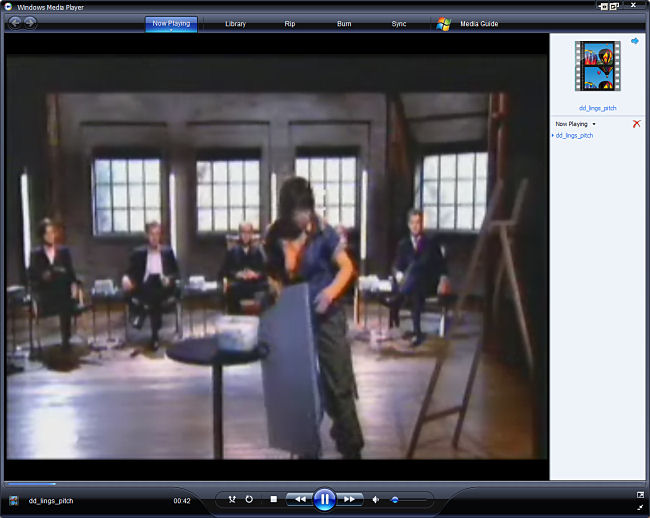 Watch my Dragons' Den pitch!
Electric car models are called Bee One or B1 or Bee1, Bee Four, or B4 or Bee4.
Stephen Voller says he started his electric cars company when he saw what sea level rises were doing to the Maldives. Voller has already been involved with a fuel cell and battery charger company. I wonder what his cars will be like?
Bee Auto says their electric cars perform like conventional cars and that the cars are competitively priced and that the electric cars will cut the cost of use and cost less to run.
Are electric cars the future? Will investors James Caan, Duncan Bannatyne, Deborah Meaden, Theo Paphitis and Peter Jones from Dragons Den invest in electric cars from Bee Automobiles. Bee want to make 4-seat and 6-seat cars (electric vehicles) they say will slash CO2 emissions. Voller says the B car or Bee car will also be available as an LCV or light commercial vehicle.

Highlights from my time on the Den!
Bee Cars use lithium-ion batteries. These batteries in electric cars are similar to big mobile phone batteries. Bee says the batteries can be made at 50% of the cost of other Li-ion batteries. The batteries in the electric cars are flat-pack. Bee Auto says they will become a world leader in batteries for electric cars
A big problem with electric cars such as the Bee Electric Car is the need to recharge quickly from the mains using dirty electricity (from coal-fired, gas or nuclear) power stations. Electric cars don't like being trickle-charged by low energy sources like solar or direct from wind turbines. So, charging the Bee Electric Car will use mains electric produced by non-green methods.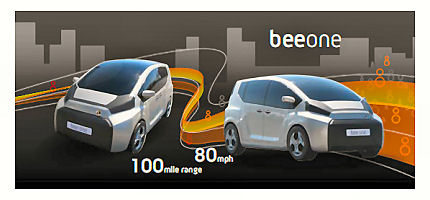 Range of the electric cars is also a problem. Bee says its cars will travel at 80mph / 100 miles, but I bet they can't do 80mph FOR 100 miles! To get 100 miles will need quite light driving, and who will want to drive a car for 80 miles knowing they will be right on the edge of the range, waiting to run out of power or charge and with no quick recharging solution (like adding petrol from a can on the hard shoulder).
Bee Cars are contactable at Bee Automobiles Ltd, 200 Brook Drive, Green Park, Reading, RG2 6UB, UK, Tel +44 (0)118 949 7000 [email protected] - Manufacturer of electric vehicles, lithium-ion battery packs and automotive software.