Checking against the values I publish for the Mazda 6 Estate 2.0 SE-L Nav+ 16v (145bhp) Estate 5dr 1998cc Petrol Manual (6 Speed) Petrol Manual, I have noticed a small error, so I'm publishing these new figures today. Please read.

You need to insure the car fully comp, as normal with any new car. The car can be used for any purpose, or driven by anyone you choose. In effect, it is your own brand new car for the length of the hire period. You can even take it abroad. I tried to drive car to China once. That was damn big mistake. I suggest you do not use contract hire car for this.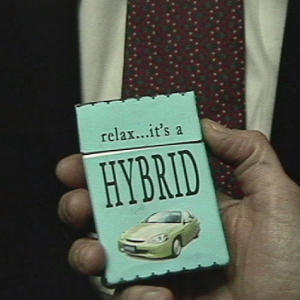 And if you are thinking that all the fuss at the moment should be about air travel, not cars, Michael O'Leary (of Ryanair) will put you right. He said "Aviation accounts for a 'Mickey Mouse' 3% of carbon emissions across the EU, compared with nearly 25% from road transport" He also said "I don�t believe in trotting out all that PC claptrap just not to upset a couple of fu*king environmental lunatics. They are just loons" – which makes sense to me, as I have a problem with this statement from Christopher Macgowan, the head of the SMMT; "The motor industry is committed to helping tackle climate change". Frankly, I don't think many retailers and dealers are.

Working it out from the tables, the CO2 is just 144g/km for the Mazda 6 Estate Petrol Manual. There are a few cars in this range, so different specs will give slightly different CO2 values.

My Mazda 6 Estate 2.0 SE-L Nav+ 16v (145bhp) Estate 5dr 1998cc Petrol Manual (6 Speed) Petrol Manual gearbox is only £245.34 inc VAT per month with 3 months initial payment, followed by 23 payments on direct debit. Business customers, make sure you deduct the VAT, when making decisions. As I can't tell what type of customer you are (business or private), I can't display the price any other way but to show VAT seperately (sorry!).

This price on my Mazda 6 Estate includes full road tax for the length of the contract, on all of my cars and vans! Free delivery to your home or work and free collection from you at the end! £245.34 inc VAT per month is based on you driving 10,000 miles per annum, but higher mileages are usually available at a small extra cost. If you go over the allocated miles, you can pay a small excess mileage charge, usually between 3p and 15p per mile.

One of my best awards was the 2008 best non-franchise environmentalist, awarded by Automotive Management. The web is fickle, I have noticed LINGsCARS.com is the ONLY new car supplier to display and promote environmental info for ALL new cars, on the web! My website won "BEST non-franchised WEBSITE 2007" in the Automotive Management Awards.

Switch off – sitting stationary is zero miles per gallon, switch off the engine whenever it is safe to do so.

Read this, I have this comment up, displayed on LINGsCARS.com:

Great site, friendly and one hell of a laugh. Look forward to renting a car from you in the very near future.
Diane Findlay, Corby, NN17 2AL
diane_findlay_@msn.com
The external noise emitted by passenger cars has been controlled since 1929 when the Motor Cars (Excessive Noise) regulations were introduced. New cars are now required to meet Europe-wide noise limits. These have been progressively reduced from 82 decibels (dB(A)) in 1978 to the current limit of 74 dB(A) established in 1996. This means it would take 7 new vehicles to make the same amount of noise as a vehicle that just meets the pre-1978 limits.