CUSTOMER LETTERS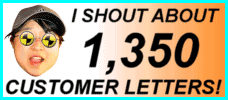 1522 LETTERS!
More customer letters than any other car sales site IN THE WHOLE WORLD! - Ling
You are viewing page 1 of 1 - go to page:
Search my letters page!

| | | |
| --- | --- | --- |
| From your area... | ...or from people... | ...or about a specific car! |
| | | |

Customer Letter: 1397 / 1522
Prem says...

Got the car with no hassle, with a progress report on the internet either via e-mail or logging onto my details on the Ling website. Ling is great and she does not mess around, straight to the point, what you see is what you get. If you want a no nonsense deal with clear pricing then Ling is the only person you need to contact.

Good delivery, the delivery man took the time to explain the Citroen C2.

Prem

Editor Note: Prem, you have the longest name of any customer I have ever had: "Prem Earth Pal Singh Kora". How fantastic! You were brilliant, funny and a delight to chat to. I love having so many bloody foreigners to deal with, it is like the United Nations here sometimes :) Hahaha, I think everyone except Chinese is a bloody foreigner! Go drive the car, a very cheap bargain, this C2 costs less than a budget pizza buy one get one free at Dominos. Good choice! Thanks for letter. - Ling
---

Customer Letter: 1024 / 1522
Sukhjeet says...

Just a fantastic service! Everything so efficient, so personal and hugely competitive. How very refreshing! Excellent delivery.

Sukhjeet

Editor Note: Sukhy, well, now you have a new MX5! Thanks so much for being a brilliant customer, glad you enjoyed it :) - Ling
---

Customer Letter: 809 / 1522
James says...

Dealing with Ling was like a "breath of fresh air" - honest, upfront and very efficient, all at a very competitive price.

James

Editor Note: James, short letter but then you were a very easy customer to deal with. Thanks for having the Nissan Qashqai, hope you are very happy with it. If only everyone was as organised as you :) - Ling
---
Search my letters page!

| | | |
| --- | --- | --- |
| From your area... | ...or from people... | ...or about a specific car! |
| | | |
You are viewing page 1 of 1 - go to page: