CUSTOMER LETTERS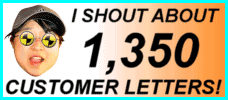 1523 LETTERS!
More customer letters than any other car sales site IN THE WHOLE WORLD! - Ling
You are viewing page 1 of 1 - go to page:
Search my letters page!

| | | |
| --- | --- | --- |
| From your area... | ...or from people... | ...or about a specific car! |
| | | |

Customer Letter: 1511 / 1523
James says...

Ling is very competitive and provides an excellent user friendly service. Every stage of the contract hire process is supported and you know exactly what is happening throughout. I will certainly be using LINGsCARS when this contract expires in 3 years time. Dealer Service – Average – My Mazda 2 arrived later than expected, no basic instruction on things like petrol release! Very quick turn around.

James Flint

Editor Note: Whoa, I have given this supplier a kick, Jim. They should deliver cars properly, even though they will assume you know where the petrol release is. Glad you liked my process, it works pretty well, huh? See you in 3 years for a replacement car, hopefully :) - Ling
---

Customer Letter: 1182 / 1523
Michael says...

Absolutely spot on Ling. Great fun with your little gifts and strange sayings, but also absolutely professional at the same time. I think I'll be dealing with you again in 2 years. Delivery of my new Citroen C5 Tourer was excellent

Michael Wain

Editor Note: Mike, you got a dead cheap new-model car with that Citroen C5! They have been so popular! You are a business manager, so thanks for your comments! I will see you in 2-years, eh? Enjoy the C5! - Ling
---

Customer Letter: 1178 / 1523
Micheal says...

Ling makes the secular feel spectacular. Delivery - she and the VW dealer did well.

Micheal Griffiths

Editor Note: Michael, this VW Transporter is the second vehicle you have had from me in short order! Thanks. Glad we manage fine without needing to get all religious about it :) Anyone wants Smeg stuff, visit Michael! Hyperlink above. - Ling
---

Customer Letter: 1160 / 1523
Dean says...

Im addicted to Ling!

Delivery of our Fiat Panda was excellent.

Dean Griffiths

Editor Note: Hahahaha, this is an entry for the shortest letter writing competition. Thanks Dean. You sell Smeg stuff on the internet. So nice to deal with another web business. Smeg Direct are proud to be Smeg spares UK authorised supply agent. You have access to all of Smeg's genuine spare parts for all Smeg models. Hope you get some business from my website, I give you bloody hyperlink! - Ling
---

Customer Letter: 1148 / 1523
Scott says...

LINGsCARS offered the lowest price for the car I wanted. The aftercare service has been superb and the Lingo system has changed my life. Good delivery, but the car took ages to come.

Scott Walker

Editor Note: Nissan had to build the car, Scott!! You got a factory-fresh Qashqai :) That's why it took a while, I cannot magic cars from the thin air, hahaha. I am so glad you LOVE the Lingo system, you cannot think how much work I have put into that. Still improving it. Thanks for the letter! - Ling
---

Customer Letter: 1018 / 1523
Rachel says...

Ling you really are a star, for helping me get a brand new SAAB Convertible, you beat all other leasing deals by far, with you the progress was easy and stress free so far!! Loving the car Ling, thanks again!! Excellent delivery, arrived on time, as arranged, no problems.

Rachel Barnett

Editor Note: Rachel, thanks for letter. As you are a Gas Contracts Manager, you should be able to afford a Rolls Royce with the size of people's bills. :) All you need now is sunshine instead of rain! What a summer to get a convertible car! Enjoy it. - Ling
---

Customer Letter: 994 / 1523
Stuart says...

I have to say that the service provided by Ling was second to none. We were kept informed of the progress on our Nissan Qashqai. And now it has arrived, what a beautiful car to drive and the colour is fantastic. Excellent delivery, very good service.

Stuart Redshaw

Editor Note: Stuart, I keep telling people to try these Qashqais, they are always really well reviewed cars. And they are built near me by the Mackams. Hope you have a great time in it. Thanks for the kind words about my service. - Ling
---

Customer Letter: 874 / 1523
Andy says...

Thank you for your prompt service, your excellent customer communication and your attention to detail - a pleasure doing business with you! The Kia Picanto was a "Valentine's Day Success"! Excellent, efficient delivery, on time.

Andy Malcolm

Editor Note: Andy, you are such a good customer, you have had many cars. I think you will get good use out of this Picanto, I got you one with free air-con! I have given you a free bloody hyperlink for your company. Talk soon :) - Ling
---

Customer Letter: 736 / 1523
Dean says...

The Mini Cooper had an oil leak after a month and will be in the garage for 5 days so a bit of an inconvenience - but they gave me a courtesy car.

But it was an enjoyable order process and a breath of fresh air from Ling!

Dean Griffiths

Editor Note: Dean, glad to hear you enjoyed the process, but a shame to hear about the oil leak. However, they fixed it under warranty - just goes to show that these BMW Minis are not perfect - and at least they gave you a courtesy car to keep you mobile. Hope you have a great 2-years with your Mini. - Ling
---

Customer Letter: 673 / 1523
Michelle says...

We are now on our second lease car with Ling and once again, the whole process was very simple with no messing about. The Toyota Rav 4 arrived nice and early so we didn't have to wait in all day. Excellent delivery. When we needed to talk to Ling we phoned and she answered straight away (no stupid automated system). Same with emails. Always a prompt and often witty reply. LINGsCARS is the only car business I use and I can recommend without worry.

Michelle Langridge

Editor Note: Michelle, you are a great repeating customer. I simply try my best and I cannot understand why other companies cannot do the same, but they cannot. You have to reply to the phone and emails, so why not do it straight away. Thanks again and I hope you have a great 2-years in your Rav4. - Ling
---

Customer Letter: 390 / 1523
Martin says...

"I cannot believe how simple and straightforward dealing with Ling is. I kept thinking that we should be doing more, but when the simple paperwork was completed all I had to do was wait for the Megane CC. A very good service. Car was delivered at 9.00 on the exact delivery date. Excellent."

Martin Hewitt

Editor Note: Megane CC just in time for winter, Martin... but actually if it is a clear day and you turn up the heater to full, winter is a lovely time to drive a convertible, even at night looking up at the stars. Hope you enjoy it and that life with the car is as simple and easy as getting the car! - Ling
---

Customer Letter: 326 / 1523
Andy says...

"Ling was really helpful. I got the van really quick. I pleasure to do business with LINGsCARS. Excellent service from the dealer. I will use you again in a couple of years!"

Andy Malcolm

Editor Note: Nice to be able to get you a cheap Citroen Dispatch van, and nice that the Citroen dealer was so helpful and professional. I train dealers well, huh? If I need a plastic bumper, I know where to come, Andy! - Ling
---

Customer Letter: 320 / 1523
Kerry says...

"Ling was great, she made it all so simple and quick! Crazy accent, too!"

Kerry Hardiker

Editor Note: FANTASTIC! How BMW must hate me, hehehe! I have sold Z4 to a hairdresser! Some things make my life so worthwhile, and this is one of them. Use plenty of hairspray with top down in your new full leather convertible, Kerry - Ling
---

Customer Letter: 169 / 1523
Wayne says...

Absolutely no problems at all dealing with Ling. Very simple, friendly and efficient service. I have not hesitated to recommend Ling to our friends. It's a pity all businesses do not reach this level of competence.

Wayne Langridge

Editor Note: Wah! Makes me seem perfect - I am not! By the way, this customer had a poor PDI on his Shogun Sport (things missing he said), so I have questioned dealer. Wayne said they sorted it out for him after contacting Fleet Sales Manager. You see! Nothing ever perfect - Ling
---

Customer Letter: 143 / 1523
Angela says...
Cool site, no hidden nasty prices. Great way of doing business, thanks!

Angela George

Editor Note: Cool is good. I like to be cool. Bloody British weather suits me. Thanks for note! - Ling
---

Customer Letter: 103 / 1523
Sarah says...


I've dealt with Ling for a few years now. She's reliable, and she's never let us down. She's always cheerful (which is rare in this trade). She offers a brilliant service.

Sarah

Editor Note: Thanks, Sarah. I try to be better than others - Ling
---
Search my letters page!

| | | |
| --- | --- | --- |
| From your area... | ...or from people... | ...or about a specific car! |
| | | |
You are viewing page 1 of 1 - go to page: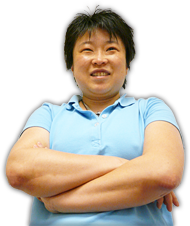 Online Service
Response Times
Quote > Proposal > Order > Delivery
76 CLIENTS IN 'PROPOSAL'
...LING REPLIES IN:
HRS : MINUTES sec
125 CLIENTS IN 'ORDER'
...LING REPLIES IN:
HRS : MINUTES sec
Customers use my secure LINGO management system.
Response times above based on last 4 hour period between
9am - 6pm, Mon to Fri -Ling

No Waiting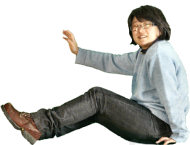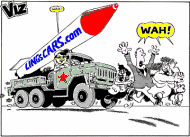 I am the Viz UK business ambassador!
Post me Ferrero-Rochers! Yum Yum!
Unlike most other internet car leasing sites, I publish all my contact information openly!
...so, you know who I am - Ling
THE UK's FAVOURITE
CAR LEASING WEBSITE!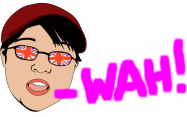 Boss: Ling Valentine MSc IoD
15 Riverside Studios
Newcastle Business Park
Newcastle upon Tyne, NE4 7YL
Tel 0191 460 9444
Fax 0870 486 1130
sales@LINGsCARS.com
I prefer email to phone - Ling
VAT No: 866 0241 30
Co Reg No: 6178634
Consumer Credit Licence: 663330
Data Protection No: Z1098490
Best Before: 17/08/2007