CUSTOMER LETTERS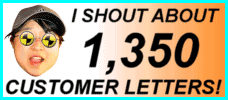 1522 LETTERS!
More customer letters than any other car sales site IN THE WHOLE WORLD! - Ling
You are viewing page 1 of 1 - go to page:
Search my letters page!

| | | |
| --- | --- | --- |
| From your area... | ...or from people... | ...or about a specific car! |
| | | |

Customer Letter: 643 / 1522
Lisa says...

Hi Ling,

Sorry that I haven't got back to you until now, but of course I have been very busy at work! And also driving my new Clio.

I would just like to say a big "THANK YOU".

The gentleman delivering my car phoned at 930am on the morning of delivery to say he was leaving and on his way. My car arrived a few hours later in pristine condition, apart from the casualties on the front of the car! (dead flies!). The gentleman was considerate and let me take my time to check over the car thoroughly. Due to the rails strikes I managed to find a station where he could get home, and even gave him a lift as it was only 10 mins away!

I read some comments on your website and would like to state the following:-

If you look at the car colours on the car makers site, don't, best thing is to go to the dealer and see the car colour in the flesh, that's what I did, as the colour on Renault's website does not look like the colour of the car you get! I love the colour of my car - Monaco Blue! Also go test drive before you lease, I managed to drive the model that I wanted, so knew exactly what I was getting, as the car makers brochures aren't always helpful.

Everything went smoothly and I look forward to the next 36 months of driving.

Thanks once again Ling - fantastic service!

Lisa

Editor Note: Lisa, well what a fantastic detailed letter. I publish it all, as it will really help other people who are new to contract hire and leasing. So pleased you are happy with the Clio, these new models are great cars. Dealers get very upset with me by suggesting that customers go and test drive a new car at a dealer - so I'll leave that suggestion to Lisa :) - Ling
---
Search my letters page!

| | | |
| --- | --- | --- |
| From your area... | ...or from people... | ...or about a specific car! |
| | | |
You are viewing page 1 of 1 - go to page: