CUSTOMER LETTERS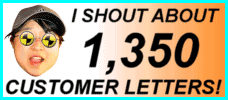 1524 LETTERS!
More customer letters than any other car sales site IN THE WHOLE WORLD! - Ling
You are viewing page 1 of 1 - go to page:
Search my letters page!

| | | |
| --- | --- | --- |
| From your area... | ...or from people... | ...or about a specific car! |
| | | |

Customer Letter: 1373 / 1524
Thomas says...

Easy and efficient service. LINGO message system first class. Personal service so much better than normal companies where you are just a number. Good delivery on my new Fiesta, on time as promised.

Thomas Marlow

Editor Note: Yo!!! Tom, you had some problems answering my messages from work, but we can blame that on your employers and their miserable attitude to staff happiness :) I am so happy you then tell me the LINGO message system is first class. Have a great time posing in the new Fiesta - fantastic cars, these! - Ling
---

Customer Letter: 878 / 1524
Dan says...

Dear Ling, Thank you for arranging such a good deal on my Land Rover Freelander - and all in just 3 weeks from the first enquiry through to delivery. None of the main dealers or other leasing companies could get close to your deal or efficiency. I'll definitely be back for more! Excellent delivery - very pleasant and thorough delivery man.

Dan Hyndman

Editor Note: Dan the man, how cool was that? I found you a car in stock, very unusual with Freelanders. As you are a Technical Author, you processed your paperwork efficiently which enabled me to crank up the speed. Don't drink cider and drive. I have heard the cider is very good where you live! - Ling
---

Customer Letter: 851 / 1524
Daniel says...

Hi Ling,

My Freelander arrived today, late morning, exactly as you stated. The delivery driver was very thorough, he made sure I looked over the vehicle and explained all the controls to me. Once we signed the paperwork, I gave him a lift to the local train station and he was very grateful. It all took less than 30 minutes.

I'd just like to say thanks again for all your hard work, I am sure you probably found that I was 'hard work as well ha-ha!! You were very patient will all my questions, and always extremely efficient at answering emails. If only the 'other' leasing companies were just half as good as you, they might stand a chance!

Best of luck for the future! I hope you make your first £1,000,000 (in wages) sometime soon!! Ha-ha!! I hope you enjoy your new Apache helicopter I bought for you!

Daniel Hyndman

Editor Note: Hey, £1,000,000!!! That sounds good. Dan you work on REAL Apache helicopters at Westland Augusta, that's why when you asked me "Do you need anything else, Ling?", I said "Yeah, an Apache attack helicopter to shoot the dealers!". I never imagined you would send me one!!! :)




You are a bloody nit :)- I will build it and put it next to my webcam soon. Hope you enjoy the Freelander, cheap car for a new model. Thanks for being so sweet! - Ling
---

Customer Letter: 576 / 1524
Kay says...

Your sales pitch is definitely unique, but I quite like it! Friendly delivery driver and good delivery.

You are extremely efficient. Replying to emails quickly and NO queries on the telephone, either. My brother-in-law has been referred to you for next year. For a second referral, you must be doing something right.

Kay Oxley

Editor Note: Kay, Thanks so much for the lovely letter. I must say, one of my favourite drinks is cider so I would like to visit Taunton. These new Zafiras are great cars, I have sold dozens! Thanks for the referrals - Ling
---

Customer Letter: 242 / 1524
Linda says...

A very different and refreshing approach in an industry that can be tarred with the similar characteristics of recruitment consultants or estate agents (I am an estate agent, by the way!). It was fun going through the process and the website kept us amused for hours. Being a lean operation some communication was a little slow but never a problem. The dealer was very polite when confirming the spec, and also when my Mini Cooper was delivered by the driver.

Linda Saunders

Editor Note: Linda, thanks for comments. Sorry if I was slow in December, I was working like dog. Excuses: It was my busiest month for ages, I sold over £2 million of cars in December (2005) and I also took a mini-break to see a friend in Milan. Also, British have this thing about Jesus birthday. Very inconvenient. Sorry about that! Poor excuses, must try harder. Glad you are happy with your new Mini Cooper I give you a hyperlink!! :) - Ling
---

Customer Letter: 230 / 1524
Grant says...

Ling makes leasing very easy. Excellent website, very good prices. I believe all businesses should be run this way - it makes leasing interesting. In fact, it makes "life" interesting. Well done Ling, you're the best. I got a great deal, and the delivery date was as promised. Very good.

Grant Hobbs

Editor Note: What a nice letter, thanks Grant. Note I cannot always promise precise delivery dates as sometimes real life interrupts the supply chain. Enjoy Mitsubishi Shogun, and send me some cider (my favourite drink) from Somerset! - Ling
---
Search my letters page!

| | | |
| --- | --- | --- |
| From your area... | ...or from people... | ...or about a specific car! |
| | | |
You are viewing page 1 of 1 - go to page: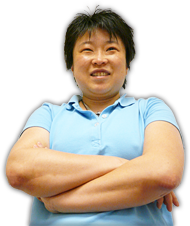 Online Service
Response Times
Quote > Proposal > Order > Delivery
76 CLIENTS IN 'PROPOSAL'
...LING REPLIES IN:
HRS : MINUTES sec
141 CLIENTS IN 'ORDER'
...LING REPLIES IN:
HRS : MINUTES sec
Customers use my secure LINGO management system.
Response times above based on last 4 hour period between
9am - 6pm, Mon to Fri -Ling

No Waiting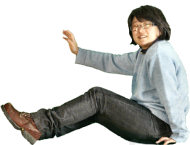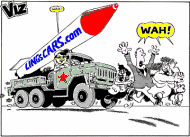 I am the Viz UK business ambassador!
Post me Ferrero-Rochers! Yum Yum!
Unlike most other internet car leasing sites, I publish all my contact information openly!
...so, you know who I am - Ling
THE UK's FAVOURITE
CAR LEASING WEBSITE!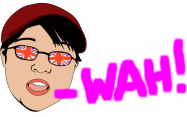 Boss: Ling Valentine MSc IoD
LING World Headquarters
Vance Business Park
Gateshead, NE11 9NE
Tel 0191 460 9444
Fax 0870 486 1130
sales@LINGsCARS.com
I prefer email to phone - Ling
VAT No: 866 0241 30
Co Reg No: 6178634
Consumer Credit Licence: 663330
Data Protection No: Z1098490
Best Before: 17/08/2007