CUSTOMER LETTERS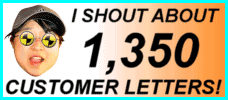 1523 LETTERS!
More customer letters than any other car sales site IN THE WHOLE WORLD! - Ling
You are viewing page 1 of 1 - go to page:
Search my letters page!

| | | |
| --- | --- | --- |
| From your area... | ...or from people... | ...or about a specific car! |
| | | |

Customer Letter: 1138 / 1523
Gwendoline says...


I really enjoyed the whole process - Ling made it fun! Everything went smoothly and I was kept informed all the way. Cars were delivered on time, excellent.

Gwendoline Howell

Editor Note: Gwendoline, you has 2 x Matizzes! Thanks so much, as a letting agent you need to keep costs to a minimum in the current climate and I hope the Matizzes do the job for you. You were a real hoot to deal with, you were right, we had fun! - Ling
---

Customer Letter: 983 / 1523
Lynette says...

Fast, efficient service. Would definitely recommend you to other people. Crazy website! Excellent chat service - knowledgeable staff. All excellent, including delivery!

Lynette Broom

Editor Note: Lynette, well, get the top down! Have a great time in your new Mini Cooper Convertible. Thanks so much for kind words, you were lovely to deal with :) - Ling
---

Customer Letter: 934 / 1523
Jon says...

Great service, pleasure to do business with you, Ling :). Excellent delivery, my new Nissan Qashqai was delivered on time!

Jon Owen

Editor Note: Jon, happy to see you happy, hehehe. Great car, great price, great delivery. What more do you want??? You are a wonderful customer. Enjoy the Quashqai. - Ling
---

Customer Letter: 754 / 1523
Stephen says...

Dear Ling,

Apologies for not dropping you a line sooner, but the first month with our new Nissan Qashqai has gone so fast. Thanks for your help and offering such a blinding deal. You deserve the business for your fun attitude and prompt replies to queries. Do you always work at 8pm???

The car arrived on time, immaculate and by a very polite and cheerful driver. Well done, you! We will be back.

ps. The offer of a free lunch is still on, to beat your own free lunch offer - at our restaurant!

Stephen Lake

Editor Note: Stephen, yes, like you I often work evenings :). I have given you hyperlink for the free lunch offer. There are 50,000 visitors to my webpage every month, so many of them will be very pleased at your "FREE" offer. Hahahaha! Now, you will be damn busy! Here is your Dec 2007 evening menu:

Roasted butternut squash soup - £ 4.95
Ham & tomato risotto with melted cheese - £ 5.25
Cold venison & sultana terrine with port vinaigrette - £ 5.75
Crumbed smoked haddock croquettes with chopped egg & winter salad - £ 5.50
Stilton & spinach soufflé cake with apple, onion & coriander salad - £ 5.25
*
Roast turkey, herb stuffing, chipolata & bacon rolls & cranberry sauce - £ 12.95
Rib-eye steak with mushroom, parsley & Worcestershire cream sauce - £13.95
Loin medallion of pork with crackling & honey & lemon gravy - £ 12.95
Quenelles of salmon mousselline with dill cream sauce - £ 12.95
Aubergine, mozzarella & cashew nuts on blinis with tomato sauce - £ 11.95
*
Traditional Christmas pudding with brandy custard or fresh cream - £ 4.95
Apple & cranberry tart with Chantilly cream - £ 4.95
Chocolate mousse torte - £ 4.95
Almond & raspberry Pavlova meringue - £ 4.95
Saffron & citrus poached pear with vanilla ice-cream - £ 4.95
or Cheese selection & biscuits - £ 5.75
*
Coffee or tea - £ 2.00
All dishes are home-made using only fresh, quality ingredients & main courses are served with carefully prepared vegetables.

Yum Yum!

Here is mine:

Out of date FUKU fast noodles, chopsticks - £ FREE!
Chinese Nescafe or tea - £ FREE!
Dodgy marshmallow or dry plum - £ FREE!

No competition, eh? Sorry about that! - Ling
---

Customer Letter: 342 / 1523
Andy says...

"Most impressed with all aspects of dealing with you.

Fun website - and very clear. I really appreciated the fact that you always pick up the phone at once (I can never get through to some companies) and you are really helpful and friendly.

The Nissan Note is great, the dealer was excellent and I'm delighted with it. Thanks a lot."

Andy Banard

Editor Note: Thanks for nice letter, Andy. I really try my best to answer the phone promptly, it always amazes me how other businesses neglect the simple things. Why do something slowly? I have to answer it and respond to customers, so why not do it straight away? Simple and true, eh? - Ling
---
Search my letters page!

| | | |
| --- | --- | --- |
| From your area... | ...or from people... | ...or about a specific car! |
| | | |
You are viewing page 1 of 1 - go to page: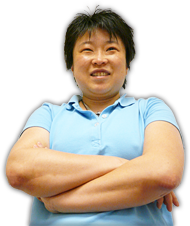 Online Service
Response Times
Quote > Proposal > Order > Delivery
74 CLIENTS IN 'PROPOSAL'
...LING REPLIES IN:
HRS : MINUTES sec
129 CLIENTS IN 'ORDER'
...LING REPLIES IN:
HRS : MINUTES sec
Customers use my secure LINGO management system.
Response times above based on last 4 hour period between
9am - 6pm, Mon to Fri -Ling

No Waiting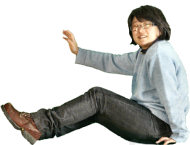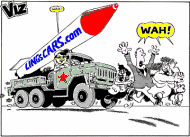 I am the Viz UK business ambassador!
Post me Ferrero-Rochers! Yum Yum!
Unlike most other internet car leasing sites, I publish all my contact information openly!
...so, you know who I am - Ling
THE UK's FAVOURITE
CAR LEASING WEBSITE!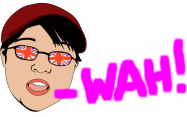 Boss: Ling Valentine MSc IoD
LING World Headquarters
Vance Business Park
Gateshead, NE11 9NE
Tel 0191 460 9444
Fax 0870 486 1130
sales@LINGsCARS.com
I prefer email to phone - Ling
VAT No: 866 0241 30
Co Reg No: 6178634
Consumer Credit Licence: 663330
Data Protection No: Z1098490
Best Before: 17/08/2007