CUSTOMER LETTERS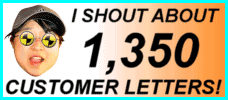 1523 LETTERS!
More customer letters than any other car sales site IN THE WHOLE WORLD! - Ling
You are viewing page 1 of 1 - go to page:
Search my letters page!

| | | |
| --- | --- | --- |
| From your area... | ...or from people... | ...or about a specific car! |
| | | |

Customer Letter: 1475 / 1523
Alex says...

Ling was very professional, a pleasure to do business with, very prompt in answering any questions. No problems at all. I will go with Ling again for my next car as she is very good. Thank you Ling. P.S. The car is great, I love it! Delivery driver messy and car not clean.

Alex Baker

Editor Note: Well, I went beserk with the supplying dealer. They really should not allow messy drivers. Always, the problems are with dealers, eh? Thanks for comments. I remove your address as you are a policeman, for security. Hope you like the Kuga. They have been very popular new cars this year, but I have never driven one. Evening all! - Ling
---

Customer Letter: 1276 / 1523
Daniel says...

Hi Ling, the SAAB 9-3 is great, thank you for all your help. The process of leasing a car from you was so simple, the information you gave me was easy to understand. I will be back in 3-years for another car. Delivery was excellent, very vlear and helpful. A1!

Daniel Maxwell

Editor Note: Danny, well, you are a rail operator. I guess that means you play with trains every day, but in your case the Freightliner Heavy Haul ones. Sorry I could not supply a Hornby brand car, hahaha. Glad you are happy, that puts a smile on my face. - Ling
---

Customer Letter: 1240 / 1523
Matthew says...

What a great service! Ling puts the big companies to shame. Any questions I had were answered within the hour. A totally painless and thorough service. There's only one Ling Valentine!!! Good delivery, but I didn't get a spare key, thought this was weird.

Matthew Johnson

Editor Note: Hahahaha, only one of me? You should be grateful! Matt, the spare key on these Peugeot CCs is retained because the contract period is short. I can get it issued if you really want it, but they have such a high charge for lost keys on this car that they try to keep it safe. A bit nannying I agree. Really pleased you had a wonderful time grabbing your new 307. Top down! - Ling
---

Customer Letter: 978 / 1523
Simon says...

Dear Ling- Thanks for all your help getting our Nissan Note delivered. Your site is great and your responses were answered in good time and with humour, even when I kept pestering you. I would certainly recommend you and if you manage to keep the prices competitive - "I'll be back"

Simon Fowler

Editor Note: Simon, you are a star, thanks. Hope you have a greatr time in the Note and thanks for all the kind comments about my site and service :) - Ling
---

Customer Letter: 779 / 1523
Ashley says...

When I decided I wanted a Lexus I went to my local dealer to see if he could match Ling. He said that Ling was lying and couldn't get me the Lexus IS at the price quoted by Ling. Well... I now have the car, as usual on time, and at the price quoted. Ling does exactly as she says, this is my 2nd car from her and she has always delivered. Still hate the bloody Chinese sweets though.

Ashley Goodchild

Editor Note: Ashley, you work in a solicitors in London, so I guess you learn to tell who is lying. In this case, the official Lexus dealer was lying. Dealers tend to do this, unfortunately. Enjoy the bling-bling car, enjoy Christmas! For the benefit of the tape, you are a male Ashley, not a female. Thanks for the letter of support, grassing up the dealers. The Lexus dealer who accused me of lying was: Lexus Southend, 9 Stephenson Road, Eastwood, Leigh-on-Sea, Essex SS9 5LU. Merry Christmas, Lexus Southend! - Ling
---

Customer Letter: 240 / 1523
Neil says...

I would recommend LINGsCARS to anyone wanting a no-hassle transaction. It's refreshing to talk to someone who knows their stuff and deals in an uncomplicated and polite, honest manner. The Mercedes E220 was delivered ontime by a courteous driver with no problems! I will be back in 2007 for my next Mercedes.

Neil Thomson

Editor Note: How lovely to give me all this praise, but it is also nice to have such polite, friendly customers like you, Neil - Ling
---

Customer Letter: 211 / 1523
Ashley says...

Ling,

So few times do people do what they say.

When I first contacted you, you said you would get my new VW Passat to me in 3 weeks. Well, you did it to the day! It was delivered to my door at work (the dealer was great!). I also loved the online chat so you could keep me up to date.

Can I say anything bad about you? YES! The Chinese sweets (red tea boiled sweets, hehe - Ling) were disgusting!

Would I recommend you? YES! To everyone who has admired my new car.

Ashley Goodchild

Editor Note: Oh! Ashley, like typical man you crunch sweets. How many times I have to tell customer, you should SUCK sweets. I am not always this amazing at getting cars delivered on time. Look at letter below, but then again your car is damn German so probably get here more promptly than French car - Ling
---
Search my letters page!

| | | |
| --- | --- | --- |
| From your area... | ...or from people... | ...or about a specific car! |
| | | |
You are viewing page 1 of 1 - go to page: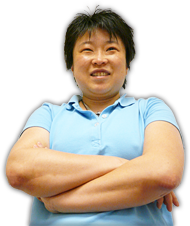 Online Service
Response Times
Quote > Proposal > Order > Delivery
76 CLIENTS IN 'PROPOSAL'
...LING REPLIES IN:
HRS : MINUTES sec
125 CLIENTS IN 'ORDER'
...LING REPLIES IN:
HRS : MINUTES sec
Customers use my secure LINGO management system.
Response times above based on last 4 hour period between
9am - 6pm, Mon to Fri -Ling

No Waiting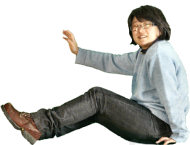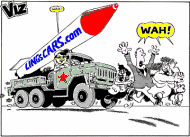 I am the Viz UK business ambassador!
Post me Ferrero-Rochers! Yum Yum!
Unlike most other internet car leasing sites, I publish all my contact information openly!
...so, you know who I am - Ling
THE UK's FAVOURITE
CAR LEASING WEBSITE!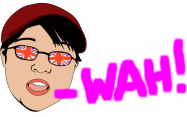 Boss: Ling Valentine MSc IoD
15 Riverside Studios
Newcastle Business Park
Newcastle upon Tyne, NE4 7YL
Tel 0191 460 9444
Fax 0870 486 1130
sales@LINGsCARS.com
I prefer email to phone - Ling
VAT No: 866 0241 30
Co Reg No: 6178634
Consumer Credit Licence: 663330
Data Protection No: Z1098490
Best Before: 17/08/2007