CUSTOMER LETTERS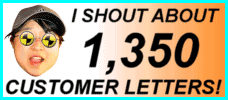 1523 LETTERS!
More customer letters than any other car sales site IN THE WHOLE WORLD! - Ling
You are viewing page 1 of 1 - go to page:
Search my letters page!

| | | |
| --- | --- | --- |
| From your area... | ...or from people... | ...or about a specific car! |
| | | |

Customer Letter: 1426 / 1523
Mark says...

Hi Ling, a delightful transaction for my new Citroen C5 Tourer and will definitely use you again. It all was smooth and effortless. Love the bribery of sweets and money. Pity the money was worthless but as they say, it's the thought that counts. Love the comparison to burgers, great idea, lose weight and have a new car.

Mark

Editor Note: Smooth and effortless, like the new C5? :) Lovely cars! Hey!!!! - the money is not worthless, it is Chinese Yuan and it is worth loads now against a devalued UK £££. Bribery is good, just like being back in China! My Big Mac index annoys McDonald's, but so what... it makes their burgers look expensive! - Ling
---

Customer Letter: 948 / 1523
Cressida says...


Eccentric Ling- you make us smile!
You always go the "extra mile"
Your service remains Second - to - None
You make car leasing so much fun!!

ps. My new Renault Grand Scenic arrived on time but dirty - delivered in the rain.

Cressida

Editor Note: Cressida, hahahaha, that rain was an act of the God! I cannot help that, sorry :) This is now the 4th car you have had from me, since April 2004! You are a fantastic customer... you have had a Meriva, a Scenic, a Xsara Picasso and now a Grand Scenic. What a superstar, thanks. So happy you are pleased with my service :) - Ling
---

Customer Letter: 872 / 1523
Leslie says...

Ling - I am more than happy with the service you have provided throughout. I am very happy with the car - an Audi A6 Avant, and the price, which was very competitive.

I also appreciate the way you handled the concerns that arose. I have told several friends to visit your website when next considering replacing their cars.

The dealer was average - I thought their performance let you down.

Leslie

Editor Note: Wow, it is not often when I am let down by an Audi delivery! I will have words with them. Maybe they just wanted to escape from Norfolk, you know they may have got a nose-bleed, it's so far for them, poor things. It's great that you were so pleased and I look forward to talking to your pals. You are MD of a property development firm, so I appreciate your views, from one business owner to another. Thanks! - Ling
---

Customer Letter: 521 / 1523
Martin says...

"Good communication from start to finish. No hassle, good service quick delivery. Would definitely use again. Ling is mad as a hatter, but good fun. Good delivery but when car arrived it was dirty due to the rain."

Martin

Editor Note: Zoom, zoom, zoom! Well, sorry about the rain, but Great Yarmouth is miles from anywhere except Holland (I have checked the map), so no wonder the road spray made it a bit dirty when it arrived. But the main thing is you have the last of my very cheap RX8's (for now). Enjoy it, Martin - Ling
---

Customer Letter: 315 / 1523
Ann says...

"Dear Ling,

I have never had a personal contract hire car before, so I was a bit nervous! Your website was very informative and the fact that I could talk to you personally put me at ease. The BMW 118d is fantastic, although children think it looks like a donkey! (Wah! BMW will go CRAZZZY! - Ling) I will definitely recommend you and will be a customer again. The dealer was efficient and very prompt and I think he is the top dealer I have ever dealt with."

Ann

Editor Note: My God!!! What drugs do you feed children? Or is it too much Sunny Delight? I helpfully include visualisation of what children see when they look at your new BMW.




If car is donkey, does that make delivery driver Virgin Mary? No wonder you were impressed with dealer. Try to avoid BMW shitting on driveway, hehehe, - Ling
---

Customer Letter: 309 / 1523
Cressida says...

"Dear Ling

Thanks for the wonderful, professional, friendly and first class service. We know we can rely on you each and every time. We also love your wacky sense of humour! Keep up the good work!!

We think you are No. 1"

Cressida

Editor Note: Hey, Cressida and Andrew, this is the third car in a row over 3 years that you have had from me. First you had Meriva, then Scenic, now Picasso. Thanks very much for your loyalty to me, I'm glad you are pleased with my service. Talk next year, huh? - Ling
---

Customer Letter: 248 / 1523
Clive says...

Ling, it just occurred to me that I didn't thank you for the Corolla Verso you supplied us with. It arrived exactly when you said it would and it's a joy to drive! Many thanks, speak to you soon.

Clive

Editor Note: Clive, you were such a nice customer, thanks for ordering car! Please everyone note that I cannot always guarantee exact time of delivery, too many variables! Corolla Verso is so overlooked by most people but it is brilliant car, it could possibly be the best small MPV. If you are ever in North East, Clive, please bring camera; I will get you to do some pics - Ling
---

Customer Letter: 221 / 1523
Louisa says...

Very pleased with my new Mercedes Coupe. It arrived on the day promised, delivered by a nice helpful gentleman. Ling, you are a star. A great car, a great service and all done in a different way.

Louisa

Editor Note: So nice to deal with customers in Norfolk. It brings back nice memories of how much my parents enjoyed a week on the Norfolk Broads, three years ago. It was such a contrast to life in China, for them. My dad especially enjoyed driving boat, and you will note that on river the English drive on normal side of "road". Strange, huh? - Ling
---

Customer Letter: 123 / 1523
Andy says...

Excellent service Ling! Super value prices Ling! Good choice of models Ling! Delivered vehicle on time Ling!

We will mention Ling to other small businesses in this area.

Andy

Editor Note: You two very good long term customers. Thank you so much. Enjoy Scenic, I run one too so I know you find it lovely - Ling
---

Customer Letter: 122 / 1523
Richard says...

Love the website and the prices - ordering a Shogun soon. Thanks Ling

Richard

Editor Note: Oh, maybe Cressida passed you on to me, Richard. Thanks for compliment! - Ling
---
Search my letters page!

| | | |
| --- | --- | --- |
| From your area... | ...or from people... | ...or about a specific car! |
| | | |
You are viewing page 1 of 1 - go to page: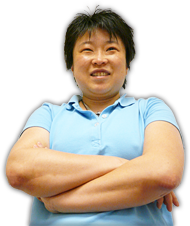 Online Service
Response Times
Quote > Proposal > Order > Delivery
85 CLIENTS IN 'PROPOSAL'
...LING REPLIES IN:
HRS : MINUTES sec
95 CLIENTS IN 'ORDER'
...LING REPLIES IN:
HRS : MINUTES sec
Customers use my secure LINGO management system.
Response times above based on last 4 hour period between
9am - 6pm, Mon to Fri -Ling

No Waiting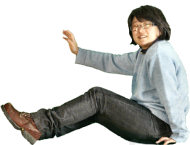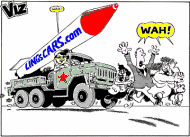 I am the Viz UK business ambassador!
Post me Ferrero-Rochers! Yum Yum!
Unlike most other internet car leasing sites, I publish all my contact information openly!
...so, you know who I am - Ling
THE UK's FAVOURITE
CAR LEASING WEBSITE!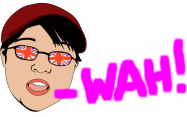 Boss: Ling Valentine MSc IoD
15 Riverside Studios
Newcastle Business Park
Newcastle upon Tyne, NE4 7YL
Tel 0191 460 9444
[email protected]
I prefer email to phone - Ling
VAT No: 866 0241 30
Co Reg No: 6178634
Consumer Credit Licence: 663330
Data Protection No: Z1098490
Best Before: 17/08/2007