CUSTOMER LETTERS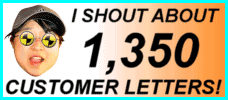 1522 LETTERS!
More customer letters than any other car sales site IN THE WHOLE WORLD! - Ling
You are viewing page 1 of 1 - go to page:
Search my letters page!

| | | |
| --- | --- | --- |
| From your area... | ...or from people... | ...or about a specific car! |
| | | |

Customer Letter: 1401 / 1522
Dawn says...

Best company I have ever dealt with. No small print, all messages replied to immediately and fantastic friendly staff. No bullshit! Thank you for providing me with a great car, service and look forward to doing business again and have recommended. Excellent delivery.

Dawn

Editor Note: Excellent letter! Exactly, no small print, no bullshit. That could be my motto, as I hate all that stuff. Enjoy the Astra, hope you really love it! - Ling
---

Customer Letter: 1334 / 1522
Jennifer says...

As usual Ling (this is our third car from you) your service was excellent, communication second to none and your pricing was cheap. We save about £50 a month from you as opposed to the dealers pricing. You even sorted out a last minute Nissan price rise for us. Thank you see you in a year to replace our other car. We got a phone call before delivery, car was clean, nice polite driver. Excellent!

Jennifer

Editor Note: Here we go, third time repeating customer! Wow! Thanks, Jenni, you are a superstar. This Micra will do a nice job for you, good to see you are supporting British Manufacturing at this difficult time. See you back soon, eh? - Ling
---

Customer Letter: 1291 / 1522
Nicholas says...

Hi Ling! Thanks for a fantastic all-round service. The internet site is brilliant and second to none; you can literally watch the deal progress on your own secure page - Fab! All very slick and fast, under 3-weeks from enquiry to delivery!!! Just what the doctor ordered, as I was car-less. Great price, and the Vauxhall Antara is a great car. Good delivery, fast and a personal service. Well done!

Nicholas

Editor Note: Nick, what can I say, if all my letters were like this one then nobody would believe them. So, I am very annoyed that you send such a nice letter. In future I want moaning letters! Can everyone please pay attention. Thanks. - Ling
---

Customer Letter: 1278 / 1522
Graham says...

For the money I was paying, I expected a Sinclair C5 to turn up. Imagine my surprise and delight when a spanking new Citroen C5 turned up instead! Impeccable delivery from the supplying dealer.

Graham

Editor Note: Graham, you are senior in the financial sector. Therefore, I am dead impressed when you say my deals are the best value for money you can find. The C5 is a really good car and you are correct; so cheap. It must be obvious to anyone reading that no one can do this any cheaper - if anyone considered options like a car loan or funding possibilities, then you would. Thanks so much for your kind letter, and good luck in the crunch. - Ling
---

Customer Letter: 1260 / 1522
Ivor says...
The new Audi A3 is great, I feel good and it's all thanks to you, Ling! From the start I must admit I thought "oh dear, what's all this about", but now I look forward to the sweets and all your sayings. Thanks Ling. Your help is always welcome. Good delivery.

Ivor

Editor Note: Ivor, thanks for that letter. I often think "oh dear, what's all this about", hahahaha! Surely you didn't eat the sweets? That's what has made you feel good. Avoid drug tests for the next 3-months. Enjoy the A3 :) - Ling
---

Customer Letter: 1244 / 1522
Stephen says...

Hi Ling, sorry it's been a while. We've been enjoying the Volvo C70.

This is out first lease and we are so glad we found your website. You have kept the process nice and simple, adding the personal approach and a little (welcome) humour. We particularly liked your LINGO system which lept us well informed, and the ability to upload secure documents is brill.

Thanks to all concerned, especially for the speedy turnaround which saved us £175 per month over the current C70 deals. Both the dealership and driver were very helpful with the excellent delivery.

Stephen

Editor Note: Steve, how good was this? We grabbed you a car which was so much cheaper than other deals, it saved you £6,650 on other rentals over the 3-year period. You should note that other companies would have increased the price and earned a massive commission, but I do not do that. Maybe I am stupid, but I prefer happy long term customers. This is not about money, it is about people like you :) I am glad you seem so happy, and pleased you liked the LINGO system - that is a successful job done. Great dealer, this one. Wait until summer and you can put the roof down :))) - Ling
---

Customer Letter: 1177 / 1522
Samantha says...

Hi Ling,

Thanks for the smooth and efficient service you provided. The whole process took 3 and a half weeks from start to finish which I was very impressed with. We will be back again in 2010. Thanks for your time and effort. Delivery of my new Vauxhall Antara very punctual and efficient.

Samantha

Editor Note: Yo, Sam! You will look good in that new Antara! I'm very happy with your letter and I like to add you were lovely to deal with. Super! - Ling
---

Customer Letter: 1111 / 1522
Graham says...

Well we got there in the end! First came across your site by accident, but glad I did. My new Freelander GS is superb, just like your service and the way you deal with your customers. Excellent communication throughout and a completely different (but fun and enjoyable) experience from anything I have coma across with regarding to buying a car. The only glitch was the wrong model was delivered initially but I just left this with Ling to sort out. This was done promptly and efficiently. In the words of the Terminator…I'll be back. Love the car, I'm even washing it every week!

Graham

Editor Note: Right... well this is stupid supplier problem. Graham wanted an Auto, I ordered an Auto, supplier delivered a Manual gearbox car. They replaced the car instantly though when I er... pointed it out to them... with my boot! Idiots. How can that happen? Amazing how these dealers survive, eh? Sheer stupidity. Still, I am so glad my lovely customer got what he wanted in the end. Thanks for comments, Arnie (oooops, I mean Graham!) - Ling
---

Customer Letter: 1050 / 1522
Charles says...

Volvo C30 was well worth the wait. Excellent car delivered earlier than quoted. Thanks Ling. I found your service to be must helpful and straightforward to order a car. I would certainly recommend your site to my friends and I will look forward to dealing with you again. Excellent, smooth, on time delivery.

Charles

Editor Note: Charles, super duper. Good cars, these, everyone loves them. Volvo have made a really good move by introducing these cars. Glad you are a happy bunny :) - Ling
---

Customer Letter: 1003 / 1522
Charles says...

Hi Ling

Just a quick line to say everything is fine with the Volvo, it does look very striking in black - I cleaned it on Sunday it was looking a bit dusty, the interior is equally as stunning. Everyone who has seen it said they did not realize that Volvo made this model, it is being advertised on TV at the moment but that does not do it justice, it was worth the wait.

I will write a blog about it - don't worry my experience is all positive I have recommended you to several of my friends.

Charles

Editor Note: Charles, you have requested address withheld due to security, no problem! :) Great cars these C30 Volvos. I have had no complaints about them, everyone loves them. And they are so cheap for a premium badge. Hope you enjoy it, for 2-years. Go drive! - Ling
---

Customer Letter: 991 / 1522
Phil says...

Hi Ling I am delighted with my new Honda. It's a really nice car. The service I received from you was fantastic and the speed of my first contact to the delivery of the car was so quick. Much quicker than I thought it would be. Can't wait to order my next car from you. Its the only way to get a new car!! Excellent delivery - on time and the car was clean.

Phil

Editor Note: Phil, hahaha, you have little faith :) Of course I try to do it quick. If a car is available I will work double fast to make sure you have it. I'm so happy you are pleased. I am looking forward to your next car in 3-years, too :) - Ling
---

Customer Letter: 834 / 1522
Jason says...

Great service, nice to deal with someone human. I tried many leasing companies all of which were unsure of their prices and were more expensive and less responsive than Ling. If Ling can keep up the same one-on-one service with a smile and spread the same working methods to all staff as the business grows, they she will have a great business. Delivery of the Qashqai was fine - the cheery bloke was given a 10-mile lift back to the train station.

Jason

Editor Note: Yes, yes, Jason, I know all about those other companies. I spend a hell of a time keeping my website up to date! Brix Secure specialises in intruder alarms and CCTV, so I hope your new Qashqai doesn't get nicked :) Enjoy it and see you in two years! Thanks for calling me human. Thanks for looking after the delivery man :) - Ling
---

Customer Letter: 816 / 1522
Lisa says...

Ling's customer service is fantastic. Any queries were answered promptly and I can find no fault with her service at all. Thanks, Ling! Excellent delivery of my new Citroen C4 Grand Picasso. Great - so far!

Lisa

Editor Note: Lisa, it sounds like you are expecting a breakdown. Don't worry, these are really lovely 7-seat cars. Glad you were such a brilliant customer, you brightened up my month. Enjoy the C4! - Ling
---

Customer Letter: 637 / 1522
Samantha says...

I had to wait quite a while for my car, but this was due to a strike at the Citroen factory (bloody French - Ling), and not down to Ling. Ling was very honest with me about how long it would be and didn't fob me off saying "it won't be long".

Overall, I was very pleased with the way Ling dealt with the issue and the whole service, and have recommended Ling to friends.

Samantha

Editor Note: Sam, you are so sweet because you had to wait a while for your car. Citroen UK were completely mixed up and confused, too. It was good of you to accept it wasn't me. In China, the workers would be shot if they played these games:


Internal Citroen UK Memo: ...(lists of chassis numbers - Ling)...
"...As the above information is about as much use as a chocolate teapot (!!!) I will try and explain a little further... C2 and C3
(production - Ling)
were originally delayed due to a factory strike. At first Paris so very kindly forgot to mention the strike
(to Citroen UK - Ling)
this threw out our computer systems and meant we were provided with inaccurate hand-over dates
(from Citroen France to Citroen UK - Ling)
and we were unaware of the inaccuracies. As a result some of the inaccurate dates were relayed to dealers. So; this is probably your first source of disinformation. Second, and most unlike the French
(hehehe - Ling)
, another company - this time the one who provide the seats - went on strike. Hence delay number 2 and yet more confusion. The vehicles are most likely built, at least the majority, but they have not yet been assigned chassis as they have no seats!!! The good news is the seat company are no longer on strike. What would be really helpful to you now would be for me to provide a date when they will be with you, but unfortunately, we just do not know!! I have spoken to the supply manager responsible for C2 and he is unsure of how they are arranging the fitting of the seats to the cars i.e. what order they will be completed. The only communication from the factory is they'll be up to speed by the end of the month. In best case scenario, as you have been given the first chassis, the rest should all follow relatively quickly, but we just do not know. The vehicles will not be with you for week beginning 13th as they will be hitting Calais first and then start their journey. When they will hit Calais is anybody's guess. I know in total this e-mail has not been much help but we just can't accurately predict a delivery date for these vehicles as yet. Hopefully, in a week or so, the situation will become clearer and then we may be of more use!!"


Hope you can see that when even the bloody factory or importer has no clue what is happening, sometimes I am slightly out of control on deliveries. You must be philosophical! These are only cars. No-one dies, it is not life and death. These are only metal boxes with wheels! - Ling
---

Customer Letter: 608 / 1522
Dianne says...

Ling, Now we have taken 3 vehicles off you. Always a pleasure AND FUN to deal with. Look forward to the next car!

Dianne

Editor Note: Short and sweet, eh, Dianne and Tony. Such good to deal with you, you always cheer me up - and for anyone who wants to know, Tony is a golf (the disease, not the car) expert, too. - Ling
---

Customer Letter: 605 / 1522
Graham says...

Apart from a slight mix-up re delivery time, your service was impeccable. Also, the supplying dealer was spot on and perfect and very professional. I will definitely use you again. Your prices are very keen and I like your personal service. Please don't change a thing.

LING IS KING!

ps. Just saw you on Dragons' Den tonight, wicked! Great decision. Fabia is great, what a bargain!

Graham

Editor Note: Graham, well, thanks. never been called a King before. I had great fun on the BBC. Really sorry about the delivery confusion, all my fault. Sorted out quickly, though. Glad you are pleased with the Skoda Fabia, these are great cars, so much cheaper then their VW brothers. - Ling
---

Customer Letter: 589 / 1522
Brian says...

With phone calls answered by Ling herself, emails answered within minutes and a personal service... we have never had that from the "big boy" lease companies. Why should we ever have to go anywhere else in the future? Thanks Ling, great car, you are a star!

Brian

Editor Note: Well, I always say that it means so much to get a recommendation from within the car trade - and it shows how cheap these contracts are, too. The "big boys" are never so big when you look closely, eh? Hehehe. I don't know why everyone can't answer the phone and answer emails as... if you don't, what's the point? I am constantly amazed by the "big boys". Thanks for letter, Brian! - Ling
---

Customer Letter: 571 / 1522
Graham says...

Hi Ling,

I am pleased to report that the car arrived safely at 2:30pm. Everything is perfect and my wife is over the moon. Thank you very much for for your care and attention throughout the deal. I am now laughing all the way to my bank for the next two years.

Graham

Editor Note: Hehehe, I am laughing all the way to the bank, but for only 2 minutes, my commission payment is so low!! Really happy that you are happy, too. Your wife should be over the damn moon, Fabia is very nice car and this one was SOOOOO cheap! - Ling
---

Customer Letter: 314 / 1522
Ian says...

"Thank you for such an easy and relatively cheap car leasing experience. I was a first-timer and you answered all my questions quickly and patiently. Just for reference, you saved me £180 per month on my brand-new RX-8, compared to my local Mazda dealer!! (my red ink, and just to point out that the saving you made works out at £4,680 on a 3+23 contract - Ling) The vehicle delivery driver - Ian Harper - was a very nice chap and the dealer you chose was excellent."

Ian

Editor Note: WoW!! - a web-design company! I give you hyperlink. I am always pleased to deal with businesses like yours, Ian, as it makes me feel happy that you obviously thought my website did the job required. I will be in touch if I need help and advice.

Background note: It is interesting that I saved you so much compared with your local Mazda dealer; last year Mazda UK blocked my supply of cars because a dealer complained I was undercutting them and ruining ther franchise. Well, stuff them! Bollocks. Fuck them. Sorry if strong language offends, but I refuse to have a bloody Japanese company dictating to me (a Chinese) how I should run my business, inferring that I should inflate prices to YOU:- customers... and using such bullying tactics. They make good cars, Mazda, but the company's tactics stink. Please every other car company if you read this - I am like attack dog if you try to mess with me. Car company can build and supply nice cars, I will sell them. OK? If dealers were any good, they would take me out of market using fair competition. But they are not, and you have proved it in letter above, Ian. You are writing that I saved you £180 a month. That's £4,680 on a 2-year 26 payment contract for your RX-8. Note Mazda builds cars in Hiroshima. Radioactivity obviously affects brain. Nuff said, eh? - Ling
---

Customer Letter: 156 / 1522
Craig says...
Hi Ling,

After an afternoon of looking at contract hire sites, ready to jump out of my window through boredom, I found your site. To say the site is funny is an understatement. Low prices, fun banter AND a free lunch. I will definitely use your company as soon as I get my car requisition signed by my boss!!

Good luck and keep the humour going.

Craig

Editor Note: Craig, so glad you decided not to jump out of window (at least BEFORE you rent car from me!). I send you noodle. Wait! - Ling
---
Search my letters page!

| | | |
| --- | --- | --- |
| From your area... | ...or from people... | ...or about a specific car! |
| | | |
You are viewing page 1 of 1 - go to page: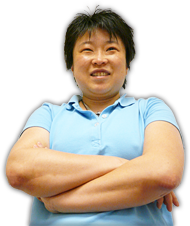 Online Service
Response Times
Quote > Proposal > Order > Delivery
83 CLIENTS IN 'PROPOSAL'
...LING REPLIES IN:
HRS : MINUTES sec
121 CLIENTS IN 'ORDER'
...LING REPLIES IN:
HRS : MINUTES sec
Customers use my secure LINGO management system.
Response times above based on last 4 hour period between
9am - 6pm, Mon to Fri -Ling

No Waiting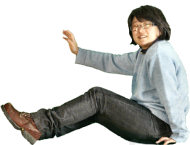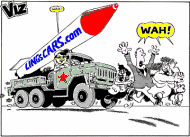 I am the Viz UK business ambassador!
Post me Ferrero-Rochers! Yum Yum!
Unlike most other internet car leasing sites, I publish all my contact information openly!
...so, you know who I am - Ling
THE UK's FAVOURITE
CAR LEASING WEBSITE!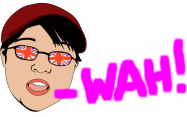 Boss: Ling Valentine MSc IoD
15 Riverside Studios
Newcastle Business Park
Newcastle upon Tyne, NE4 7YL
Tel 0191 460 9444
[email protected]
I prefer email to phone - Ling
VAT No: 866 0241 30
Co Reg No: 6178634
Consumer Credit Licence: 663330
Data Protection No: Z1098490
Best Before: 17/08/2007