CUSTOMER LETTERS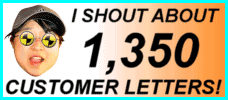 1522 LETTERS!
More customer letters than any other car sales site IN THE WHOLE WORLD! - Ling
You are viewing page 1 of 1 - go to page:
Search my letters page!

| | | |
| --- | --- | --- |
| From your area... | ...or from people... | ...or about a specific car! |
| | | |

Customer Letter: 1508 / 1522
Oliver says...

Thanks for all your help and in getting me a great deal on the Golf. Although there was a delay on the manufacturer side, Ling kept me up to date all the way. Great service, love the car (and the banter with Ling's staff!). Many thanks. Dealer Service – Good – Delayed delivery, but overall good service.

Oliver

Editor Note: Yes, Ol, the delays were all down to VW being very slow at building the cars. There is always great demand for Golfs, and you had a top of range one which is even harder to get. Hope it's lovely. Original and best :) Thanks for letter! - Ling
---

Customer Letter: 1503 / 1522
Neil says...

Efficient. Friendly. Different. Would recommend a friend. Thank you all for your help – much appreciated – I think the above "sound bite" sums up your operation. Best wishes for the future. Good supplying dealer.

Neil

Editor Note: Cool! You are coasting along the Manchester canalside in your Milano leather A5 Coupe. No wonder you are happy, eh? As a solicitor, well done Neil, for writing this letter without charging me £70 for it, hahaha! - Ling
---

Customer Letter: 1458 / 1522
Fraser says...

Ling, the service from start to finish was very professional – if I had a query it was dealt with quickly and with no fuss. You managed to get me a car (Mercedes CLC) that no other garage could at the time – would use again and when my car is up for renewal will only use Ling. Dealer was good but there were some scuffs on the car that they did not follow up.

Fraser

Editor Note: Fraser, hey, hey, getting impossible cars is part of a trick I do, but not very often. The CLC was rare at the time, no stock. I found a cancelled car. Glad you love it. Once again, you say my service is good, but I am criticised by Mercedes Benz for selling their cars. Yet, as ever, my service is better than the official dealer. Thanks for comments, appreciated. - Ling
---

Customer Letter: 1405 / 1522
Andrew says...

Dealing with Ling was always a pleasure. I always knew exactly where in the process the deal was. The prices were very good, the website very informative and all communications very efficient and clear. The only disappointing aspect of LINGsCARS was the free lunch. Very professional delivery service, excellent!

Andrew

Editor Note: Hahahaha! Hope you did not get too poisoned by the FUKU noodles and dried plum pudding. Always causes big adventures on the toilet :) Maybe I should supply free loo roll, too? Apart from that rubbish, you seem VERY happy with your new Qashqai plus 2, Andy, and it was lovely to deal with you. Thanks for joining in the fun! - Ling
---

Customer Letter: 1388 / 1522
Denise says...

Ling, I really like your website it was as easy or technical as I needed it to be. I have genuinely recommended you to loads of people. Very good service from you and that's as far as I go 'cos I don't do gushy, or for people to think you wrote this yourself. Thank you. Good delivery but slight delay in handbook arriving.

Denise

Editor Note: Hahahaha, well, this is gushy enough. I did not delay the car to wait for a book, I think you can figure out which buttons to press to make it work. Thanks so much for non-gushy letter. I believe you are not me. - Ling
---

Customer Letter: 1352 / 1522
Brian says...

For a while, I wondered whether we had done the right thing - entering into a business relationship with this lunatic Chinese lady. But she knows what she is doing - she's doing good business, and she's doing it with humour! The whole process of arranging the lease went through without a hitch, and the new Mondeo Estate didn't have a speck of dust on it when it arrived. So, we're delighted with the car, and with Ling. When we increase our fleet by another ten or twelve vehicle, I don't think we will be looking anywhere else - Wah!!

Brian

Editor Note: Wah!!! indeed :) Hahahahaha. I do my best, and with following wind (after eating noodles) I manage to do a good job. Thanks for kind letter Brian. It is worth to have fun, because cars are fun... until they get banned. Glad you were so happy and I look forward to those next 10 cars, hahahaha. Maybe you should wait until the crunch is over? - Ling
---

Customer Letter: 1319 / 1522
Robert says...

There are no bad things to say about LINGsCARS. Great people. Great service. Excellent comms. Only took 39 working days from start to getting my Citroen C1 delivered to us. Well done all at Ling's. I am telling all my friends about you. ps- nice Chinese sweets too :-) Good delivery, on time, friendly.

Robert

Editor Note: Wahhhhhhh! Never mind the car... Another mentalist customer who LIKES the sweets! And I spend so long to find especially awful Chinese sweets to send out, from Hawthorn to Sweetcorn to Durian and Prune (not even Chinese like them, hahaha!). Last year I even managed to find some Chinese white rabbit ones containing that melamine-infected Chinese milk. They make you fart like hell! However, I like your letter, thanks for all the comments, Bob :) - Ling
---

Customer Letter: 1285 / 1522
Graham says...

Hi Ling, the new C-Crosser arrived promptly and clean, without problem. The whole process was pretty painless and straightforward; certainly the most pleasurable car buying/leasing experience I've had. I'll be back in 2-years and have recommended you to numerous friends and colleagues. Good delivery, clean car, although driver's seat was dirty.

As I've previously mentioned, you have reached "hero" status with my kids - they were forming a queue to open your letters because of the sweets!! Thanks again for making it an enjoyable experience, I appreciate the humour!

Graham

Editor Note: Hmmm, maybe the delivery driver had a dirty ass? Whatever, sorry about that. But the rest of the car supply went really well. As you are in quite a sensitive job, I withhold your address and job info and changed your name - it is amazing to deal with such people as you. All I can say is that I am very glad I am on your side and not against you!! Thanks for letter, I would never expose a customer to danger. Kids are mental, the sweets are verging on the poisonous, hehe. Go and enjoy the new Citroen, great cars, these! - Ling
---

Customer Letter: 963 / 1522
Simon says...

Ling, my new Lexus IS is FAB! The same can be said for your company, always helpful even when I was impatient and when I always emailed you to find out information!!! When it's time to renew my Lexus I WILL be contacting Ling!!! Excellent delivery.

Simon

Editor Note: Simon, hahahhaa, you were like a kid waiting for a new toy! :) Thanks for being so super, eveyone loves these new Lexuses. Thanks for calling me FAB, Virgil. Speak in 3-years. I give your business, which is "the only commissioning company required for all your air and water balancing, planned preventative maintenance and independent validation checks", a hyperlink as reward. Whatever it is that you do, it sounds good :) - Ling
---

Customer Letter: 798 / 1522
Oliver says...

Thanks for a great service Ling (and the sweets)! Whenever I emailed with a question you replied very quickly - are you sure you don't have two Lings there? The whole experience felt very professional, thanks! Excellent delivery of my Zafira, friendly and informative.

Oliver

Editor Note: Oliver, well, check my webcams. I have a few people to help me with my volume these days, by the replies to your emails were all from me. I insist I stay customer-facing. I give your agency a hyperlink. You have a great website! Enjoy the Zafira! - Ling
---

Customer Letter: 596 / 1522
Pauline says...
My SAAB 9-5 Estate is here, it arrived at 10am!! I just want you to know that you have made this process sooooooo easy and pain free for me as I am a personal contract hire virgin!! You are an absolute pleasure to deal with. Your website is fantastically informative and easy to use and you will be the only person I will be contacting when it is time for the next car.

Pauline

Editor Note: Pauline, there was a couple of small things on delivery; one remote key does not work remotely, and there was a small paint blemish on the car. These can be fixed. Apart from that, I am pleased you are so happy! How pleasant to lose your virginity in a SAAB 9-5 Estate, so much room to enjoy :)) - Ling
---

Customer Letter: 516 / 1522
Martin says...

"Ling was very patient with me; I wished I had listened to Ling earlier as her deals are really good and more importantly - exactly as described! I got the car I wanted at a great price and will recommend Ling to friends and business contacts.

Ling does CARE about what happens - what more could you ask for? Delivery was excellent, very good, rang to check everything was OK on the delivery day."

Martin

Editor Note: Martin, Martin... we began to talk in October 2006 about cars, but it took us a while to get it together, eh??? :) At last you have the bargain of the year - a new MX-5 and with summer nearly here you can get the top down. Enjoy the bloody Mazda! - Ling
---

Customer Letter: 389 / 1522
Donna says...

"LINGsCARS.com is an excellent service and I would definitely recommend Ling to everyone I know. Ling was very professional and friendly when dealing with my requests. I was very pleased with the excellent dealer service. Thanks for my new Toyota Corolla Verso, it's lovely!"

Donna

Editor Note: Donna, Donna, absolutely lovely to deal with you, too. Luckily my Toyota dealer is very well house-trained. Enjoy 7-seat Verso - Ling
---

Customer Letter: 358 / 1522
Bob says...
"This is the first time I have had a car from Ling. She gave me a deal on the Toyota Avensis I was looking for. I tried many other leasing companies, including Toyota itself! Ling had the best deal.

Ling was great to do business with - regular communication - the car arrived on the morning she promised. The dealer she chose was excellent. Only had the car for a day - so far so good!"

Bob

Editor Note: Bob, you know... there is just one person to thank for my low prices: Micheal O'Leary of Ryanair. It is simply because I chose him as the example to follow in operating with the lowest costs in the industry that I am able to supply cars at the lowest prices. Other companies have flashier offices, loads of staff (who do nothing except mess up, go sick, get pregnant and don't return calls), they spend large amounts on their own company cars, advertising, leather chairs and all that bollocks, and so cannot come anywhere near my tiny overheads. I still give the best service, I don't cut back on communication - that's free! So, thanks Michael (O'Leary), and thanks, Bob! - Ling
---

Customer Letter: 159 / 1522
Jay says...
This website is fantastic - what a welcome change from the other dull or pushy sales car leasing sites out there - don't change it one bit and I am sure you will have loads of customers. I will definitely be coming back when I am ready to purchase.

Jay

Editor Note: I thought I'd nip to your website, Jay and I must say I like the customer success stories. Maybe some of my crazier customers will allow me to develop small story around their car savings. Hmmm. I change website constantly, every day. It grows, organic, like fungus... - Ling
---

Customer Letter: 104 / 1522
Johan says...


We have dealt with Ling of LINGsCARS.com over the past few years, and we have always had excellent service. We would recommend LINGsCARS.com to anybody.

Johan

Editor Note: If only everybody would read this page, maybe everybody would order car from me, Johan - Ling
---
Search my letters page!

| | | |
| --- | --- | --- |
| From your area... | ...or from people... | ...or about a specific car! |
| | | |
You are viewing page 1 of 1 - go to page: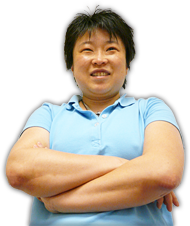 Online Service
Response Times
Quote > Proposal > Order > Delivery
76 CLIENTS IN 'PROPOSAL'
...LING REPLIES IN:
HRS : MINUTES sec
113 CLIENTS IN 'ORDER'
...LING REPLIES IN:
HRS : MINUTES sec
Customers use my secure LINGO management system.
Response times above based on last 4 hour period between
9am - 6pm, Mon to Fri -Ling

No Waiting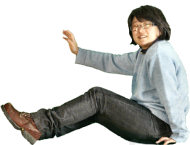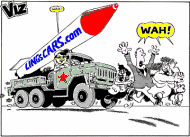 I am the Viz UK business ambassador!
Post me Ferrero-Rochers! Yum Yum!
Unlike most other internet car leasing sites, I publish all my contact information openly!
...so, you know who I am - Ling
THE UK's FAVOURITE
CAR LEASING WEBSITE!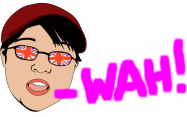 Boss: Ling Valentine MSc IoD
15 Riverside Studios
Newcastle Business Park
Newcastle upon Tyne, NE4 7YL
Tel 0191 460 9444
[email protected]
I prefer email to phone - Ling
VAT No: 866 0241 30
Co Reg No: 6178634
Consumer Credit Licence: 663330
Data Protection No: Z1098490
Best Before: 17/08/2007