CUSTOMER LETTERS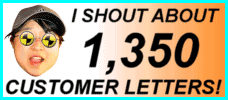 1523 LETTERS!
More customer letters than any other car sales site IN THE WHOLE WORLD! - Ling
You are viewing page 1 of 1 - go to page:
Search my letters page!

| | | |
| --- | --- | --- |
| From your area... | ...or from people... | ...or about a specific car! |
| | | |

Customer Letter: 826 / 1523
Keith says...
LINGsCARS were great to deal with from start to finish, communication between Ling and ourselves was excellent. She always kept us up to date with how things were progressing. I will definitely use Ling again. Delivery of my 9-seat Tepee was excellent, good service and communication.

Keith Bingley

Editor Note: These Peugeot Tepees have been a nightmare. The factory has had mega-problems, demand (from Taxi firms) has been through the roof and Peugeot UK have been totally hopeless at organising things. The dealers have been pulling their hair out and eventually I simply removed the car from my price list. I must say: SOME CUSTOMERS HAVE BEEN DISAPPOINTED OVER TEPEE SUPPLY. It is only fair to mention that...

However, Keith was lucky, I managed to secure him a car and he is enjoying it. thanks, Keith! See you when the contract expires. - Ling
---

Customer Letter: 758 / 1523
Mark says...

Everything about my BMW Z4 roadster was handled very well, and the delivery estimate and timing were spot on. If you want to drive a nice new car without the hassle of ownership, this is the best way to do it.

Mark Pickstone

Editor Note: Mark, so happy you are happy. Great cars Z4s... I wanted one, but I had to settle for an Audi A4 cab, as I needed 4-seats for when my mum and dad come to the UK to visit. Enjoy!! :) - Ling
---
Search my letters page!

| | | |
| --- | --- | --- |
| From your area... | ...or from people... | ...or about a specific car! |
| | | |
You are viewing page 1 of 1 - go to page: