CUSTOMER LETTERS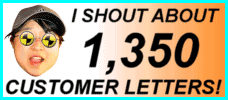 1522 LETTERS!
More customer letters than any other car sales site IN THE WHOLE WORLD! - Ling
You are viewing page 1 of 1 - go to page:
Search my letters page!

| | | |
| --- | --- | --- |
| From your area... | ...or from people... | ...or about a specific car! |
| | | |

Customer Letter: 1497 / 1522
Fraser says...

It has been a pleasure dealing with Ling Cars. Ling's clever website is informative, packed with useful information and as a bonus, amusing.

I needed a little car to dap to and from work, the Citroen C2 I got is brilliant and virtually runs on air.

Ling Valentine may present herself as slightly "wacky" but this belies a very astute business woman (hatfuls of awards!). I would recommend Ling Cars without hesitation - check them out if you want a great deal.

Fraser

Editor Note: Fraser, you work for multinational computer giant Hewlett Packard, so you are used to underpowered, unremarkable machines :) so you will enjoy the Citroen C2, hahahaha! Heyyyy - JOKING! You were fun to deal with, very fast on my LINGO and we had a great time! You even uploaded a nice pic of yourself:



With all that money you save on fuel, you can afford a new PC, now! And you can afford to get your teeth done! :) - Ling
---

Customer Letter: 1315 / 1522
Michael says...

Hi Ling! The whole experience dealing with you has been fun but importantly very efficient. I have already started recommending you to my unenlightened friends who still think they must own their cars. I especially like the 'Lingon' pages where I can trace all our communications in one page and the ongoing mileage check graph at the top to monitor contractual usage- really useful! Many thanks.


Michael

Editor Note: Yep, I have a new graph for customers; a fun and easy way to keep your mileage in check. I show your current example above - you are a bit above your contract mileage!! Hahahaha, the "Lingon" is my LINGO area, every customer loves that! No one else has such a thing. Great news that you were happy with my service and with the new Nissan Note! - Ling
---

Customer Letter: 1252 / 1522
Andrew says...

It was one of the worst snow blizzards ever, but the new black Honda Civic Type-R was delivered to my door as promised. Great service from your team, Ling, and great service from the delivery company. Not so keen on the Chicken Noodles, though. But, the Honda is superb to drive. Thanks again.

Andrew

Editor Note: Hehehe, all my customers get the chance to order a free lunch... you should see how many Captains of Industry order my FUKU noodles :) You are head of technical services for a leisure group, Andy, so I appreciate your comments. Always nice to have super-happy customers. Never mind the snow, you are such a wuss, hahahaha, - go drive it!!!! - Ling
---

Customer Letter: 705 / 1522
Darren says...

Great, easy to use and straightforward website. Fabulous communication which made the whole process pain free. Will definitely use Ling again and I have already recommended to colleagues and friends.

Darren

Editor Note: Darren, you are so sweet :) You are still missing your aerial for the Nissan Qashqai, but yet you write such a lovely letter. I am sorting out your aerial. - Ling
---

Customer Letter: 396 / 1522
Jon says...

"Ex war vet aged about 80 delivered our new VW Transporter van today as promised. A real cockney character who told me the last time he was on a farm he shot a sheep because he was hungry and it was war time Britain. So I hid the shot gun, fed him and took him back to Hereford Station. Van goes well and the person who is to drive it is well pleased.

So that's a VW van and a BMW Z4 sports car off you in the last ten weeks. I have three more company vehicles to replace over the next 12 months and judging by your past performance the business will be coming your way. Easy to deal with, keeps me informed and better quotes than anyone else in the market. Also the damn vehicle gets delivered to your door!

Well done, keep up the good work but don't send me any more sweets. The last one turned my mouth black before a meeting!"

Jon

Editor Note: For people who are wondering that your company name is strange, it is because you are a Lime Wholesaler. Jon, I can imagine you have millions of trees and shout at your workers "Quick! Pick them before they turn yellow! Any idiot can grow Lemons!" Hehehee. I give you hyperlink, an honour (for you). Also, you complain about my sweets, well next car you have, I will send you Little Red Mao Book . If you try to eat THAT, your mouth will turn Red - Ling
---

Customer Letter: 351 / 1522
Jon says...

"Dear Ling

Car ordered; BMW Z4, delivered early and all I did was email you once, fax you twice and sign a cheque and post it to you. And my car even arrives at the farm office allowing me to carry on working. Too easy. Let's do the same again when I have sold the pickup and the van. Well done for providing a valuable, easy to use and cost effective service."

Jon

Editor Note: Jon, thanks for nice letter! I have had a BMW Z4 demo for a week - and I loved it. I am sure you will love yours, I look forward to getting you some commercials - Ling
---
Search my letters page!

| | | |
| --- | --- | --- |
| From your area... | ...or from people... | ...or about a specific car! |
| | | |
You are viewing page 1 of 1 - go to page: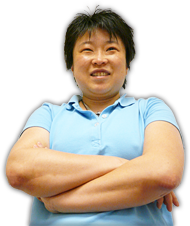 Online Service
Response Times
Quote > Proposal > Order > Delivery
81 CLIENTS IN 'PROPOSAL'
...LING REPLIES IN:
HRS : MINUTES sec
120 CLIENTS IN 'ORDER'
...LING REPLIES IN:
HRS : MINUTES sec
Customers use my secure LINGO management system.
Response times above based on last 4 hour period between
9am - 6pm, Mon to Fri -Ling

No Waiting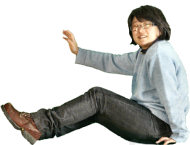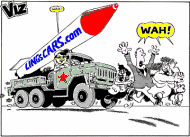 I am the Viz UK business ambassador!
Post me Ferrero-Rochers! Yum Yum!
Unlike most other internet car leasing sites, I publish all my contact information openly!
...so, you know who I am - Ling
THE UK's FAVOURITE
CAR LEASING WEBSITE!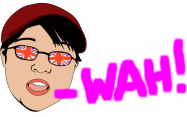 Boss: Ling Valentine MSc IoD
15 Riverside Studios
Newcastle Business Park
Newcastle upon Tyne, NE4 7YL
Tel 0191 460 9444
[email protected]
I prefer email to phone - Ling
VAT No: 866 0241 30
Co Reg No: 6178634
Consumer Credit Licence: 663330
Data Protection No: Z1098490
Best Before: 17/08/2007