CUSTOMER LETTERS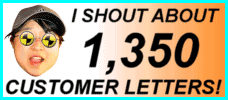 1523 LETTERS!
More customer letters than any other car sales site IN THE WHOLE WORLD! - Ling
You are viewing page 1 of 2 - go to page:
Search my letters page!

| | | |
| --- | --- | --- |
| From your area... | ...or from people... | ...or about a specific car! |
| | | |

Customer Letter: 1525 / 1523
David says...

I was a first time leaser, I was told about Ling's, not too sure when I looked at other sites. All I can say is I kept going back to Ling's, glad I did. A wacky but worthwhile experience, got the car I wanted (Fiesta) at the best price… Dealer Service – Good – No complaints.

David

Editor Note: No complaints, no regrets :) And you will not regret the Fiesta which is just about the best small car you can get. I especially appreciate you say I had the best price, as you are Scottish :) hahaha! - Ling
---

Customer Letter: 1520 / 1523
Helen says...

Ling's service has been excellent. She kept me informed every step of the way and car arrived on specified date. I would highly recommend her service. I also got insurance from the broker she recommended and it was great too! Dealer Service – Excellent.

Helen

Editor Note: What can I say, Helen? ... Everything was "excellent", including your choice of car, the Mazda 6. It was a bargain for a sporty 5 seat family car. Hope you enjoy it zooping around the lake district. Thanks for being so lovely to deal with. - Ling
---

Customer Letter: 1471 / 1523
Andrew says...

Amazingly fast transaction, faultless professionalism. See you in two years for another. Dealer Service – EXCELLENT. True gent delivering car in pristine condition.

Andrew

Editor Note: Andrew, fantastic! How great that I am getting such nice letters from Mercedes customers, as Merc UK are trying to kill my supply of new cars. I really think that I can beat Merc at their own "quality" game. Fantastic letter, thanks. Enjoy the CLK. - Ling
---

Customer Letter: 1406 / 1523
Adnan says...

Truly exceptional service. Beats all the other competitors in the market. Trust me when I say it is a ''personalised' service that Ling has set up! Response are near instant and a history of all communications is kept in one 'Lingo' page so you can always go back if you lose your way. Super dooper. Excellent delivery of my new M3 by the BMW dealer!

Adnan

Editor Note: BMW UK, are you listening? BMW UK are being consistent bastards to me by trying to get me to stop supplying their new cars. They send a solicitor letter every week. However, I will not be brow-beaten. If BMW UK read this letter, they can see how my service is actually better than theirs, as they manage nowhere near the communication excellence and customer satisfaction I achieve. This was a BMW M3, a £50k car! That Adnan thought I beat every other competitor for service makes me very happy. All customers get the same treatment - the very best in the industry. BMW UK, feel free to apologise for bullying me with your multi-£million lawyer budgets and threats. Thanks for comments, Adnan. - Ling
---

Customer Letter: 1234 / 1523
Scott says...

This is our third car ordered from Ling and as usual the customer service has been quick and excellent. I would highly recommend LINGsCARS and will keep using Ling for our fleet requirements. Good delivery on the SAAB, no problems to report.

Scott

Editor Note: Scott, job done! Good customer on your 3rd car from me, next car I send you free mats! Each mat pack contains 4 mats, which means you will have one for each car - easy. How lovely it is to deal with you, Scott, and it's so easy to remember the name of someone who is called after the country he lives in :) - Ling
---

Customer Letter: 1076 / 1523
Ross says...

This is my 3rd contract hire, first from Ling, and won't be the last. Very, very good. Delivered on time. She kept me updated at every stage. So happy I offered to marry her! Will try again in 2 years. Lol. Excellent delivery, very good, pleased to do business.

Ross

Editor Note: Hahahaha, why would I marry a butcher (and I am already married!)? You will smell of sausages :) Having said that, good butchers are quite rich and I would have good supply of belly pork. Hmmm..... So happy you love the Astra Sport Hatch. Mind the blood on the carpets! Lovely to deal with you, you are nutter. - Ling
---

Customer Letter: 1066 / 1523
Ashita says...


NEW MERCEDES SLK 200

Just a short note (adding to the 1,000s already posted online) to say a big, big thank you for delivering our new car to us. The lack of hassle, the speediness of response and the general all round happiness that surrounds you and your team actually makes changing a car fun instead of the horror story it usually is. A lot of "professional" dealerships could learn from you!

At least four different brokers told me that an SLK at the price you delivered was an impossible but clearly you were willing to go the extra mile. Will be back in 24 months to get another plus will be extolling the virtues of leasing from you to anyone who is willing to listen.

Ps. Thank you for the free lunch the Fuku noodles still crack me up every time I look at the packet

Ashita

Editor Note: Ashita! Wow, fantastic letter, thanks. You have a damn cheap and damn nice Merc SLK. I will let everyone know with a cancerous tumor that you are the bees-knees to talk to. Make sure you keep your convertible roof in place in certain areas of Glasgow! Have a great time in the car! - Ling
---

Customer Letter: 1023 / 1523
Jens-Ulrich says...

Ling ist providing us a fantastic personalised service, her prices are very competitive. She and her staff were doing their atmost to provide the right car on short notice, just in time to go on our holidays. The website is cutting edge and the personal touch of dealing with her customers ensures that you don't want to use any other company again. My Zafira was supplied in time without any problems.

Jens-Ulrich

Editor Note: Achtung! Ulrich, you are a German, us bloody foreigners have to stick together :) Your Zafira was going to be a diesel but due to massive Diesel Particulate Filter problems on these diesel Zafira cars we changed it to a petrol at short notice. You noticed this on German and Austrian Opel Zafira message boards and forums, too. I would not recommend diesel Zafiras. I am so glad you were happy with the petrol one. Hope I met your efficiency standards, I know Germans are keen on doing it right, unlike the bloody French. I have to say you were a wonderful customer; I learned my English watching Dad's Army (really!) and you have burst my imagined German stereotype bubble. Captain Mainwaring is wrong. You are certainly NOT a stupid boy! :) - Ling
---

Customer Letter: 976 / 1523
Scott says...

I was very impressed with your quick and helpful responses to my queries before during and after choosing my VW Golf. I would highly recommend Ling to anyone. Good delivery.

Scott

Editor Note: Scott, thanks for letter. This Golf is a great high quality car. Hope you have a great time in Scotland driving around and running your telecoms business. Talk soon :) - Ling
---

Customer Letter: 940 / 1523
Dominic says...

Thanks Ling, Great service - the C4 was not my first choice but as it turns out, an even better alternative! I love the sweets (lie), I may even order another car to get more (true). Good delivery, pleasant and efficient.

Dominic

Editor Note: Dominic, hehehehe, you SHOULD be pleased with the C4, these are great cars, I never get any complaints. The sweets are chosen specially to make you vomit, this is good for you! It is an oral version of that colonic irrigation. Another free service, from Ling! Thanks for the lovely letter. - Ling
---

Customer Letter: 843 / 1523
Jody says...

Once again a fantastic service. The Lexus IS is a lovely car, I will use you again and again. Thanks Ling (and team!). Excellent delivery by Lexus *****, 1st class.

Jody

Editor Note: Jody, yep, your company has had loads of cars from me. U do my best yo find you the best deals. Great to know that you like my service. Thanks for the letter! - Ling
---

Customer Letter: 795 / 1523
Clare says...

Excellent service - the best! When I first found your website I thought it was a bit crazy, but the professionalism in dealing with my enquiries convinced me to proceed with the lease of my Renault Megane CC from you. Brilliant - would recommend you to anyone! Excellent delivery.

Clare

Editor Note: Wow, crazy, huh? Many of the other motor dealers think so too. Except I think it is about people, not cars, that's why they say I'm crazzzzzy. Super letter, thanks for sticking with me :) Wait for summer, and get the top down - even in Scotland! - Ling
---

Customer Letter: 689 / 1523
Jody says...

As always, Ling will bend over backwards to meet our needs. The new Lexus IS220d is stunning and we hope to do business together for a long time. All emails to Ling are promptly replied to. I love the informal approach - definately a breath of fresh air, thanks Ling! Excellent delivery, very fast, efficient service.

Jody

Editor Note: Jody, thanks for the letter. I have supplied many cars to Auto Expo now, and you have more on order from me. Glad you like the service, I do my very best. Go drive the Lexus! - Ling
---

Customer Letter: 677 / 1523
Stefano says...

I noticed this LINGsCARS.com website and thought I would give it a try. From start to finish, the leasing of my new SAAB 9-3 Convertible was painless, quick and I wish I had leased my previous cars from Ling. I would recommend Ling to anyone to have a "Happy Valentine's Car". Excellent delivery.

Stefano

Editor Note: Stefano, as you are in sales (medical sales specialist) I take pleasure in your comments. I always try my best to provide the best sales experience. Hope the bad weather in 2007 hasn't meant you have had the roof up all the time :) - Ling
---

Customer Letter: 639 / 1523
Andy says...

Ling provided a top quality service. From the day I indicated initial interest, to the day my new BMW 320i Coupe was delivered, Ling kept me informed personally all the way. Simply the best service I have received anywhere.

Keep up the good work, and when you are the MD of a mega-large company, remember to install your excellent work ethic to those who work for you - thanks again. The car was delivered on time on the date stated, by a delivery person who showed me the car in a professional manner. Excellent!

Andy

Editor Note: Andy, you are a commercial manager of a massive construction company AMEC, so I am very pleased that you measure my service in this way. I always do my best, especially for other ethnic minorities, like Scots :). Please go drive your BMW and once or twice try to avoid cutting people up and let them out of junctions, to try to break the image of the typical BMW driver, hehe. - Ling
---

Customer Letter: 604 / 1523
Richard says...

This was my first attempt at leasing and I didn't know what to expect. The process was made so simple and two weeks ahead of schedule - I got my new BMW 3-Series Coupe! Delivery was very simple, the BMW arrived bang on the time specified.

Even though I didn't know what steps were next, Ling didn't get annoyed with me emailing or calling. Thanks for everything, I will definitely be back in two year's time to source my new car. Thanks again!

Richard

Editor Note: Hahahaha, you think I should have been ANNOYED with you for renting a car from me? Hmm, even a BMW customer deserves some understanding I think :)... maybe I will start a "punishment" site where customers can go to get shouted at? I am so pleased the BMW came early, I must say this was a new model and equally, some customers have had production delays. I cannot shout at the BMW factory! Still, you were very happy, Richard, that's great! - Ling
---

Customer Letter: 572 / 1523
Kevin says...

Hi Ling,

The car arrived around 11am this morning and I love it.....A nice old retired man from L***** drove it all the way up to Scotland and he is now getting the train back to L*****!!!! I did drive him to the nearest train station and he explained that the initial mileage (340 miles) would be added to my agreement.

It has arrived at a great time as we are all about to head off to the East Coast of Scotland on holiday and we can drive there in style now....I would like to thank you for all of your help and I will be recommending your company to everyone that asks me about how I got hold of such a great car at such a great price......Once again, thanks for all of your help.

Kevin

Editor Note: Kevin, you are an Operations Manager for Morrison's supermarket (Grocery and Frozen, peas; buy 2 get 1 free!) and so I am glad you tell me my customer service is good! The Qashqai (but 1 get none free, hehehe) sounds like a funny fruit, eh? The Mackams are working flat out to build these cars - I think this car is the best thing Nissan has done. Thanks for being lovely customer, enjoy holiday - Ling
---

Customer Letter: 455 / 1523
Liz says...

"Hi Ling,

Thank you very much for organising my lovely wee car. The service you provided was impeccable, from beginning to end! Excellent delivery, exactly on time. Excellent communication and good honest personalised service - somewhat a rarity in the car world. See you again in two years."

Liz

Editor Note: From Welsh ethnic customer (below) to Scottish ethnic customer! Thanks for lovely letter, Liz. Hope you enjoy MX5 with top down in bloody cold Scottish weather. You were a very sweet customer - Ling
---

Customer Letter: 406 / 1523
Brian says...

"Instant response and instant decisions. Classic "what you see is what you get" with Ling, nothing is hidden, no cheats or cons - just honest excellent service. Good delivery of my Nissan Note."

Brian

Editor Note: I swear in this reply, do not read if offended. Brian, you have had 3 cars from me so far and you are repeating customer and tough Scottish ethnic builder, so I shall tell the readers the full story of your car. Hope you don't mind. This shows; a) How CRAP some dealers are, b) How GOOD some individual salesmen are, c) How telling the truth to customers HELPS. Sit comfotably children, we will begin.

Brian ordered a brand-new Nissan Note for his business. Car arrives at dealer, slow to get PDI'd. ??? - When I enquire I am told "had water leak, car FILLED with months of stagnant rainwater from bad windscreen seal, but now mended with new carpets and will deliver". Hmmm. I front up with customer, ask him to inspect screen carefully on delivery and use hosepipe test for leaks. Car gets delivered. Inside "mouldy, dank, unbearable to sit in, sodden, car misting up, makes anyone who sits in it feel sick". WHAT THE FUCK? Dealer admits: "Fleet manager did not want to deliver car, was over-ruled by Nissan Dealer Principal and Service Manager". WELL FUCK THEM! Action? Immediate replacement car for customer, case of wine, mammoth apology from Nissan dealer. That's the story.

You will (hopefully) note the result - Brian the customer writes "Good delivery of my Nissan Note". Not "excellent", but still, he says "good". But he calls my service "excellent". And he does not mention his problem in his letter, how nice is that? Very...

So: FUCK YOU, NISSAN DEALER for being willing to deliver this Nissan shed as a "NEW" car! Twats. Thank you Nissan fleet salesman for instant replacement new car immediately delivered.

(And if I hear one word of objection from Nissan or the Dealer about this being published, I name names then ask Brian the Builder to visit you, don't you dare to threaten me) - Ling

---

Customer Letter: 381 / 1523
Michelle says...

"Ling, thank you very much. Initially, I was a bit wary about parting with my money over a website, for a car!! However, this is one of the best examples of customer service I have seen for a long time. Hassle free and your sense of humour made me laugh. Very contactable too. Your dealer was excellent, a very friendly guy delivered my BMW Z4 on time."

Michelle

Editor Note: You know, last year I had my nephew staying with us (doing A-Levels) so I couldn't have a 2-seater car... I had to have saloon car so I got 3-series. But I really wanted BMW Z4, with red leather. When my own contract comes up in 4-months, I will be getting BMW Z4, myself. I am quite jealous of you and your car, Michelle! - Ling
---

Customer Letter: 332 / 1523
Claire says...

"What can I say? Ling is unique, she's on the ball 24/7 (!!! Just seems like it somedays - Ling). My new Land Rover Freelander arrived so quickly from the excellent dealer; the service from Ling was fantastic. I will always lease my cars from her, she's great."

Claire

Editor Note: Claire, so you caught me working at midnight, so what? I guess many firms do that.... what? They don't??? Oh! And when you say I am "Grrrrreat"; remember, I am not damn breakfast cereal, I am meatier than that! ...I notice you are near end of UK. Hope there is Land Rover dealer there, for when it breaks down, hehehe - Ling
---

Customer Letter: 331 / 1523
Brian says...

"LINGsCARS is straightforward. "WHAT YOU SEE IS WHAT YOU GET". I got a Citroen Berlingo van. There were no hidden costs, unlike Ling's competitors. Ling is great to deal with, I've had no problems at all with her."

Brian

Editor Note: Ah, as you are builder, maybe I should have asked for half up front then told you I'll be round with your van next month? Only joking, unless I want Glasgow kisser, eh, Brian? I am sure you will enjoy Berlingo, I made sure it had plywood to avoid damage inside - Ling
---

Customer Letter: 296 / 1523
John says...

"The Ford Focus 1.4 shudders at 110mph. However it is better when you accelerate through it! Only joking. The car was presented nicely and performs well - giving good mpg."

John

Editor Note: You'll MURD'R the car at 110mph, John, MURD'R it! Hehehe, fancy having Taggart name in Glasgow! Glad Focus goes so well. Hope cold Scottish winter ends soon. - Ling
---

Customer Letter: 290 / 1523
Stephen says...

"Ling, just a short e-mail just to thank you for your superb help in organising our car. The Nissan X-Trail arrived this afternoon as arranged. Again, many thanks,"

Stephen

Editor Note: Stephen, just a short reply to tell you GOOD! I am pleased that you are happy. I am glad to deal with Scottish ethnic minority peoples - Ling
---

Customer Letter: 196 / 1523
Lucy says...

I'm very pleased with your service. You are always friendly and helpful. I love my new VW Passat and your price for the car was the best. Delivery was on time, and the driver was very good. I will tell all my friends about you.

Lucy

Editor Note: New Passat is very nice car, Lucy. Thanks for letter, I will pass on nice remarks to VW dealer - Ling
---
Search my letters page!

| | | |
| --- | --- | --- |
| From your area... | ...or from people... | ...or about a specific car! |
| | | |
You are viewing page 1 of 2 - go to page: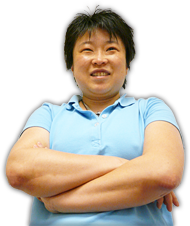 Online Service
Response Times
Quote > Proposal > Order > Delivery
82 CLIENTS IN 'PROPOSAL'
...LING REPLIES IN:
HRS : MINUTES sec
104 CLIENTS IN 'ORDER'
...LING REPLIES IN:
HRS : MINUTES sec
Customers use my secure LINGO management system.
Response times above based on last 4 hour period between
9am - 6pm, Mon to Fri -Ling

No Waiting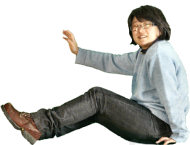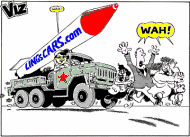 I am the Viz UK business ambassador!
Post me Ferrero-Rochers! Yum Yum!
Unlike most other internet car leasing sites, I publish all my contact information openly!
...so, you know who I am - Ling
THE UK's FAVOURITE
CAR LEASING WEBSITE!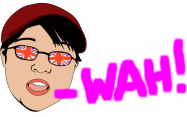 Boss: Ling Valentine MSc IoD
15 Riverside Studios
Newcastle Business Park
Newcastle upon Tyne, NE4 7YL
Tel 0191 460 9444
[email protected]
I prefer email to phone - Ling
VAT No: 866 0241 30
Co Reg No: 6178634
Consumer Credit Licence: 663330
Data Protection No: Z1098490
Best Before: 17/08/2007