CUSTOMER LETTERS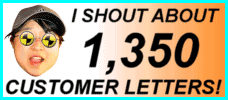 1524 LETTERS!
More customer letters than any other car sales site IN THE WHOLE WORLD! - Ling
You are viewing page 1 of 1 - go to page:
Search my letters page!

| | | |
| --- | --- | --- |
| From your area... | ...or from people... | ...or about a specific car! |
| | | |

Customer Letter: 1461 / 1524
Steven says...
Ling, as always... impressive service for my new Audi A3, with no hassle. Well done. Good delivery.

Steven Carr

Editor Note: Great, nice to get an Audi delivered with no delays! Thanks for the letter, Steve! - Ling
---

Customer Letter: 1235 / 1524
Steve says...
Excellent service - efficient and fast. This Toyota Avensis is the second car we have taken from you, Ling, and others will follow for sure. Excellent delivery. Many thanks Ling.

Steve Carr

Editor Note: Steve, your Blackpool company illuminates my day at work, hahahaha! Great to see you back and I'll get another car ready for you soon. Lemon squeezy. - Ling
---

Customer Letter: 685 / 1524
David says...

You were efficient in answering all my questions, but I was disappointed that the car was delivered 3-weeks late (I am sure it would have been on time if you had had control of the situation). Excellent delivery, efficient and courteous. Best wishes and good luck in the future.

David McCreedy

Editor Note: Yes, David, the bloody Skoda factory got problems and they were behing delivering the cars to the UK. This affected all new Skoda Fabias. Not much I can do, I do not carry much weight in Czech Republic. Sorry about that. Glad you were happy when it arrived! :) - Ling
---
Search my letters page!

| | | |
| --- | --- | --- |
| From your area... | ...or from people... | ...or about a specific car! |
| | | |
You are viewing page 1 of 1 - go to page: