CUSTOMER LETTERS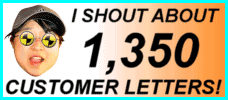 1524 LETTERS!
More customer letters than any other car sales site IN THE WHOLE WORLD! - Ling
You are viewing page 1 of 1 - go to page:
Search my letters page!

| | | |
| --- | --- | --- |
| From your area... | ...or from people... | ...or about a specific car! |
| | | |

Customer Letter: 974 / 1524
Umit says...

LINGsCARS was recommended to me by a friend who had already hired many cars from Ling and was very happy. I must admit that I am NOT an easy customer to please, although I am fair - I want to receive good service, be treated like an adult and receive a fair price... not much to ask.

I am pleased to say that Ling exceeded these requirements on all counts, and provided a wonderful and most responsive service. A very professional and diligent service, yet personalised and undertaken with a touch of humourous class. The delivery (of my Captiva) was on time, but the dealer gave inaccurate info on the first telephone enquiry. Excellent job Ling - I would come back. I will work on a new poem for you for 2009 :)

Umit Fettin

Editor Note: Umit, that is a great letter from a very professional customer. I appreciate comments like this from people like you who do important jobs for big, multinationals. It gives me a good way of judging my service. Enjoy the Captiva! I look forward to the beautiful poem. - Ling
---

Customer Letter: 311 / 1524
Gus says...

"Just wanted to write to say that I have test driven the BMW 7-series at my local dealer. I also wanted to say that I was extremely impressed with your service. I asked for several quotes at the same time - you came back in about 5 mins, I was still getting quotes several days later from other companies. What a difference! I have already recommended you."

Gus Black

Editor Note: Gus, hope you don't sue me for publishing your letter. 7-series BMW is very nice car, I have sold many. If ever I need to take multinational car company to court I will contact you. Thanks for kind words... - Ling
---
Search my letters page!

| | | |
| --- | --- | --- |
| From your area... | ...or from people... | ...or about a specific car! |
| | | |
You are viewing page 1 of 1 - go to page: