CUSTOMER LETTERS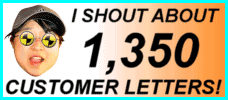 1523 LETTERS!
More customer letters than any other car sales site IN THE WHOLE WORLD! - Ling
You are viewing page 1 of 1 - go to page:
Search my letters page!

| | | |
| --- | --- | --- |
| From your area... | ...or from people... | ...or about a specific car! |
| | | |

Customer Letter: 1275 / 1523
Christine says...

After trawling the Internet forever, I stumbled across Ling's site and was instantly attracted to the craziness of it all! A great website which is fun to use - very competitive prices - and instant answers to any queries. FUN FUN FUN and I love my new Astra Twintop. Good delivery, no problems.

Christine Rymer

Editor Note: That's what I like to hear, Chris! I put a lot of effort into my website. Glad you enjoy it. Fun from my end, too! Now, get the roof down on your Twintop and soak up those rays! - Ling
---

Customer Letter: 703 / 1523
Keith says...

Hi Ling

I am writing to thank you for your service and to say how delighted we are with our new Vauxhall Zafira. You are a pleasure to do business with; everything was fully explained and upfront and it all happened when you said it would. I have no hesitation in recommending your company and look forward to choosing my new car with you in 2 years. Good delivery of the Zafira, as expected.

Keith Robertson

Editor Note: Keith, well I must say, you were a brilliant customer. It was very easy to deal with you, your paperwork was great. See you in two years! Enjoy the Zafira - a bargain! - Ling
---

Customer Letter: 245 / 1523
Leslie says...

Ling is just a little on the wild and wacky side. Don't let her crazy nature confuse her first class service and customer care skills and keen prices. Business should be fun and doing business with Ling has indeed been just that!

Leslie Spiers

Editor Note: Leslie, I note that Proem Consulting gives Director and Management Training and Business Support, so I'm especially pleased with your comments! Have a great time in your new Mitsubishi L200 - Ling
---

Customer Letter: 226 / 1523
Shaun says...

We have at last found a normal person to deal with. Extremely efficient. Extremely funny accent. Extremely fast service at a great price. We are extremely happy and would have no hesitation in saying "Stop dealing with the rest and go to the girl you can't understand". Thank you.

Shaun Hennessy

Editor Note: Hey! You manage to extremely understand me enough to rent an extremely new Shogun Sport, Shaun! At least I do not have extremely wierd Japanese accent, now that is EXTREMELY funny! And why you keep saying "extremely"? I send you English dictionary - Ling
---

Customer Letter: 224 / 1523
Paul says...

Unbeatable deal. Easy to communicate with too. Will use again. Dealer was excellent.

Paul Stockton

Editor Note: Thanks Paul. Letter short and sweet. Nice customer. I remember Dover well, from small glimpse through crack in truck trailer on way overland into UK from China in 1996, hehehe. Enjoy VW Touran - Ling
---
Search my letters page!

| | | |
| --- | --- | --- |
| From your area... | ...or from people... | ...or about a specific car! |
| | | |
You are viewing page 1 of 1 - go to page: