CUSTOMER LETTERS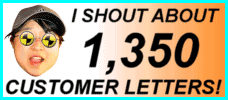 1523 LETTERS!
More customer letters than any other car sales site IN THE WHOLE WORLD! - Ling
You are viewing page 1 of 2 - go to page:
Search my letters page!

| | | |
| --- | --- | --- |
| From your area... | ...or from people... | ...or about a specific car! |
| | | |

Customer Letter: 1509 / 1523
Graham says...

Ling's approach to providing vehicle lease solutions is as effective, professional and customer driven as it is innovative and zany! Well done! The Nissan Qashqai is pretty good too! Dealer service was good – Vehicle should have been checked more thoroughly before delivery.

Graham Palmer

Editor Note: Yes, you had a scratch which needed repairing Graham. But you have a super new car. The Nissan Qashqais are very good cars. Glad you thought my service professional yet fun. We had a great time getting your car :) - Ling
---

Customer Letter: 1465 / 1523
Carmel says...

Ling and her team were very helpful and efficient. I bought a Mercedes which I thought would be much scarier than it was on the internet. I would use Ling again.

Carmel Cassidy-Morris

Editor Note: Now THIS is a scary Mercedes:




Hahahaha! But you just had a C-Class, not a Monster Merc :) Glad it was lovely for you. Internet is far safer than real-life, actually. - Ling
---

Customer Letter: 1374 / 1523
Martin says...
Ling's service is fun, productive, fast reliable and friendly. Have used before and will no doubt use again! Good delivery!

Martin Dempster

Editor Note: Yep, this is the second Picasso (first was Xsara Picasso, this is later C3 Picasso) you have had from me. I love returning customers. I really hope to see you again in another three years, martin. You are great customer, and as a company MD, I really appreciate your comments :) - Ling
---

Customer Letter: 1363 / 1523
Donna says...
Disappointed in time taken for my car to arrive from date ordered, then very shocked to receive wrong vehicle from Audi and felt so let down. Once car ordered again and delivered this time was eventually happy.

Donna Kane

Editor Note: Well, what a mistake by Audi! They built you the wrong car, a 5-door, not a 3-door. Let me just explain for anyone reading this... some mistakes do happen, even by Audi. The dealer immediately gave you a nice loan car (you do not mention this) and gave you free insurance until your correct car arrived. So, not a complete disaster as you got a free car for quite a period while the new one was being built. However, I agree should not have happened. The length of time Audi take is simply due to demand and is the same wherever you order a car from. Anyway, Donna, you now have your perfect correct car and I hope it gives you a very good few years of motoring. I think it is fair to say that Audi and the dealer sorted the stupid mistake out well and you actually benefited (even though you had to go through a small emotional trauma at the start). I did kick the dealer and Audi... but in the end I was pleased how they handled it, taking full responsibility. - Ling
---

Customer Letter: 1281 / 1523
Sandeep says...

I was very impressed by LingsCars...it was a friendly, informal service yet very professional and informative. Ling took my through the leasing system pain free and I got a very competitive deal. A colleague at work pays an extra £90 per month for the same car as me so I'm very grateful to have found this website! Thanks for all your help.

Sandeep Kahlon

Editor Note: Wow, Sand, no problemo! I am amazed at that higher price, I often see this happening. Cars are "upsold" by some brokers making a ridiculous price. Thanks for comments. You are a clinical psychologist, so maybe you can diagnose me??? :) hahaha! Enjoy the Fiesta! - Ling
---

Customer Letter: 1263 / 1523
Vivienne says...

Great service, questions answered immediately. Nothing was too much trouble, Ling goes the extra mile. Website LINGO system showing the progress of the application and car from initial enquiry to delivery is excellent. Good delivery, but my new Peugeot 4007 was slightly scratched and still awaiting resolution.



Quite terrible scratch - Ling

Just one more thing, Ling - do the Chinese really wrap Polo mints individually?

Vivienne Mills

Editor Note: Viv, yes, hahaha, labour is cheap in China, there is a factory with 5,000 people and all they do all day is wrap polos. :) The scratch was annoying, it will have spoiled your enjoyment of the car. It is a terrible thing. The dealer is booking a scratch-away service to visit you. I am in discussion about that. If that cannot make it perfect, then the car will be taken to be made perfect. Car will be as good as new (it is new!) :) I show the scratch publicly because I do not like to hide this stuff! Real-life happens sometimes. Apart from that small delivery problem, you have a fantastic car at a cheap price. Those 4007s have loads of equipment! Enjoy it. Glad you like the service and LINGO so much, thanks for the comments.

UPDATE: The supplier contacted you Viv. They say: "All in hand. We hiring a car for Viv this week. Taking it down to her to use for three or four days while the Peugeot 4007 is repaired by a reputable bodyshop that does all the sales work for the Perrys Group. It will be as good as new" I want everyone reading this to know a) accidents do happen, b) they get fixed when the customers are mine. - Ling
---

Customer Letter: 1261 / 1523
John says...

Absolutely faultless service from Ling. From start to finish she kept me informed of the progress of my application. The new Honda Civic is a dream. I would highly recommend Ling's service to anyone (I already have). Absolutely no complaints. Excellent delivery of my new Civic - prompt, polite, courteous, A1.

John Scobbie

Editor Note: John, well you are a busy man at the moment, as you are an Employment Advisor. Thanks for the brilliant letter, it's great to deal with a customer with such a sense of humour :) The Civics are really great cars, and built in the UK! Enjoy it! - Ling
---

Customer Letter: 1224 / 1523
John says...

Ling - Thanks for a great deal - from start to finish your service was not just value for money, but also excellent. It was professional with a touch of humour and fun that made for a complete and satisfactory transaction, as well as a pleasurable experience. Once again, many thanks.

Small negative - the valet on this slightly used Zafira was very poor.

John Quintanilla

Editor Note: Well, God save the dealer when I give them a kicking for that valet, John! Apart from that, it sounds like you are pleased, which is great. These slightly used Zafiras have proved a hit in response to the credit crunch, keeps the costs low for your church. The car will always be under full warranty. How great that I am trusted by the Christians! Being a Chinese, I don't do religion and always try to keep God out of car sales, but... you were lovely to deal with and I will recommend your church as you come under pressure from Muslims in the FA Cup of religion, in West Midlands. Judging by you, your church will be a great place to visit! Have fun! - Ling
---

Customer Letter: 1159 / 1523
Cindy says...

Ling provided excellent service throughout the whole process of setting up my contract lease to the arrival of my van. I have already recommended her to others and will have no hesitation in using her company in the future. My van was delivered on time as expected with no problems at any time. I love the way she always replies to your questions quickly. Delivery was excellent.


Cindy Lymbery

Editor Note: Cindy!!! Hey, your new Transporter will smell lovely filled with flowers. Thanks for all the recommendations, I give you hyperlink! Glad you like my speed. If I need flowers, I know where to come. Pure Botanics specialise in providing stylish contemporary flower arrangements for weddings and business customers in Warwickshire. - Ling
---

Customer Letter: 1136 / 1523
Paramdeep says...

Great service as always. Mitsu Outlander is my second car from you now. Thanks Ling! Star! Excellent delivery. Awesomeness!

Paramdeep Dosanjh

Editor Note: Peppy!!! You even drew me a big star, when you say "STAR"! Thanks!! You are a complete lunatic, and that makes you such a nice customer! Always nice to deal with fellow crazzzy. Also we are birds of a feather as we are both the successful immigrant, even though I am the first generation. Hope you love the Outlander - I had a ride in one in China this Christmas at Shuangliu, near Chengdu. It was a lovely car, the owner was a professor and she was VERY pleased with it :) - Ling
---

Customer Letter: 1125 / 1523
Joanne says...

Having leased before from complete idiots I was a little reluctant - but I should not have worried; dealing with LINGsCARS has been fantastic, straightforward and so importantly everything has been so up front. My car is gorgeous, and no question has ever gone unanswered – Ling you're a star!!! Thank you. Excellent delivery, helpful, prompt service. And I LUV Lingo!

Joanne Sullivan

Editor Note: Glad you like the Lingo system, Joanne, I put so much work into that! Yes, there are many companies who are complete idiots in this industry, it is unregulated, you know. Terrible. But, I am so pleased you had a great time getting your new Corsa. Hope you are loving it! - Ling
---

Customer Letter: 1059 / 1523
Manojkumar says...

Hi Ling, I think the website is fantastic. It makes the whole process of leasing a car much more fun and enjoyable. Service is next to none and long may it continue. I am looking forward to another great deal in a year time. PS. The 207 is great, trying hard not to crash it. At 150 bhp it's poky. The supplying dealer forgot the locking wheel nuts but you sorted it pronto.

Manojkumar Patel

Editor Note: Wow! You are a real-life Boeing 737 airline pilot, so I am amazed you think the 207 is poky compared to your 737. However, your comments mean so much as in your job you have to follow a system (to avoid crash) and it makes me happy that you think my own system is great. Now all I need are those cheap tickets you promised me... :) - Ling
---

Customer Letter: 997 / 1523
Marc says...

Communication excellent, a pleasure doing business. Delivery driver was very eager to get away. Your Chinese sweets have improved :)

Marc Couzens

Editor Note: Marc, that is a disaster! I do my best to supply the worst sweets in the UK! And you say they have improved! I am so disappointed. But I am glad you thought it was a pleasure doing business. I will kick the dealer. Enjoy the Verso! - Ling
---

Customer Letter: 911 / 1523
Paul says...

The A6 you sourced for me is excellent, I am really pleased I chose this over the 5 series BMW.

The service I received from you was first class.

I spent a lot of time looking for the best deal and wish I came through to you in the best place. I will definitely be recommending you to my colleagues and family, as although cost was important, quality of service by the supplier is paramount. I received both (cheap cost and quality) from you. Excellent delivery, I do miss the emails (now I have the car)!

Thanks for all your help. Best wishes, Paul.

Paul Sharrock

Editor Note: Well, we did have some problems along the way, with your car, Paul. However, I guess it is how problems are resolved that matters, and you sound very happy now. Everyone who takes an A6 is very happy with the car... and the advantage over the BMW is that people let you pull out at junctions, in an Audi :) You are a director in a multinational car hire company (everyone would recognise the name), so I value your views. - Ling
---

Customer Letter: 895 / 1523
Bruno says...

Excellent service, Ling. Very quick and efficient. My mats for my new Citroen C2 also came very quickly. A good friendly chap delivered the car. I can't fault you, really!

Bruno Carrouche

Editor Note: Bruno and Sharon, well, I'm glad you like the fully loaded Citroen and I'm glad you liked my service. I give you a free hyperlink for yourbusiness! - Ling
---

Customer Letter: 881 / 1523
Steve says...

I love getting cars from Ling. Always a good price and she always goes the extra mile - a very customer focused lady. Good delivery on my new Corolla Verso, car arrived when promised, so... great!

Steve Atherton

Editor Note: Steve, you are a certified Aborist. I think. Which makes you special, I don't meet many of those! You have had quite a few cars from me including TWO Versos, a Scenic and a Megane, and we began with a Peugeot 307 (back in 2002!!!). My God! So long a go. Thanks for being a lovely long-term customer. Go chop some trees :) - Ling
---

Customer Letter: 743 / 1523
John says...

Exceptional patience and helpfulness.

This is my second rental, Ling was that good I never bothered to look elsewhere. Good delivery.

"Entrepreneur of the Century" is closer than the award of "Entrepreneur of the Year".

John Herbert

Editor Note: Wow, and we are only 8 years into the century! I'll do my best to keep up the great service to you, John. You had a brand new Fiat Grande Punto and these cars were just very, very cheap at the time, I have placed dozens and dozens in 2007. Enjoy the car, see you back in a couple of years :) - Ling
---

Customer Letter: 738 / 1523
Pearl says...

Fantastic friendly service, great deals and exactly as advertised - a pleasure doing business with Ling - highly recommended. Smooth delivery, nice clean car. Excellent.

Pearl Duffett

Editor Note: Pearl, thanks for the short note. They build those Qashqais quite close to me, and everyone up here is very pleased with the Nissan factory, there are more windmills there than in bloody Holland! The Qashqais are so popular, I have a 2-3 month waiting list. Enjoy!! - Ling
---

Customer Letter: 708 / 1523
John says...

I was totally satisfied with the fantastic service levels of LINGsCARS, Ling always kept me up to date. No frills, no fuss, great deals, Ling would always be my first choice. Delivery; car arrived dirty.

John Edden

Editor Note: John, thanks so much for your letter as the Director of your business. I always like notes from business owners. I'm sorry the day was rainy and miserable for your VW Passat delivery, the weather is always a problem in Autumn/Winter deliveries. I'll give the supplier a kick and make sure they use a local car wash in the future. - Ling
---

Customer Letter: 707 / 1523
Jason says...

Carlsberg don't do contract hire cars, but if they did, it would be done like this.

Ling, you were fast, efficient, friendly, and dare I say it ...you did exactly what it said on the tin. Fantastic. Excellent delivery, very polite and courteous. I'll be coming back in a couple of years when my Vauxhall Zafira contract expires.

Jason Fojtic

Editor Note: Jason, hehehe, you are an Internet Retail Sales Director, so I really appreciate your comments, even if Carlsberg probably don't. Maybe I should drink more? Note: I promote sensible drinking by my customers!

- Ling
---

Customer Letter: 706 / 1523
Peter says...

I am passionate about customer service, and yours is brilliant! Immediate response to all enquiries, delivery as promised... and the price - absolutely magnificent. I will be back!! Fantastic delivery, BMW were brilliant.

Peter Bowkett

Editor Note: Peter, thanks. I do my best. Glad I make you so happy. These BMW Coupes were very cheap. I hope you enjoy driving it for 2-years. Thanks for very lovely letter :) - Ling
---

Customer Letter: 645 / 1523
Peter says...

Ling - I have just returned from my two week training course and my new car was there!! The chap who did the delivery was fantastic and everything went according to plan especially all the timings - order confirmation / delivery date etc etc. I would like to thank you for organizing the whole thing.

I am passionate about customer service and you deliver to a very high level indeed. You saved me so much money compared to the quote from BMW – I don't know how you do it. You responded to every email I sent you within minutes - it seemed - and every promise you made you kept - most unusual in this day and age. Naturally I will be returning when this BMW 3-Series Coupe needs replacing and when my daughter returns from her round the world trip in March - when she too will need her first car.

I have told all my friends about you and your web site. I hope you continue to prosper - I'm sure you will with service like this.

Peter Bowkett

Editor Note: Peter, yeah - that BMW 3-Series Coupe was very cheap, and what a great surprise for you, hehehe. Well, I can save vast sums over the BMW dealers because I don't have to fund their crazzzzy overheads, or their "poshness". At the end of the day, the car is EXACTLY the same, except it is delivered and you don't have to collect it - even better! To BMW I am the curate's egg. They like my happy BMW customers, if only they could generate the same satisfaction levels... but they are attacked by some dealers for allowing me to supply BMW cars. Tough, eh? :) Re the emails and communication, it is easier to reply instantly. Why wait? I never understand companies that prefer to drag their feet and do things slowly, it frustrates me. - Ling
---

Customer Letter: 634 / 1523
Andrew says...

Received the car yesterday, its wonderful, many thanks for your help, recommended you to a few people.

Andrew Rabone

Editor Note: Short and sweet, hehehe. Great! You got a damn cheap Zafira, Andrew! Go and drive it :) - Ling
---

Customer Letter: 583 / 1523
Martin says...

Ling was great to deal with. She even worked evenings and weekends like me! Recommended!

Martin Dempster

Editor Note: Martin, hahahah! The reason I have been working weekends and evenings is that I have been so busy since I turned down Duncan Bannatyne on bloody Dragons' Den! My turnover has doubled this year, so a few weekends have been necessary to keep everything fully up to date. Thanks for being a lovely customer - Ling
---

Customer Letter: 582 / 1523
Pearl says...

Just like to take the opportunity to say, great web site, fantastic deals, and really useful to see the different mileage rates. This Nissan Qashqai will be my fourth lease car, all sourced from different companies ('suits'). In the past I have had my order forgotten, resulting in me being without a car for 3 weeks, and my calls and emails always took days to be answered. Your prompt attention is great and very reassuring. Well done!!! Fantastic. Look forward to delivery. Also document pack sent out was first class, even with advice on returning, I had to look this out for myself with my first car. (Sweets and keyrings appreciated). Also info on NCAP crash tests on web site is brilliant. I have a feeling that the 'suits' are going to be very quiet from now on!

Pearl Duffett

Editor Note: Pearl, well why not show the euroNCAP stuff - I'm sure it helps that your car gets 5 stars. I think websites should be as useful as possible, so I add any good info I can find for the customer benefit. Mackams building your car as quickly as they can. Document pack is simple but it works, I use eye-catching method, eh? Hope sweets did not poison you - Ling
---
Search my letters page!

| | | |
| --- | --- | --- |
| From your area... | ...or from people... | ...or about a specific car! |
| | | |
You are viewing page 1 of 2 - go to page: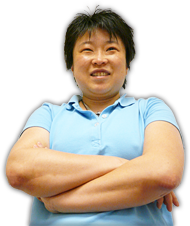 Online Service
Response Times
Quote > Proposal > Order > Delivery
74 CLIENTS IN 'PROPOSAL'
...LING REPLIES IN:
HRS : MINUTES sec
129 CLIENTS IN 'ORDER'
...LING REPLIES IN:
HRS : MINUTES sec
Customers use my secure LINGO management system.
Response times above based on last 4 hour period between
9am - 6pm, Mon to Fri -Ling

No Waiting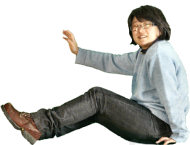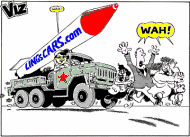 I am the Viz UK business ambassador!
Post me Ferrero-Rochers! Yum Yum!
Unlike most other internet car leasing sites, I publish all my contact information openly!
...so, you know who I am - Ling
THE UK's FAVOURITE
CAR LEASING WEBSITE!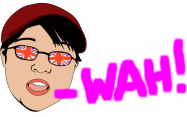 Boss: Ling Valentine MSc IoD
LING World Headquarters
Vance Business Park
Gateshead, NE11 9NE
Tel 0191 460 9444
Fax 0870 486 1130
sales@LINGsCARS.com
I prefer email to phone - Ling
VAT No: 866 0241 30
Co Reg No: 6178634
Consumer Credit Licence: 663330
Data Protection No: Z1098490
Best Before: 17/08/2007