CUSTOMER LETTERS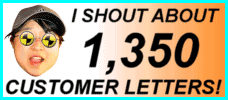 1523 LETTERS!
More customer letters than any other car sales site IN THE WHOLE WORLD! - Ling
You are viewing page 1 of 1 - go to page:
Search my letters page!

| | | |
| --- | --- | --- |
| From your area... | ...or from people... | ...or about a specific car! |
| | | |

Customer Letter: 1516 / 1523
Marie says...

Ling and Guy offer a great service, backed up by honesty and integrity. My car was delivered as agreed and in good order. I would recommend this service to all. I love the website as well – completely mad!! Dealer Service – Good – Only gripe was dirty car on delivery.

Marie Richards

Editor Note: Marie, thanks so much for the comments, you are really kind. Hope you are loving the Fiesta. So great to deal with you. I kick the dealer in the ass for dirty car, but they blame rain on the way, so sorry. - Ling
---

Customer Letter: 1381 / 1523
Lisa says...

Good choice of stock, really liked the internet site, gave really good advice and kept me informed of status of order and delivery. I would deal with Ling again for my next lease. Excellent delivery. Thanks :o)

Lisa Kirkwood

Editor Note: No problem at all, Lisa. You are project manager for BUPA so you know all about customer care. Glad you are very happy with the new 170bhp fast Golf. - Ling
---

Customer Letter: 1250 / 1523
Jason says...

Excellent service from Ling, very sweet response to communications. This is the second time I have used Ling and while the website may be mad, the prices and service are great. I would (and have) recommended you to others. Good delivery of my new Verso.

Jason Smith

Editor Note: Jason, lovely to have you back for a second car :) I just love repeating customers, it proves you are so happy. Hope you have a great couple of years in the Verso which is a super 7-seat MPV. Thanks for letter! - Ling
---

Customer Letter: 1221 / 1523
Jason says...

A very efficient service. Highly recommended. Excellent delivery of my new Zafira.

Jason Wilson

Editor Note: A very efficient letter. Highly short. Excellent delivery by Royal Mail.

Hahahaha! Enjoy the Zafira, Jace! - Ling
---

Customer Letter: 1194 / 1523
Christian says...

Look beyond the Chinese business tactics and you will find a rare breed of company that will do what it can for its customer. I wanted a good value lease car and Ling supplied me with one! What else can you ask for? Delivery of my new Citroen C-Crosser was good.

Christian Bennett

Editor Note: Christian, thanks for the letter. I am not sure about the Chinese business tactics, I don't quite poke you in the eyes with chopsticks or threaten you with a giant cleaver. I admit to poisoning you with Chinese sweets :). Enjoy your lovely new C-Crosser. - Ling
---

Customer Letter: 1170 / 1523
Debora says...

Lovely car, good service and a great price. Ling makes boring admin fun! The sweets are horrible though :o( Delivery was smooth and efficient.

Debora Parr

Editor Note: Debora, you got a real bargain with the last of these Fiestas! You are manager of two leasehold pubs, so I appreciate your comments about my service. Hic! Sweets are really horrible, they are collectors items from China! Thanks. - Ling
---

Customer Letter: 1033 / 1523
Steven says...

What can I say but this...

L - Likeable
I - Informative
N - No fuss
G - Great

C - Competant
A - Attentive
R - Reliable
S - Service

Keep up the good work! Good delivery of my new Grande Punto!

Steven Walton

Editor Note: Steve, that's fantastic. Thanks for taking so much time to send me this and I really appreciate the kind words. You even wrote some Chinese! That is so brilliant. - Ling
---

Customer Letter: 1007 / 1523
Michael says...

Hi Ling, Thanks for all you did to make the process quick and easy. Website is excellent and good fun. I like your sense of humour.

Choosing a car (Lexus IS) was easy and the prices very competitive. Communication was also excellent and timely. The whole process was a great experience. Thanks! Excellent delivery.

Michael O'Laughlin

Editor Note: As you a director of a large PLC high-street Bank, maybe the biggest in the UK, I have hidden your address for security. It is nice to deal with high-flyers like you, Michael, it makes me realise that my service is good enough for everyone. You were lovely! So pleased you are happy, and hope to see you again in 2-years. In the meantime, I will charge you a £50 management fee, an unauthorised email fee for every message, I will charge you 50p every time you make a payment and make you queue out of my website to speak to me. You will get LingCard offers every 2 weeks in the post. Next time you want a car, I will tell you you can only have one if you don't need one :) Just like dealing with your bank, hehehe. - Ling
---

Customer Letter: 982 / 1523
John says...

Ling says it how it is, not how she thinks you want it to be. My wife summed it up by saying "You would think we were her only customers" - 100% in every respect. Thank you Ling. Good delivery of my new Audi A3.

John Siggs

Editor Note: John, well you can tell your wife she is a lucky onion, you were lovely to deal with :) And the Audi was a great deal. So happy that you are pleased, it makes everything so worthwhile. - Ling
---

Customer Letter: 973 / 1523
Steve says...


L ovely to deal with
I nspirational
N o hassle
G reat
S ervice second to none

C ost effective
A ttention to detail
R apid response
S imple

Brilliant! On time delivery, and service with a smile!

Steve Walton

Editor Note: hahahaha, that's great, Steve. These Grand Puntos have been ever so popolar at these cheap prices. Glad you are happy. Thanks for nice letter layout :) - Ling
---

Customer Letter: 836 / 1523
German says...

Ling was really helpful in the whole process of leasing my new Astra, excellent communication. I love her website and her live chat room - it's very handy when you have an urgent enquiry. I will recommend her to everybody. I am so pleased with every aspect of the leasing process an the best bit "the price"! Excellent delivery, on time, very polite. Great!

German Lopez

Editor Note: German, I have stayed at The Beach hotel in Worthing! What a nice place, lovely to look out on the sea. I expect to see your Astra parading up the promenade on my next visit. Thanks for being so lovely and thanks for the comments. I'm so glad you liked my chat room, I put a lot of effort into that. - Ling
---

Customer Letter: 655 / 1523
Michael says...

Ling,

Thanks very much. Citroen Picasso delivered as promised; fantastic service.

Michael Pettit

Editor Note: Mike, wonderful. Just a short email, eh, but you are busy driving it :). Hope you really enjoy the car in sunny Brighton. The C4 Picasso 5-seater is a great car. Glad you enjoyed the service. - Ling
---

Customer Letter: 574 / 1523
Stephen says...

Hi Ling, thanks so much for making everything work out so well. I received a phone call this morning that my new VW Transporter was on it's way to me. I was so surprised as I only sent off the paperwork 2 days ago ! However you did say it'd be coming on the 11th or 12 th and here it is on the 11th. I really appreciate the way you do business and will come back to you next time, also recommend you to anyone who needs a great lease deal. Fantastic service Ling but it'll take a while to recover from the Chinese candies you sent me....

Stephen Mulley

Editor Note: Vans, vans, vans... I get my head in a spin about vans, there are so many options and sizes and weights. But the VW dealer had the exact VW Transporter (with air-con) you wanted in stock, so I made sure you got this double-quick, Stephen - Ling
---

Customer Letter: 434 / 1523
Aldo says...

"Dear Ling

Thanks for all your help. Your service is speedy, accurate and just excellent. Delivery was excellent, my new RX-8 was clean and dead on time. I have already recommended LINGsCARS and will continue to do so. Thanks again."

Aldo Bocca

Editor Note: I know you are top salesperson yourself, Aldo, so you appreciate my service. Thanks. Glad to provide such a sexy car to such a nice guy - Ling
---

Customer Letter: 399 / 1523
Mike says...

"Dear Ling,

I write to say a big thank you for all the effort you put into getting my Nissan X-Trail delivered to me.

For all prospective new customers out there, let me tell you that when I ordered my car from Ling Valentine, my mother was taken into hospital in the UK and I was taken ill in Spain! Against these odds, Ling was marvellous, she contacted me on my mobile and fax in Spain, keeping me informed of every detail, arranging my finance, delivery etc.

Because of my predicament of having to have an operation on my return to the UK, my car delivery had to be cancelled for one month. Thanks to Ling, she sorted everything out and my car duly arrived.

So, if you are thinking of leasing a car, I have no hesitation in recommending LINGsCARS.com and Ling Valentine.

As for the three Nissan dealers that I contacted for competitive quotes (to check against LINGsCARS), it took anything from one to six weeks just to get a quote - and guess what - Ling's price was a lot cheaper. Once again, Ling, many thanks!"

Mike Milton

Editor Note: Mike, of course I look after you when you go into hospital, I am so glad you did not die! I woud have lost car sale!!! :) You are right about the Nissan dealers, most are very slow (I think they are the ones who are dying) - and for some reason, car dealers in general are terrible with emails. It takes them AGES to reply. Salesmen too busy stuffing cocaine up their noses. You are so kind to send me a lovely gift voucher which I will use to treat myself! Thanks - Ling
---

Customer Letter: 362 / 1523
Adam says...

"Prompt, no messing service. No phone controllers or call centres to deal with, and a nice Citroen C4 on my doorstep in about 3 weeks - only a week later than promised. But no real issue as above all, I felt well informed by Ling all the way through the process."

Adam McNaught-Davis

Editor Note: Adam, I don't think your car was late - but on the 5th of July, you changed your mind: you were still not quite sure about which car you wanted. Your car was delivered on the 24th July, so where is the delay? - that's 3 weeks and I never promise sooner than that. But apart from that, I score your letter 9/10. You have good handwriting and your letter was polite and enthusiastic. You were nice customer - Ling
---

Customer Letter: 329 / 1523
Helena says...

"I was very impressed with the service I received from Ling. At all times I was kept informed of the progress with the car. Also, the lease rates are very reasonable. When I had trouble changing the car registration to my personal plate, Ling helped me with this (despite me thinking that personal plates are rubbish - Ling). The Mazda RX-8 was delivered on time, with everything in order. I would certainly lease another car from Ling again in the future, she was extremely polite (WAH!, me??? - Ling) and efficient."

Helena Read

Editor Note: Helena, hmmm - most people do NOT say "polite". Are you sure it was me? You know all Chinese sound the same. Maybe you telephone my sister, or the local Chinese takeaway, eh? Easy mistake to make - Ling
---
Search my letters page!

| | | |
| --- | --- | --- |
| From your area... | ...or from people... | ...or about a specific car! |
| | | |
You are viewing page 1 of 1 - go to page: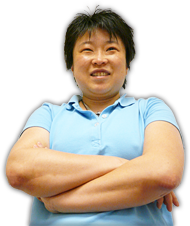 Online Service
Response Times
Quote > Proposal > Order > Delivery
74 CLIENTS IN 'PROPOSAL'
...LING REPLIES IN:
HRS : MINUTES sec
116 CLIENTS IN 'ORDER'
...LING REPLIES IN:
HRS : MINUTES sec
Customers use my secure LINGO management system.
Response times above based on last 4 hour period between
9am - 6pm, Mon to Fri -Ling

No Waiting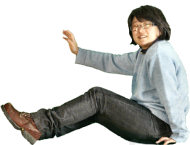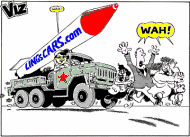 I am the Viz UK business ambassador!
Post me Ferrero-Rochers! Yum Yum!
Unlike most other internet car leasing sites, I publish all my contact information openly!
...so, you know who I am - Ling
THE UK's FAVOURITE
CAR LEASING WEBSITE!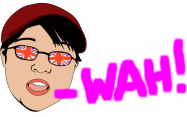 Boss: Ling Valentine MSc IoD
15 Riverside Studios
Newcastle Business Park
Newcastle upon Tyne, NE4 7YL
Tel 0191 460 9444
Fax 0870 486 1130
sales@LINGsCARS.com
I prefer email to phone - Ling
VAT No: 866 0241 30
Co Reg No: 6178634
Consumer Credit Licence: 663330
Data Protection No: Z1098490
Best Before: 17/08/2007